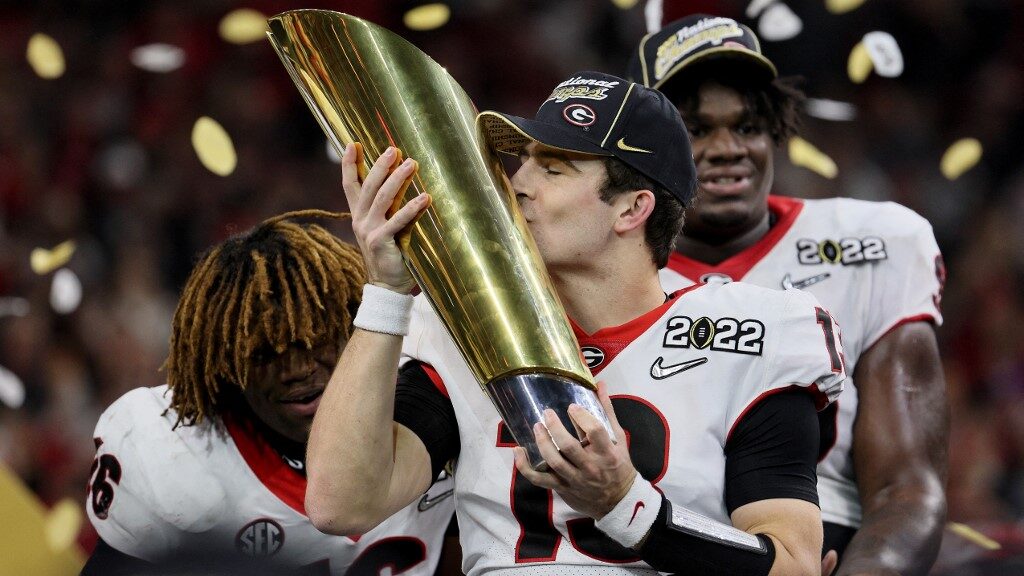 The Georgia Bulldogs have finally won a title under Kirby Smart. After losing in the SEC Championship game to Alabama, 41-24, there were doubts about Georgia's ability to beat Alabama in a rematch for the CFP Championship.
However, Georgia delivered, with really solid defensive stands and clutch play-making late in the game offensively. The top-rated sportsbooks had it right.
Bennett Steals the Show
Senior quarterback Stetson Bennett had plenty of doubters coming into the season. The 5-11 quarterback was an afterthought throughout his entire career.
Georgia had JT Daniels waiting to take over quarterback duties throughout the season once healthy. But once Bennett got comfortable under center and Daniels had to keep waiting as Bennett shined when given the opportunity.
Bennett won't be a top quarterback prospect in the NFL as a senior quarterback. He's got physical qualities that normally don't fit a quarterback. But what was never measured was his heart.
After fumbling away the lead, Bennett came right back and threw darts to retake the lead for Georgia in the fourth quarter. Bennett came out a bit rocky to start the game. He had jitters. But eventually, he buckled down and made some big-time plays for Georgia.
Next season, Daniels will get to play under center for Georgia, and they will be right back to compete for another championship.
Missing Weapons for Alabama
As for Alabama, the team had to score points without wide receiver John Metchie III and Jameson Williams, who was injured during the CFP National Championship. It became really hard for Alabama to drive down the field without those two playmakers. If Alabama had those two receivers in this game, things could've been different.
Either way, this year's Heisman winner, Bryce Young, will return next season for the Crimson Tide. Alabama will be just fine offensively and the defense will be back to being consistent. Although Georgia scored over 30 points in the CFP Final, the Alabama defense played much better than that.
What to Expect
In the SEC, there have been a lot of changes. Florida and LSU hired new coaches while Auburn and Texas A&M brought in transfers from other SEC schools. South Carolina brought in Spencer Rattler and other SEC schools have brought in some big-time names.
Competition might be a bit harder next year in the SEC. With thousands of players in the transfer portal, so much can change in the next couple of months. South Carolina, for example, is really building out a team with transfers on the offensive end. Meanwhile, LSU is expected to go crazy in the transfer portal under Brian Kelly.
While Alabama and Georgia made winning look so easy this year, it's going to get much harder with competition starting to get better across the board. That's what college football needs. Once the College Football Playoff expands to a bracket format, the playing field will level and more teams will have a chance to win the Championship.
For now, though, Georgia and Alabama will hang around for as long as the current rules stay in place. And it's still deserved regardless of whether you like it or not.
As always, you'll keep getting the best college football picks at Bookmakers Review.