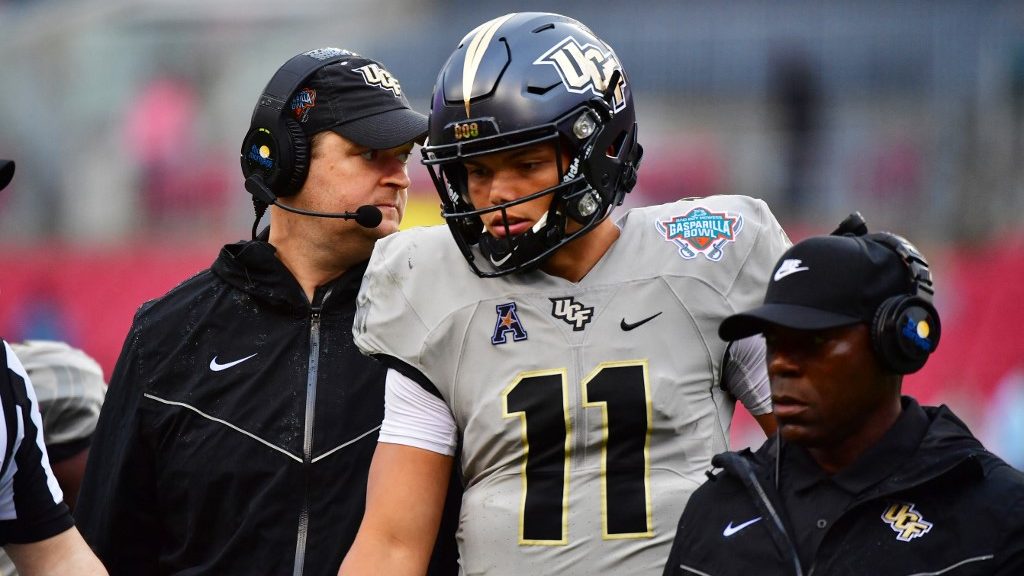 If you put stock in oddsmakers this summer, the College Football Playoff champion next season should once again come out of the SEC, a league featuring a handful of potential national title contenders.
Alabama saw a bevy of its top players leave for the NFL, but the Crimson Tide returns a star-studded roster projected to get back to the final as they enter the season on the nation's longest winning streak in defense of their championship. Georgia and Texas A&M aren't far behind as final four hopefuls, along with a few others inside nearly every preseason way-too-early power ranking.
Half-a-dozen ranked teams in the SEC this season means the league will produce weekly must-see matchups that will determine the pecking order at the top of each respective division. For your NCAAF picks, during opening weekend alone, the SEC's top-tier will take on title contenders in neutral-site opportunities to showcase what the league has to offer.
Who's ready for the 2021 season in the SEC?
5. Tennessee vs. Florida
Didn't expect to see this game in a ranking of top-10 matchups within the SEC this season, did you? Here's why it could happen, if the Vols win their first three games of the season as favorites under first-year coach Josh Heupel, Tennessee would be heading to Gainesville nationally-ranked and unbeaten to battle the Gators. That should spice up this Eastern Division rivalry a bit that's been one-sided for more than a decade. Tennessee has beaten Florida once since 2005, hard to believe given the historical relevance for these two programs. Heupel will be judged on how he performs annually against Florida, Georgia and Alabama, and here's his first test.
4. Alabama vs. Auburn
It's been a long time since this SEC West rivalry has been slotted this low on an SEC games-to-watch list, but one of these programs is in the transition while the other is coming off a national title run. The Iron Bowl always brings flavor and luckily for Auburn, this one at Jordan-Hare Stadium. The past two meetings in Tuscaloosa have been blowouts, but the Tigers seem to play considerably different at home against the Crimson Tide. Bryan Harsin's first taste of one of the nation's most-heated rivalries could be unkind, but if Auburn is able to upset Alabama, that would throw a wrench in the College Football Playoff race.
3. Texas A&M vs. Ole Miss
Pick any Ole Miss game vs. a higher-ranked team this season and you've got a matchup that could've been included in this Top 10. The Rebels will be fun to watch this fall. Must-win here for the Aggies if they plan on getting to Atlanta this season as the SEC West champion. And it won't be easy. According to top sportsbooks, this has a chance to be one of the better games nationally this season if both teams are ranked when it is played. A&M returns a veteran core on both sides of the football while Lane Kiffin should have a team capable of eight wins if their defense makes a substantial move forward.
2. Georgia vs. Florida
This matchup always means something in the SEC East and often decides the division. We aren't expecting anything different in 2021. Florida snapped Georgia's streak in the series last season behind a Herculean effort out of Kyle Trask, but the Gators will have a new signal caller in this installment. Dan Mullen hasn't decided on a quarterback just yet and the competition should be fierce between Anthony Richardson and Emory Jones. The Bulldogs will have a new QB1 too after JT Daniels did not play against the Gators in 2020 after being relegated to bench reps at the time.
1. Alabama vs. Texas A&M
Jimbo Fisher increased the hype on this one a bit this offseason after doubling down on his near guarantee the Aggies would beat Nick Saban at some point. Are these the two best teams in the SEC this season? Possibly so. The Crimson Tide should be the preseason number one in August and Texas A&M won't be too far behind in the Top 10. Texas A&M would love to avenge last fall's road loss to Saban's crew and use it as fuel toward a division title this time around. One of the more intriguing aspects of this game will be the chess match being played defensively with two first-year starters at quarterback for the participating teams. First one to make a mistake could falter.