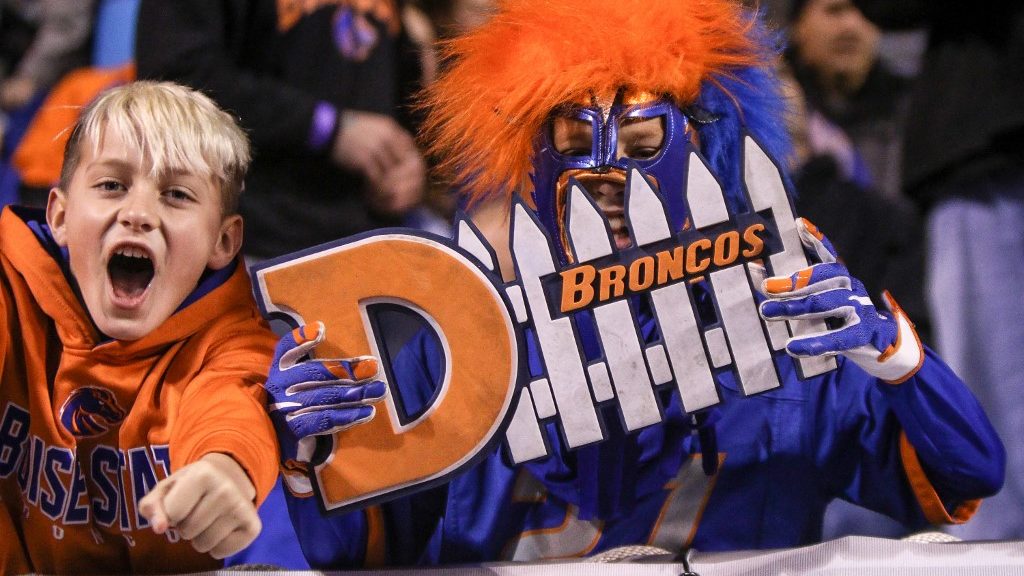 When college football returns this fall, fans can expect some exceptional matchups across the country. In the Mountain West Conference (MWC), there are a number of compelling games on the horizon.
When conference play starts to heat up, the Mountain West boasts some pretty incredible games in the 2021 season. There will be games featuring Mountain West Championship contenders, ascendant programs, and teams trying to prove themselves with big wins.
Adding in the non-conference games and some big time rematches next fall, next year's schedule already has fans looking forward to this season.
What are the best Mountain West games of 2021? The revenge factor plays into our rankings, plus some intriguing matchups that we missed last year. Take a look below to see the best ones to consider for college football betting.
5. New Mexico Lobos at Fresno State Bulldogs
Just how much the Fresno State offense can perform will dictate their season's success. The defensive front is among the best in the league, and the offensive skill parts are there to go ballistic, but the Bulldogs have to figure out how to beat a decent team. The opponents in the three wins went a combined 2-14.
Second-year Lobos head coach Danny Gonzales will try to capitalize on the two-game winning run at the end of 2020 to finally turn this thing around. The Lobos haven't won more than three games in a season since 2016, and this year's version should do it. There are some nice parts with Kentucky transfer QB Terry Wilson leading a strong backfield.
4. Hawaii Rainbow Warriors at Utah State Aggies
Hawai'i will be an interesting team. From out of nowhere, last year's version was able to rise up and take its game to another level. Now the team has to get used to a makeshift new home and try to be far more consistent. It'll be a sneaky-good team in the Mountain West race.
New Aggies head coach Blake Anderson might be able to turn this around fast – admittedly, this ranking might look ridiculous in a hurry. The linebacking corps is great to build around, and bringing over QB Logan Bonner from Arkansas State was a huge help.
3. San Diego State at San Jose State
The San Diego State defense was great, but the O forgot to come along for the ride a bit too often. Brady Hoke has another killer defense, but the offense has to figure out how to score more than 21 points on a regular basis – and all without a true close-to-home home game.
It's not like the shockingly efficient machine of San Jose State is going to slow down. The pass rush and defensive front will be unstoppable, QB Nick Starkel is back for his 19th year of college football, and there's no real weakness anywhere across the board for the defending Mountain West champ.
2. Colorado State Rams at Wyoming Cowboys
Second-year Rams head coach Steve Addazio got through a rough first year, and he's got a very, very interesting team that could be a bit of an X factor. The defensive front will be a problem for the rest of the Mountain West, and the offense should have a little bit of pop.
You know what Wyoming is going to be. Great coaching, outstanding defense, strong ground attack, questionable passing game. The schedule isn't bad, and if there's something happening through the air, this could be a huge year.
1. Nevada Wolfpack at Boise State Broncos
New Boise State head coach Andy Avalos doesn't have a heater of a Broncos team – the program didn't win the Mountain West title last year – but it's good enough to be the best in the Mountain Division by far. As long as QB Hank Bachmeier is in one piece, the offense will be great, and the defensive front seven is outstanding.
If you thought last year's Nevada team was a blast, this version should blow that away. Quarterback Carson Strong and the passing game will be unstoppable, the defensive front seven is terrific, and there's experience everywhere. This game may decide who wins the regular season belt between two great programs.