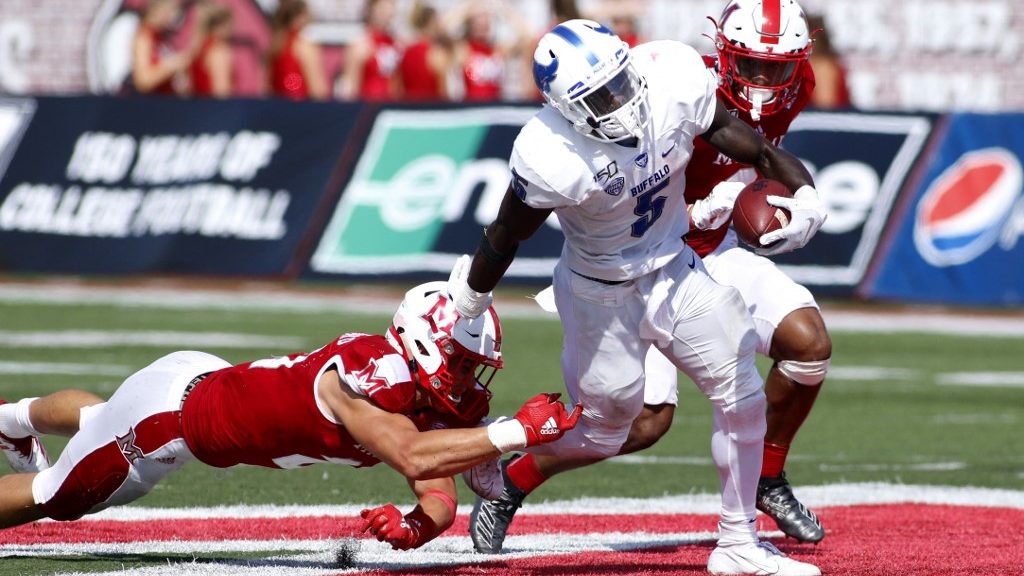 When college football returns this fall, fans can expect some exceptional matchups across the country. In the MAC, there are a number of compelling games on the horizon, perfect to start choosing your NCAAF odds.
When conference play starts to heat up, the MAC boasts some pretty incredible games in the 2021 season. There will be games featuring MAC Championship contenders, ascendant programs, and teams trying to prove themselves with big wins.
Adding in the non-conference games and some big time rematches next fall, next year's schedule already has fans looking forward to this season. What are the best games of 2021? The revenge factor plays into our rankings, plus some intriguing matchups that we missed last year. Take a look below to see the best ones:
5. Buffalo Bulls vs. Nebraska Cornhuskers
It's a new era of UB football under Maurice Linguist, and there's still enough in place to at least be in the mix for the MAC Championship. The running game will still be good, the defensive back seven is among the best in the league, and overall the machine shouldn't stop.
The team caught a break when RB Kevin Marks decided to come back. He might not put up Jaret Patterson numbers, but he's All-MAC good. At least seven starters are expected back on defense, and the quarterbacks are in place to be fine. This team will be a thorn in the Cornhuskers' side, if not win outright.
Nebraska had a slew of transfers again this offseason. The Scott Frost-era has so far been a disaster. This game has a real chance of making or breaking Nebraska's season narrative that they'll figure things out.
4. Coastal Carolina Chanticleers vs. Buffalo Bulls
There are several reasons to think the Chanticleers will make a playoff push. Leading rusher CJ Marable is gone. That's it. All the other parts return, including third-leading rusher Reese White – who ran for 478 yards and six scores – and 220-pound senior Shermari Jones. They have a deep and talented line to work behind with depth and options to go along with the experienced starters.
Grayson McCall turned into a superstar. In his first year the young quarterback ran the quick-paced offense to near perfection and efficiency, and now he knows what he's doing. Take it into consideration for your NCAAF picks.
The Bulls should be overmatched in this game despite their positives. But we're absolutely circling this game as a must-watch affair because of the sheer talent on the field between both teams.
3. Ball State Cardinals vs. Penn State Nittany Lions
Just about everyone returns for the Cardinals. Star RB Caleb Huntley and WR Antwan Davis are gone, but the line is loaded and the defensive front is a strength of the unit. The offense should be just as strong, and the majority of the production from last year is back. This all bodes well for their outlook.
They'll obviously be outmatched physically against Penn State but recruiting rankings aren't everything. The Nittany Lions have disappointed in recent years and are looking to overcome their shortcomings. QB Sean Clifford has the chance to make himself a lot of money with a quality season with some gifted receivers.
Can the Cardinals put themselves on the map with a big upset road win? We'll have our eyes on this line at the very least.
2. Toledo Rockets vs. Ohio Bobcats
Toledo is getting back almost all of its seniors from a veteran offense – ten starters should return – meaning most of the offense is full of fourth and fifth-plus-year players. Even better, all 11 starters should be back on D. The Rockets will compete to win the MAC West.
The Bobcats can be placed at the top of the East list – or at least shuffle it among the four best teams. With a great offensive backfield, what should be a dominant running game, and with a D that should be just good enough to hold serve, the Bobcats have a ton of positives. According to top sportsbooks, you should not expect anything to slide with longtime offensive coordinator Tim Albin taking over the head coaching reins.
1. Kent State Golden Flashes vs. Iowa Hawkeyes
Sean Lewis is still the head coach. He's a strong young talent who's overdue for the next step up job, but he's around, as is QB Dustin Crum, who's back for his senior-plus year. All five starters are expected back on the O line, just enough is back on defense to be okay, and landing S Antwaine Richardson from Maryland and WR Nykeim Johnson from Syracuse are huge.
The FlashFast offense will be challenged by Iowa's fast defensive front but they have a chance to pull off a major upset. The Hawkeyes lack proven playmakers on offense. Most of their games may end up in one-score affairs thanks to their experienced secondary but modest offense.