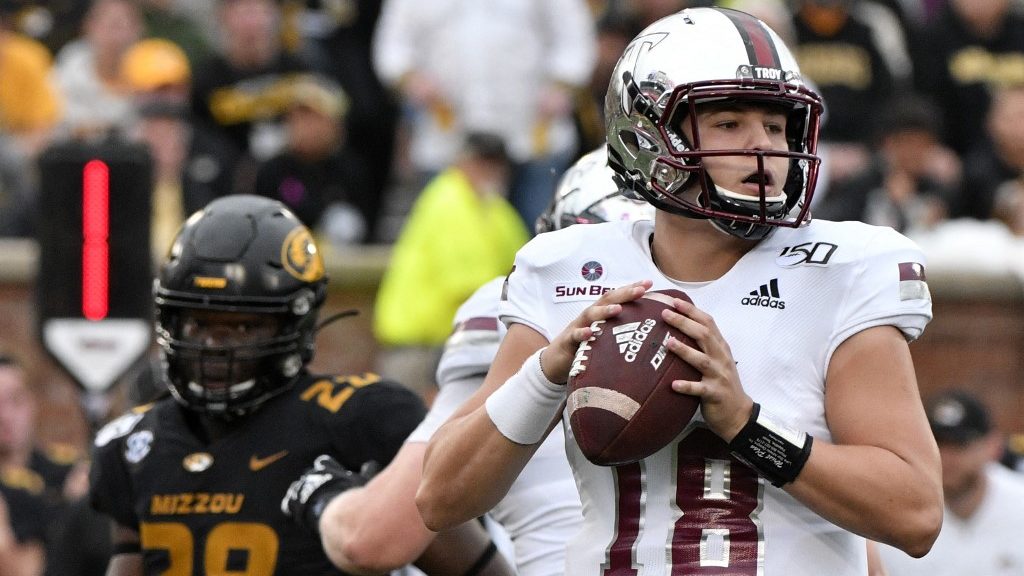 When college football returns this fall, fans can expect some exceptional matchups across the country. There are a number of compelling games on the horizon in the Sun Belt Conference.
When conference play starts to heat up, the Sun Belt boasts some pretty incredible games in the 2021 season. There will be games featuring Sun Belt championship contenders, ascending programs, and teams trying to prove themselves with big wins.
Adding in the non-conference games and some big time rematches next fall, next year's schedule already has fans, and top sportsbooks, looking forward to this season.
What are the best Sun Belt games of 2021? The revenge factor plays into our rankings, plus some intriguing matchups that we missed last year. Take a look below to see the best ones for your NCAAF picks:
5. Georgia Southern vs. Troy
Troy finished the 2020 campaign a game under .500 with a 5-6 season. But, that was slightly deceiving as three losses were by a combined nine points. Chip Lindsey is in his third year at the school and is now getting his players in to run his system. The quarterback position should be solid between returning starter Gunnar Watson and Missouri transfer Taylor Powell. Signs point to an improving defense with 10 starters returning and with having three of their last four at home, the Trojans are on an upward trajectory.
The Eagles return eight starters from an offense that averaged over 27 points a game last year. However, replacing quarterback Shai Werts may prove to be problematic. But, Georgia Tech transfer Justin Tomlin will attempt to do just that. His experience in running the option should convert over quite nicely. They draw Appalachian State, Louisiana, and Coastal Carolina on this year's schedule but host two out of the three. It does appear they could take a step back in 2021.
4. Appalachian State vs. Louisiana
The biggest question surrounding the Mountaineers for 2021 rests under center. Zac Thomas will be missed, and Clark dipped into the portal for help, bringing former Clemson and Duke signal-caller Chase Brice to Boone. Brice is the frontrunner, but Jacob Huesman is also in the mix. Appalachian State has room to improve in the red zone after finishing eighth in the Sun Belt last year.
The goal for coach Billy Napier's team in 2021 is clear. After winning three consecutive Sun Belt West Division titles, the biggest hurdle left to cross is a conference championship. If Louisiana can win the Sun Belt outright, and upset Texas in Week 1, a trip to a New Year's Six bowl is a realistic possibility. Take it into consideration for your NCAAF odds.
3. Texas State vs. Georgia State
There's a lot to like about the 2021 version of Georgia State. First, they bring back 19 starters including all 11 from an offense that averaged over 33 points per game. The Panthers should have no problem equally the three games they scored over 40 points in 2020. The biggest challenge is the schedule which appears to be the toughest in the conference. With road games against North Carolina, Auburn, Georgia Southern, Louisiana, and Coastal Carolina even though they will be improved they might struggle to eclipse last year's six-win total.
In what seems to be the norm on the Group of Five level many times the defense falls behind the offense. That's certainly the case for the Bobcats as the offense returns eight starters from a team that averaged 28 points per contest. To get past the two-win mark of last year, there must be an improvement over the 38 points surrendered each game. But, the schedule probably won't allow them to make much headway in the standings with road games at Georgia State, Louisiana, Arkansas State, and Coastal Carolina.
2. Louisiana vs. Arkansas State
With all due respect to the previous four teams in the division, there is more of a gap between Louisiana and the rest of the pack in the West division than there is in any other division in the FBS. The Ragin Cajuns return 20 starters from a team that only lost once a year ago which included a win against Iowa State. They will get another opportunity to knock off the Big 12 as they face Texas in the first game of the season. Aside from that game, Louisiana is likely to be favored in every game aside from Texas and is our clear winner of this division.
Expectations grew too large for Arkansas State last year after the upset of Kansas State in the second game of the season. The Red Wolves won just once in their last six tries which caused them to miss a bowl for the first time in five seasons. Scoring should not be a problem with our third-ranked quarterback in the conference returning in Layne Hatcher. He threw for over 2,000 yards with 18 touchdowns against only two interceptions. We'll call for them to get to six wins and go bowling in Butch Jones' first year in Jonesboro.
1. Coastal Carolina vs. Appalachian State Mountaineers
Coastal Carolina were the darlings of the college football world. And, believe it or not, they should be better this season. The defense returns 10 starters and should be nearly as good as Appalachian State. Grayson McCall returns as not only the best quarterback in this conference but one of the best dual threats in the country. If they win at Appalachian State on October 20th, it all but guarantees a spot in the championship game with a very favorable schedule.
The Mountaineers are hoping the third time's a charm. The third time is in reference to transferring quarterback Chase Brice who is looking for success with his third team. Appalachian State might feel like the third wheel as well with all of the discussion around Coastal Carolina and Louisiana. The defense returns 10 starters and should be the best in the conference. With all three losses coming by a total of 14 points, can Brice be the missing link to give the Mountaineers a conference championship?