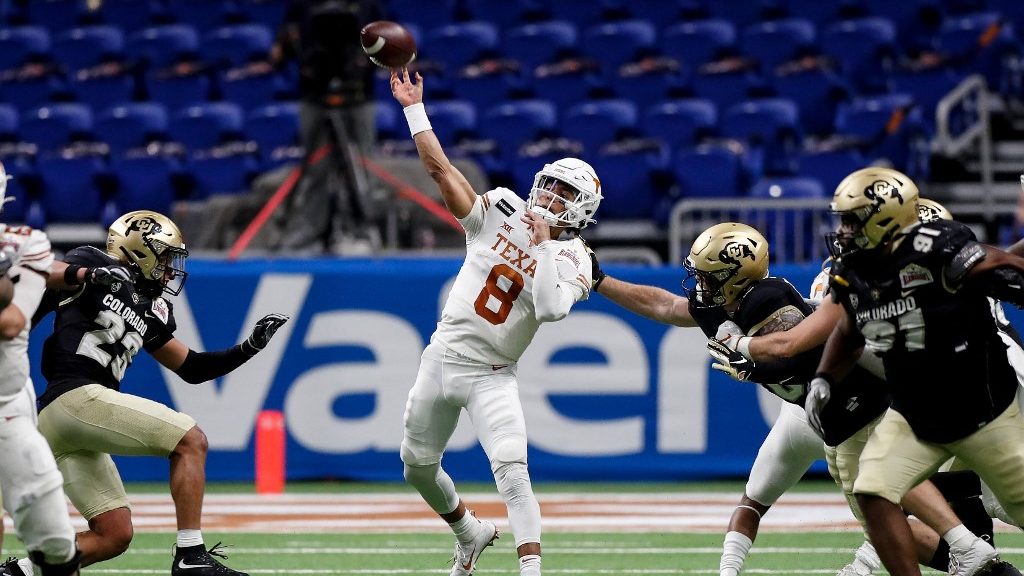 The Big 12 has certainly been among the most entertaining leagues to watch over the last several years. With ahead-of-their-time offenses and defenses scrambling to keep up, the league wasn't short on points or games that came down to defenses needing to land one or two stops to try and cling to a win.
But what makes for a truly great game? It's not just a close scoreline. In many ways, great games are planned ahead of time. Sure, a seven-overtime thriller is sure to attract eyeballs at the end of it. But the foundation for a great game is often laid beforehand, with storylines and interest leading neutral fans to tune in from the opening kick.
And the Big 12 isn't short on those, either. We picked the 10 best games on the upcoming Big 12 slate, and according to top sportsbooks some of them — as is often the case when trying to predict great games — might just get out of hand. But they're worth watching nonetheless, from old rivalries getting a modern reboot, to games that will have a heavy impact on the final Big 12 standings or even the College Football Playoff rankings.
Here's a list of the five best games on the Big 12 schedule for the 2021 season.
Texas Longhorns vs. TCU Horned Frogs (Oct. 2)
TCU has been a bugaboo for Texas since coming into the Big 12, starting with the Horned Frogs' Thanksgiving win over Texas in Austin in TCU's first year in the conference. Texas has won the annual meeting just twice since with victories in 2013 and 2018, with TCU winning five of the games by double digits.
Last year's game was significantly closer, though TCU still won in Austin 33-31. This year, TCU could be a Big 12 dark horse, but even if the Horned Frogs weren't, Texas can't continue to fall down against TCU and become a Big 12 contender. A win by Steve Sarkisian would make a statement heading into Texas' game against Oklahoma, while Gary Patterson continuing to keep the Longhorns underfoot is certainly in TCU's best interest.
Texas Longhorns vs. Iowa State Cyclones (Nov. 6)
Is the winner of this matchup headed to the Big 12 Championship Game? We'll know quite a bit more the week of this game, as both Texas and Iowa State will be several challenges into the season at this point. For your betting odds, Iowa State is the safer bet to get to that point, but if Texas is still in the hunt, the Longhorns will be battle tested after getting TCU, Oklahoma and Oklahoma State in consecutive weeks in October.
Texas certainly doesn't have to win the conference in Steve Sarkisian's first year, but if the Longhorns could make it back to the Big 12 title game, it would be a feather in his cap. Iowa State will look to repeat 2020's result, which saw the Cyclones claim a 23-20 victory on their own way to the Big 12 finale.
Oklahoma Sooners vs. Kansas State Wildcats (Oct. 2)
Heading into last year's contest in Norman, the talk was that the Sooners were going to wax Kansas State as revenge for the Wildcats' win in Manhattan the previous year. Instead, Chris Klieman moved to 2-0 against Lincoln Riley as Kansas State had its best showing of the year in a 38-35 upset.
Oklahoma made serious gains over the course of the season and went on to win the Big 12 and end the season on a high note. Kansas State lost Skylar Thompson for the season and ended the year on a five-game losing streak. Thompson is back, and Kansas State gets Oklahoma in Manhattan a week before the Red River Showdown. Is this a trap game once again?
Oklahoma Sooners vs. Texas Longhorns (Oct. 9)
This rivalry is always going to get top or near-top billing. And this year's matchup provides more intrigue than normal, with Texas coach Steve Sarkisian hoping to get the Longhorns off on the right foot. Despite Oklahoma's dominance of the conference — the Sooners have finished atop the Big 12 (and thus on top of Texas) every year since 2015 — the Longhorns have had a disproportionate amount of success against the Sooners.
Oklahoma is 4-2 in its regular season games against Texas over that period, but none of them have been separated by more than a score, and Oklahoma won last year's version in four overtimes. Sarkisian will be out to claim a win Texas can build off, while Lincoln Riley should be eager to keep the Longhorns down.
Iowa State Cyclones vs. Oklahoma Sooners (Nov. 20)
Could it be any other game? Oklahoma and Iowa State are both projected as top four teams in ESPN's Football Power Index. There's a chance that both teams could still be undefeated at this point, and even if neither is, this is a game with Big 12 Championship Game repercussions, with the loser potentially moving behind the 8-ball and falling behind another title game contender.
It doesn't hurt that the two have played some absolute classics. They split last year, with Oklahoma falling in the regular season but topping Iowa State in a close game in the Big 12 title game, take it into consideration for your NCAAF picks. The year before, Oklahoma landed a one-point victory, and in 2017, Iowa State claimed a 38-31 win.