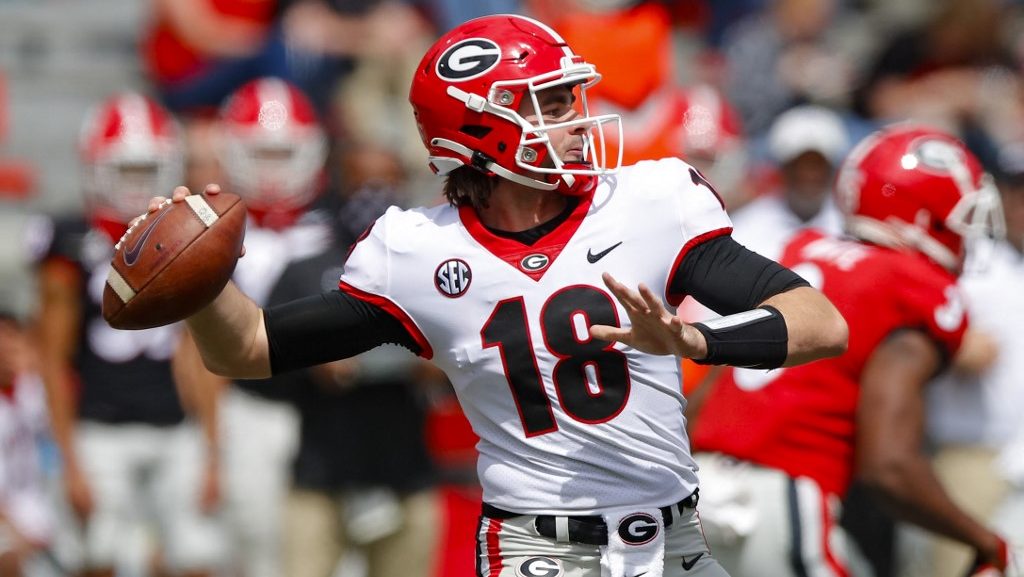 JT Daniels took a while to get healthy, but he finally shined at the end of his first season with the Georgia Bulldogs. He showed the potential that fans are hoping leads to a title in Athens. The Bulldogs went undefeated with Daniels as the starting quarterback, and he elevated the offense to new heights.
Georgia had talent across the board, but Stetson Bennett and D'Wan Mathis could not get it done against the top teams on Georgia's schedule. Thankfully for the Bulldogs, Daniels will be back for another season, and he is looking to improve.
Daniels will finally have a full offseason as the team's starting quarterback. He will also be fully healthy, meaning he can work more with the team and get into a rhythm. This should boost his stats, which were already impressive in 2020.
With the potential of surging next year, Daniels' Heisman odds have improved. He is currently as +900 odds go win the Heisman Trophy, which is near the top of the Heisman rankings.
Here's what you need to know about JT Daniels' odds to win the Heisman.
What's Working In JT Daniels' Favor
Besides having an entire offseason to prepare with the team, Daniels should also be a better passer. He's still a young quarterback, and his development was limited due to his injury. Even after completing 67% of his passes last year, he has room to improve.
Also, Daniels will be on college football's biggest stages next year. Georgia faces off against Clemson to begin the season. If they can upset the Tigers, they will be one of the top teams in the country. That will carry viewership, which helps Heisman stock.
Week One is too early to have a true Heisman moment, but it would be a step in the right direction. If Daniels followed that performance up with another strong game against Florida, he would almost certainly be a finalist for the Heisman Trophy.
While all of this helps JT Daniels, not everything is sunshine and roses. He has a few things that are not working in his favor. Besides the competition, he doesn't check every box that you look for as a Heisman contender.
What's Working Against JT Daniels
When JT Daniels plays against Clemson, his Heisman odds will hang in the balance. A loss in that game with a poor performance by Daniels can take him out of the running immediately. That's how crucial the season opener for the Georgia Bulldogs will be.
Also, Daniels will be without George Pickens. Pickens went down with a knee injury, and his return is unknown. It's safe to assume that he will miss at least most of the 2020 season. Since Daniels will be without the best target in the offense, Kirby Smart might look to run the ball more. Daniels will need to pad his stats, and losing Pickens hurts his ability to do that.
The last thing working against JT Daniels is his immobility. Previous quarterbacks to win the Heisman have been able to scramble and run the ball. Daniels had negative rushing yards in 2020, so he prefers to stay in the pocket and work down the field by passing the ball. This can lead to wins, but it makes the path to the Heisman Trophy that much harder.
When Should You Bet on Daniels?
In most cases, I suggest for you to wait for the Heisman race to play out a few weeks to see where players are. There is always a top-tier player who disappoints, and someone always comes out of nowhere. However, Daniels is different. At this value, it makes more sense to go for it before the season. If he leads Georgia to a win over Clemson, his odds will lose betting value immediately. It's worth taking that preliminary risk in hoping that he can shine.
Also, Heisman frontrunners always come out of nowhere. By the time you wait long enough to be confident about a player, their odds have already lost value. Heisman betting is always about timing, so you have to keep that in mind with Daniels.