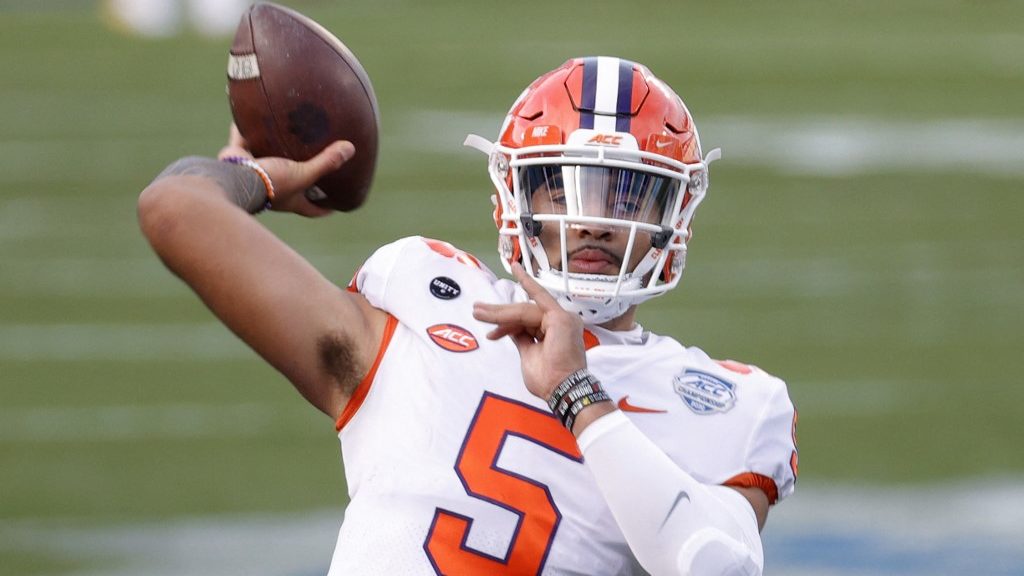 The Clemson Tigers will look to reload after an impressive 10-2 season that ended in defeat to the Ohio State Buckeyes in the College Football Playoff. Gone are household names Trevor Lawrence and Travis Etienne, but back is an impressively built defense and five-star quarterback D.J. Uiagalelei. We'll break down whether Uiagalelei can win the Heisman Trophy in his sophomore season.
In only two starts that came thanks to a positive Covid test for Lawrence, we can already determine that Uiagalelei is the next star playmaking quarterback for the Tigers. He'll be flanked by senior tight end Braden Galloway, running back Lyn-J Dixon and junior Chez Mellusi, and a bunch of touted receivers that will be looking to prove themselves.
Uiagalelei has the physical profile that evaluators dream of. His 6-foot-4, 250-pound frame pops off the screen immediately, and he's a quality athlete for his size. His ability to make plays within the pocket and outside of the tackle box has already been flashed in only two starts.
His numbers in games against Boston College and No. 4 Notre Dame have been nothing but outstanding for a veteran starter, let alone a true freshman. He completed 69-of-99 attempts for 872 yards and four scores with zero interceptions.
And he's attained those numbers by dominating on short and intermediate passes. 72 percent of his non-throwaway attempts have come between zero and 19 yards, while 16 attempts have been behind the line of scrimmage, and he's had five deep balls beyond 20 yards. This is unique for his skill set and archetype since he has such a strong arm and powerful build that one would assume he'd be more of a downfield thrower. His pass distribution looks more like a weak-armed quarterback is limited to, not one that has the effortless velocity and downfield touch that Uiagalelei has displayed.
This is far from a bad thing. Clemson has relied on his quick processing at a very young age and has found success already. He's thrown a catchable pass on a whopping 83 percent of his short throws, which is better than all but six drafted quarterbacks' full-season numbers since 2012. It's unlikely he'd sustain that level of accuracy over the course of a full season once defenses adjust but the baseline is high for Uiagalelei's acumen.
His delivery is a bit slow and requires his large arm to travel more distance than small passers but the result is impressive. His placement on throws between the numbers quickly hit the ideal target window to protect his man from a big hit and to also finish the play.
Defenses will concede the short game to Clemson because of the caliber of athletes they boast. It's better to allow five yards on a quick route than 55 on a deep pass, and Uiagalelei took full advantage when he could. The entire playbook is open for him already based on his advanced intelligence and extreme physical gifts.
This is an important facet of life post-Lawrence. Watson had a vertical-heavy passing game that limited some of his game to be on display. Lawrence has a more open playbook because he's better at certain throws, but not quite as good at creating outside of the pocket as Watson.
Prediction
Uiagalelei could be a mixture of the two based on early results. Tailoring an offense around him shouldn't be too hard and most of the basics are baked into the scheme already. Watson's 2016 season had 63 percent of his throws be 10 yards or under, for example, while Lawrence has that same exact rate this season so far.
The route patterns and formations have been different along the way to build around strengths, though, and the Clemson staff needs credit for that creativity. It's likely that plugging Uiagalelei into this same offense in 2021 would work well enough to win the ACC and push for the playoff, but there's no reason the program shouldn't further accentuate Uiagalelei's immense talent.
In the meantime, there are some mechanical issues and the physical limitation of having a slower release to deal with. There are some bad misses he's had when throwing to the far-sideline because of his lower body being misaligned. His touch on deeper throws has been solid but the ones where he must feather the ball across the field have been misses.
Clemson will happily take that being the big area to work on after an incredibly difficult set of circumstances. Uiagalelei was far from the reason why they lost against Notre Dame in 2020 and he's good enough to start at almost every school right now across the country if he were elsewhere.
I expect his numbers to rival even Lawrence's in terms of total yards though his completion rate may not be as high. The low to mid-60's would be solid with 3.500 yards, 30 touchdowns and under 10 interceptions. He'll be an immediate stud and early favorite for the 2023 No. 1 overall pick.
Free College Football Pick: Uiagalelei to win the Heisman +700 at BetOnline