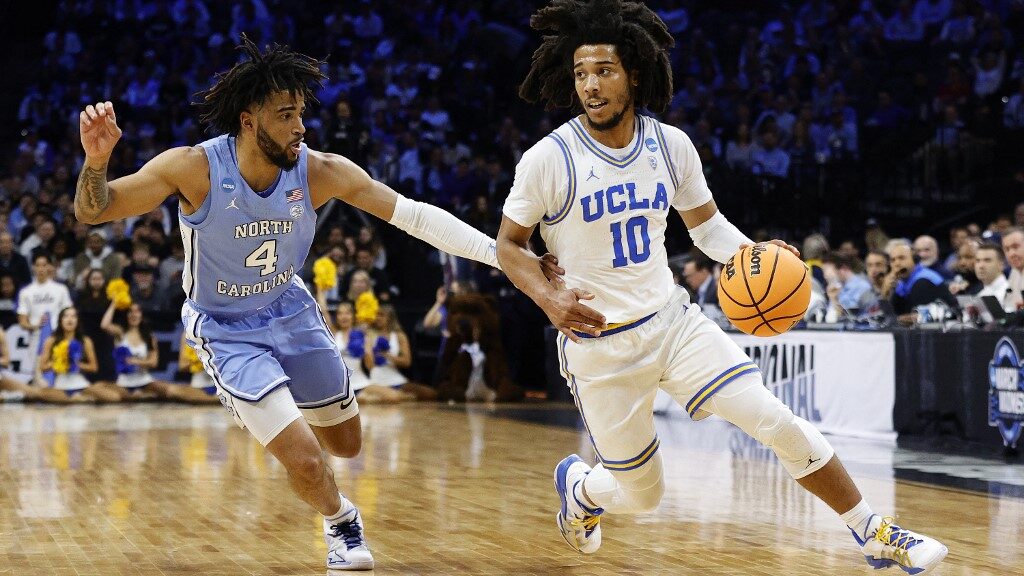 College athletics is getting interesting. It's not just all of the NIL stuff, but it's also about all the realignment. If your school isn't involved with the Big Ten or SEC, things could be hard down the line.
According to the NCAAB picks, lots of these moves, however, won't be happening in 2023. USC and UCLA are expected to move to the Big Ten in 2024.
That has no impact for this season, but eventually, those two teams will make life harder in the Big Ten.
---
Pac-12
The Pac-12 will lose USC and UCLA and hasn't found a replacement yet.
We'll see if the Pac-12 stands pat or decides to add a couple of teams to their conference.
PLAY NOW: $25,000 Free-To-Play NFL Contest: BMR's 2022 Pick'Em Pool Opens for Registration
---
Big 12
In the Big 12, however, BYU, UCF, Cincinnati, and Houston will join the Big 12 in 2023. Those two were added while the Big 12 subtracted Oklahoma and Texas.
However, those four teams might get one season to play against Oklahoma and Texas, with Oklahoma and Texas moving on to the SEC in 2025.
Therefore, eventually, the Big 12 will have 14 teams before going back to 12 teams in 2025. The SEC would then have Oklahoma and Texas join their conference.
---
No Big Deal
Again, none of these moves are happening before the 2022 season in college basketball. So there's no real impact there.
However, some moves have already come to fruition before the college basketball season. Let's talk about them.
---
Sun Belt Conference
The Sun Belt Conference made a splash on July 1, adding James Madison, Marshall, Old Dominion, and Southern Mississippi to their conference.
The Sun Belt added four teams and only got rid of Little Rock and UT-Arlington.
Obviously, off the bat, the Sun Belt is now a little bit more competitive in basketball. The conference wanted universities that were also football-playing universities. That's why Little Rock and UT-Arlington left.
The Sun Belt's decision was mainly focused on football, but those basketball schools will also make the Sun Belt a better conference in that regard too.
---
Conference USA
There will be a lot of moving parts in the Conference USA. Jacksonville State, Liberty, New Mexico State. and Sam Houston State will be joining the conference in 2023.
So, therefore, we won't see these four teams in the Conference USA just yet, but the conference should ultimately be weird this season in college basketball just by knowing all of the changes.
Charlotte, FAU, Marshall, North Texas, Old Dominion, Rice, Southern Mississippi, UAB, and UTEP are all leaving the conference in 2023 to either go to the AAC or the Sun Belt.
---
Atlantic Sun Conference
In the Atlantic Sun, Jacksonville State and Liberty will be leaving. Instead, the Atlantic Sun has added Austin Peay and Queens.
Queens University is a school in Charlotte. The ASUN fielded an FCS football conference for the first time.
As you can say, many of these decisions with conference realignment are more focused on football. But it'll have just as big of an impact in basketball, of course.
---
Western Athletic Conference
In the WAC, Southern Utah and UT-Arlington will be added to the conference this season. Chicago State, Lamar, New Mexico State, and Sam Houston State departed.
The WAC added more talent to their conference, despite New Mexico State leaving. Southern Utah is ultimately better.
---
Colonial Athletic Association
Hampton, Monmouth, North Carolina A&T, and Stony Brook have been added to the CAA. Only James Madison left, so now there are 13 teams in the CAA instead of 10.
---
A-10 Conference
The Atlantic-10 added Loyola Chicago to its already powerful conference in basketball. That was an extremely solid addition.
---
Many More Additions
I won't bore you anymore. As you can see, there are plenty of moving parts in college basketball this season and many moving parts in the next couple of seasons. It's going to take a while to get used to.
We won't have intense rivalries as much, but eventually, as the seasons go, rivalries will be even greater than they were before.
Most conferences look so much better moving forward. It'll be interesting to see how all this movement plays out in the sportsbooks, but I would say a lot of the movement makes sense for these universities.
If you're a bettor that likes to look at historic trends against certain teams, it's going to take a while for some trends to show. There are plenty of other ways that you can bet NCAAB odds and profit! We'll be making money all year long in college basketball. Don't you worry!