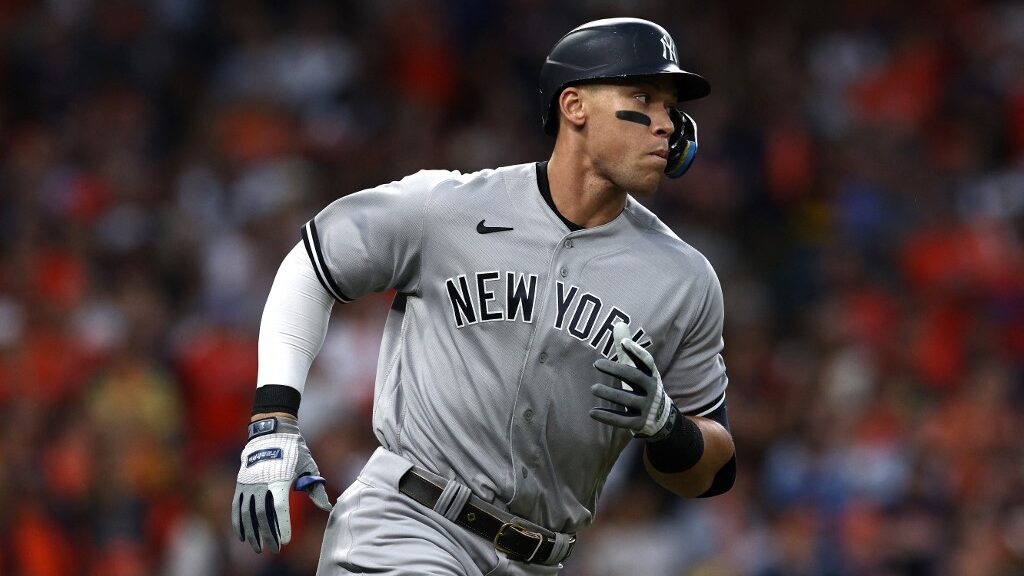 Will the New York Yankees re-sign Aaron Judge? Will he bolt to the San Francisco Giants? It's the hottest MLB pick of the offseason.
Bless his heart, Aaron Judge did it. It took him all the way up to Game No. 161 of 162, but Judge finally hit his 62nd home run of the 2022 regular season, breaking Roger Maris's record for the New York Yankees – and the entire American League.
Unfortunately for Judge, his magic ran out during the postseason, and given the way fans at Yankee Stadium were expressing their frustration, maybe Judge won't be back in 2023. He's a free agent with no shortage of would-be suitors heading into next week's winter meetings in San Diego.
---
Who Will Sign Aaron Judge?
As we go to press, it appears the Aaron Judge Sweepstakes have boiled down to two teams. Here's how the MLB odds look:
San Francisco Giants (-130)
New York Yankees (-110)
Interesting. The Giants aren't necessarily the best fit for Judge, except for one thing: they were his favorite team as a kid. While he was racking up all those home runs last year, Judge told reporters that Barry Bonds is still the man to beat at 73 dingers and that he cheered for Bonds while growing up in Sacramento.
Judge was an even bigger fan of Rich Aurilia, which we'll get to in a moment, but that's not the issue here – we want to know whether or not Judge is going to take his bat and go home. Here's what we're hearing at the ranch as we go to press.
Is the Judge Signing a 50/50 Shot?
That's the word from Jon Morosi on the MLB Network. Morosi said on a podcast that it was a virtual coin flip between the Giants and Yankees and that San Francisco could win by offering Judge the equivalent of $40 million per year.
This assessment came after Wednesday's report by ESPN's Jeff Passan that the Yankees had offered Judge $300 million over eight years, which works out to… let's see, carry the one… $37.5 million per annum. That's almost double the $19 million Judge earned last year, but is it enough to get the job done? Maybe not.
When Will Aaron Judge Sign?
Pretty soon by the looks of it. Passan and others say Judge is expected to make his decision by the time the winter meetings wrap up, which is next Wednesday or Thursday depending on who you talk to. It's not a hard deadline – Judge can take his sweet, sweet time if he wants to. He is a free man.
Does Aaron Judge Love the Giants That Much?
He sure used to. Here's the story with him and Aurilia if you don't know it yet: Judge's father Wayne's favorite number is 35, so Judge fils wore 35 as a kid, and that happens to be the same number Aurilia wore during most of his years with the Giants – including 2002 when they won the National League pennant. Judge was 10 years old at the time.
Factor in as well that Aurilia stands 6-foot tall, which was pretty tall for shortstops back then, and there you have it – Judge was hooked. As a baseball connoisseur, you know how it is, right? We all still have that child in us somewhere, I hope, even if the adult has to make the decisions and sign the contracts.
One more piece of backstory you should know before you bet: Judge was in San Francisco two weeks ago "visiting some friends and family," as he put it to the reporters there. Of course, everyone knew he was also going to meet with the Giants, which he did. For two days.
Is There Any Value on Either Side of This Bet?
Danged if I know. I mean, if this were a literal coin flip, then obviously not, but how are we supposed to, um, judge this one? The analytics aren't here to tell us what to do.
That doesn't mean we can't speculate. There's another person we need to be talking about here: Giants PBO Farhan Zaidi, who was in those meetings alongside CEO Larry Baer, manager Gabe Kapler, and others. Zaidi was named MLB Executive of the Year for 2021 as San Francisco came from virtually nowhere to win 107 games and the National League West.
Yankees GM Brian Cashman is no slouch – he won the same award in 2017 – but Zaidi is one of the bright "young" minds in baseball at age 46. He has a vision, and he's good at communicating that vision. Judge seems like the kind of guy who would appreciate that. Bet accordingly, and may the sphere be with you.
If you're located in California, make sure to look over our California betting sites before placing a wager.
MLB Pick: Judge Signs With Giants (-130) at BetOnline (visit our BetOnline Review)

Judge Signs With Giants

(-130)
*The line and/or odds on picks in this article might have moved since the content was commissioned. For updated line movements, visit BMR's free betting odds product.