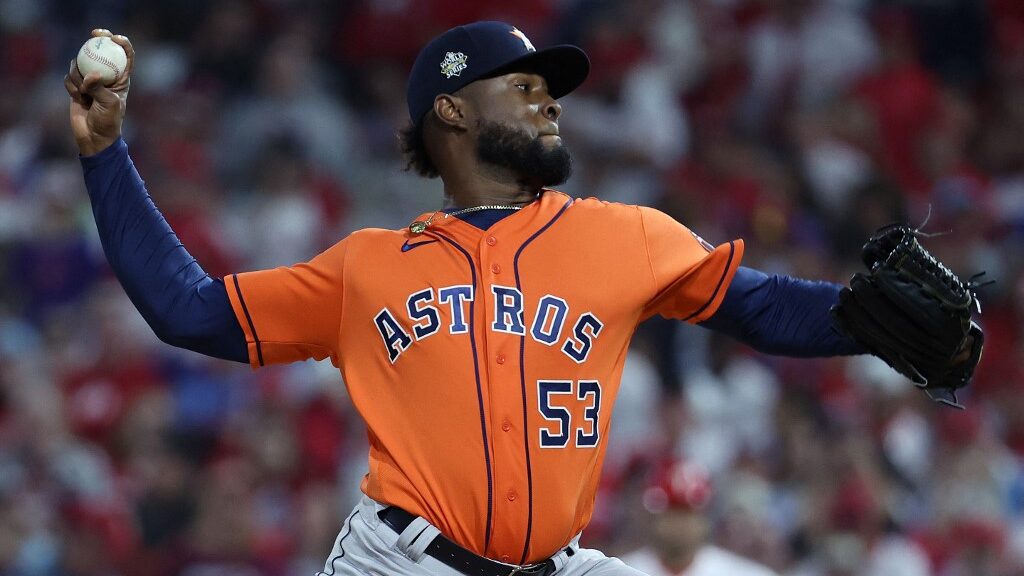 It's almost February. That means we're inching closer to pitchers and catchers reporting to spring training. Scott Rolen was just inducted into the MLB Hall of Fame, and now the MLB is starting to make some mainstream headlines again.

One of my favorite awards every year is the Cy Young award. This is awarded to players with the best pitching performances in the NL and AL seasons.

Last season, Sandy Alcantara won it in the National League with the Marlins, while Justin Verlander won it in the American League with the Astros. However, that won't happen again. Verlander is now in the National League with the Mets.

Here are multiple players in each conference that could win this award for your MLB picks.
---
The Favorites in the AL
Jacob deGrom – Texas Rangers (AL)
Jacob deGrom needs to stay healthy. But he's won multiple Cy Young awards and has the chance to be even better in Texas.

Is deGrom aging? Sure. He's 34 years old, but Justin Verlander proved to us last year that age is just a number by winning another Cy Young award. deGrom has a career 2.52 ERA and a career WHIP of 1.00. He's with a new team. He's got less pressure on him too. However, sometimes, going to the American League is a bit tougher.

The AL is more known for its offense, but the NL is known more for its pitching. He's making it harder for himself to go to the AL. Yet he's still one of the best pitchers in the game and should be recognized as a potential candidate for this award.

We'll see how long it takes him to adapt to his new team and AL lineups.
Gerrit Cole – New York Yankees (AL)
Cole just needs to be more consistent for the Yankees this year. At times, he's shown complete dominance in his game, but he'll have one bad inning that will derail his other innings. If he can limit a bad inning here and there, Cole would be a clear favorite to win the AL Cy Young award.

With the Yankees, his ERA has continued to rise year after year. New York picked Cole up after he pitched a 2.50 ERA with the Astros in 2019. However, his ERA started to rise and reached 3.50 last season.

But again, he just needs to be more consistent. He still had a WHIP of 1.02 but allowed a season-high 33 home runs. That's going to happen in New York's stadium, but he's still got to limit the damage.
---
The Sleeper in the AL
Cristian Javier – Houston Astros (AL)
Javier is the next up-and-coming gem in the American League. He had a 2.54 ERA last season with a WHIP of .95. He's just 25 years old and had 11 quality starts last season. Before last year, he had six quality starts in two seasons.

In the postseason, Javier held teams to a .71 ERA last year and a WHIP of .55 in 12.2 innings. He struck out 16 batters in those 12.2 innings and walked just five while allowing only two hits and one run.

Javier was everything the Astros could've ever wanted last season. He will replace Verlander as the top gun in the rotation and could win the AL Cy Young.
---
The Favorite in the NL
Sandy Alcantara – Miami Marlins (NL)
Alcantara will be looking to win back-to-back Cy Young's this season in the NL. He finished last year with a 2.28 ERA. He struck out 207 batters and had a WHIP of .98.

He didn't have the best ERA or WHIP, but he was durable and pitched deep into games without getting hurt.

Alcantara went 228.2 innings and pitched six complete games. That's almost unheard of in this day and age. You're supposed to fatigue more into games, but Alcantara never folded.

If he puts on that kind of performance, especially against National League East opponents, he'll be in the talks for another NL Cy Young.
Also, if you're a fan of the Marlins and what to back Alcantara for this award, check out our top Florida betting sites and start having fun today.
---
The Sleeper in the NL
Max Fried – Atlanta Braves (NL)
It feels like Max Fried doesn't get enough credit. He finished with a 2.48 ERA last season with a 1.01 WHIP and a 14-7 record. Fried instantly became the best pitcher on the Braves and has had three seasons with the Braves where he recorded an ERA below 3.

He's as consistent as they come and has earned 40 quality starts over the last two seasons. If you are looking for a dark horse, check out his MLB odds when they get posted as there could be a lot of value.
*The line and/or odds on picks in this article might have moved since the content was commissioned. For updated line movements, visit BMR's free betting odds product.