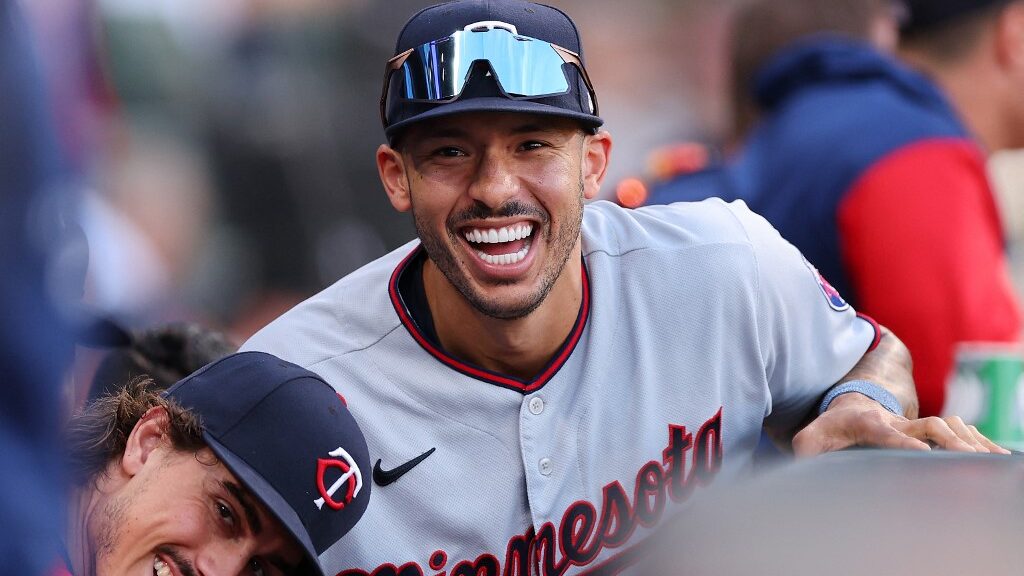 The Carlos Correa saga is over.
Correa had deals with the San Francisco Giants and New York Mets, before having to settle for an extension with the Minnesota Twins.
The Twins rarely hand out big contracts. But after signing Carlos Correa, the Twins have officially acknowledged that they've bought in. Minnesota handed out a $200 million deal to Correa and added Byron Buxton on a seven-year deal.
The Twins have a nice little window with two of their star players and will look to build around those two players to win a championship or two in Minnesota.
How does this affect Minnesota's futures odds for the 2023 MLB World Series?
---
---
Minnesota Gained Respect
The perception of the Twins was that they were just another ball club hanging on. But after bringing in Correa on a $200 million deal, the perception might've changed.
Other free agents and players might consider Minnesota more now that they're willing to go out and spend to put together a winner.
His agent, Scott Boras, told MLB.com this very same thing.
"There's going to be a response, I believe, in the competitiveness and the attendance," Boras said. "And then, all of a sudden, the viewpoint of this, I think, is going to really change because guys like Carlos will be doing what? They're going to be knocking on the owner's door and they're going to be knocking on a lot of players' doors saying, 'We are [competitive].'"
Agents, general managers, and players can all get a sense that the Twins are finally going after a World Series. That's only going to help baseball and this team.
---
Minnesota's Still Got Work to Do
The starting lineup still isn't going to win a World Series.
At the top of the order, the Twins have Luis Arraez, Carlos Correa, Byron Buxton, and Jorge Polanco. That's a solid group of balanced hitters.
For one, Buxton needs to stay healthy. But also, the bottom portion of the order still leaves a lot to be desired.
Max Kepler, Jose Miranda, Joey Gallo, and Nick Gordon all have something to prove. Plus, adding Christian Vazquez is fun but is he going to change this lineup much?
Probably not.
A Good Start but More Needs to Be Done
The starting rotation has a lot of potential. The Twins will have Sonny Gray and Tyler Mahle in the rotation. So now they've got two former Cincinnati Reds pitchers in their rotation.
Kenta Maeda will likely return with the Twins this upcoming season, and they'll still have Joe Ryan and Bailey Ober, two promising young pitchers.
The bullpen is still unique. Jorge Lopez and Jhoan Duran are a fascinating combo that should be able to shut the door in the final couple of innings. But let's be honest, this team isn't going to win a World Series over the likes of the Astros, Dodgers, Padres, Mets, Yankees, Braves, and Phillies who are commonly rated by top sportsbooks as strong MLB picks.
The Twins are sitting at +5000 to win the World Series, below an Angels team that never even makes the playoffs.
Minnesota is also behind the Chicago White Sox and Cleveland Guardians regarding the odds. The Guardians are expected to win the AL Central. Not the Twins.
---
Correa's Health & Numbers
Correa hit .291 for the Twins last year with 22 home runs and 64 RBIs. For example, if he went to the Mets, his RBI total would be much higher.
There were times last year when Correa was carrying Minnesota's offense because everyone else was in a slump. Correa's numbers and production would've been better in a better lineup.
Correa does have Arraez in front of him, which helps, but it's not like Arraez will steal 100 bases.
Byron Buxton is also in front of Correa in this year's lineup, Buxton could end up stealing bases, but he could also force Correa to hit with nobody on due to his power.
In 2021 with the Astros, Correa had a 7.2 WAR. He regressed to a 5.4 WAR last season for the Twins in his first season there.
He passed every physical, and no doctor for the Twins was concerned with Correa's ankle.
If anything, his ankle won't hurt him now. It'll affect him in the future. So his production won't change based on all that physical information. He'll put together another quality year for the Twins. But he needs more help in that lineup. Buxton being healthy is a start.
At +5000, the Twins to win the World Series is valuable. It's just doubtful, as most MLB odds suggest.
Remember to make sure to check out the best US Betting Sites available in order to make your bets.
*The line and/or odds on picks in this article might have moved since the content was commissioned. For updated line movements, visit BMR's free betting odds product.