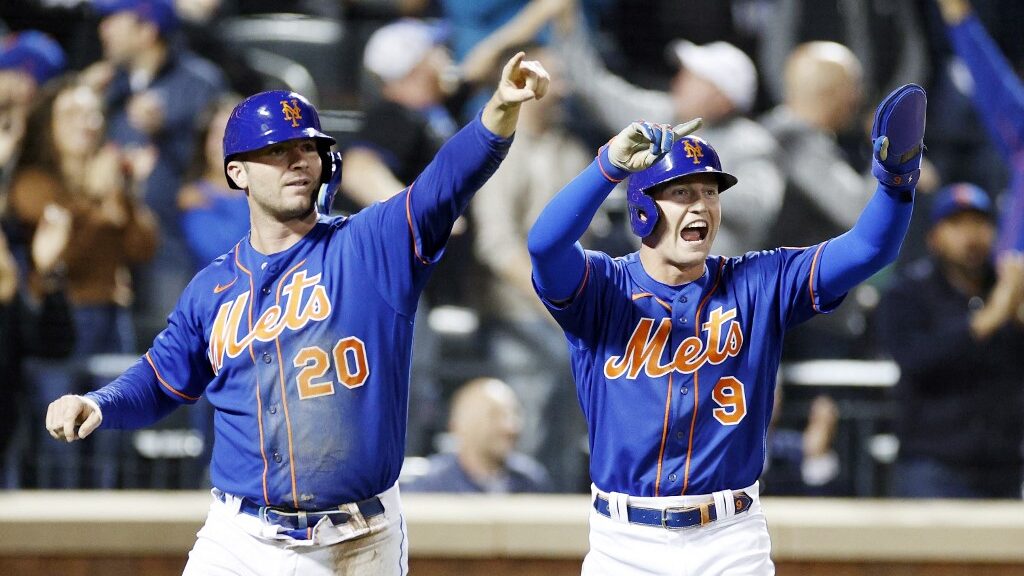 The MLB betting futures odds have three teams among its top 8 teams that have a chance to win the World Series.
While only one could ultimately go, that speaks to how competitive this division will be at the top all season. Let's dive into who the haves and have not's in the NL East.
Make sure to check out the best US betting sites available in order to make your bets.
---
Key Takeaways
The NL East Has Three of the Top 8 Favorites to Win the 2023 MLB World Series.
Miami isn't Good and Washington is Far Worse.
Note: All MLB futures odds in this article are based on projections from BetOnline. (visit our BetOnline Review)
---
---
New York Mets
Win NL East: (+125) 1st
Win NL: (+350) 1st
Win World Series: (+800) 4th
Season Win Total: Over/Under 94.5 Wins
Among roughly half the owners of major league teams, the Mets are the most hated team. Why? Owner Steve Cohen is on record as saying he's "always in it to win"; this is his business philosophy. New York spent more than 500 million on free agent signings and it would have been over 800 million if Carlos Correa's deal would have worked out.
The Metropolitans' everyday lineup ended up 5th in runs scored and they should be at or near that figure with the likes of Pete Alonso, Jeff McNeil, and Francisco Lindor among others.
Will The Older Starting Pitchers Avoid Injuries?
Losing Jacob deGrom was a big loss for the Mets' pitching staff, but replacing him with Justin Verlander was a great way to soften the blow. One aspect everyone making MLB picks has to consider whether it is daily selections or futures wagers, can you trust a team that has Verlander, Max Scherzer, and Carlos Carrasco as three of the starting pitchers as they are each 35 years old or older?
A possible bet to win the division, anything else seems 50-50 at best.
---
Atlanta Braves
Win NL East: (+135) 2nd
Win NL: (+550) 4th
Win World Series: (+900) 6th
Season Win Total: Over/Under 95 Wins
Possibly the smartest franchise in baseball right now is Atlanta. The Braves years ago invested in their farm system and scouting and they now annually have talented young players moving through the ranks that are ready to contribute.
As these players develop and show they are ready for the majors, the Atlanta front office is locking them up. Studs like Ronald Acuna Jr., Ozzie Albies, Austin Riley, Sean Murphy and Matt Olson are all under contract and the oldest individuals are 28 years old.
Braves Stocked With Proven Great Young Talent
Barring horrible injuries, the Braves will be an annual contender if they continue to develop pitching prospects.
Max Fried is the ace, and if they can get Ian Anderson back to normal to go along with Spencer Strider and a still useful Charlie Morton, the bullpen is solid enough as manager Brian Snitker has a good feel for this team.
Oddly, at least at this time, the Braves are picked 2nd in the division but have a higher win total than the Mets.
I definitely like the Bravos for the OVER for win total.
---
Philadelphia Phillies
Win NL East: (+325) 3rd
Win NL: (+700)5th
Win World Series: (+1600) 8th
Season Win Total: Over/Under 88.5 Wins
Sometimes it just happens in sports, a team gets hot and they become unstoppable. After firing Joe Girardi as manager, Rob Thomson was thought to keep the seat warm so Philadelphia could find their next manager in 2023.
The underachieving Phillies responded to Thomson's baseball lifer approach of simple consistency and routine. The last team in the NL playoffs was within two games of winning a very unlikely World Series where only Houston's pedigree kept that from occurring.
One Year Wonders?
Can Thomson duplicate that same environment or will the Phils be a half-year wonder much like the Colorado Rockies of 2007?
Offensively, other than missing Bryce Harper for about a half season, the offense was 6th in homers in 2022 and there is every reason to believe Nick Castellanos will rebound and Trae Turner will be as dangerous as ever now in a Philly uniform.
The pitching staff has gone from general liability to strength as GM Dave Dombrowski worked his magic to build a roster that could win.
The Phillies still seem like the third-best team in the division, with the real question can last year be repeated? Too much uncertainty for a win total wager.
---
Miami Marlins
Win NL East: (+2500) 4th
Win NL: (+4000) 10th
Season Win Total: Over/Under 76 Wins
For a time when Miami had an ownership change away from well-known grifter Jeffrey Loria, what few fans the Marlins had, they had a reason for optimism.
Those hopes have been dashed as the current ownership group is basically the same, collect the television money, keep the payroll low and pretend you care about improving while making money.
Same Issues as Before
Miami was 28th in runs scored and adding infielders Yuli Gurriel and José Iglesias to minor league contracts earlier this month at 38 and 33 doesn't seem to move the needle much. Other than Jazz Chisholm Jr. and Garrett Cooper, finding consistent offense will remain a conundrum.
It is too bad Sandy Alcantara is wasting his considerable talents pitching for a terrible offense and a weak bullpen that has been in the bottom third of baseball for a period of time. The Marlins won 69 games a year ago, hard to see an eight-game improvement in 2023.
---
Washington Nationals
Win NL East: (+10000) 5th
Win NL: +15000 15th
Season Win Total: Over/Under 59.5 Wins
Did the Nationals really win the World Series in 2019? Here was Washington's win total from 2012 to 2019, in order:
Since that time, these are the Nats' latest records:
2020: 70-92 (note: numbers extrapolated over 162 games since this was the Covid season)
2021: 65-97
2022: 55-107
If ever a team emulated the then-Florida Marlins of winning a World Series and soon having a total collapse, it is Washington.
Any Hope in the Near Future?
With all the trades made to move star players, the Nationals' farm system is being nicely restocked, but that will take years to know what they actually have.
Starting pitchers Stephen Strasburg and Patrick Corbin are under contract and the former cannot get healthy. Washington fans wish the same was true of Corbin, after being the worst starter in baseball a year ago. Josiah Gray and MacKenzie Gore are both good young hurlers who have to harness their control.
But even if they do, the 26th-ranked offense from a year ago won't have Juan Soto at all.
About the only recognizable name in the batting order is Victor Robles, who has not shown he can hit a slider consistently. It makes more sense to look to bet against Washington daily than any other method.
*The line and/or odds on picks in this article might have moved since the content was commissioned. For updated line movements, visit BMR's free betting odds product.