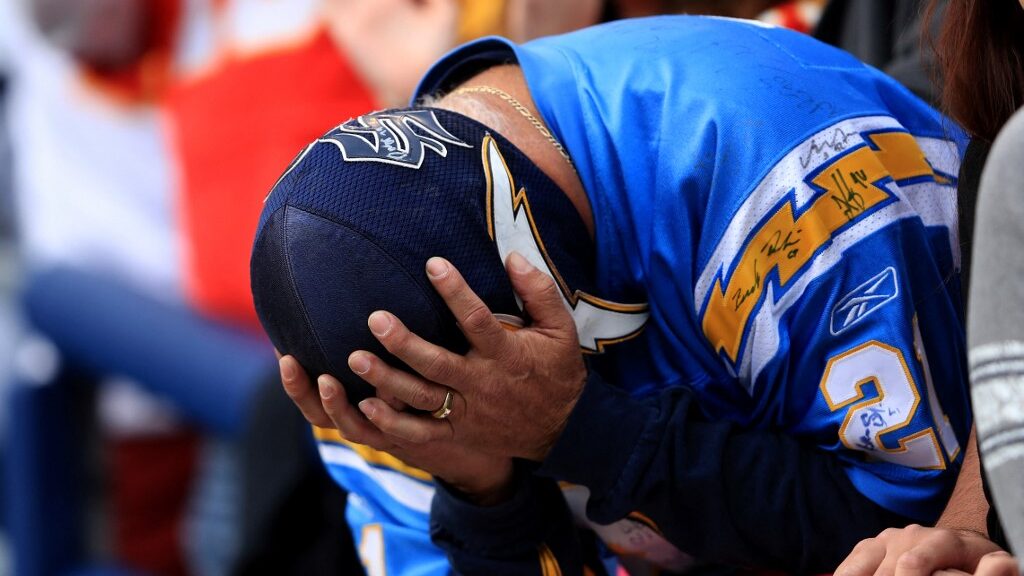 At some point, whether we are with a group of friends watching an NFL Football Sunday at someone's house or at a bar stuffed with excited football watchers, invariably someone loses their cool. It might be one sentence filled with expletives or acting out frustrations in an unbecoming manner that brings unneeded attention to that person or the group.
Maybe this has happened to you, losing your composure for five seconds or a minute. It happens. That doesn't make it right. But you realize you have to solve this for yourself.
Betting NFL football is hard enough, but if you are carrying around extra emotional baggage, that can often make it worse. Here are ways to keep things under wraps to help you from losing it.
Understand Yourself and Place Yourself in the Best Spot
Over the last six weeks, you have lost a game or two on a week that you had the point spread covered, going under two minutes, or been in position the other way and failed to score and cover in the final 30 seconds. No question that starts to eat away at you. What can happen when you sit down to do the next week's handicapping and your concentration level is not the same?
Come the early Sunday games against the NFL odds, you are losing that contest and mutter to yourself, "What was I thinking?" The fact is you were not, being distracted by weaker choices or possibly bad luck. Your bigger bet is up next and you have an eight-point lead as a four-point favorite and the opposing team starts moving the ball and you think – Here we go again!
Turn the Game Off
If this is a predicament you are familiar with, understand what to do. You made a poor choice in the early contest, nobody else. If you feel you have reached your boiling point, turn the game off or tune in to another.
ESPN will have highlights shows all Sunday night and you can see if the result was good or bad. Have the discipline to just know how you feel and don't put yourself in a regrettable spot.
Treat Each NFL Week Separately
When a team loses a very difficult game, the coaches and players will say, "We have to put that one behind us and not let one loss turn into two."
This is something we've all seen happen, a negative carryover effect. Yet, we have also been certain there was no way a squad overcomes a bitter setback and somehow they engineer an outright upset the following week. Afterward, all the player quotes are "we put last week behind us."
If any handicapper and weekly football bettor has three straight losing NFL weeks, you have to mimic the pros and let the losses go and not allow them to linger. The NFL is truly a week-to-week league and with hard work, a good attitude, and diligence, you can turn your season around immediately and possibly go on an extended winning streak.
Stay On an Even Keel When Going Through Extended Hot Streak
What we have mostly discussed is how to remain under control with losing or having things not go your way. The opposite end of the scale is going through a hot streak or an unprecedented season of winning in the NFL. As unsavory as losing is, there are those obnoxious winners who act like they just invented how to pick NFL winners.
Any truly experienced sports bettor understands that no matter how good the run is, trouble is lurking around the corner and can strike instantly. Getting sloppy and making foolhardy wagers is the perfect way to undermine success.
There is nothing wrong with enjoying winning, it is encouraged, just as long as you act as if you have won before. Even someone as skilled and well-known as a football bettor as Billy Walters enjoyed a great life and wealth, but he didn't feel the need to tell everyone who would listen he was the greatest.
Enjoy the ride, and have fun with it. When it comes to betting football, having the discipline to stay with what is working or correct what isn't, that's how to stay grounded.