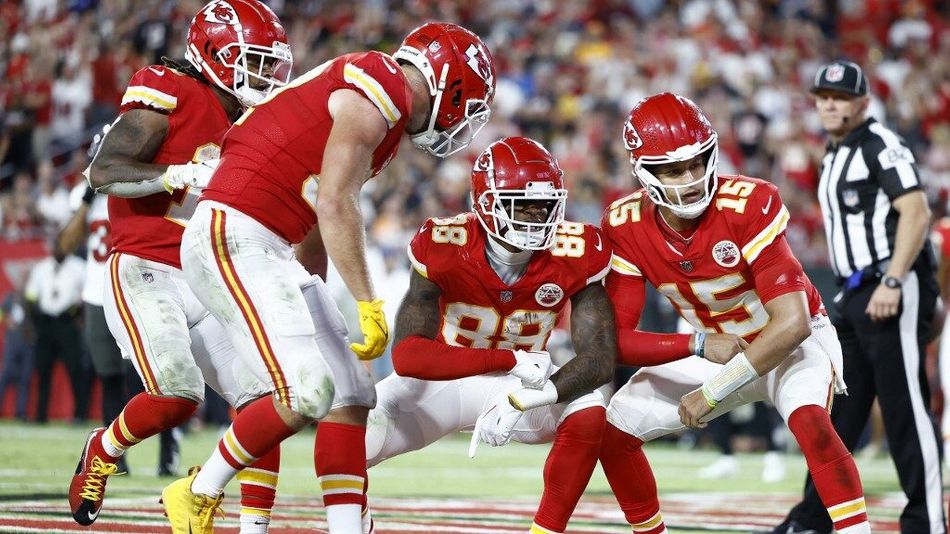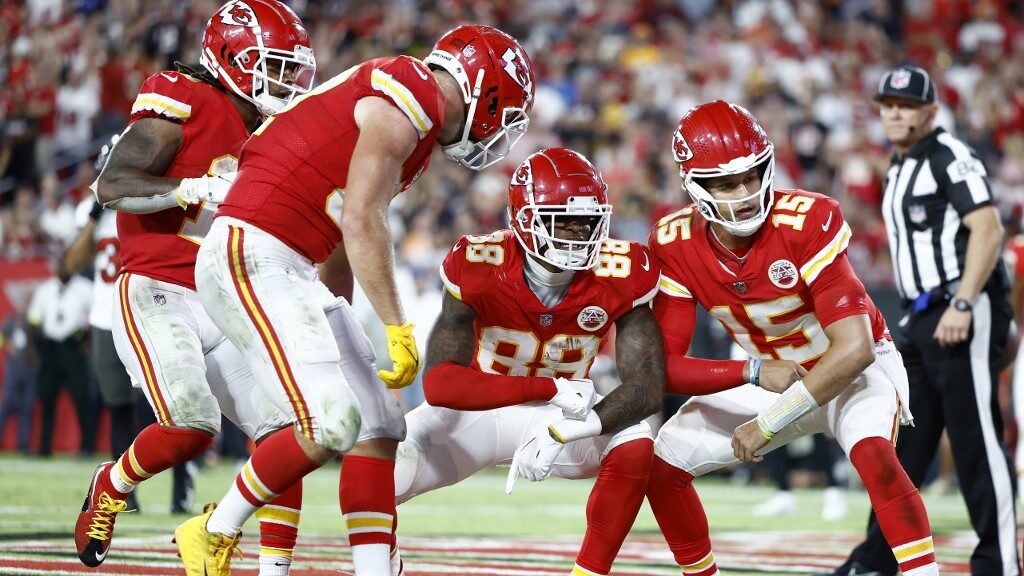 Now that the 2023 NFL Draft is over, the next steps on the football calendar are the upcoming release of the schedule, training camp in July, then preseason games in August.
In just over four months, the 2023 NFL season will begin. But today, we are checking in on the update of the Super Bowl LVIII odds at the best sportsbooks following the draft.
Using odds from Bovada (visit our Bovada Review), we are going to break down the 32 teams into four tiers:
Favorites (+600 to +1200)
Hope Springs Eternal (+1300 to +3000)
Seeking Value (+3500 to +5000)
The Longshots (+5500 to +20000)
Favorites (6 Teams With +600 to +1200 Odds)
Going by the latest NFL odds, our favorites include the same final six teams as the final six left on Sunday in the divisional round of the playoffs. Nine of the last 10 Super Bowl winners had odds of +1200 or higher.
Kansas City Chiefs (+600)
We remain in the longest drought in NFL history without a repeat Super Bowl champion, but if anyone can do what the 2003-04 Patriots last did, it would be Patrick Mahomes and the Chiefs.
Mahomes became the first quarterback to lead the league in passing yards and win a Super Bowl in the same season. He lost No. 1 wide receiver Tyreek Hill last year and still led the No. 1 offense, won MVP, clinched the No. 1 seed, won three one-score playoff games, and did much of it in the postseason with an injured ankle.
When the worst result for this Kansas City team in Mahomes' five years is twice losing in overtime at home in the AFC Championship Game, it seems crazy to not give them some betting love to win it all. The defense could also be better in 2023, the receiving corps added Rashee Rice in the second round, and watch out if Kadarius Toney ever stays healthy for a full season.
Philadelphia Eagles (+750)
The Eagles remain a good bet coming out of the NFC again, and they very well may have won that Super Bowl against Kansas City if Jalen Hurts did not suffer an unfortunate fumble return touchdown in the first half.
But the Eagles return a very strong roster, they have a huge edge at quarterback in the NFC, and they even added more to the pass rush in the draft with Jalen Carter and Nolan Smith in the first round. Imagine a team with 70 sacks being able to strengthen the front seven, but the Eagles have done that.
With such a clear path to another No. 1 seed, the Eagles could do the improbable and find a way to win a Super Bowl the year after losing one, which was last done by the Patriots in 2018.
San Francisco 49ers (+750)
The 49ers have even odds with the Eagles, which still does not feel right. While the 49ers have a very strong roster too, the quarterback situation is a mystery after Brock Purdy injured his elbow early in that NFC Championship Game meeting.
Mr. Irrelevant had a storybook season going, but now we wonder if he will ever live up to his full potential following a serious surgery. We just hope to see him start early this year, though the team may be stuck with giving the job back to Trey Lance, the 2021 first-round pick we still know very little about after he suffered a season-ending injury in Week 2.
But Jimmy Garoppolo is with the Raiders, so the 49ers are going to have to deal without a veteran leading the way at the most important position. Their draft also produced very little without any picks before No. 87, and they even used a top 100 pick on a kicker of all things.
Buffalo Bills (+850)
The Bills actually edge out the Bengals for the second-best odds in the AFC, but the favorites for most of 2022 will have to circle the wagons after an emotionally draining season that saw them blasted at home by Cincinnati in the second round.
This team had a lot to overcome from a Josh Allen elbow injury scare to Von Miller's torn ACL on Thanksgiving to the scary Damar Hamlin incident that fortunately had a happy ending.
However, the Bills will have to prove they are still an elite team that can win a championship and not just peak in October by beating the Chiefs in the regular season. These windows do not stay open forever.
Cincinnati Bengals (+900)
The Bengals eye a third-straight division title and much more come playoff time after getting to the AFC Championship Game for the second year in a row. But much like in the Super Bowl 56 loss to the Rams, Joe Burrow was unable to get the offense down the field for a late field goal.
Burrow getting sacked a lot continues to be the No. 1 way to beat the Bengals, so they hope acquiring left tackle Orlando Brown Jr. from the Chiefs will serve them best. The defense also added edge rusher Myles Murphy in the first round, and a few picks in the secondary after losing some veterans there.
The Bengals remain potent in the wide receiver corps, but it figures to be another year of having to solve the Chiefs, who seem to always play this team to a 3-point decision.
Dallas Cowboys (+1200)
The Cowboys are as far behind the Bengals for No. 6 on the Super Bowl odds list as the Bengals are behind the No. 1 Chiefs, but you can definitely make the argument that Dallas was the third-best team in the NFC last year when Dak Prescott was healthy.
There is just a sense of distrust in this team in the playoffs under Mike McCarthy, and the Cowboys defied the odds already by leading the league in takeaways on defense for the second year in a row. When does that advantage run dry?
The offense also said goodbye to Ezekiel Elliott, Dalton Schultz, and Noah Brown. But the draft brings Luke Schoonmaker as a second-round tight end, and Michigan defensive tackle Mazi Smith was the first-round selection.
We were robbed of two Cowboys-Eagles showdowns with Hurts and Prescott facing off as each team picked up a win over the other's backup quarterback. But hopefully, things will be at full strength in 2023 when they meet to likely decide the NFC East and possibly the top seed again.
Hope Springs Eternal (8 Teams With +1300 to +3000 Odds)
Our second tier of teams looks at eight Super Bowl hopefuls who are hoping to improve on last year's finish by a good margin. The last teams to win the Super Bowl with odds in this range were the 2012 Ravens (+1600) and 2011 Giants (+2200).
New York Jets (+1300)
No team in this tier is more intriguing than the Jets, who traded for Aaron Rodgers to hopefully fix the quarterback position that has plagued them for years. The Jets nailed their 2022 draft class with two Rookie of the Year winners in Sauce Gardner and Garrett Wilson, and Breece Hall may have been the top rookie back if he was not injured.
The Jets did not apparently nail this year's draft, missing out on a left tackle or wideout with their first pick and settling for edge rusher Will McDonald IV. But Rodgers returns to an offense with a coordinator (Nathaniel Hackett) he won his last two MVP awards with in Green Bay, he gets a fresh start after things soured there, and he is bringing Allen Lazard and Randall Cobb along for the ride.
Also, this could be the best defense Rodgers has played with since he won his only Super Bowl in 2010. After last year's disastrous quarterback moves with Russell Wilson (Broncos) and Matt Ryan (Colts), there is some pause here with Rodgers having instant success, but we know he is closer to the caliber of player that Peyton Manning (2012 Broncos) and Tom Brady (2020 Buccaneers) were when they switched teams.
Either way, this is going to be the most exciting Jets season in over a decade.
Miami Dolphins (+1800)
The Dolphins were the last AFC playoff team last year, and they gave the Bills a scare in the wild-card round despite starting a third-string rookie quarterback. This team's hope is that Tua Tagovailoa can get through a full season concussion free, but he also lost his last four starts in 2022.
The tampering charges against Miami in dealing with Tom Brady and Sean Payton also led to the team forfeiting their first-round pick, which is why this year's first round had 31 picks. The Dolphins also are making up for the Bradley Chubb trade, so their rookie class figures have little impact, and they are counting on Jalen Ramsey to bring a boost to the secondary.
Detroit Lions (+2000)
The Lions have supplanted the Vikings and Packers as the favorite to win the NFC North this year, though the draft did not exactly bolster confidence in this team. The Lions ultimately ended up with what could be a decent haul, but it is where the team drafted the players that has caused the most negative reactions.
Detroit used the No. 12 pick on a running back (Jahmyr Gibbs) and the No. 18 pick on an off-ball linebacker (Jack Campbell). The No. 68 pick was used on a developmental quarterback some thought could be a first-round pick, though do not expect Hendon Hooker to play in 2023.
The Lions also got a tight end in the second round (Sam LaPorta) to hopefully replace the loss of T.J. Hockenson, but even that pick was criticized since he was taken at No. 34 with Notre Dame's Michael Mayer still on the board.
Time will tell if the Lions were right on these moves, but this does not feel like the draft of a Super Bowl winner for a franchise that has one playoff win in the Super Bowl era.
Los Angeles Chargers (+2000)
Call it a bold strategy, but the Chargers drafted the quarterback and top two wide receivers from a TCU team that was destroyed 65-7 in last year's championship game. The main pick there is first-round wide receiver Quentin Johnston, though it would have been nice to see the team opt for a faster player like Zay Flowers from Boston College instead of another lengthy possession receiver for Justin Herbert to throw to.
The Chargers blew a 27-point lead in the playoffs, ushering in the Herbert playoff era in style. Their problem remains to be in a loaded division and conference where Herbert's advantages are not as big as they would be in the NFC. Trusting this team under head coach Brandon Staley to not blow it before a Super Bowl is still too difficult.
Baltimore Ravens (+2500)
These are really tempting odds for a team that is used to winning, has a dynamic quarterback with a new contract (finally) in Lamar Jackson, and the team made sure to add weapons around him with Odell Beckham Jr. and the drafting of first-round wide receiver Zay Flowers.
The question is can Jackson last a full season after getting injured in December the last two years, which is arguably the main reason the Bengals have gone on to win the AFC North the last two years? But with a new offensive coordinator (Todd Monken) who will bring a different style, the Ravens at +2500 is one of the best bets you can make today.
Jacksonville Jaguars (+2500)
Trevor Lawrence's draft was already set before it began with the team trading for Atlanta wide receiver Calvin Ridley, who was suspended for all of 2022 for gambling. Add him to the mix of an offense that did better than expected with Christian Kirk, Zay Jones, and Evan Engram last year, and you could look at the Jaguars as the new consistent kings of the AFC South.
But while the Jaguars finally started winning shootouts under Doug Pederson last year, it remains to be seen if they have the horses to deal with elite teams like the Chiefs, Bengals, and Bills to get to a Super Bowl.
Though with a path to a division title looking easier than most teams in the league, this is a better bet today than teams like Miami and the Chargers.
Cleveland Browns (+3000)
The Browns did not pick until the third round (No. 74 overall) thanks to the big Deshaun Watson trade a year ago. That really is the full story here. Can Kevin Stefanski get way better to play out of Watson after a full offseason after the poor showing he had in replacing Jacoby Brissett late in the year?
The Browns are still one of four teams to never reach a Super Bowl. Let's see them walk before they go on a run. This is not a good future pick this year.
Seattle Seahawks (+3000)
With Pete Carroll's age, you do have to wonder if Jalen Carter should have been the pick at No. 5 instead of corner Devon Witherspoon. But the drafting of top wideout Jaxon Smith-Njigba feels like a great move as future insurance for when one of Tyler Lockett and DK Metcalf move on.
But in 2023, the chance to throw all three on the field for Geno Smith to throw to and prove last year was not a fluke is very enticing. Get Kenneth Walker III back healthy in the backfield and this offense could be cooking.
However, the defense will have to step up and show it can stop the likes of the Eagles, Cowboys, and 49ers in big games. Geno also is riding an unusual career arc and it is not a given he will be Pro Bowl caliber this season.
Seeking Value (8 Teams With +3500 to +5000 Odds)
Our third tier is getting into very improbable territory, though the 2017 Eagles (+4000) were able to win a Super Bowl with these odds.
Denver Broncos (+3500)
There is definitely value here when Sean Payton (+1200 at Bovada) is tied for the second-best odds for Coach of the Year. If he wins that award, it likely means he has fixed Russell Wilson and got this team back in the playoffs.
Remember, the Broncos were 3-10 at game-winning drive opportunities and blew five fourth-quarter leads last season. They also lost a lot of offensive starters to injury, including running back Javonte Williams, and Wilson was not 100% healthy himself. The defense was wasted as one of the best units in the league.
The problem again is playing in the shadow of the Chiefs in the AFC West, but the Broncos are a sneaky value team this year that added some depth to the wide receiver, corner, and linebacker rooms in the second and third rounds.
New Orleans Saints (+3500)
The Saints added a couple of top-40 picks to the defensive line, but the big move is getting Derek Carr at quarterback. Is it a huge upgrade over Andy Dalton? No, it is not. But the division is up for grabs after it was one of the worst in NFL history last year.
At least Carr will no longer be competing with Mahomes and Herbert for a division title, but there is not a ton to like about this roster or head coach Dennis Allen right now.
Green Bay Packers (+4000)
Matt LaFleur coming back with Jordan Love to steal another NFC North title sounds absolutely doable for this team, especially if Christian Watson can stay healthy at wide receiver. But a Super Bowl after getting rid of Aaron Rodgers and Davante Adams the last two years when they could not even get over the hump to get back with those guys just seems like too much of a stretch.
The Packers also extended their streak of not drafting a first-round running back, wide receiver, or tight end since 2002.
Minnesota Vikings (+4000)
You are going to hear all offseason about regression in close wins with this team after it set records with eight fourth-quarter comebacks, including the all-time record comeback of 33 points against the Colts. The Vikings had the worst scoring differential for a team with more than 11 wins in NFL history last year, getting outscored by 3 points despite finishing 13-4.
Adding a first-round wide receiver (Jordan Addison) after losing Adam Thielen as your only top-100 pick does not sound like a draft class that is ready to have an impact in 2023 either.
New York Giants (+4000)
After winning their first playoff game since Super Bowl 46, the Giants remain a distant third in the NFC East race behind Philadelphia and Dallas. Like the Vikings, this team had a ton of close wins early in the season, then did little of note late in the season outside of playing those Vikings tough.
Nevertheless, we will see if paying Daniel Jones and giving reigning Coach of the Year Brian Daboll more time to develop him pays off this year.
Las Vegas Raiders (+5000)
The Raiders are absolutely the best 6-11 team in NFL history, though that is no consolation prize after Josh McDaniels' squad found a way to blow six fourth-quarter leads.
In replacing Derek Carr with Jimmy Garoppolo, McDaniels gets a polarizing quarterback he can control in an offense that had the leading rusher (Josh Jacobs) and touchdown catches (Davante Adams), and the defense was able to add edge rusher Tyree Wilson with the No. 7 pick.
The Raiders are an easy pick for a team to improve its record in 2023, but again, that tough AFC lineup makes it hard to predict any Super Bowl luck.
New England Patriots (+5000)
The Patriots may have snuck into the playoffs last year had they not fumbled away a win in Las Vegas in the most egregious manner. Blowing a home game to the lowly Bears also did not help, and the offense was brutal under Mac Jones in his second year and the terrible attempt by Matt Patricia of being an offensive coordinator.
Bill Belichick is still one of the best coaches, but the lack of talent and the way the division has really improved is exposing him these last few years. It does not feel like there is any hope at another Super Bowl right now for him.
Pittsburgh Steelers (+5000)
Mike Tomlin did the unthinkable and extended his streak to 16 seasons without a losing record despite having a rookie quarterback who could not throw touchdowns, and superstar T.J. Watt missed half the season on defense.
It still did not result in a playoff appearance, but the Steelers have found new starters at left tackle (Broderick Jones), nose tackle (Keeanu Benton), and corner (Joey Porter Jr.) in this draft class, and Kenny Pickett should be able to improve his game with George Pickens also going into his second season at wide receiver.
The Steelers are a young team that is rebuilding without having to go through a brutal losing season, but you do have to go back to the 2016 season to find the last time Tomlin won a playoff game.
The Longshots (10 Teams With +5500 to +20000 Odds)
Our fourth and final tier of 10 teams are the long shots. The last teams to win a Super Bowl with these odds were the 2001 Patriots (+6000) and 1999 Rams (+15000). Both involved an unexpected quarterback change with Kurt Warner and Tom Brady taking over.
Carolina Panthers (+5500)
Your friendly reminder that no rookie quarterback has ever won the Super Bowl, though Brock Purdy may have had a shot if he did not injure his elbow last year. However, Purdy had the ideal situation around him in San Francisco.
Bryce Young, the No. 1 pick in the 2023 draft, has a less-than-ideal situation around him. Though with new coach Frank Reich in town, the Panthers have a real shot at winning the NFC South given its current state. But we can forget about the Super Bowl this year.
Chicago Bears (+5500)
The Bears could have opted to start over with Young or C.J. Stroud, but they are going with Justin Fields in his third season after he had a prolific rushing season and a terrible passing one. The trade with Carolina netted No. 1 wide receiver D.J. Moore, though he is not as much of a game-changer as A.J. Brown, Tyreek Hill, or Davante Adams were last year for new teams.
Chicago also added left tackle Darnell Wright (Tennessee) with the No. 10 pick, so the moves to start building around Fields are there. However, the defense has a long way to go to get to Chicago's normal level, and Fields has a long way to go as a big-time passer in the NFL.
Los Angeles Rams (+6000)
It seems crazy that a team two years removed from winning it all could be this low with Matthew Stafford, Aaron Donald, and Cooper Kupp still in town with Sean McVay as their head coach. But the Rams finished 5-12, the worst record ever for a defending champion.
The defense was not imposing and the offensive line was a disaster. The Rams used their top three picks in the trenches, though they never have high picks because of their past trades. This team sold the future to win it all in 2021, and it is hard to criticize that strategy too harshly.
Washington Commanders (+6000)
Washington is one of those teams who opted to pass on Kentucky quarterback Will Levis with the No. 16 pick, choosing to stick with Sam Howell and draft a couple of defensive backs with their top two picks. We will see how that fares, but this team is in need of some energy fast to save Ron Rivera's job.
Atlanta Falcons (+7500)
The Falcons ran the ball more than any team last year while also finishing No. 3 in yards and No 4 in yards per carry with fifth-round rookie Tyler Allgeier rushing for 1,035 yards. It led to a 7-10 record and a mediocre scoring offense.
What does Atlanta do in the draft? It uses the No. 8 pick on Texas running back Bijan Robinson, the latest "he's the next Adrian Peterson" prospect. It is terrible value, but given the cursed history of the Falcons, no single pick at defensive tackle or corner was going to rescue this team.
Let it get the polished runner who may win Rookie of the Year, but this team is not ready to compete for a Super Bowl under Arthur Smith and Desmond Ridder.
Tampa Bay Buccaneers (+7500)
The Buccaneers went for three linemen with their first three picks, choosing to play it safe in what will surely be a rebuilding year. The Buccaneers were an 8-9 division winner who played like a 4-13 team last season. Without Tom Brady's luck, they may finish as a 4-13 team this year behind Baker Mayfield.
Tennessee Titans (+7500)
This may be a bit low for a team that was the No. 1 seed in 2021 and off to a 7-3 start last year before losing seven in a row, but the Titans look like a team that blew its shot at home in the playoffs in 2021 against the Bengals. Ryan Tannehill has an extensive injury history, so the team took Will Levis in the second round. He does not have to start right away by any means.
But the trade of A.J. Brown two drafts ago still looms large as the Titans are still in the running for the worst wide receiver corps in the league going into 2023.
Arizona Cardinals (+15000)
There is simply not much to like here with Kyler Murray coming off an ACL injury, and Jonathan Gannon may be the least inspiring head coach hired after serving as defensive coordinator for the Eagles.
The Cardinals listened to their quarterback and traded down to draft him left tackle Paris Johnson Jr. with the No. 6 pick but getting those extra picks from Houston next year is likely going to set things up better for the 2024 Cardinals. The 2023 team is going to be a chore to watch.
Indianapolis Colts (+17500)
Like the Panthers and Packers, the Colts could be a sneaky good pick to win their division as a surprise this year. But the Super Bowl is asking a ton from a rookie head coach (Shane Steichen) and rookie quarterback (Anthony Richardson).
Steichen did get there in his second season in Philadelphia with Jalen Hurts, but the Eagles were much better built along the trenches than the Colts are. Still, it was a good, aggressive draft process for the Colts, and they should get back to being watchable hopefully soon.
Houston Texans (+20000)
Finally, the boldest draft of them all goes to Houston for taking C.J. Stroud and trading back up to No. 3 to take edge rusher Will Anderson Jr. too. For plenty of draft analysts, this is the No. 1 or No. 2 quarterback and top pass rusher in the draft. For new coach DeMeco Ryans and the Texans, they better hope these guys live up to the hype or they could be out of a job in two or three seasons.
The division is going to be winnable, but the Texans likely need some more help in another draft or two before they could be serious contenders. Stroud is also going to have to shake off the stigma of Ohio State quarterbacks not stepping up in the NFL.