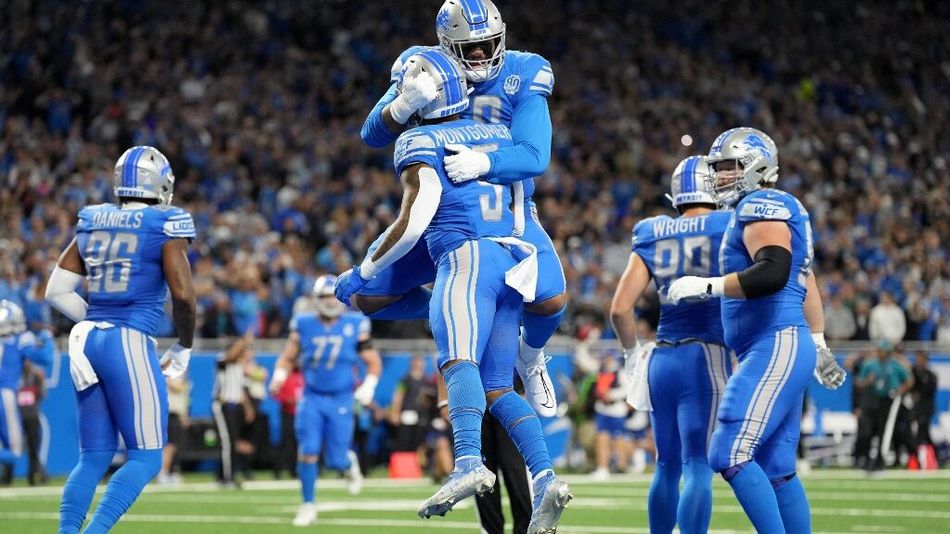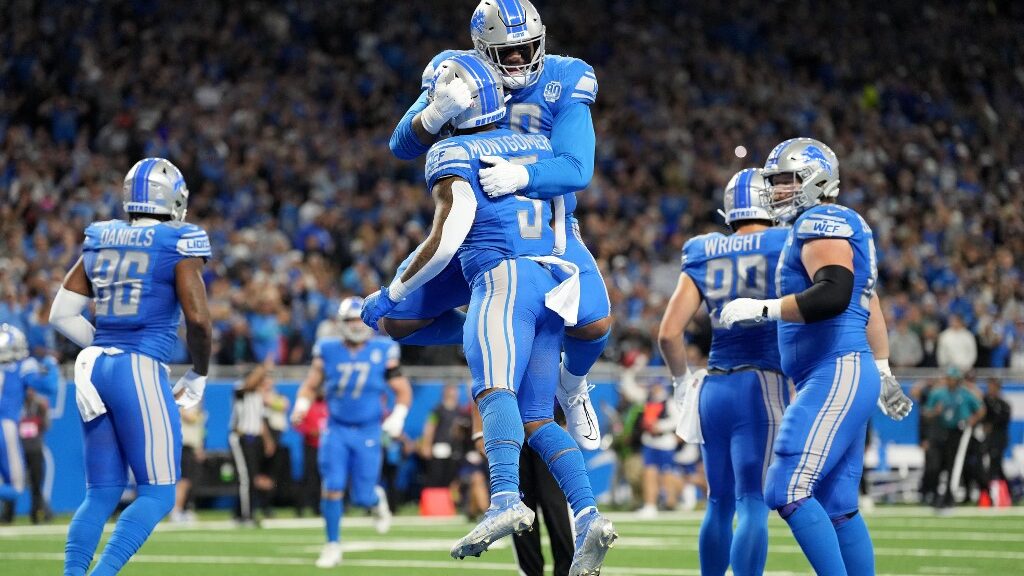 NFL Pick: Lions -9 (-110) at Bovada (visit our Bovada Review)

You know the NFL is having an odd season when 5-of-6 teams that will play in prime time in Week 8 lost last week, and only the Chicago Bears are coming off a win with backup quarterback Tyson Bagent.
Week 8 will start with Buffalo looking to rebound from its latest loss against the Patriots as the Bills host Tampa Bay, which also lost at home to the Falcons. On Sunday night, the Chargers (2-4) and Bears (2-5) meet in a game that we could have told the NFL in April it would work better in the 1:00 PM slate. On Monday night, the Lions will look to recover from their 38-6 rout in Baltimore by hosting a Las Vegas team that just lost wire-to-wire to a Chicago team with a quarterback nicknamed "T-Bag" at the helm.
We have our top NFL picks for each night of prime-time games in Week 8, which you can always find at the best offshore sportsbooks.
---
Lions to Level Las Vegas
The Detroit Lions had a shot at another big road win after already winning in Kansas City to start this season. A win in Baltimore would have given the team a tie for the best record in the league at 6-1, but instead, the Lions were crushed 38-6 in a loss as disappointing as any under coach Dan Campbell. But now the Lions get to bounce back at home against a Las Vegas team that has so many embarrassing losses under Josh McDaniels in 1.5 seasons together.
The Lions are a 9-point home favorite with a total of 45 points.
---
Las Vegas Raiders vs. Detroit Lions
Monday, October 30, 2023 – 08:15 PM EDT at Ford Field
---
Detroit Will Be Fine
Just as we shouldn't overreact to the Lions winning 21-20 in Kansas City on opening night, we shouldn't overreact to the Lions getting crushed 38-6 in Baltimore. It happens once in a while even to good teams, and Detroit watched things snowball early after Lamar Jackson did whatever he wanted to the defense.
Keep in mind this was the same Baltimore team that couldn't put the Colts away at home, and the one that failed to score in the final 40 minutes against the Steelers a few weeks ago. The league is just odd this season.
The Lions should see this as a wake-up call, and fortunately, they got out of the game without major injuries. Now they return home where they usually score a lot more points than they do on the road, and Jared Goff's stats are significantly better at home. Even this year, Goff's passer rating is 113.3 at home compared to 88.0 on the road. Last year, Goff threw 23 of his 29 touchdown passes at home.
Detroit should light up the scoreboard against a Vegas defense that is basically Maxx Crosby and 10 other guys. The Lions also do not have to worry about the Raiders jumping out to a huge lead like Baltimore did last week.
The Raiders Will Be Fine After They Fire Their Head Coach
The writing is on the wall in Las Vegas. Josh McDaniels does not make the team better, and they have built up a resume of embarrassing losses in his 24 games with the team. The offense is among the worst in the league this year, and that is true regardless of which quarterback he starts.
Even if Jimmy Garoppolo comes back for this game, he has the worst interception rate (5.4%) in the NFL this year. The Lions can get after him with Aidan Hutchinson, who also creates interceptions from the defensive line, and the Raiders remain dead last in rushing yards per carry.
This should be a mismatch up front, and the inability to score from Vegas is a bad matchup with this Detroit team that has the receivers and running backs to put up 25-plus points in this game.
The Pick
You have to go back to 1974 to find the last time the Lions were a 9-point favorite or better on Monday Night Football. Detroit already covered earlier this season as a 10-point home favorite against Carolina in a 42-24 win. If Dan Campbell wants to take a bite out of the Coach of the Year race, he has to get his team to play well in a big win in prime time before the Lions head into their bye.
The Raiders are the right opponent to play after a bad blowout loss. Trust the Lions to come through this week.
NFL Pick: Lions -9 (-110) at Bovada

---
Can the Chargers Get Back in the Race?
For the first time under coach Brandon Staley, the Chargers (2-4) have been held under 20 points in consecutive games. They are in 14th place in the AFC and in danger of falling out of the race early this season. They must find a way to regroup against a Chicago team that may have to start Tyson Bagent again for an injured Justin Fields.
The Chargers are an 8.5-point home favorite with a total of 46.5 points. Is this going to be another heavy dose of Chargering on Sunday night?
---
Chicago Bears vs. Los Angeles Chargers
Sunday, October 29, 2023 – 08:20 PM EDT at SoFi Stadium
---
What's Wrong with the Offense in LA?
The Chargers started this season well on offense under new coordinator Kellen Moore. They only had 2 turnovers in 4 games, and they were showing variability with a 233-yard rushing game against Miami and Justin Herbert's first 400-yard passing game in his career in a win over the Vikings.
But after scoring 24 points in every game to start the year, the Chargers have been stuck on 17 points in the last 2 games in losses to Dallas and Kansas City. That alone is part of the problem, the competition has been tough with the Chiefs and Cowboys as two of the top Super Bowl contenders this year. The Chargers had some red-zone issues and turnovers in both games, which is why they did not score 24-plus points again.
It also did not help that deep threat receiver Mike Williams was lost for the year with a torn ACL. Rookie Quentin Johnston has not stepped up as he only has 7 catches for 64 yards, looking like the worst 1st-round receiver compared to Jaxon Smith-Njigba (Seahawks), Jordan Addison (Vikings), and Zay Flowers (Ravens).
Herbert is also doing his normal thing where none of his statistics are significantly improved from his first 3 seasons. He is basically the same player every season, which is a very fine floor that most teams would be glad to have at quarterback, but we are looking for him to take that next step.
It does not seem like it'll happen under coach Brandon Staley.
Bears Can Take Advantage of Staley's Defense
The Chargers are still lousy on defense too, so it would not be a shock to see the Bears have a good performance if they call a protected gameplan for rookie quarterback Tyson Bagent and utilize D'Onta Foreman and D.J. Moore like they did last week in a 30-12 win over the Raiders.
The only team the Chargers held under 20 points this year was the Raiders, and that was because rookie quarterback Aidan O'Connell started that game and took 6 sacks from Khalil Mack alone. Bagent seems to have a little more pocket awareness than that, and let's not ignore that O'Connell still managed to pass for 238 yards against this defense, and he was 3 yards away from a game-tying touchdown against this team.
It wouldn't be a real Chargers game if it does not get within one possession in the 4th quarter. Chicago started this season with 3 double-digit losses, but the Bears have been much closer in the last 4 games, winning a pair and losing the other pair by a combined 9 points.
The Pick
The Chargers are allowing a league-worst 335.5 passing yards per game. That goes against what the Bears want to do, but that also should give Bagent and the offense some confidence that they'll be able to move the ball through the air if they have to in this matchup.
We'll trust the Chargers' inability to put teams away for the Bears to get a cover here.
NFL Pick: Bears +8.5 (-110) at Bovada

---
Which Buffalo Team Shows Up?
The Buffalo Bills are only 4-3 despite ranking in the top 5 in both scoring offense and scoring defense this season. A team that only seems to win big or lose close, the Bills have some improvements to make, and many are on the offensive side right now. The Buccaneers have little offense to show for lately after another low-scoring home loss to the Falcons to fall to 3-3.
The Bills are an 8.5-point home favorite with a total of 42 points.
---
Tampa Bay Buccaneers vs. Buffalo Bills
Thursday, October 26, 2023 – 08:15 PM EDT at Highmark Stadium
---
Josh Allen: Season Is Not Over
Josh Allen was right when he said things look a little bleak for Buffalo at 4-3, but we are in a season where the Dolphins lost big to the only 2 good teams they have played, and the 49ers just lost as a big favorite in back-to-back weeks after most people had them as the No. 1 team at 5-0.
It is a long season, and things are far from over for Buffalo, which rallied back from a 12-point deficit to take the lead on the Patriots, but the injury-ravaged defense was unable to get the last stop. It happens from time to time.
The Bills just have to quickly put it behind them and get ready for a Tampa Bay team that brings a blitzing defense and an offense that can't run the ball but has Mike Evans for big plays.
Allen is having too good of a season for this team to falter badly at home again. The Buccaneers will challenge him, but if he keeps the turnovers down, this will be a solid game for his offensive unit as Stefon Diggs could have a big night against this defense. But the Bills need to remember the running game still exists and not run everything through Allen.
Baker Mayfield vs. Top Defenses
We may have jumped the gun on Baker Mayfield improving the offense over Tom Brady. The Buccaneers are still a lousy running team, ranked 29th in yards and 31st in yards per carry, so that part of the equation is still lousy.
Mayfield did well early in the season when he was playing bad defenses we knew were bad last year like the Vikings and Bears. He had a legitimately good game in New Orleans, but when it came to facing teams like the Eagles, Lions, and an improved Atlanta defense, Mayfield has led the Buccaneers to 11, 6, and 13 points in those games.
Buffalo was playing elite defense this year, and it held the Dolphins to 20 points a week after Miami lit up Denver for 70 points. But the injuries have piled up for the defense, and Buffalo has surrendered at least 25 points in 2-of-3 games since the Miami win. However, they held the Giants to 9 points in between, so we see the defense still can get the job done at times even with injuries. They just have to play complementary football with the offense and not put each other in bad spots with turnovers and holding the lead.
The Pick
Even with the injuries, Buffalo is a good home bet against an unfamiliar opponent with a one-dimensional offense on a short week. The Bills are 10-5-1 ATS since 2020 against NFC teams, tied for the 2nd-best record in the league in that time.
If choosing between Allen and Diggs or Mayfield and Evans, give me the Buffalo duo any time. Just hope it's not a turnover fest, and trust the Bills to come away with another double-digit win for their collection.
NFL Pick: Bills -8.5 (-110) at Bovada

*The line and/or odds on picks in this article might have moved since the content was commissioned. For updated line movements, visit BMR's free betting odds product.