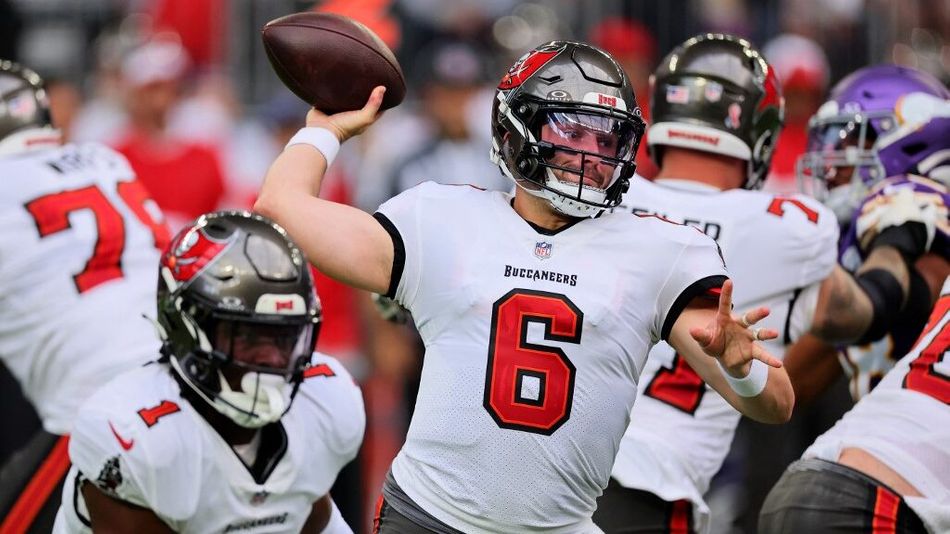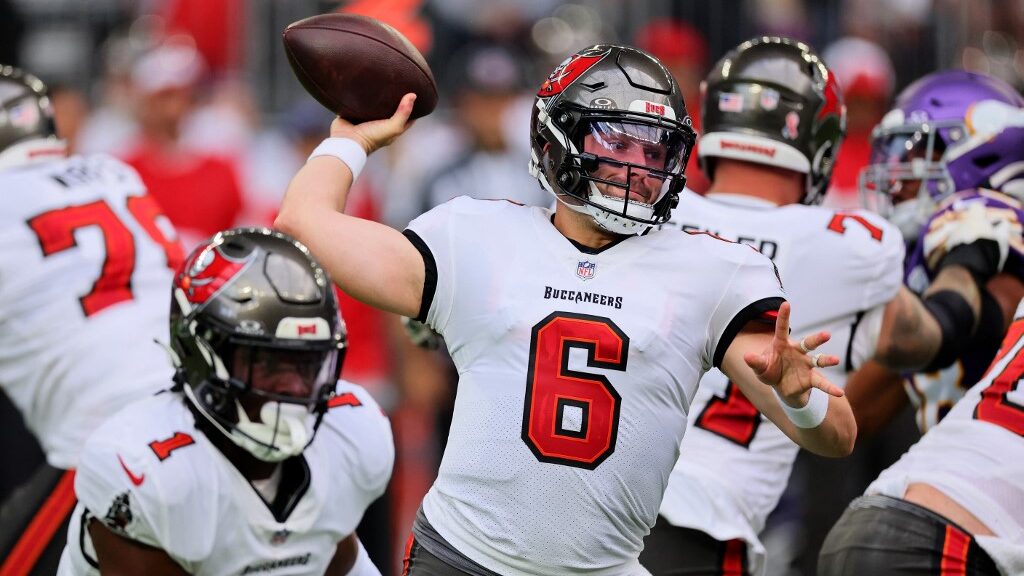 Top NFL Pick: Buccaneers Over 19.5 Points (-145) at Bovada (visit our Bovada Review)

Buccaneers Over 19.5 Points

(-145)
---
The NFL has another 4-game lineup for prime time in Week 3, including a doubleheader on Monday night. Scoring increased by almost 5 points per game from Week 1 to Week 2, making it one of the biggest leaps from week to week in the Super Bowl era.
We have our top NFL picks for each night of prime-time games in Week 3, which you can always find at top-rated sportsbooks. We chose to focus on Eagles-Buccaneers instead of Rams-Bengals on Monday night due to the uncertainty surrounding Joe Burrow's status with his calf injury.
---
Eagles Face Bucs in Surprise Meeting of 2-0 Teams
To the surprise of no one, the Eagles are 2-0 despite not playing a stellar game in either week. But the Buccaneers are a little surprising at 2-0 following the retirement of Tom Brady. Baker Mayfield has gotten off to a good start after he was a dud with the Panthers last year.
The Eagles are a 5.5-point road favorite with a total of 46 points. We are looking at Tampa Bay's scoring (over/under 19.5 points).
---
Philadelphia Eagles vs. Tampa Bay Buccaneers
Monday, September 25, 2023 – 07:15 PM EDT at Raymond James Stadium
---
Baker Mayfield's Best Start
This season may be Baker Mayfield's last chance to start a season as a team's No. 1 quarterback. He is making the most of it so far, getting the Buccaneers off to a 2-0 start and ranking 10th in QBR, right behind Patrick Mahomes.
While the Bears and Vikings are not defenses to write home about, Mayfield has led this offense to at least 20 points in both games, something Tom Brady did one time in all of 2022. The Buccaneers also have zero turnovers through the 2 games, which is always something you get concerned about with Mayfield.
But Mayfield has generated some big pass plays with Mike Evans, who already has touchdown catches of 28 and 32 yards this season. In 2022, the Buccaneers had 5 offensive touchdowns all season that gained more than 13 yards.
Against the Bears, Mayfield had only the 2nd game of his career where he threw for over 300 yards without an interception or sack. But he will be tested against the Eagles' pass rush.
Philadelphia's Underwhelming Performances
The Eagles are still 2-0, but they barely hung on for 25-20 and 34-28 wins over the Patriots and Vikings. The passing game has not really been there like it was last season, and the defense is struggling against the pass.
It makes some sense in that the Eagles have a new defensive coordinator, they lost Javon Hargrave to the 49ers, safety C.J. Gardner-Johnson went to the Lions, and they were missing corner James Bradberry and safety Reed Blankenship to injury against the Vikings.
Rookie defensive tackle Jalen Carter has been living up to the hype already, but the defense with 70 sacks last year only has 4 right now, and they look easier to move the ball and score on right now.
The Pick
The Eagles have already allowed Mac Jones and Kirk Cousins, without the services of a running game, to pass for 680 yards and 7 touchdowns between them while scoring 20-to-28 points. Would it really be that surprising if Mayfield, Evans, and Chris Godwin did the same to this defense at home?
While the Buccaneers will eventually turn the ball over and they never scored 20 points in 3 consecutive games last year, this is a new season, and Mayfield is not 45 years old. The Eagles will get their share of hits on him, and they may still very well win the game as a big road favorite, but you can trust the Buccaneers to score 20 points again in this matchup.
NFL Pick: Buccaneers Over 19.5 Points (-145) at Bovada

Buccaneers Over 19.5 Points

(-145)
---
Steelers Renew Rivalry with Raiders
If you enjoyed the Steelers' wild performance on Monday Night Football against Cleveland in a win, then you could get another dose of it against the Raiders on Sunday night, as these old rivals look to avoid starting 1-2. The Raiders were crushed 38-10 in Buffalo on Sunday.
The Steelers are a 1-point road favorite with a total of 44 points. We are looking at the total.
---
Pittsburgh Steelers vs. Las Vegas Raiders
Sunday, September 24, 2023 – 08:20 PM EDT at Allegiant Stadium
---
Strength vs. Strength: Raiders Offense vs. Steelers Defense
Despite scoring 10 points in Buffalo, the Raiders are still led by their offense. Josh Jacobs may have won the rushing title in 2022, but he has 28 carries for 46 yards (1.64 yards per carry) to start 2023. The Raiders had nothing going on in the running game in Buffalo, which made things even harder on Jimmy Garoppolo, who saw the Bills steal an interception from Jacobs on a pass.
The Steelers are banged up on defense, losing Cameron Heyward in Week 1 and possibly losing Minkah Fitzpatrick in Week 2. But T.J. Watt and Alex Highsmith caused havoc against Deshaun Watson and scored a pair of defensive touchdowns to carry the team to victory.
Can they do it to Garoppolo? He has faced Pittsburgh once in his career and that was way back in 2019, a Super Bowl season for San Francisco. While Garoppolo had 3 turnovers in that game, he still led a game-winning touchdown drive and completed 23-of-32 passes for 277 yards. He only took 1 sack and will not be the human pinata that Watson was on Monday night.
McDaniels' Part
The other interesting part of this matchup is Josh McDaniels and his past history of success against Pittsburgh in the Mike Tomlin era. Obviously, Bill Belichick and Tom Brady deserve a lot of that credit, but the Steelers were often lit up by McDaniels and the Patriots in those meetings. Davante Adams is still a major threat, and Jakobi Meyers may be able to return from the injury (concussion) that kept him out of Week 2.
Pittsburgh caught a break with Nick Chubb's injury in the first half as Cleveland struggled to sustain offense after that. Jacobs will be looking for a bigger game, but he only had 44 yards on 15 carries against Pittsburgh last December.
The Steelers Prove the Preseason Is Irrelevant
The Raiders are usually a good defense for teams to get right against, but the Steelers have some major issues with this offense that was flawless in the preseason. However, the preseason is not real football. The Steelers only had 9 first downs and 255 yards of offense against Cleveland.
While the 49ers and Browns may be elite defensive fronts this season, the Raiders at least have Maxx Crosby to apply pressure on Kenny Pickett, and the Steelers have the anchor that is offensive coordinator Matt Canada, who has gone 37 straight games without his offense hitting 400 yards.
Do not be fooled by Watson giving up a pair of touchdowns on Monday night. The Pittsburgh offense has 19 points in 2 games this season. Pickett has never thrown more than 1 touchdown in any game in his career, and he will again be without top-targeted receiver Diontae Johnson.
When the Steelers beat the Raiders last December, Pickett got a lot of credit for a game-winning touchdown drive in the final minutes. But it was Pittsburgh's only touchdown of the game, a 13-10 win.
If the Steelers are going to play this poorly on offense at home, it is hard to see things getting that much better on the road, especially against a team that they historically struggle with on the road.
The Pick
It is tempting to pick the Raiders to win with how poorly Pittsburgh usually does in these matchups under Tomlin, but Vegas is different than Oakland.
The better pick is to take the under and count on Monday's surprising high score with Cleveland to come down a notch as there should not be a pair of defensive touchdowns this time. Even 24-20, the score in Garoppolo's lone start against Pittsburgh, would get a push, but we trust it enough to take the under here.
NFL Pick: Under 44 (-110) at Bovada

---
Giants Have Another Chance for Embarrassment
Here come the big spreads as teams start to distance themselves. The San Francisco 49ers have looked strong on their way to a 2-0 start. The Giants were outscored 60-0 to start this season before rallying for a 21-point comeback in Arizona.
The 49ers are an 11-point home favorite with a total of 45 points. We have our eyes on how many points the 49ers could score (over/under 27.5).
---
New York Giants vs. San Francisco 49ers
Thursday, September 21, 2023 – 08:15 PM EDT at Levi's Stadium
---
Brock Purdy's Historic Start
We are used to seeing young quarterbacks struggle or be insulated by a running game and incredible defense so that they have little to do. While Brock Purdy has a great roster to help him, he is also very consistent with his production, usually throwing for over 200 yards with a couple of touchdowns.
Purdy has led the 49ers to at least 30 points in 7-of-10 starts. One of the few times he did not do so was when he was injured on the opening drive of the NFC Championship Game in Philadelphia. Purdy is the first quarterback in NFL history to start his career 10-0 in games where he throws at least 20 passes.
While Purdy did not throw any touchdowns against the Rams on Sunday, he ran for a big one before halftime and helped the team to 30 points for the 2nd week in a row on the road. Now the 49ers get their first home game of the season against a New York team that has already allowed 40 points to the Cowboys and 28 points to the Joshua Dobbs-led Cardinals.
Between the Giants' ability to self-destruct with turnovers and the skill of San Francisco's offense, it should be another big scoring night for the 49ers.
Giants Do Not Defend Well
The Giants are going from playing an elite team (Cowboys) to the team projected to finish with the worst record (Cardinals) to another elite team. They allowed at least 28 points to both, and they also were outscored 38-7 in the playoff loss to the Eagles in January.
If you followed the Giants last year, you know this team does not fare well against the elite teams in the NFC. They are 0-5 under Brian Daboll against the Cowboys and Eagles, and they allowed over 27.5 points in 4-of-5 of those games.
The 49ers are not only as good as the Eagles and Cowboys, but they are arguably the more talented roster on both sides of the ball. The Giants were getting run over by Dobbs and James Conner in Arizona on Sunday before the game flipped in the second half.
The Pick
But the Giants love to blitz and that is usually a no-go against Kyle Shanahan's offense. This is a mismatch, and a healthy San Francisco offense is going to have its way with New York. Take the 49ers to score over 27.5 points for your NFL picks.
NFL Pick: 49ers Over 27.5 Points (-130) at Bovada

49ers Over 27.5 Points

(-130)
*The line and/or odds on picks in this article might have moved since the content was commissioned. For updated line movements, visit BMR's free betting odds product.