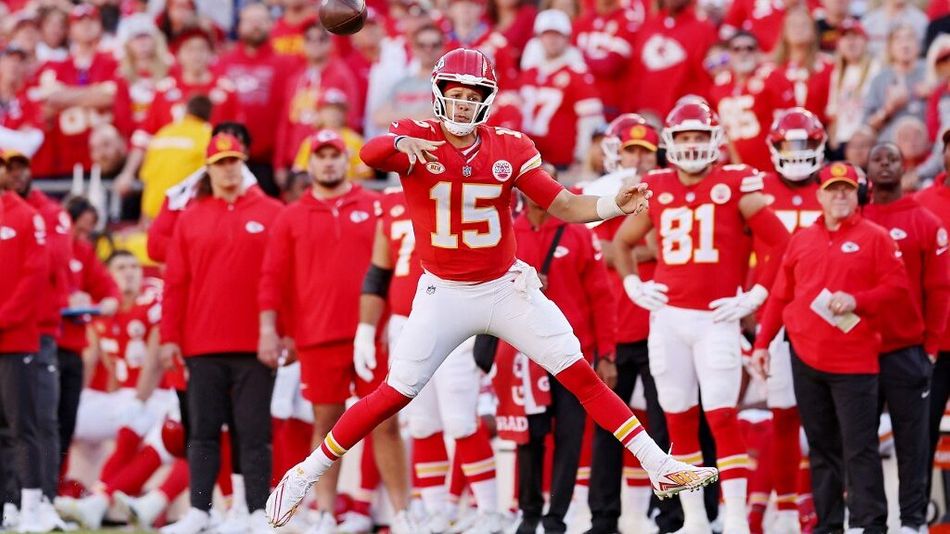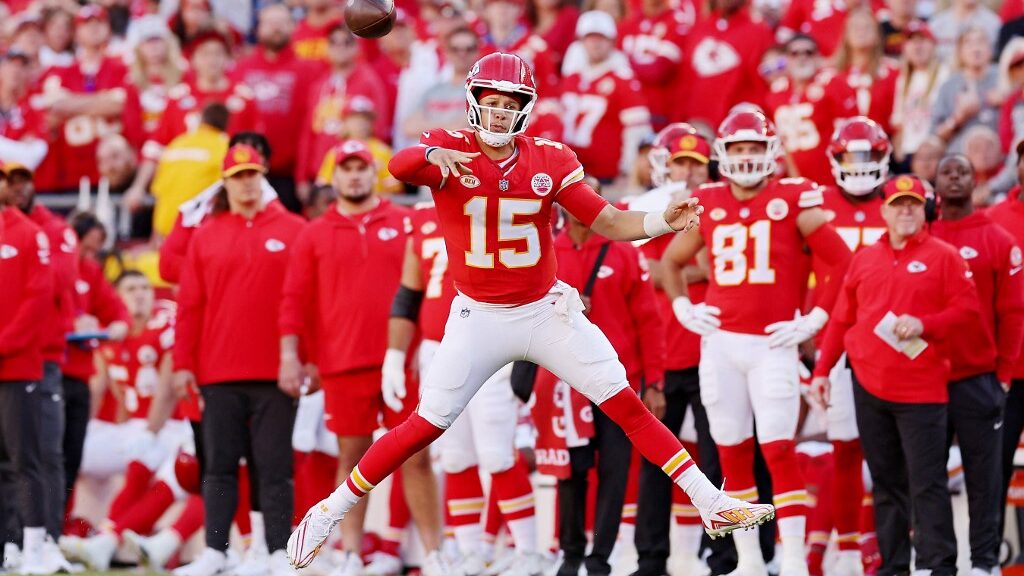 NFL Pick: Chiefs -3 (-105) at Bovada (visit our Bovada Review)

The NFL's Week 11 schedule has one of its strongest prime-time slates with arguably the game of the year coming Monday night when the Kansas City Chiefs host the Philadelphia Eagles in a Super Bowl rematch. Thursday kicks things off with a big AFC North rematch between the Ravens and Bengals, and Sunday night is Minnesota with new quarterback Joshua Dobbs against Denver, which has won its last 2 games as an underdog.
We have our top NFL picks for each night of prime-time games in Week 11, which you can always find at the best offshore sportsbooks.
---
Super Rematch: Chiefs Still the Best?
We rarely get an epic game on Monday Night Football anymore, but this week should deliver with the Kansas City Chiefs hosting the Philadelphia Eagles, a rematch of last year's Super Bowl won 38-35 by Kansas City. The teams are the favorites to get back to the big game too.
The Chiefs are a 3-point home favorite with a total of 45.5 points. Can they get it done again after both teams had a bye week to prepare for this one?
---
Philadelphia Eagles vs. Kansas City Chiefs
Monday, November 20, 2023 – 08:15 PM ET at GEHA Field at Arrowhead Stadium
---
Key Matchup: Eagles Offense vs. Chiefs Defense
The Chiefs had the No. 1 offense last season, but the Eagles are ranked higher offensively this year (No. 3 in points, No. 5 in yards, and No. 1 in first downs). The Eagles converted a league-best 50% of the time on 3rd down.
The Eagles have scored at least 23 points in every game this season. The only time they didn't was the 20-14 loss to the Jets where Jalen Hurts threw 3 interceptions, including a crucial one late in the game. It was a 4-turnover day for Philadelphia, which is what buried the Eagles in losses last year to the Commanders and Cowboys. Every Philadelphia loss since 2022 has seen the team either commit 4 turnovers or have a turnover returned for a touchdown like Hurts' fumble gaffe in the Super Bowl against Kansas City.
This is why Kansas City's No. 2 scoring defense is going to have to continue to play at an elite level in a game like this. The Chiefs have only allowed one team all season to break 21 points, and that was the 24-9 loss to the Broncos in Week 8. But even that was misleading since the Broncos had 5 takeaways and scored all 24 of their points on drives that started in Kansas City territory. The defense was fine that day.
The Chiefs will get a great test here, but they held the Dolphins' No. 1 offense to 14 points in their last game over in Germany. They have a pass rush that can get after Hurts, and Philadelphia's running game is not as dominant or consistent as it was last year with Hurts running in addition to a career year from Miles Sanders. The Eagles have already been held under 100 yards rushing 4 times this year, including in 3-of-4 games coming into this one.
The Eagles are also relying more heavily on A.J. Brown as the numbers are down for DeVonta Smith and tight end Dallas Goedert. You should expect Goedert to miss some weeks with a fracture in his forearm, so that puts even more stress on Brown and Smith against a Kansas City defense that has done a good job of limiting top receivers this year.
Do not expect a 38-35 game this time.
Is Kansas City Going to Fix the Offense?
As long as Taylor Swift is in the building, Travis Kelce is as good as ever, right? It does seem to be getting to the point where he saves his biggest games for her, and she expects to be in attendance for this one. But Kelce is vital to the offense every week since there is not much to talk about at receiver outside of rookie Rashee Rice, who still has some rookie hurdles to overcome.
The Chiefs have already been held to 21 points in 5 games this year, which is more times than they've scored over 21 points (4 games). Even in the Miami win, a third of the points came on returning a Tyreek Hill fumble for a touchdown before halftime. The Patrick Mahomes-led offense has put up 30 points over the last 10 quarters.
In fact, the Chiefs have gone scoreless after halftime in back-to-back games for the first time since 2016. They also have been held under 300 yards of offense in back-to-back games for the first time since 2016. You assume those streaks end in this game, but things are definitely not as great as they used to be with the offense in Kansas City.
The defense has made up for it though. Like Philadelphia, if the Chiefs protect the ball, they will still be extremely hard to beat. In their only losses this year, they dropped way too many passes against Detroit, including a Kadarius Toney play that was a pick-6 after it should have been a completion. Then the Chiefs turned it over 5 times in a variety of ways in the Denver loss.
It sounds boring, but the team that wins the turnover battle is likely to win this game.
The Pick
First and foremost, you hope for a great game with this one. You also would love to see the money pour in on the Eagles to move the line to Chiefs -2.5, which will be a better play than Chiefs -3.
But at the end of the day, we are going to trust the team with the best quarterback, the best coach, home-field advantage, and the better defense in this matchup. It was Philadelphia that had the better defense last year, but now it is the Chiefs that bring a balanced team to this one.
The Chiefs are used to winning close games while this has been a bit new for the Eagles this year after they dominated teams more in 2022. But the Chiefs also have 6 of their 7 wins by at least 7 points this year, a number they didn't hit until Week 16 last year.
This just might be the 1st of 2 meetings between the teams this season.
NFL Pick: Chiefs -3 (-105) at Bovada

---
Vikings vs. Broncos: In Dobbs We Trust?
For teams that started 1-4 and 1-5, the Minnesota Vikings and Denver Broncos are on some of the best winning streaks in the league coming into Sunday night. The Vikings are on a 5-game winning streak despite losing Justin Jefferson and Kirk Cousins, but Joshua Dobbs has stepped up at quarterback after a trade from Arizona.
The Broncos have won 3 in a row thanks to collecting 9 turnovers against the Chiefs and Bills in their last 2 wins. Denver is a 2.5-point home favorite with a total of 43 points. We think the underdog has value here.
---
Minnesota Vikings vs. Denver Broncos
Sunday, November 19, 2023 – 08:20 PM ET at Empower Field at Mile High
---
Trust Joshua Dobbs?
Since coming over from the Cardinals, Joshua Dobbs has truly impressed in his first 2 games with the Vikings:
Week 9 vs. Atlanta: Came off the bench and accounted for 3 total touchdowns in leading a comeback win. Dobbs' 86.6 QBR was the highest among all quarterbacks in Week 9.
Week 10 vs. New Orleans: In his first start for Minnesota against a solid pass defense, Dobbs passed for a career-high 268 yards, rushed for 44 yards and a touchdown, and had no turnovers in a 27-19 win. Dobbs' 88.3 QBR was the 2nd-highest game for any quarterback in Week 10.
Dobbs had some encouraging moments in Arizona, but he looks to be thriving in Kevin O'Connell's superior offensive system that once helped Matthew Stafford to a Super Bowl with the 2021 Rams and the Vikings to a 13-4 record last year with Kirk Cousins.
But the Vikings continue to win and thrive without Justin Jefferson, who was on injured reserve for a hamstring injury, but he has a chance to return this week. Even if he misses the game, the Vikings are doing just fine with rookie Jordan Addison and tight end T.J. Hockenson, who both played great with Dobbs in the win over the Saints.
The mobility of Dobbs is a dimension the Vikings have lacked for years with Cousins. Some of his best plays have been scrambles, and he figures to bring that to this matchup against a Denver secondary that has talented players that could cover his lesser receivers should Jefferson not be back to draw better coverage.
Denver Is Hard to Trust
The Broncos keep winning, but it feels a bit like fool's gold. They needed a late comeback at home against lowly Green Bay, then they collected 9 turnovers against the Chiefs and Bills. Russell Wilson and the offense have been feasting on incredible field position with 11 drives starting at their 45 or better in the last 2 games alone.
That is not sustainable. The Broncos will need to develop a more consistent offense with better defined roles for the receivers. Wilson has passed for fewer than 200 yards in 5 straight games, the longest streak of his career. Part of this is the incredible field position but part of it is inconsistent play too.
The Vikings like to blitz and have improved on defense compared to the first month of the season, similar to what Denver has done. Minnesota could speed up Wilson's process and create more variance with big plays, sacks, and mistakes. But Minnesota's style of bend-but-don't-break defense is good for facing a Denver offense that finds it hard to string together long drives without messing things up short of the end zone.
The Pick
Good stories tend to crash and burn quickly this season, but Dobbs is an intriguing player, he started in prime time in back-to-back weeks for the Titans last year, and he has grown a lot as a quarterback in the last 11 months. This moment won't be too big for him, and the Vikings are playing better team football than the Broncos, who still felt like they lost as much as they won in Buffalo on Monday night.
Someone's losing streak has to end here. We'll take the Vikings to cover in what could be another nail-biter on Sunday night.
NFL Pick: Vikings +2.5 (-110) at Bovada

---
Ravens and Bengals Both Coming Off Stunning Losses
The Baltimore Ravens (7-3) failed in their chance to sweep the Browns after blowing a 14-point lead in the 4th quarter. They get another chance at a sweep when they host the Bengals (5-4), who are coming off their own home loss as a 6.5-point favorite against the Texans.
The Ravens are a 3.5-point home favorite with a total of 46 points. We are focusing on the spread.
---
Cincinnati Bengals vs. Baltimore Ravens
Thursday, November 16, 2023 – 08:15 PM ET at M&T Bank Stadium
---
Week 2 Recap: Ravens 27, Bengals 24
The quarterback health pendulum finally swung the other way for Baltimore this season. Remember, the Ravens were leading the AFC North in December in 2021 and 2022 on the day Lamar Jackson suffered an injury that would keep him out for the remainder of both seasons.
Both times, the Bengals came back to win the AFC North and had deep playoff runs while everyone wondered if Jackson could stay healthy and get a contract extension in Baltimore.
Jackson signed his deal, got a new offensive coordinator and some new receivers to throw to, and in Week 2 in Cincinnati, Jackson had one of the best games of his career. Meanwhile, Joe Burrow started the year with a calf injury and was not good at getting the ball out accurately and for any big plays.
The Ravens only sacked him one time in Week 2, but for the 4th meeting in a row, Burrow was held under 225 passing yards and under 6.6 yards per attempt against this defense. The Bengals scored a punt return touchdown too, so the offense only put up 17 points at home on the Baltimore defense that day. The Ravens have been the most successful defense at limiting Burrow without getting a high number of sacks against him.
Despite Baltimore flirting with blowing a big lead in that game, Jackson and the offense ran out the final 3:28 on the clock, and Burrow never got the ball back in the 27-24 loss. Baltimore has been leading the AFC North all year thanks to that start in Cincinnati.
Bengals Have Been Playing Better
The Ravens will face a healthier Burrow this time, but as we said, he has not performed that well in these matchups since 2022. The Baltimore secondary that Burrow shredded to the tune of over 900 yards in 2021 is long gone. This is a better unit, but that doesn't mean they are flawless.
Baltimore has now blown 7 multi-score leads since the start of 2022. The defense shares the majority of blame for that, but the offense has to be held accountable too for some untimely turnovers like Jackson's pick-6 on a tipped pass against Cleveland.
But when the Ravens are playing well, they do most things better than the Bengals, who still rank 24th in net yards per pass and 28th in yards per rush. The Ravens have the No. 1 scoring defense and have only allowed 7 touchdowns to 10 interceptions to opposing quarterbacks.
Joe Burrow is not expected to have Tee Higgins at wide receiver for this one, but he does still have Ja'Marr Chase and Tyler Boyd. Higgins won't move the needle on the spread, but it is an edge to Baltimore to not have to worry about defending him since he is like another No. 1 wide receiver for this team.
The Pick
It has been a full 2 years (26 games ago) since Jackson has played a game for the Ravens where he didn't win, left injured, or have at least a tie in the 4th quarter. This team has played legitimately great football for much of the last 2 seasons, but the record would be greater if they could get out of their own way late in games.
The Bengals thrive on takeaways (tied for a league-high 18 of them) to make up for a defense that allows the 3rd-most yards in the NFL. But back in Week 2, the Ravens were the only offense to not have a single turnover against this defense. After what happened last week against Cleveland, look for the Ravens to protect the ball better, generate more big plays than the Bengals, and complete this sweep without blowing another lead.
NFL Pick: Ravens -3.5 (-110) at Bovada

*The line and/or odds on picks in this article might have moved since the content was commissioned. For updated line movements, visit BMR's free betting odds product.