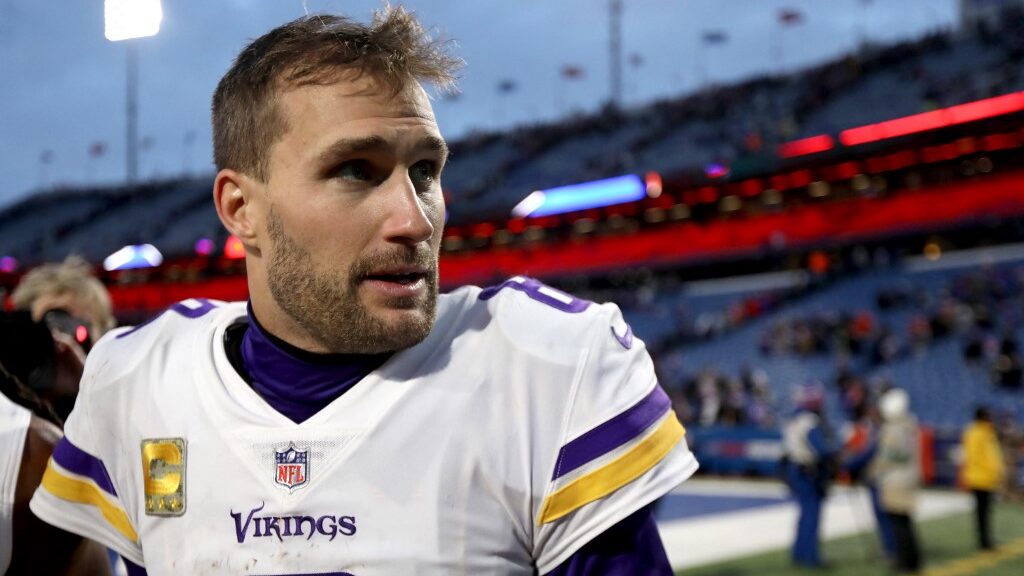 No quarterback in NFL history stays within a game of .500 like Kirk Cousins, but his Minnesota Vikings are tied for 2022's best record at 8-1. This is a big change for a team that is used to 4 or 5 wins at this point of the year.
Cousins has already led 5 fourth-quarter comeback wins this season, the most in a season in his career, and we still have 8 games to go plus the playoffs.
Despite the record, the Vikings are a 1-point home underdog against Dallas at many of the best sportsbooks.
Is rookie head coach Kevin O'Connell working some magic on Cousins like he did with Matthew Stafford in Los Angeles last year, or are we in store for one of the biggest second-half meltdowns of all time? Remember, Cousins has finished within a game of .500 in six of his 7 seasons as a starter.
PLAY NOW: $25,000 Free-To-Play NFL Contest BMR's 2022 Pick'Em Pool With Weekly Prizes
---
Dallas Cowboys vs. Minnesota Vikings
Sunday, November 20, 2022 – 04:25 PM EST at U.S. Bank Stadium
Spoiler Alert: Cousins Is Not Playing His Best Football in 2022
Not to be the bearer of bad news, but the Vikings are not 8-1 because Cousins is having a career season in his 11th year, 8th as a starter, and 5th in Minnesota.
In fact, out of Cousins's 8 seasons as a full-time starter, his 2022 ranks dead last in all these categories through 9 games:
Completion percentage (64.1%)
Touchdown pass rate (4.0%)
Yards per attempt (6.7)
Passer rating (87.0)
QBR (47.7, ranked 20th among quarterbacks in 2022)
You like that? I think not. Cousins is also not doing an exceptional job at avoiding sacks or interceptions either.
His 2022 sack rate is 5.3% (career rate: 5.4%).
His 2022 interception rate is 2.3% (career rate: 2.2%).
This is also not on pace to be the most efficient Minnesota offense under Cousins.
The 2022 Vikings are 15th in yards per drive and 11th in points per drive on offense.
The 2019 Vikings, their last playoff team, finished 11th in yards per drive and 6th in points per drive.
Even the 2020 Vikings finished 12th in yards per drive and 10th in points per drive.
The 2022 offense is also just 17th on third down and 12th in the red zone. It has been able to enjoy the second-best starting field position in the league, but it's not like the team has turned into a stellar defensive unit.
---
Has Something Really Changed?
Things are much better than the last 2 years, but the 2022 Vikings are only 19th in yards per drive, 14th in points per drive, and 28th in yards per play allowed on defense. It is a mediocre performance at best as opposing quarterbacks average 7.9 yards per pass against Minnesota, only the Lions rank worse at 8.1.
In some ways, they are like the 2021 Cowboys in the way they rely on takeaways. The Vikings have 18 takeaways, second only to Philadelphia (19).
Wide receiver Justin Jefferson is elite and good as anyone right now. But the offense as a whole? Not elite. Cousins? Still not elite. The defense? Not great. So, how does such a team get to 8-1? It's the close games.
Minnesota's Unbelievable Path to 8-1
Minnesota's 2022 season started much like any other season under Cousins. Sure, Kevin O'Connell is the rookie coach replacing Mike Zimmer, but many of the other faces are familiar, including Justin Jefferson, Dalvin Cook, and Adam Thielen as Cousins's quality supporting cast.
Beating the Packers at home is common for this team. It is also very common to get crushed by a good team like Philadelphia on a Monday night. Cousins is 2-10 as a starter on Monday night.
Two games in, and this looked like Same Old Vikings.
Then they came back from 10 points down in the fourth quarter to beat Detroit.
Next, they ground out a back-and-forth final quarter with the Saints in London for another win.
After blowing a 21-3 lead to the Bears, Cousins led a third-straight game-winning drive.
Catching a break with Tua Tagovailoa out, the Vikings forced a wide receiver to fumble in a one-score game in the final minutes for the second week in a row, and
Dalvin Cook broke off a 51-yard touchdown run in Minnesota's 24-16 win.
They avenged last year's Arizona loss by turning away Kyler Murray on 3 drives in the fourth quarter in a 34-26 win.
They came back from 10 down in the fourth against Washington with the game-winning field goal aided by a penalty that drained most of the clock instead of giving.
Taylor Heinicke has a real chance at his own game-winning drive.
That Win Against the Bills
That was wild enough, then Sunday's win in Buffalo happened.
Minnesota trailed 27-10 in the third quarter, looking like the team we are used to seeing in these games against the top teams.
Then Dalvin Cook ripped an 81-yard touchdown run, the longest play of his career.
Josh Allen forced a terrible fourth-down throw in the end zone for an interception by Patrick Peterson.
The Vikings converted 2 fourth downs on a drive for a touchdown before missing the extra point to keep it 27-23.
After getting the ball back, Cousins took a sack by Von Miller to set up fourth-and-18.
Cousins' prayer to Jefferson was answered with a 32-yard completion on a one-handed catch where the Buffalo defensive back also helped make the catch instead of knocking the ball down to end the game.
The Vikings still botched the drive with Cook dropping a potential touchdown and Cousins getting stuffed on a quarterback sneak on fourth down with 49 seconds left.
The game should have been over there. Minnesota's win streak of one-score games would be over. But the Bills had the worst fumble returned for a touchdown by any team in over 40 years when Allen botched the center exchange on his own sneak from the 1. The Vikings fell on the loose ball in the end zone and scored a touchdown to take the lead.
You cannot find another example in NFL history of a defense taking the field in the final 50 seconds with no more than one timeout, trailing, and still winning the game.
The Vikings got the better of play from that point with a field goal in overtime and another interception off Allen, but the game had little to no business going past the fourth-and-18 or the quarterback sneak at the 1. The Bills just had an all-time choke.
And that is how the Vikings are 8-1. It's not really the quarterback who is averaging 6.73 yards per attempt during this 7-game winning streak. It is the close games, as the Vikings have as many comebacks from double digits in the fourth quarter in their last 7 games (3) than they had in the last 11 seasons combined.
---
Minnesota and Their Close Games
The Vikings are 7-0 in close games with no blown leads yet. They are 5-0 at fourth-quarter comeback opportunities. The rest of the NFL is 40-89-1 (.312) at fourth-quarter comeback opportunities in 2022.
Cousins joins Norm Van Brocklin (1960 Eagles), Jim Plunkett (1982 Raiders), and Matthew Stafford (2016 Lions) as the only quarterbacks in NFL history to lead 5 fourth-quarter comeback wins in their team's first 9 games. If the Vikings beat the Cowboys by one possession, they will set an NFL record as the only team to ever win 8 straight games by 1-to-8 points.
It was just last season when the Vikings played 12 straight games decided by one possession, tied for the third-longest streak in NFL history. How did they do in those games? They were 6-6.
Given everything from the eye test to the statistics to the schedule to how these close games have been won, is there any real reason to think the 2022 Vikings are that much better than the teams we are used to seeing with Cousins at quarterback?
The remaining schedule does not scream full collapse, but this next game with Dallas may be the toughest test left for the Vikings in the regular season.
---
Cousins and O'Connell vs. Cowboys
If there is a team that can stop this Minnesota streak in close games, it just may be Dallas. In each of the last 2 seasons, Mike McCarthy's Cowboys went into Minnesota and threw a game-winning touchdown pass in the final 2 minutes, which Cousins was unable to answer in two losses.
The first game was in 2020 and Andy Dalton was the Dallas quarterback. Last year's game was on Sunday night with Cooper Rush making his first career start and throwing for over 300 yards. Now, it is Dak Prescott's turn, and the Cowboys have finally unleashed Tony Pollard at running back to go along with a defense that looks like the best that Prescott has ever had (Sunday's fourth quarter in Green Bay withstanding).
But this is the first game against Dallas for O'Connell as the head coach. Not to treat this rookie as the next Bill Walsh or Joe Gibbs, but we have to acknowledge the ridiculous streak this 37-year-old coach has been on.
O'Connell's Track Record
O'Connell was the offensive coordinator for the 2021 Rams under Sean McVay. He helped coordinate an offense that won 3 straight playoff games, including the Super Bowl, by exactly 3 points with a game-winning drive. That means O'Connell is 10-0 in his last 10 close games and on an 8-0 streak at game-winning drive opportunities.
Prior to this season, Cousins was 12-36-2 (.260) at fourth-quarter comebacks, one of the worst records among active starters. Now he is 5-0 under O'Connell.
Could this be a repeat of what O'Connell helped orchestrate with Matthew Stafford and Cooper Kupp in Los Angeles last year? Stafford came to the Rams with a brutal 8-68 record in games against teams with a winning record.
He had never defeated winning opponents in back-to-back weeks in 12 seasons with Detroit. How was he going to do it 4 weeks in a row in the playoffs?
But it happened. The Rams became the first team in history to win 3 straight playoff games by 3 points, and Stafford had his best season in helping Kupp to arguably the best season ever by a wide receiver.
Will O'Connell's Magic Work on Cousins?
Now could it happen again in Minnesota with Cousins silencing the critics and having his career moment while helping Jefferson to an all-time great season? Possibly the first 2,000-yard receiving season?
Based on the statistics we looked at earlier, it is unlikely to go that well, as Stafford was playing better with the Rams last year than Cousins is doing this year, but with the way the NFC is (wide open), anything is possible.
One thing O'Connell will have to do is make sure Jefferson is moved around and gets open this week. The Cowboys held Jefferson to 2 catches for 21 yards last year.
---
Cowboys vs. Vikings
There are videos of Cousins wearing chains on plane rides home after wins have been fun, but we are waiting for the regression to hit this team hard if it doesn't start playing better football.
The Cowboys are arguably better than Minnesota on both sides of the ball. The Cowboys have already won in Minnesota 2 years in a row without their best quarterback both times. If Dalton and Rush can do it, what's stopping Prescott?
The Vikings do not look strong enough to beat Dallas by multiple possessions, and I am not ready to bet on them breaking the record with an eighth straight win by 1-to-8 points. Give me the Cowboys to cover in Minnesota for your NFL picks.
But if Vikings fans want to hold out hope that this is a repeat of Stafford's ring with the Rams, then consider that the 2021 Rams started 7-1 before a three-game losing streak.
They rebounded and still won it all. Maybe the Vikings could do something similar, but when you see the team's record in close games start to go the other way the rest of the year, remember you were warned.
NFL Pick: Cowboys -1 (-115) at Bovada (visit our Bovada Review)

*The line and/or odds on picks in this article might have moved since the content was commissioned. For updated line movements, visit BMR's free betting odds product.