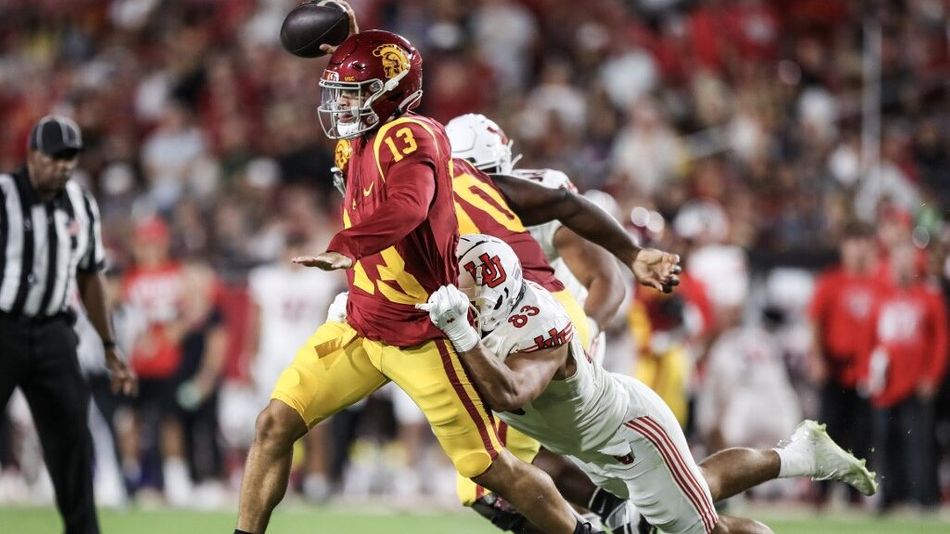 What began last week with the ramifications from the thrilling shootout between Oregon and Washington continued this week, with USC falling to #24 after a PAC-12 clash with now #13 Utah. Let's take a look at the Week 9 College Football odds for the Top 25 ranked teams, in order to get a sense of where they all stand after last Saturday.
Victims of Their Own Success
For weeks, the college football world (myself included) has been singing praises about the exceptional quality of the PAC-12 as the conference approaches its final season, with all schools except Washington State and Oregon State moving on to new horizons. Speaking of the Beavers, DJ Uiagalelei and company continue to make their way up the ranks, after securing wins against teams like UCLA and Utah in the last couple of weeks.
Meanwhile, the USC Trojans are in a freefall, going from being in the Top 5 just a few weeks ago to now ranking #24. After their loss to Utah, many are questioning why Caleb Williams, Lincoln Riley, and the team are still in the Top 25, particularly after other struggles against unranked teams like Arizona and Arizona State, as well as their nationally televised loss against Notre Dame.
Oddsmakers Disagree
Despite all the excitement happening on the West Coast, the Big 10 continues to dominate the Top 5, with Michigan and Ohio State ranking second and third. Speaking of the Wolverines, despite being the second-ranked team in the nation, many of the top offshore sportsbooks now consider Jim Harbaugh and his squad the odds favorites to win the College Football Playoff.
Top 25 Ranked Teams for Week 9
Time to look at the Week 9 College Football odds for the Top 25 ranked teams in the nation after the AP Poll was released on Sunday night. Heads up, we have four ranked teams on a bye, including #2 Michigan and only two games pitting squads on this list: Duke vs. Louisville and Oregon vs. Utah.
#1 Georgia
#2 Michigan (Bye)
#3 Ohio State
#4 Florida State
#5 Washington
#6 Oklahoma
#7 Texas
#8 Oregon
#9 Alabama (Bye)
#10 Penn State
#11 Oregon State
#12 Ole Miss
#13 Utah
#14 Notre Dame
#15 LSU (Bye)
#16 Missouri (Bye)
#17 North Carolina
#18 Louisville
#19 Air Force
#20 Duke
#21 Tennessee
#22 Tulane
#23 UCLA
#24 USC
#25 James Madison
---
#1 Georgia Bulldogs vs. Florida Gators
Saturday, October 28, 2023 – 03:30 PM EDT at EverBank Stadium
---
#3 Ohio State Buckeyes vs. Wisconsin Badgers
Saturday, October 28, 2023 – 07:30 PM EDT at Camp Randall Stadium
---
#4 Florida State Seminoles vs. Wake Forest Demon Deacons
Saturday, October 28, 2023 – 12:00 PM EDT at Allegacy Federal Credit Union Stadium
---
#5 Washington Huskies vs. Stanford Cardinal
Saturday, October 28, 2023 – 07:00 PM EDT at Stanford Stadium
---
#6 Oklahoma Sooners vs. Kansas Jayhawks
Saturday, October 28, 2023 – 12:00 PM EDT at David Booth Kansas Memorial Stadium
---
Brigham Young Cougars vs. #7 Texas Longhorns
Saturday, October 28, 2023 – 03:30 PM EDT at DKR-Texas Memorial Stadium
---
#8 Oregon Ducks vs. #13 Utah Utes
Saturday, October 28, 2023 – 03:30 PM EDT at Rice-Eccles Stadium
---
Indiana Hoosiers vs. #10 Penn State Nittany Lions
Saturday, October 28, 2023 – 12:00 PM EDT at Beaver Stadium
---
#11 Oregon State Beavers vs. Arizona Wildcats
Saturday, October 28, 2023 – 10:30 PM EDT at Arizona Stadium
---
Vanderbilt Commodores vs. #12 Ole Miss Rebels
Saturday, October 28, 2023 – 07:30 PM EDT at Vaught-Hemingway Stadium
---
Pittsburgh Panthers vs. #14 Notre Dame Fighting Irish
Saturday, October 28, 2023 – 08:00 PM EDT at Notre Dame Stadium
---
#17 North Carolina Tar Heels vs. Georgia Tech Yellow Jackets
Saturday, October 28, 2023 – 08:00 PM EDT at Bobby Dodd Stadium at Hyundai Field
---
#20 Duke Blue Devils vs. #18 Louisville Cardinals
Saturday, October 28, 2023 – 03:30 PM EDT at L&N Federal Credit Union Stadium
---
#19 Air Force Falcons vs. Colorado State Rams
Saturday, October 28, 2023 – 07:00 PM EDT at Sonny Lubick Field at Canvas Stadium
---
#21 Tennessee Volunteers vs. Kentucky Wildcats
Saturday, October 28, 2023 – 07:00 PM EDT at Kroger Field
---
#22 Tulane Green Wave vs. Rice Owls
Saturday, October 28, 2023 – 04:00 PM EDT at Rice Stadium
---
Colorado Buffaloes vs. #23 UCLA Bruins
Saturday, October 28, 2023 – 07:30 PM EDT at Rose Bowl
---
#24 USC Trojans vs. California Golden Bears
Saturday, October 28, 2023 – 04:00 PM EDT at California Memorial Stadium
---
Old Dominion Monarchs vs. #25 James Madison Dukes
Saturday, October 28, 2023 – 08:00 PM EDT at Bridgeforth Stadium/Zane Showker Field