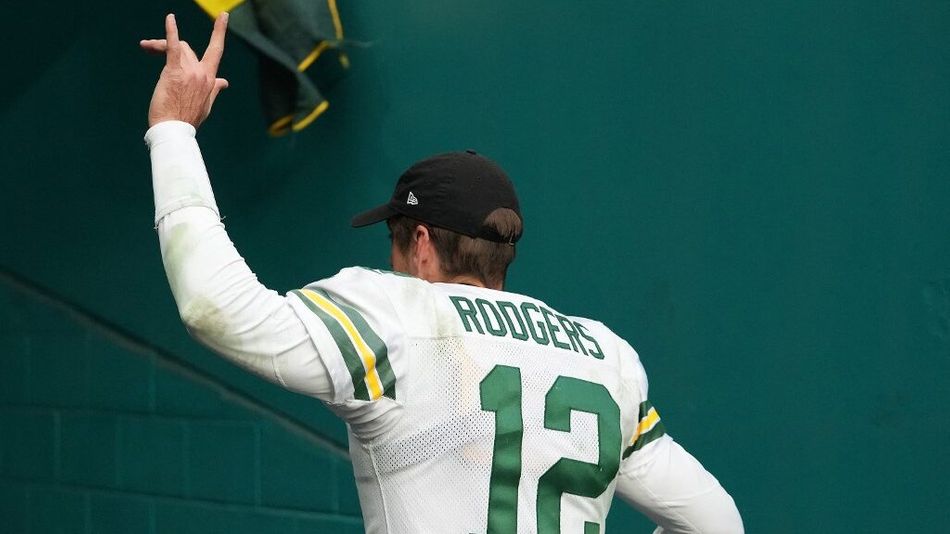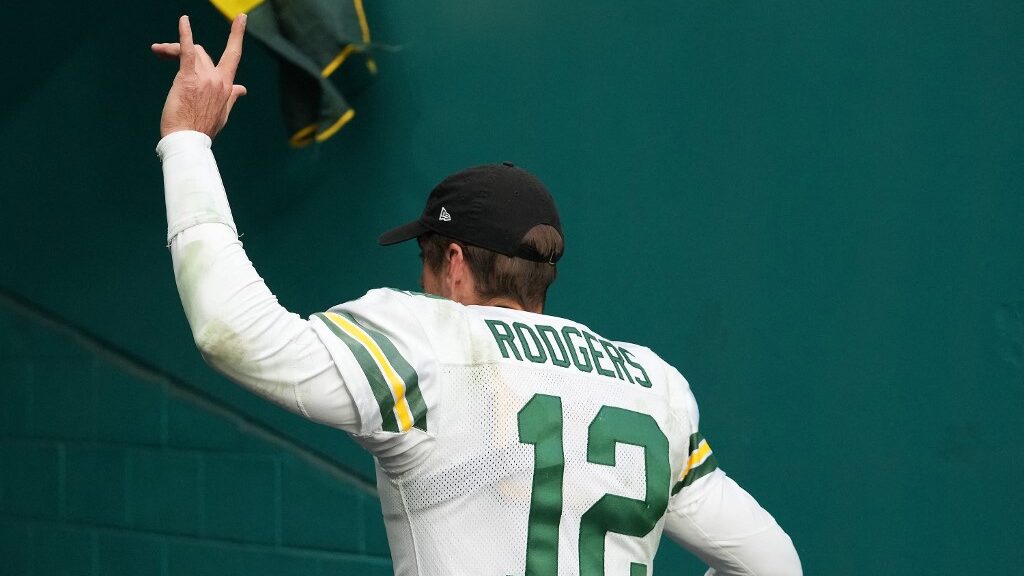 It took many weeks, but quarterback Aaron Rodgers is going to the New York Jets in a trade with the Green Bay Packers. This adds another franchise quarterback to the loaded AFC, and it does present some interesting betting opportunities with NFL futures.
Should you go all out and bet on the Jets to win the Super Bowl, something Rodgers has achieved once in his career? Oddly enough, Rodgers won his Super Bowl in the 2010 season, the last time the Jets were in the playoffs.
We look at the impact of this trade on the Jets, the fit for Rodgers, and the best betting market to take advantage of at U.S. betting sites with the draft to come later this week.
---
The Jets and Aaron Rodgers Should Blend Nicely
Sometimes, a quarterback just needs a change of scenery to reignite his play. It was true for Peyton Manning in Indianapolis, Tom Brady in New England, and Matthew Stafford in Detroit. They all switched to another team and won a Super Bowl.
Good things were supposed to happen for Russell Wilson in Denver and Matt Ryan in Indianapolis last year, but not all these moves worked as expected. But Rodgers to the Jets should be one of the better late-career quarterback changes for three primary reasons.
Reason No. 1: Nathaniel Hackett
Yes, Nathaniel Hackett was an abject failure as head coach of the Denver Broncos last year, and you could see shades of that as early as Week 1 when he bungled the opener in Seattle.
But some coaches are meant to be coordinators and not in charge of the whole crew. Hackett may just be one of those coaches, and he is the new offensive coordinator for the Jets in 2023.
Why does this matter? Hackett was Rodgers' offensive coordinator in Green Bay in 2019-21, including the two seasons that Rodgers got back into dominant MVP form. This gives Rodgers a huge advantage over most quarterbacks who change teams because he should already feel very comfortable with the offense and verbiage that he will be using this season.
A reason Rodgers was linked to the Broncos in 2022 was the presence of Hackett. That never came to fruition, but the two are together again for the Jets in 2023.
Reason No. 2: The Weapons
Arguably the two worst seasons of Rodgers' career were 2015 and 2022. What did those seasons have in common? In 2015, he lost his No. 1 receiver, Jordy Nelson, to a preseason ACL injury. Last year, the Packers famously traded Davante Adams to the Raiders while a young receiving corps was often injured around Rodgers, who also had health issues throughout the year.
Rodgers is great and a first-ballot Hall of Famer, but he still needs established receivers around him. He will have Allen Lazard again from Green Bay with him in New York, so that helps with the instant chemistry.
But the big addition is giving Garrett Wilson a quarterback like Rodgers, who has always been a dominant passer to wide receivers more than he is to tight ends and running backs. Wilson is the reigning Offensive Rookie of the Year and managed 100-yard receiving games with three different quarterbacks in 2022. Now he has one of the best to ever do it.
If Wilson did not win Offensive Rookie of the Year, then running back Breece Hall may have done so had he not torn his ACL. The Jets made a great pick there, and the back will be ready to start the season. He could give Rodgers one of the best rushing attacks of his career as that was often a neglected part of the team during his time in Green Bay.
Rodgers will have the weapons and a competent enough offensive line to support a quality offense in New York this year.
Reason No. 3: The Defense
While it is harder to sustain defensive success in the NFL from year to year, the Jets potentially could give Rodgers one of the best defenses in his career.
In 2022, the Jets finished No. 2 in points per drive allowed, but thanks to inept quarterback play, they still lost five games where they allowed no more than 20 points. Since 2016, Rodgers is 42-5 when his Packers allowed fewer than 21 points.
Rodgers has only had two defenses that ranked in the top quarter of the league in points per drive allowed, and the last was in 2010, his Super Bowl season. On average, a Rodgers defense finishes 17.9 in this category, which is below average.
With corner Sauce Gardner looking to improve in his second year after winning Defensive Rookie of the Year, the Jets could again field a very good defense, allowing them to play complementary football for the first time in years if not decades. Imagine an efficient offense that can give the defense rest with long, productive drives, and a good defense that can set the offense up with short fields off turnovers.
---
The Difficulty With Joining the AFC
When you consider the prospects of Rodgers integrating with a talented offense with a coordinator he knows well, the potential for the run game, and the defense led by coach Robert Saleh, then you are looking at what could be a top-tier team in the AFC.
But if you are going to come out of the AFC for the Super Bowl now, you are talking about knocking off the top dogs. Bovada (visit our Bovada Review) still lists Kansas City (+350), Buffalo (+450), and Cincinnati (+500) as favorites over the Jets (+750) to represent the AFC in Super Bowl 58.
Still, having the fourth-best odds as a team that has not made the playoffs since 2010 is pretty good. It also is fair given the consistency of those other three teams in the conference. But the recent Super Bowl wins by Brady (2020 Buccaneers) and Stafford (2021 Rams) may be putting unrealistic expectations on these quarterback moves in Year 1.
Not That Easy
Both of those teams were able to withstand a mid-season slump before recovering in time for the title run. Those teams also had veteran coaching staffs with Sean McVay, who had already been to a Super Bowl, and Bruce Arians, who was familiar with success in his long career. The Jets' brain trust of Saleh, Hackett, and defensive coordinator Jeff Ulbrich just do not compare there.
There is also the fact that the Chiefs are just too good with Patrick Mahomes, who can overcome so many obstacles. There has yet to be a game in the NFL between Mahomes and Rodgers due to multiple injuries and playoff upsets.
Most teams have to take baby steps to win a Super Bowl. Not making the playoffs since 2010 and adding a quarterback, who turns 40 in December, and who has been to one Super Bowl in his 18-year career, does not sound like the formula for instant championship success.
You can find the Jets with +1300 odds at Bovada to win Super Bowl 58, but just getting there feels like a Herculean task this season. Luckily, there is a much more realistic market to bet on for these Jets.
---
Best Bet: Jets Reclaim the AFC East?
The Jets have not won the AFC East since the divisions were realigned in 2002, but can they change now with Rodgers? Bovada still has Buffalo (+120) favored, but the Jets (+250) are in second place, followed closely by the Dolphins (+275), and then the Patriots (+850) are bringing up the rear with their identity issues.
Every Rival Has a Weakness
This feels like the spot where the Jets can make their most value in 2023. The Patriots lack top-tier talent and steady quarterback play. The Dolphins had a weird season with a 3-0 start followed by a 0-3 slump, a 5-0 run followed by a 0-5 run, and then they beat the Jets in an 11-6 season finale to sneak into the playoffs.
Obviously, the concussions for Tua Tagovailoa were significant, but the Jets should get a boost on offense with Rodgers, and they have a better defense than the Dolphins. Miami is far from a reliable contender.
With Buffalo, you have to consider how difficult it is to win a division four years in a row, which is what the Bills are trying to do in 2023. Many times, a team goes through a rash of bad injuries, too many good players leave the team, or someone else in the division simply gets better.
The Bills are not going to fall apart in 2023, but maybe last year was the peak of their window as no team has ever won a championship by starting the same quarterback for the same head coach for more than five years. Last season was the fifth season for Josh Allen and Sean McDermott in Buffalo together.
After free agency, it is hard to say the Bills got any stronger this year. Last year's big addition, Von Miller, is 34 years old and coming off a torn ACL on Thanksgiving too.
Jets Can't Be Underestimated Now
Rodgers and the Jets represent something new and hopefully something very balanced in the AFC East. The most balanced and complete Denver team in Peyton Manning's time there was the first one in 2012. The same can be said for Joe Montana's Kansas City run (1993), Brett Favre's Minnesota days (2009), Brady's Tampa run (2020), and likely Stafford's stint with the Rams (2021).
"If the Jets had a quarterback, they would be dangerous" has been a frequent saying throughout several decades of the NFL. Well, they finally have a quarterback again, and his window for winning is tiny, so let's see some immediate results and return on this investment.
The NFL odds were +300 for the Jets to win the AFC East over a month ago when this trade was rumored to go down. Now that it is official, this is a good time to lock in those odds on what should be one of the most interesting division races this season.
NFL Pick: AFC East Winner – New York Jets (+250) at Bovada

NFL Pick: AFC East Winner – New York Jets

(+250)
*The line and/or odds on picks in this article might have moved since the content was commissioned. For updated line movements, visit BMR's free betting odds product.