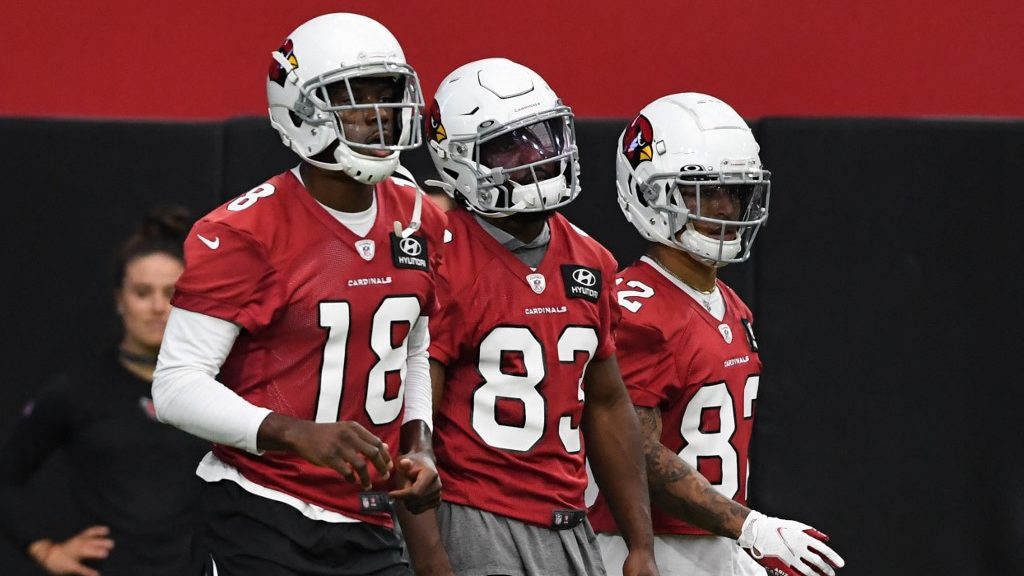 The Arizona Cardinals were on the verge of their first winning season since 2015 before fading late in the season to an 8-8 finish, a win short of the expanded playoffs. It was not the stellar leap ahead for the Kliff Kingsbury-Kyler Murray era, but the Cardinals provided fans with some hope of a brighter future.
Stuck in a very tough division battle, the Cardinals face many challenges in getting back to the playoffs. Many of the top sportsbooks have the Cardinals with an over/under of 8.5 wins, the highest total for any team ranked fourth in its division this year.
Ten of the last 13 NFC Super Bowl teams have come from the West and South divisions. Five of the last six NFC Super Bowl teams did not have a winning record in the previous season. Crazier things have happened before, so why not Arizona in 2021?
On the Last Season of Cardinals: Hail Murray, Full of Potential
Arizona kicked off the 2020 season in impressive fashion. Kyler Murray led the first fourth-quarter comeback win of his career against the defending NFC champion 49ers in San Francisco. A couple of ugly losses to the Lions and Panthers ensued, but the Cardinals were ready for a prime-time showdown with Seattle in Week 7. Murray led the Cardinals on a comeback to force overtime where kicker Zane Gonzalez redeemed himself with a 48-yard field goal to win the game, 37-34.
Against Miami, Murray had a 150.5 passer rating and the first 100-yard rushing game of his career, but the Cardinals fell 34-31 after Gonzalez missed a game-tying field goal late in the game. Arizona looked to drop a third-straight high-scoring game at home to Buffalo, but Murray connected with DeAndre Hopkins on a Hail Mary for a 43-yard touchdown with two seconds left, the most spectacular play of the NFL's 2020 season.
The Cardinals were looking good at 6-3. Murray had a soft MVP campaign going with his dual-threat abilities, Hopkins was very impressive after the trade from Houston, and it seemed like the offense could power this team into the playoffs. But that would be the peak of the season for Arizona. The celebration of the Buffalo win was short-lived as the team had to go to Seattle that Thursday for another big one with the Seahawks.
Murray seemed to have some discomfort in his throwing arm after a sack. It was the first game all season where Arizona failed to rush for over 100 yards. Seattle's defense stepped up and the Cardinals lost 28-21. Murray had an even rougher passing outing in New England. Despite outgaining the Patriots by over 100 yards, the Cardinals lost another one after Gonzalez missed another clutch field goal.
Playoff hopes were dimming, and the Cardinals could only muster two more wins against the lowly NFC East competition. But division foes were too much for the Cardinals to overcome. The Rams completed another Cardinals sweep and the 49ers got revenge for
Week 1 with a huge win in Week 16 in Arizona. With Murray seriously ailing in the final two weeks, the Cardinals scored a combined 19 points in those last two games, finishing 8-8 and allowing the Bears to sneak into the playoffs as the final seed. Murray lasted just 25 snaps in the season finale against the Rams.
Even if the Cardinals snuck into the playoffs, they would have been no match for the Saints in the wild card round. Not with the way Murray was health-wise at that point.
The Notable Changes for 2021
In regrouping for the 2021 season, the Cardinals should look considerably different. Future first-ballot Hall of Famer Larry Fitzgerald has not officially retired yet, but he is not currently on the active roster. The tank is just about empty there, but Fitzgerald has been a long-time leader on the team since joining in 2004. Likely Hall of Famer Patrick Peterson is also gone at cornerback after a decade with the Cardinals. He will play for the Vikings in 2021.
Peterson was such a standout in the 2011 draft, and it is a draft class the Cardinals apparently took interest in this offseason. J.J. Watt was acquired after a decade in Houston. He is already dealing with a hamstring injury, but he could provide some help to Chandler Jones, the best pass rusher in Arizona who was limited to five games in 2020. The Cardinals also brought in veteran A.J. Green from Cincinnati, but he was terrible at creating separation last season. Hopkins is the undisputed No. 1, but for a team with uninspiring second-round wideouts (Andy Isabella and Christian Kirk) and an eternal weakness at tight end, the Cardinals need to be careful about getting Green too involved if he plays like he did last year. The team also drafted 5-foot-9 wideout Rondale Moore in the second round after he only averaged 10.8 yards per catch at Purdue.
As highlighted in the season recap, kicking was a big problem for Arizona last season. Replacing Gonzalez is veteran Matt Prater, who has a big leg and history of long, clutch field goals with the Broncos and Lions. There are almost no teams I would highlight a kicking change for this year, but had Prater been on the 2020 Cardinals, that could have been the difference between an 8-8 and 10-6 finish. A healthy Chandler Jones and addition of Prater are more significant than adding Green and Watt.
Adding Pittsburgh's James Conner was a solid move to replace the loss of Kenyan Drake at running back. Arizona also upgraded at center by sending a third-round pick to Las Vegas for Rodney Hudson, an improvement over Mason Cole.
As for other defensive additions, the Cardinals made the curious move of drafting inside linebacker Zaven Collins with the 16th pick a year after using a first-round pick on linebacker Isaiah Simmons. You would prefer to see the team target a guy who will get after Tom Brady, Aaron Rodgers, and Russell Wilson, or cover the likes of Antonio Brown, Davante Adams, and D.K. Metcalf.
When it comes to replacing Peterson at cornerback, the Cardinals could be counting on Malcolm Butler and Robert Alford. Butler, a Super Bowl hero for the Patriots who has been with the Titans, has had an up-and-down career, but his coverage metrics were respectable and even better than Peterson's in 2020. Alford has not played since 2018 due to a broken leg and torn pectoral muscle the last two years.
Regression Alert: Third-Year Breakout?
Contrary to what happened with Josh Allen in Buffalo last year, Year 3 is usually not the pivotal season in a young quarterback's development. Most great quarterbacks in NFL history will show they are destined for greatness in their first or second season as a starter.
Kyler Murray, 2019's No. 1 overall pick, finds himself in an odd situation. He has been too good for anyone to question if he is a bust. But he has not been great enough to remove all doubt that he is a long-term franchise quarterback. Neither of his first two seasons hit the marks for a true breakout season.
While he won Offensive Rookie of the Year, that was more of a default choice for the award that year. While he made the Pro Bowl in 2020, he was not Pro Bowl caliber over the last seven games, or almost half the season. Murray increased his QBR, a stat that includes his rushing performance, from 57.7 as a rookie to 68.9 last year, which sounds like great improvement until you realize he went from ranking 15th in the league to 14th in 2020, a year where all offensive stats were inflated in the empty stadiums. So, Murray climbing one spot after the addition of DeAndre Hopkins and Arizona having the lowest rate of dropped passes in the league feels worrisome.
You can see it in the team's record and offensive metrics too. The Cardinals only went from 5-10-1 to a modest 8-8 finish despite starting 6-3. Meanwhile, eight quarterbacks drafted since 2016 have won at least 10 games and made the playoffs in their first or second season. On a per-drive basis, Arizona's offense only improved one spot in the rankings for yards (18th to 17th) and points (15th to 14th) last year. The defense made much bigger strides in yards (32nd to 12th) and points (29th to ninth).
Murray threw the same number of interceptions (12) on just 16 more pass attempts in 2020. He led the league with 14 passes batted at the line, an area where his height is a detriment. Despite Arizona tying Green Bay with a league-high 14 pass plays of 40-plus yards, Murray finished 22nd in yards per attempt (7.1), only going up by 0.2 yards from 2019.
The biggest change was that Murray did a better job of getting rid of the football, slashing his sack rate from 8.1% to 4.6%. Arizona allowed a league-low 25 hits when the quarterback was passing. According to Next Gen Stats, Murray's average time to throw in 2020 (2.74 seconds) was almost identical to what it was in 2019 (2.73 seconds). A big part of his drop in sack rate was an increased willingness to scramble, which he does very well. Murray scooted his way to 819 yards and 11 touchdowns last year, which would be a bigger deal in an era where Lamar Jackson was not rushing for over 1,000 yards a season.
The Cardinals do not have an offensive coordinator as Kingsbury calls the shots on offense. His game management is very suspect, but let's dial it back to philosophy. He loves the RPO plays as only Baltimore had more of them in 2020 than Arizona. However, the Cardinals passed on 70.5% of their RPOs while the Ravens ran on 63.4% of their RPO plays, so it is two different strategies. Kingsbury was not fooling many people in the second half of the season. He needs to take some lessons from what McVay and Shanahan do in the division and call more regular play-action passes to set up big plays, which Murray had nice success with. The screen passes also need to be dialed back in this offense. The Cardinals ran 65 screens, none of them gained 15 yards, and only seven of them produced a first down.
For the second year in a row, the Cardinals finished 21st in third down conversion rate. Again, the lack of improvement last year is alarming. The average 8-8 team in NFL history wins 7.8 games the following season. If you remove all the teams like Arizona that did not rank in the top 10 on either side of the ball, then that average drops to 7.4 wins.
Crazier things happen in the NFL all the time, but for Arizona to take that next leap under Kingsbury and Murray, it will have to dominate in the division. The most realistic way that happens is if those three teams disappoint, allowing Arizona to thrive.
Prediction
A big problem for Arizona is the division it plays in. If this team was playing in the NFC East or AFC South, we might be giving them the best odds to win those divisions in 2021. But in the NFC West, Russell Wilson always has the Seahawks with a winning record, though Arizona has managed a split with Seattle in three of the last four years. Sean McVay is 8-0 against Arizona as head coach of the Rams, who added Matthew Stafford.
Even if you really like Murray, it is too soon to say he is the best quarterback in the division. Beyond Wilson and Stafford, the 49ers could be the latest new contender with rookie quarterback Trey Lance. Most would trust Kyle Shanahan as a coach over Kingsbury too, so that team could be on the brink of success faster than the third year of this Arizona regime.
But those are not the only six difficult games for the Cardinals. They also have to go to Tennessee, Cleveland, and what should be a better Dallas team with Dak Prescott. Hosting Green Bay on a short week (Thursday night) and going to Chicago in December are no picnics either.
In many ways, the Cardinals are on similar ground with the 49ers (2019 Super Bowl team going with an athletic rookie quarterback) and Bears (2020 playoff team going with an athletic rookie quarterback). While Murray is certainly more accomplished than two rookies who are not even guaranteed to start in Week 1, those teams seem to have better answers on defense and along the coaching staff. It would be great for the NFC if they all pan out and we have fun playoff races every year, but for my NFL picks this season, I have the Cardinals maxing out at 8-9 and going under their win total.
2021 Cardinals Over/Under Pick: Under 8.5 wins (-125) at Bovada (visit our Bovada Review)
*The line and/or odds on picks in this article might have moved since the content was commissioned. For updated line movements, visit BMR's free betting odds product.