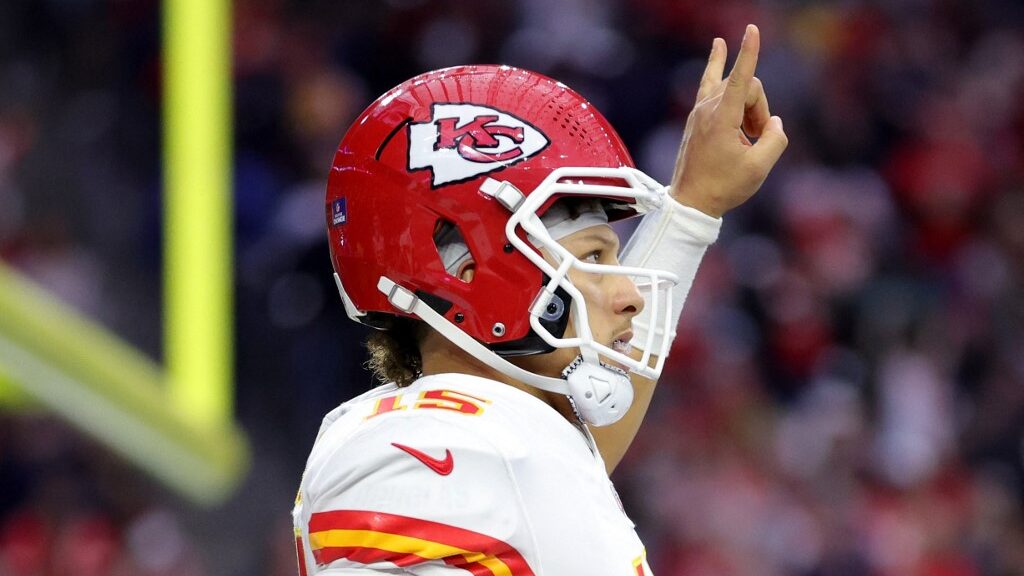 Now that the NFL's regular season is over, awards will be voted on, including the Most Valuable Player (MVP) award. Even though voters will be doing ranked voting for the first time this year in choosing their top five choices, it seems rather obvious that Patrick Mahomes is going to run away with this MVP award, which would be his second after he won in 2018.
In the preseason, the favorites in MVP odds at a top-rated sportsbook like Bovada (visit our Bovada Review) were Josh Allen (+650), Tom Brady (+850), Patrick Mahomes (+900), Justin Herbert (+900), and back-to-back reigning MVP Aaron Rodgers (+1000).
With Mahomes found at -1600 or even -2500 at certain sportsbooks, it is safe to say he is going to win this one. But let's look back at how the race progressed through 18 weeks, why our preseason pick did not come through, and how Mahomes is the only logical choice for a first-place vote.
---
Aaron Rodgers and Tom Brady: The Old Guard Steps Aside
While they had top-five MVP odds coming into the season, it was clear in Week 3 when Aaron Rodgers and Tom Brady played to a 14-12 finish that things weren't right. In the end, both finished on 8-9 teams and led the least effective offenses of their career.
Rodgers averaged a career-low 217.4 passing yards per game, and his 91.1 passer rating and 39.4 QBR were the lowest of his career.
Brady threw the ball a ton, but he had his first losing record and set career lows with a 3.4% touchdown rate, 9.6 yards per completion, and his 52.6 QBR was his lowest since the stat was created for the 2006 season. Tampa finished 26th in points per drive on offense.
Both fell out of the MVP race early.
---
Injuries Ruin MVP Cases for Tagovailoa, Lance, and Jackson
Two MVP value picks people really liked in the preseason were Tua Tagovailoa (+7500) and Trey Lance (+3000), because that's the power of the Kyle Shanahan offense. But Lance broke his ankle in Week 2 and that ended that.
Lamar Jackson, the 2019 MVP winner, also put his name in the race with a strong start, but he too began to fade once wideout Rashod Bateman was injured, then Jackson had his knee injury in Week 13 that has kept him out ever since.
Tagovailoa had an interesting season because he was in third place at +600 going into December when we detailed his MVP case before Week 13. He was going to need to win out against a tough schedule to keep the argument of being undefeated in games he finished because of his concussions earlier in the season. Miami was 0-3 when he was injured.
But Tagovailoa did not come through against the 49ers or Chargers in back-to-back games, then came up short in Buffalo too before throwing three interceptions against the Packers on Christmas and suffering a (likely) season-ending concussion again.
Tagovailoa still finished the season with the highest passing touchdown rate (6.3%), yards per attempt (8.9), and passer rating (105.5), but the injuries and bad finish keep him out of the MVP race in the end.
---
Justin Herbert: Took Too Long to Charge
Five months ago, Justin Herbert was my MVP pick for this season. It appears he may finish No. 6 at best after a season that was somewhat disappointing even if it is leading to a postseason appearance.
Week 2: Chargers 24 – 27 Chiefs
Everything about this really changed in Week 2 in the fourth quarter against Kansas City. The Chargers blew a 17-7 lead, and the game was tied. Herbert completed back-to-back passes to tight end Gerald Everett to set up a first-and-goal at the 3, but Everett was visibly gassed.
He motioned to the sideline to come out, but the Chargers went into hurry-up mode and ran another play. Herbert targeted Everett for a third-straight play, and since he was fatigued, he could barely move on the route, and the Chiefs jumped it for a 99-yard pick-six to take a 24-17 lead they never gave up.
Then Herbert injured his ribs, and it was so bad that he pulled up on a third-down scramble where he easily runs for a first down any other time. Somehow, he stayed in the game and still threw the best pass of the night on a fourth down to get it to 27-24, but the Chiefs held on for the win.
A week later, Herbert played despite the rib injury and lost 38-10 to Jacksonville to put the Chargers in a 1-2 hole. That one quarter in Kansas City pretty much doomed the division title and MVP chances for Herbert.
Week 11: Chiefs 30 – 27 Chargers
In a Week 11 rematch, Herbert took a late lead on the Chiefs, but Mahomes once again worked his magic with Kelce in a 30-27 win. Herbert has had a fourth-quarter lead in every game against Mahomes but still has a 1-4 record because his defense almost never stops the Chiefs with the game on the line.
Those two quarters could have had a huge impact on this AFC West race if the Chargers held on. But with injuries to Keenan Allen and Mike Williams throughout the year, Herbert struggled in this offense and had his least successful season from a statistical standpoint.
Maybe next year he'll be able to take the next step to the elite class. Maybe next week the Chargers can stop Mahomes if they can get past Jacksonville first for Herbert's first playoff win.
I do not regret the MVP choice of Herbert. I regret the Chargers not pulling Everett out of the game in Week 2.
---
Justin Jefferson: The Non-Quarterback Choice
Just by the name of the award alone, it is hard to vote for an MVP who does not play quarterback, the most valuable position in the game. But Vikings wide receiver Justin Jefferson was the best non-quarterback option this year, and he is ranked fifth in MVP odds at around +20000.
Jefferson led the NFL with 128 catches and 1,809 receiving yards. His catch on fourth-and-18 against the Bills is in the running for the play of the year, even if the Vikings technically did not score any points on that drive. But Jefferson had seven games with 130-plus yards and three games over 180 yards.
It was a fantastic season, but it was not as consistently dominant as Cooper Kupp's 2021 when he won the receiving triple crown under offensive coordinator Kevin O'Connell, who was Jefferson's coach this year. Jefferson scored eight touchdowns and had games with 14 and 15 receiving yards. He had six games under 50 yards.
Last year, Kupp had at least 64 yards in every game, had at least 92 yards in all but one game, and he scored 16 touchdowns. Great season for Jefferson, but it is only the second-best receiving season under an O'Connell-coached offense in the 2020s.
Still, Jefferson is likely to win Offensive Player of the Year for his efforts. It just wasn't an MVP year.
---
Josh Allen: From Favorite to Fourth?
The Bills have been Super Bowl favorites almost all year, Josh Allen was incredible last postseason with 12 touchdowns on 16 drives, so it only made sense that he was the MVP favorite going into 2022.
For six weeks, he absolutely delivered with 17 touchdowns, four interceptions, and a 109.1 passer rating as he averaged 330 passing yards and 42.8 rushing yards per game. Allen highlighted his start with a game-winning drive in Kansas City to win that big showdown.
But after the bye week, Allen threw six interceptions over the next three games, injured his elbow in a loss to the Jets, and fumbled the snap on a quarterback sneak at his own 1-yard line against the Vikings when it looked like a win was wrapped up. The Vikings recovered for a touchdown, the most improbable fumble score since Joe Pisarcik met the 1978 Eagles in the Miracle at the Meadowlands.
Allen still had a chance to be the hero in overtime, but he threw a game-ending interception in scoring territory. That effectively ended his MVP case after Week 10. The Bills haven't lost since, but Allen's down to 221.4 passing yards per game and just 6.86 yards per pass attempt since then. The Bills have leaned more on the run down the stretch.
Allen will hope to win an MVP this year in the Super Bowl. Seeing that no one has won both awards in the same year since Kurt Warner in 1999 with the Rams, maybe this is for the best that he's not winning MVP over Mahomes, who he outplayed in that Week 6 win in Kansas City.
---
Jalen Hurts: Shoulder Sprain Ends MVP Bid
With Allen struggling, that void was being filled by Jalen Hurts, who led the Eagles to an 8-0 start with a great offense after the team added A.J. Brown this year. Hurts showed how dynamic he could be with 157 yards rushing against the Packers and 380 yards passing against the Titans in back-to-back games.
Hurts had three interceptions through 13 games and the Eagles were 12-1. Meanwhile, an opportunity opened up after Mahomes and the Chiefs lost another game in Cincinnati and Mahomes tied his career-high with three picks in a sloppy game in Denver that Kansas City still won.
After Week 14, Hurts moved ahead of Mahomes and the field in the MVP race as it didn't look like the Chiefs would get the No. 1 seed and Hurts was thriving at the right time.
But after a rough day with two picks in Chicago, Hurts popped up on the injury list with a mysterious shoulder sprain despite finishing the game Sunday. His MVP odds dropped like a rock and Mahomes regained the lead.
That Game in Dallas
Hurts would miss the next two games, and the Week 16 game in Dallas that most of the nation was going to watch was a huge miss.
That could have been the big game where Hurts put the finishing touches on his MVP case and help the Eagles to the NFC East and No. 1 seed. But he couldn't even play in it, the Cowboys won 40-34, but backup Gardner Minshew played well with over 350 yards passing.
Mahomes never relinquished the lead in MVP odds after that. While the Eagles and Minshew looked awful in a Week 17 loss at home to the Saints, it was too much of a hole for Hurts to overcome as Mahomes kept winning and leading the league in yards and touchdowns for the No.1 offense.
But Hurts did return for Week 18 and has the bye week to rest again. Maybe he can outduel Allen or Mahomes in the Super Bowl next month. There's no shame in finishing behind players like this in only your second season of starting.
---
Joe Burrow: Too Little Too Late
In terms of final MVP odds, it looks like Joe Burrow (+900) is going to finish No. 2 ahead of Hurts (+1400) and Allen (+1600). Like Hurts, he was denied the opportunity to make his final MVP push on a national stage after Cincinnati's Week 17 showdown with Buffalo was canceled following Damar Hamlin's shocking cardiac arrest incident on the field.
Hamlin is recovering wonderfully, but there was just nowhere to fit that game in this schedule, so we did not get to see the first Burrow vs. Allen matchup in the NFL to completion. Hopefully, we'll see it in the divisional round.
But Burrow is an odd choice to finish as No. 2 when he had such a slow start to the season with 13 sacks and four interceptions during an 0-2 start. He has since heated up and the Bengals are 10-1 in their last 11 games, but for the season, Burrow only ranks No. 10 in QBR (58.5), or well behind the top four of Mahomes (77.6), Allen (71.2), Tagovailoa (68.5), and Hurts (66.7).
Personally, if I was filling out a top-five ballot this year, I would go:
Patrick Mahomes
Josh Allen
Jalen Hurts
Tua Tagovailoa
Joe Burrow
A few are interchangeable, but No. 1 is not up for debate.
---
Patrick Mahomes: The MVP
Doubting the best quarterback in the NFL was a bad move. The Chiefs traded Tyreek Hill to Miami, and Mahomes still led them to the No. 1 seed with a 14-3 record despite a below-average defense, the No. 1 offense with the most points, yards, and first downs, and he led the league in passing yards (5,250) and passing touchdowns (41) by comfortable margins.
The Chiefs also finished No. 2 on third down and No. 2 in the red zone, so that was almost a clean sweep of No. 1 rankings for this offense without Hill.
Mahomes still had tight end Travis Kelce this year, but his other leading receivers were JuJu Smith-Schuster, Marquez Valdes-Scantling, and Justin Watson. Mahomes threw a touchdown pass to running back Jerick McKinnon in six straight games, a streak the NFL has never seen from a quarterback to a running back before.
Some of the highlights of his season:
Mahomes shredded San Francisco's top-ranked defense on the road for 423 yards in a 44-23 win.
He led a 17-point comeback against the Raiders by throwing four touchdown passes to Travis Kelce.
He had 78 dropbacks during another comeback and overtime win against the Titans, throwing for 446 yards and leading the team with 63 rushing yards and a touchdown.
Mahomes completed his last 20 passes against Houston on his way to finishing 36-of-41 (87.8%), the highest completion percentage in NFL history in a game with 40 pass attempts.
Down 27-23 in the final 2:00 against the Chargers, Mahomes led another game-winning touchdown drive with a 17-yard touchdown to Kelce with 31 seconds left.
When people talk about the teams who challenged an undefeated season, the 2022 Chiefs should not be forgotten despite their 14-3 record.
The 2022 Chiefs are just the ninth team since 1978, and the first in the 17-game era, to have a lead in the fourth quarter or overtime of every game in a season. That includes those losses to the Bengals and Bills the Chiefs will have to avenge shortly. Mahomes still had them in a position to win both games late.
Even if the Hurts injury never happened and if the Bills-Bengals game was completed, it is hard to justify voting for anyone but Mahomes as the MVP. These other contenders added great value to their teams this year to reach this point.
The Chiefs lost a mega talent in Hill and the offense still improved to No. 1 in the league and 14-3 because they had Mahomes, the most valuable player in the NFL. Case closed.