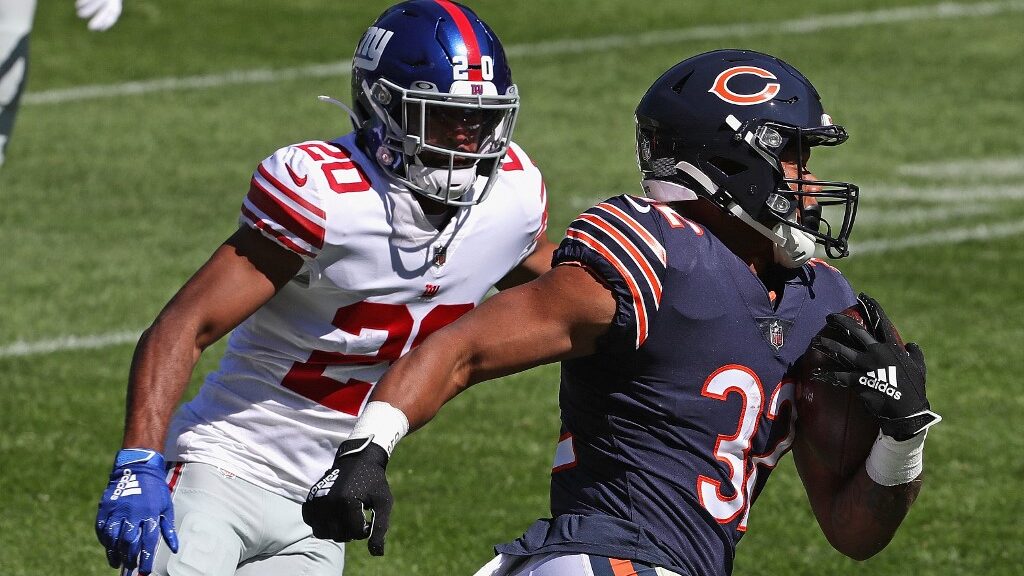 The boys are at it again in Week 17 as Swinging Johnson makes his play for a measure of respectability after watching his one-game winning streak snapped last week by the bookie's nightmare, Doug Upstone.
Let's see what the boys have on tap for us in their NFL picks this week!
2021 Point/Counterpoint Records:
Swinging Johnson: 2-6 ATS
Doug Upstone: 6-2 ATS
New York Giants vs. Chicago Bears
Sunday, January 02, 2022 – 01:00 PM EST at Soldier Field
Point/Counterpoint Week 16 Recap
Swinging Johnson: I was still basking in the afterglow of my Week 15 victory after the Bills stampeded the Panthers and hoping for another round of champagne sprays and caviar toasts with the Broncos over the Raiders. And although I might have uncorked a sexy little bottle after the first half when Denver took a 13-7 lead into the half, my celebration was short-lived and the Broncos fell, 17-13, to the boys from Vegas.
Well, onward and hopefully upward we go, as I turn my attention to a team that seems to be picking up a bit of traction as their young quarterback becomes accustomed to life at the next level. I speak, of course, of the Chicago Bears and Justin Fields.
Chicago was one of my three Swinger's Picks last week, a 3-0 ATS week I might add, and upset the Seahawks in Seattle, 25-24, as 6.5 point road dogs. A surprise to some but not to me. Side Note: have you noticed how cocky and smarmy handicappers are after they win? Me neither.
Point/Counterpoint Betting Preview
Okay, so the Bears will be doing nothing more than making vacation plans in a few weeks as they will be on the outside looking in when the playoffs commence. But that doesn't mean they can't end their season in style. They have a little bit of mojo heading into this one and are entertaining a perfectly beatable team that has lost five of their last six and could be the very worst team in the NFL at this moment in time.
Perhaps this is more of a fade of the Giants than a ringing endorsement of the Bears but it certainly seems like a soft spot for Chicago to beat up a team trending in the opposite direction. I'm ready to hear your argument for Big Blue because I can't seem to make one.
Doug Upstone: Mr. Johnson, well your "win streak" has reached one, twice this year against me, so that's a positive. I'm also glad to see you had a real nice sweep in the NFL to take the sting out of another setback on these BookmakersReview.com pages to yours truly. Though my Raiders gift-wrapped you 10 points on turnovers, at least they didn't put a bow on it the day after Christmas for the win.
Ah the Chicago Bears, Monsters of the Midway, an expression from an era gone by. I know you are excited about the potential of Fields as their quarterback, but no way are they coming back after being down 10 points in the fourth quarter in Coffee Town unless the experienced Nick Foles is playing.
I'll admit, for many, day drinking is not recommended and it's on Mondays we try to find common ground on opponents for this article and we came up with this matchup. Well, I think we made the point for no alcohol Mondays. But the choice is made and here we go.
Point/Counterpoint Betting Analysis
I understand why you would want Chicago, they've at least won this month, something the Giants of New Jersey have not. Yes, the G-Men are on a 0-4 SU and ATS slide and that is mostly due to lacking competent quarterback play. But the NFL odds show the Bears laying six and that seems like a reach.
Among the reasons why is because Big Blue's running offense has improved, averaging over 108 yards a game over the last month. Chicago has hardly been a ferocious run stopper in conceding 139+ YPG rushing in the same period. That can only help the Giants on the road against a very comparable opponent.
I'll pass along even more compelling reasons (I think) to back the visitor, but I'll toss the pigskin to you for this NFC encounter next.
SJ: Ah, day-drinking. I feel sorry for people that don't drink because when they wake up in the morning, that's the best they're going to feel all day. Hat tip to the Chairman of the Board for that little gem.
Okay, so a team that suddenly got their running groove on as evidenced by their 108 yards rushing per game over the recent past is only evidence that their passing game has become so abysmal that defenses are giving their rushers a little more room to roam.
And you aptly pointed out, Nick Foles' experience was the key to their win over the Seahawks last week and I agree with that to a certain extent. But David Montgomery has become a real dual-threat with seven catches out of the backfield last week and a rushing touchdown.
Neither team is particularly adept at stopping the run so this could be a ground war but I am counting on the Bears' quarterback, whether it be Foles, Fields, or Dalton to be leaps ahead of the beleaguered Jake Fromm or even Mike Glennon (who would be an upgrade, to be honest). Chicago has the luxury of experienced quarterbacks who don't fold when the oven gets too hot.
Moreover, the Bears are ranked fourth in passing defense, allowing just 202.4 passing yards per game. On the other hand, the Giants are below par in that regard which means not only do the Bears have the better quarterback but they have a far superior passing defense.
Okay, one more try little mister. I'm looking for a reason to bail on this pick but right now, I'm just not feeling it. Sure, laying six with the Bears is a bit scary but then I consider the opponent and I laugh, and laugh, and laugh…
Point/Counterpoint Betting Prediction
DU: Well, Mike Glennon, the Giants ball-chucker, has the experience and was so highly thought of that your Bears paid him 15 million four years ago to stand 6'7 with a headset and he got into four games. Of course, his experience is that he mostly stinks, but given time, like five minutes, he throws a good-looking pass.
This is what Glennon needs, time because he is mechanical and slow to survey the field and needs the extra time to find receivers. That's why the best course of action against Da Bears is running the ball and controlling the clock, being able to set up the play-action pass, where Glennon just has to make one read and let the ball go.
Earlier this week SJ, I wrote an article elsewhere about betting the last two weeks of the NFL season, and in it, I explained that when you have two rotten teams whose only playoffs hopes are two seasons away and if the point spread is more than three points, the underdog is the play having the ability to cover the number along with possibly winning the game.
I look at these teams and don't see a lot of difference and my Power Ratings have New York at +4.5, so a little value for Big Blue.
Both these teams turn the ball over a ton, with the Giants having nine turnovers in their last four contests while Chicago has 10 miscues. Each has generated one turnover over that time period. That seems like a coin flip to me.
This is the third straight season these teams are meeting and oddly it's the third consecutive year at Soldier Field. The Bears won both those games and failed to cover. In fact, Chicago has not covered versus the G-Men at home in SEVEN tries! Is No. 8 going to happen Sunday? I'll say Yes! Take this jalopy home Swinger!
Point/Counterpoint Betting Picks
SJ: His experience is he stinks! Ah, why didn't I think of that?! I think you might be unduly harsh on old Mike Glennon but either way, he is better than Fromm but not nearly as good as the triumvirate of passers Chicago is sporting.
And while I don't doubt the essence of your contention that backing the underdog with a field goal head start or more, in a game between two lousy teams, there are exceptions to every rule and we have one here.
The only caveat is Chicago avoiding the costly turnovers that have plagued them throughout this year. I realize that might be a bit much to ask, but again, I implore my legions of fans – Mom – to consider the opponent. The Giants are a train wreck and fading them is the only logical thing to do.
Before I depart, I am going to leave you with a few trends that are hard to ignore.
Giants are 0-4 ATS in their last 4 games overall.
Giants are 0-4 ATS in their last 4 games following a straight-up loss of more than 14 points.
Giants are 0-4 ATS in their last 4 games as a road underdog.
Swinger's NFL Pick: Bears -6 (-110) at BetOnline (read our BetOnline Review)

Doug's NFL Pick: Giants +6 at BetOnline

*The line and/or odds on picks in this article might have moved since the content was commissioned. For updated line movements, visit BMR's free betting odds product.