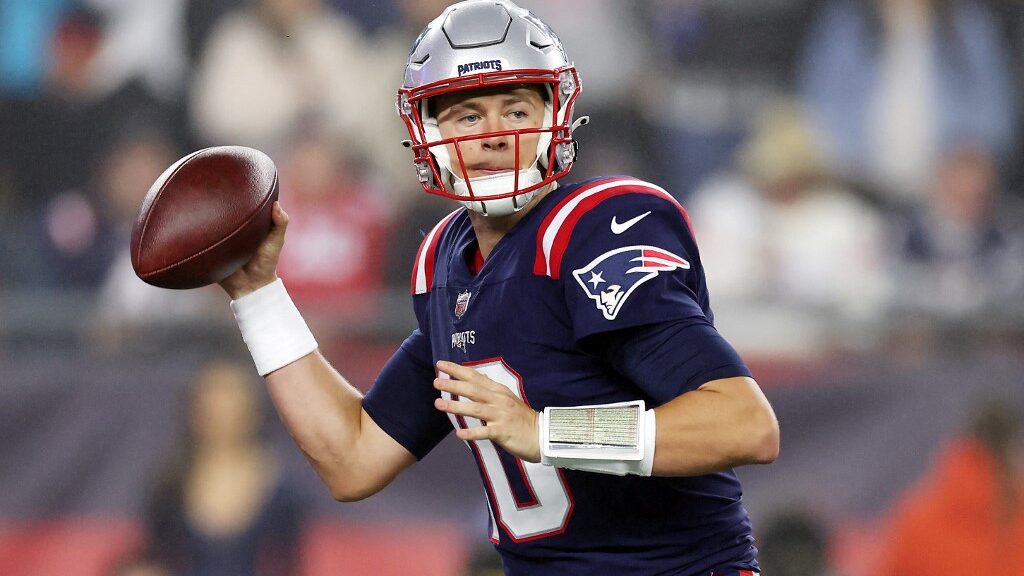 NFL Pick: Mac Jones Over 225.5 Passing Yards (-130) at Bovada (visit our Bovada Review)

Mac Jones Over 225.5 Passing Yards

(-130)
NCAAF BOWLS CONTEST ALERT: Win $1,000 + 10,000 BMR Baller Coins
---
Mac Jones and the New England Patriots (6-6) are essentially in must-win mode against the Arizona Cardinals (4-8) this Monday night. The Patriots lost for the third time in a row against Buffalo last week while the Cardinals had a bye week.
After some sideline controversy involving New England quarterback Mac Jones last week, are we going to see a different offensive approach? The Patriots are a 2-point road favorite with a total of 43.5 points at many of the top-rated sportsbooks. The Cardinals are 12-18 ATS at home since 2019 under Kliff Kingsbury, one of the worst records in the league.
We have our favorite prop picks for this matchup that could determine how relevant the rest of the season is for New England. All the odds are via Bovada.
New England Patriots vs. Arizona Cardinals
Monday, December 12, 2022 – 08:15 PM EST at State Farm Stadium
---
Quarterback Props
---
Mac Jones (Patriots)
Over 225.5 Passing Yards
Over 1.5 Passing Touchdowns
The NFL sophomore slump for quarterbacks has largely been a myth throughout history. Quarterbacks were rarely good as rookies before 2004, and when they were, they usually sustained that play in their second year and beyond.
But Mac Jones is definitely on a short list of quarterbacks who were good in their rookie season and are having a much harder time repeating it. On the surface, he is doing the same things he did last year.
Jones in 2021
67.6% complete
7.3 yards per attempt
10.8 yards per completion
2.5% interception rate
Jones in 2022
68.1% complete
7.3 yards per attempt
10.7 yards per completion
2.6% interception rate
Wasting Field Position
The Patriots also have the best starting field position on offense this year. So, why have the Patriots gone from No. 7 in points per drive on offense in 2021 to No. 23 this year?
Jones' sack rate has shot up from 5.1% to 8.5%, so he is taking more drive-killing sacks this year. The Patriots have also been poor in situational play, dropping from No. 6 in points per red zone trip to No. 30. On third down, they have gone from 10th in conversion rate to 25th this year.
But it probably is easiest to blame the loss of offensive coordinator Josh McDaniels, because his replacements (Matt Patricia and Joe Judge) are easy targets for criticism due to their past failures.
Let It Fly
Mac Jones' frustration in the offensive coaching seemed to boil over against Buffalo last week when he was caught on the sideline saying something to the effect of "Throw the ball, the quick game sucks" with some expletives thrown in for emphasis.
It has been a wild last three games for Jones:
Week 11 vs. Jets: Jones completed 23-of-27 passes for 246 yards, but he took six sacks and the offense scored just one field goal.
Week 12 vs. Vikings: Jones passed for a career-high 382 yards and had his only game with two touchdown passes this season, but the Patriots lost 33-26 after a defense/special teams letdown night.
Week 13 vs. Bills: Jones only passed for 195 yards and averaged 2.5 air yards per completion in a 24-10 loss.
Jones was correct that the short passing game against Buffalo, outside of one screen pass popping for the only touchdown, was not successful. If he can throw more as he did in Minnesota, then this offense showed it can have a good game through the air.
Fortunately, the Cardinals are not a good defense this year. Only one team has allowed more points per game this season, and no team has allowed more than the 24 touchdown passes Arizona has given up. The Cardinals blitz a lot, so while they do get decent pressure, it does not result in many sacks, and they are near the top in missed tackles.
But since they bring pressure a lot, the Cardinals have allowed the shortest throws against them in the league with the average target coming 6.0 yards down the field. We'll see just how much the Patriots try to reverse course and attack deep this week.
Supersize Mac Combo
But even if Jones is not throwing bombs, he still should be able to throw for more than 225.5 yards in this game. He has done that four times in the eight games he played in their entirety this year.
We'll also give him multiple touchdown passes for the second time in three weeks, especially since we're getting plus money with the current NFL odds.
NFL Pick: Mac Jones Over 1.5 Passing Touchdowns (+144) at Bovada

Mac Jones Over 1.5 Passing Touchdowns

(+144)
---
Kyler Murray (Cardinals)
Over 0.5 Passes Intercepted
Murray's interception rate is a career-low 1.8% this season, but he has still tossed a pick in 6-of-10 games. Part of the reason his rate is down is that he is throwing the ball way shorter and averaging career lows in yards per attempt (6.1) and yards per completion (9.1).
Murray faced a Bill Belichick defense once in 2020 and he was intercepted once in that game. He is way too nonchalant with the ball at times to not get into trouble against a defense that feasts on such mistakes.
The Patriots only have three takeaways in their last four games, but they still have 12 interceptions on the season. Look for them to add one to the stat sheet in this game with a Murray pick.
NFL Pick: Kyler Murray Over 0.5 Passes Intercepted (-130) at Bovada

Kyler Murray Over 0.5 Passes Intercepted

(-130)
---
Running Back Props
---
Rhamondre Stevenson (Patriots)
Under 77.5 Rushing Yards
Over 4.5 Receptions
Over 33.5 Receiving Yards
It sounds like New England running back Damien Harris (thigh) will be out again for this one. That leaves Rhamondre Stevenson in the starting role, though he has really turned into a good receiving back this season. Stevenson has only rushed for more than 76 yards in one game this season, and that was his 161-yard effort against Detroit.
But as a receiver, Stevenson has at least six catches in five of his last six games. He has gone over 55 receiving yards in four of his last six games as well.
We did just say the Patriots will air it out more down the field this week, but the short passes to Stevenson can also be acceptable plays instead of just running behind an offensive line that is not doing a good job in run blocking right now.
Cardinals Could be Underestimating
After facing Christian McCaffrey (7 catches for 67 yards) and Austin Ekeler (11 catches for 60 yards and a touchdown) in their last two games, the Cardinals may think they're catching a break with Stevenson. But with the way he is being used lately and without Harris out, he should be a productive receiver in this one.
We'll take his rushing under as an abundance of caution with the state of this running game, but we do like his receiving overs to hit for our NFL picks.
NFL Pick: Rhamondre Stevenson Under 77.5 Rushing Yards (-121)
NFL Pick: Rhamondre Stevenson Over 4.5 Receptions (-145)
NFL Pick: Rhamondre Stevenson Over 33.5 Receiving Yards (-115) at Bovada

Rhamondre Stevenson Over 33.5 Receiving Yards

(-115)
---
James Conner (Cardinals)
Conner has only found the end zone five times this year compared to 18 touchdowns in 2021, so this hasn't been his best season. Injuries have been an issue again, but Conner has scored in three straight games.
If there is anyone you can trust on this offense to score a touchdown, it would be Conner as the Patriots will likely pay a lot of attention to DeAndre Hopkins in the red zone. Conner also has the potential to score on a reception as he is versatile.
NFL Pick: James Conner Anytime Touchdown Scorer (-122) at Bovada

James Conner Anytime Touchdown Scorer

(-122)
---
Receiver Props
---
Nelson Agholor (Patriots)
Over 29.5 Receiving Yards
With leading receiver Jakobi Meyers out with an injury, Nelson Agholor should be a great value pick to go over his line, possibly in one catch if the Patriots throw deep enough.
Agholor has had a couple of big touchdowns for the Patriots this year, but overall he hasn't done much partly because of injuries. He has more games with under 20 receiving yards (five) than he has games over 40 yards (four).
But if we just need 30 yards on a night when Meyers is out, then we can trust Agholor to do that. Just catch the ball as his reputation is for drops.
NFL Pick: Nelson Agholor Over 29.5 Receiving Yards (-115) at Bovada

Nelson Agholor Over 29.5 Receiving Yards

(-115)
---
Hunter Henry (Patriots)
Over 29.5 Receiving Yards
Anytime Touchdown Scorer
Either we are severely overestimating this New England passing game, or these lines are just early holiday gifts. In a game without Meyers, Hunter Henry needs to be productive and get at least 30 yards.
The Cardinals started this season getting embarrassed by Travis Kelce, which is no big deal. Many defenses end up like that. But going into Week 14, Arizona has still allowed the most catches (83), receiving yards (880), and receiving touchdowns (nine) to tight ends.
The last we saw Henry in a dome game, he was getting hosed on a touchdown call in Minnesota on Thanksgiving. Let's give him a shot at redemption in this game and the 10th touchdown by a tight end allowed by the Arizona defense this season.
Don't forget that if you're a Patriots fan looking to bet on this game, you can check out our guide for the best Massachusetts betting sites.
NFL Pick: Hunter Henry Over 29.5 Receiving Yards (-115)
NFL Pick: Hunter Henry Anytime Touchdown Scorer (+320) at Bovada

Hunter Henry Anytime Touchdown Scorer

(+320)
*The line and/or odds on picks in this article might have moved since the content was commissioned. For updated line movements, visit BMR's free betting odds product.