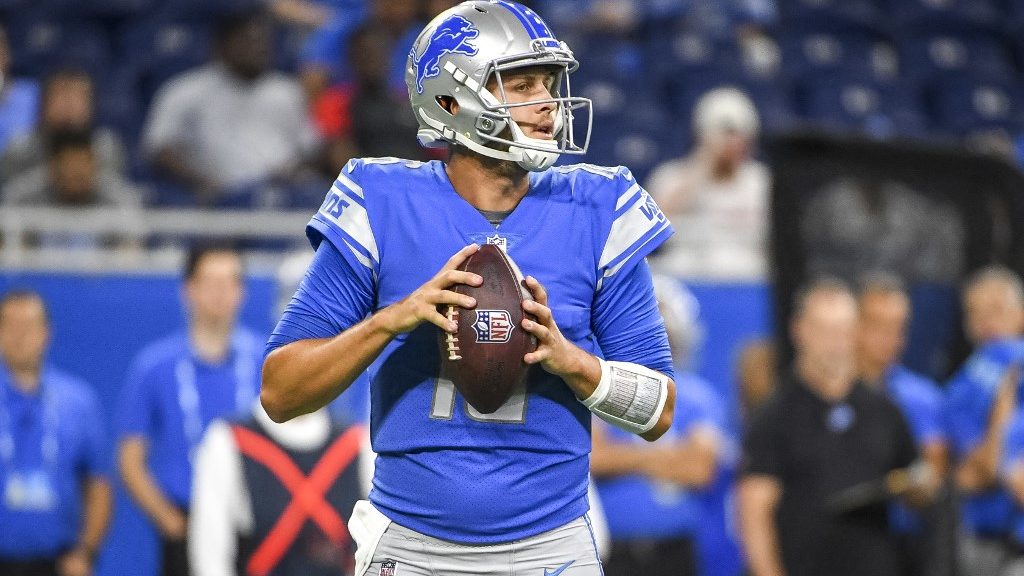 After 12 seasons together, the Detroit Lions have parted ways with Matthew Stafford, trading the quarterback to the Los Angeles Rams in exchange for Jared Goff and some very useful draft picks. It is a blockbuster trade the likes of which this league rarely sees, but Stafford had reached his peak with the team, and it was time for both parties to move on.
The Lions are also onto their fourth head coach since drafting Stafford. Matt Patricia was fired during the 2020 season after a poor 13-29-1 (.314) stint with the team. Detroit is going with Dan Campbell, who finished 5-7 as an interim coach for the 2015 Dolphins. He spent a decade as a tight end in the NFL and even played his final season with the Detroit team that finished 0-16 in 2008.
In other words, Campbell should know the inglorious history of the franchise he is taking over. Detroit has won one playoff game since 1958, which came way back in the 1991 season, or before most of this roster was even born. Many of the top sportsbooks have the Lions with an over/under of 5.0 wins, setting some of the lowest expectations in the league this year.
On the Last Season of LIONS: Sorry Matthew, We're Converting to Cannibalism
The 2020 Lions had a shot to start 5-1, but they blew a 23-6 lead in the fourth quarter to Mitchell Trubisky and the Bears on opening day. That really set the tone for the season as the defense was embarrassed on a weekly basis while the offense was not good enough to save the day often enough. The Lions also blew leads of 14-3 in Green Bay and 14-0 against New Orleans early in the season. Tale as old as time, the Lions were unable to beat any teams with winning records (0-6).
The week of Thanksgiving proved to be a pivotal one. After beating Washington to get to 4-5, the Lions had a shot to go on a winning streak and maybe make the playoffs. They had a game in Carolina against a team missing its best player (Christian McCaffrey) and starting P.J. Walker, an XFL star, at quarterback. Detroit faceplanted, losing 20-0 for the first shutout in Stafford's 168 career starts. In hosting a bad Houston team on Thanksgiving, the defense looked clueless and allowed three touchdown passes of 30-plus yards in a 41-25 loss.
That was the final straw for Matt Patricia as he was fired after the 4-7 start. While the Lions won their first game with interim coach Darrell Bevell against Chicago, they lost the last four games with the defense cementing one of the worst seasons in NFL history. The 2020 Lions allowed 519 points, the second-highest total in NFL history, only trailing the 1981 Colts (533).
Granted, 2020 was the highest-scoring season in NFL history, so allowing 519 points in 2020 was not as bad as the 517 points the 0-16 Lions allowed in 2008, but it was still one of the worst defensive performances a team has ever had. Detroit also allowed 6,716 yards, the fourth-worst season in NFL history. The 12 takeaways, something that was always lacking in Patricia's tenure, were the fewest in franchise history.
After watching the Cleveland Browns win their first playoff game since 1994 and the Tampa Bay Buccaneers win the Super Bowl after not making the playoffs since 2007, it just added to Detroit's consistent disappointment that has gone on for decades. Now the Lions forge ahead with changes at the three key spots on a football team: general manager, head coach, and quarterback.
The Notable Changes for 2021
Something big had to change for Detroit. Keeping Stafford around to maybe go 9-8 and lose a wild card game was not going to cut it. Unfortunately, a reclamation project at quarterback and an inexperienced coach may not be the best combo to bring the franchise out of its slumber, but this is what new general manager Brad Holmes is dealing with. Holmes worked with the Rams from 2003 to 2020 where he personally played a role in the scouting of players such as Aaron Donald, Todd Gurley, and yes, Jared Goff.
A week after Holmes was hired, the Lions announced their new coach would be Dan Campbell, who was an assistant to Sean Payton in New Orleans since 2016. While Matt Patricia always looked like a coach for a fictional New England football team on Family Guy, Campbell enters with his own cartoonish vibe – somewhere between South Park's PC Principal and a jock in Revenge of the Nerds. Campbell introduced his mindset back in January in memorable fashion.
"We're gonna kick you in the teeth, and when you punch us back we're gonna smile at you, and when you knock us down we're going to get up, and on the way, we're going to bite a kneecap off," Campbell said. "We're going to stand up, and it's going to take two more shots to knock us down. And on the way up, we're going to take your other kneecap, and we're going to get up, and it's gonna take three shots to get us down. And when we do, we're gonna take another hunk out of you."
About the only thing missing was a long groan of "NERD!" had someone asked him a question about incorporating analytics into his team's decision making. In the ensuing months, we have also learned that Campbell is a coffee fanatic who consumes an extraordinary amount of caffeine daily and has told his players that they have to learn to wipe their own butts, because he is not carrying toilet paper for them.
The Campbell era may not be a long one in Detroit, but it will absolutely deliver multiple memes that will live in infamy. Compared to Silent Bob (Patricia) and Weekend at Bernie's (Jim Caldwell), this football guy will not be boring. But is he going to win many games? Campbell wants a tough team that will dominate in the trenches first, but he inherits one of the worst defenses in NFL history. Defensive end Romeo Okwara had one of the quietest 10-sack seasons you'll ever see last year. He also had basically no help with the pass rush as he was the only Detroit defender to notch
more than 3.5 sacks or 10 pressures. The team added defensive end Michael Brockers, who has spent his whole nine years with the Rams, but he does not generate a great pass rush. There are still some former Patriots on the roster that Patricia liked, but Trey Flowers had just two sacks in seven games last year and linebacker Jamie Collins never seems to impress when his coach is not Bill Belichick.
Cornerback Jeff Okudah was the No. 3 pick in the 2020 draft. He only played nine games last year, but they did not go well as he allowed 11.2 yards per target while only defensing two passes. The Lions had one of the worst pass defenses ever last year, so pretty much everyone had poor coverage metrics. It is a bigger problem than just Okudah not stepping up as a rookie at a position that is tough to excel at right away. Still, it is curious that the team would load up on defensive tackles high in the draft and not add more help to the secondary.
Aaron Glenn comes over from New Orleans where he coached the defensive backs to be Campbell's defensive coordinator. Fixing this defense is a monumental task itself, but the Lions also have a potential mess on their hands on offense. Last year's wide receivers are practically all gone. No. 1 option Kenny Golladay only played in five games last year due to injury, but it will be none this year after he joined the Giants. Marvin Jones went to the Jaguars, Danny Amendola is a free agent, and Marvin Hall is injured with the Patriots right now.
This has the team looking at Tyrell Williams and Breshad Perriman as its potential starting wideouts. Williams played for new offensive coordinator Anthony Lynn when he was the coach of the Chargers, but he missed all of 2020 with a torn labrum. He is quite good on drag routes, but he is a step down from Golladay or Jones, and certainly a downgrade from the wide receivers (Cooper Kupp and Robert Woods) that Goff had in Los Angeles. Perriman is a deep threat, but also a first-round bust with a career catch rate of 49.0%. There is a reason this is his fifth team since 2017.
This sounds like a poor fit for Goff, who loves to utilize play-action and get YAC plays from his wide receivers. He did not throw often to tight ends in Los Angeles, but he may have to reinvent himself in Detroit since the best receiving option looks like third-year tight end T.J. Hockenson. He made the Pro Bowl last year with 723 yards and six touchdowns. D'Andre Swift also looks like a capable starting running back who won't have to share time with an ancient Adrian Peterson like he did last year.
The other good news is that the offensive line should be solid with Taylor Decker, Jonah Jackson and Frank Ragnow returning at the left side and the Lions drafted Penei Sewell in the first round to play right tackle. Goff's play tends to plummet dramatically under pressure (more than most quarterbacks), so it is crucial that the line plays well.
If Goff was given an offense with this year's line, running backs, and tight ends, but with a healthy Golladay and Jones at wide receiver, then the Lions could be a decent offense. But going with Williams and Perriman feels worrisome and it will be interesting to see the clash of philosophies play out here. Holmes, coming from the Rams with Goff, should know that he needs play-action to succeed.
Campbell was in New Orleans with Payton where Drew Brees rarely used play-action in recent years, but he seems to want to play old-school football with running the ball, so he may be open to more of it. With the Chargers, Lynn was neither allergic nor in love with play-action, and he used it a fair amount to help Justin Herbert out last season as a rookie.
But for Goff in Detroit, expectations should be low. He had talent around him and a good coach last year, but the Rams finished 22nd in scoring. There were diminishing returns under Sean McVay for Goff and the offense, which was stellar in 2018 when the team reached the Super Bowl. Of course, they only scored a field goal in that loss, and even in that season you can see a distinct change in how things went for Goff before and after the 54-51 win against Kansas City that was supposed to change offense forever in the NFL:
Goff's first 27 games with McVay up to 54-51: 21-6 (.778) record, 578/903 (64.0%), 7,610 yards, 8.43 yards per attempt, 5.5% sack rate, 55 TD, 13 INT, 104.8 passer rating.
Goff's last 41 games with McVay since 54-51: 24-17 (.585) record, 959/1510 (63.5%), 10,772 yards, 7.13 yards per attempt, 4.1% sack rate, 51 TD, 37 INT, 85.8 passer rating.
It feels like the Lions are declining at quarterback by going from Stafford to Goff, but the fact is this team was never going anywhere with Stafford either. Now the pressure is on Stafford to take the Rams as far as Goff did. Remember, Stafford was 8-68 (.105) against teams with a winning record as Detroit's starter. He never led the Lions to multiple wins in the same season over winning teams. At least Goff is 17-20 (.459) against winning teams.
That record stands to only get worse in Detroit, but on the bright side, between the potential for a super high draft pick and the first-round picks from the Stafford trade, the Lions could be in great position to acquire a new franchise quarterback in 2022.
Prediction
It is not a bold prediction to say that the defense will play better this year, but the Lions are looking at a brutal schedule. They play two of the toughest divisions in the league in the NFC West and AFC North. You just know Stafford will be ready to shred this defense in Week 7 in Los Angeles. The NFC North is no cakewalk either. Mike Zimmer's Vikings have won seven in a row over Detroit. Matt Nagy's Bears are 5-1 against the Lions since 2018. Green Bay's Aaron Rodgers is 17-5 as a starter against the Lions and in two of those losses, he left early with an injury. This team could go 0-6 in just the division.
Detroit should not go 0-17, but where are the wins on the schedule? The only road games I see a lot of potential in are at Denver (tough place to play) and Atlanta, but maybe the Falcons will not choke away so many leads this year with a new coach. As for the home games, the 49ers in Week 1 could be an upset as San Francisco figures out the quarterback position for the season. But otherwise, the Lions will have to step up against those teams like the Bengals, Eagles, and Cardinals. It is not unrealistic for those teams to be much better this year too as they move forward with young quarterbacks. Unless Joe Burrow and Jalen Hurts take big steps back, it is reasonable to say that all 17 opponents on Detroit's schedule are more talented than the Lions.
For my NFL picks, I will take the under as a 4-13 finish might honestly be respectable for Campbell given the talent differential this schedule is throwing him. Still, that is not a lot of kneecaps for coach to eat, so he will be hungry come 2022.
2021 Lions Over/Under Pick: Under 5.0 wins (-120) at Bovada (visit our Bovada Review)
Under 5.0 wins (-120)

(-120)
*The line and/or odds on picks in this article might have moved since the content was commissioned. For updated line movements, visit BMR's free betting odds product.