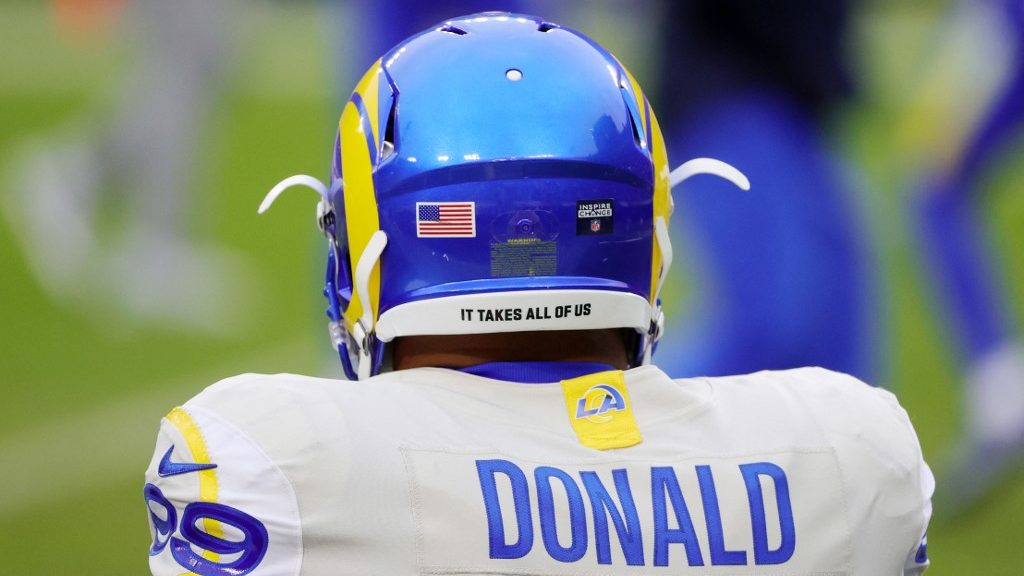 The Los Angeles Rams are engaged in one of the toughest division races we have seen going into a season. Arizona could finish last in the NFC West and still be a formidable foe. The Rams have an over/under of 10.5 wins at many of the top sportsbooks, but the 49ers (10.5 wins) and Seahawks (9.5 wins) are right there with them.
Last year, Seattle won the division with the Rams taking a wild card spot, but in the playoffs, the Rams once again got the best of Seattle's offense in a 30-20 win. Los Angeles fell 32-18 one week later in Green Bay in the divisional round.
While the No. 1 defense was a big letdown in that game, the Rams had a bigger problem with an offense that declined to 25th in points per drive, the second year in a row the Rams regressed by at least nine spots under Sean McVay. Determined to get more out of the passing game, the Rams made another blockbuster deal in trading Jared Goff and two future first-round picks to Detroit for veteran Matthew Stafford.
Such quarterback moves rarely happen in NFL history, but is Stafford really the missing piece to another Super Bowl season, or is this more of a lateral move from Goff than people want to believe?
On the Last Season of RAMS: Can Aaron Donald Play Offense Too?
After a 4-1 start in 2020, the main question was are the Rams actually good again, or is this just a weird scheduling fix of getting to sweep the historically bad NFC East? The only loss was against Buffalo, an elite offense that had no trouble tearing through the defense to build a 28-3 lead, evidently the most dangerous lead in football. Dangerous because Jared Goff led a comeback, and the Rams would have won that game had the officials not called a phantom pass interference penalty on a fourth down in the final seconds. Josh Allen capitalized with a game-winning touchdown pass.
To start November, Goff imploded with a four-turnover day against the Dolphins. The Rams were 5-3 at the bye and not overly impressive when they were not playing the NFC East teams. But then the first Seattle matchup came, and the defense again flexed its muscles against Russell Wilson in a big 23-16 win. They followed it up with an even more impressive 27-24 win in Tampa Bay on a Monday night, intercepting Tom Brady multiple times.
The defense then scored a touchdown in three straight weeks before the whole team suffered an embarrassing loss to the 0-13 Jets at home. Los Angeles was a 17.5-point favorite but still lost 23-20 in a game that only featured one giveaway. Goff was unable to lead the Rams back late in the game. A week later, they essentially lost the NFC West to the Seahawks, losing 20-9 in Seattle.
Goff broke his thumb against the Seahawks, forcing an unknown John Wolford into action in Week 17 against the Cardinals. Fortunately for the Rams, Kyler Murray was also injured and ineffective in that game, and the defense scored another touchdown to help facilitate an 18-7 win.
The Rams just made the playoffs at 10-6 but had to face the Seahawks in Seattle with Wolford as the starter. However, an early neck injury gave way to Goff coming off the bench for the first time in his career. He did just enough in the game while the defense scored a huge pick-six against Wilson in the second quarter on the way to a 30-20 win.
With Goff back as the starter, the Rams were still a touchdown underdog in Green Bay in a matchup between the No. 1 defense and the No. 1 offense. Despite the offensive shortcomings, Goff and the offense were not that atrocious in the game. Some sacks short-circuited drives in the fourth quarter, but it was the No. 1 defense that really disappointed, allowing the Packers to score on five straight drives to begin the game.
The Packers also ran out the final five minutes on the clock in the 32-18 win. Aaron Rodgers was never sacked, the Packers were 8-of-11 on third down attempts and had zero giveaways. Compare that to the pressure and turnovers the Buccaneers created in Green Bay, which was missing All-Pro left tackle David Bakhtiari, a week later in the NFC Championship Game and it is clear which defense was ultimately the best in the NFC last year.
Goff was an easy scapegoat for the season. He had the kind of numbers that would have sent him to the 1992 Pro Bowl, but in 2020, that is not good enough anymore. Still, a defense led by Aaron Donald and Jalen Ramsey should be getting better results than this. The Rams can look all-world against the NFC East or post-COVID Cam Newton with the Patriots or an injured Kyler Murray, but what has this defense accomplished against the better opponents in the league?
You could even point out that all three of the Seattle matchups last year came in the second half of the season when that offense and Wilson really cooled down and struggled. Similar things could be said about the Tampa Bay win, which came during a streak where Tom Brady was the worst deep passer in the league and the Buccaneers lost three out of four games.
Under general manager Les Snead, the Rams follow a "stars and scrubs" approach to roster building more than any team in the league. They have not drafted a player in the first round since Goff in 2016, and they also had to trade their 2017 first-round pick to move up for him. They used their 2018 first-round pick on Brandin Cooks, a two-year rental at wide receiver. They traded down in 2019 and have gotten very little out of that draft class. The Ramsey trade required the first-round picks in 2020 and 2021.
Now they are doing it again with the Stafford trade, giving away the next two first-round picks to acquire a 33-year-old quarterback that has never won a playoff game. A quarterback who has needed Peyton Manning, Tony Romo, Andrew Luck, Philip Rivers, and Drew Brees to retire to maybe be a fringe top 10 player at his position. Maybe it works out, but we are not looking at a super team that added a top-tier quarterback. We are looking at a fringe playoff team that is willing to go seven straight drafts without a first-round pick.
Los Angeles is in for a dogfight in this division, let alone getting back to the Super Bowl.
Matthew Stafford: The Facts
The swap of Goff for Stafford, both former No. 1 overall picks, is one of the most fascinating storylines going into the 2021 NFL season. While all expectations are for Detroit to be terrible this season, the Rams have some of the better Super Bowl odds in the NFC. This is expected to be the best team Stafford has played with after grinding out 12 seasons in eternally flawed Detroit. He is also thought to be Sean McVay's best quarterback, an upgrade over the Washington version of Kirk Cousins that McVay helped to success and of course Goff's diminishing returns over the last four seasons.
But how does a team expect to win a Super Bowl with a quarterback who is 8-68 (.105) against teams that finish the season with a winning record? When a Super Bowl run consists of winning three or four straight games against playoff teams, how does one trust Stafford, who never had a season with multiple wins against such teams in his whole career?
It is a staggering record when you break it down. Since Stafford entered the NFL in 2009, teams win 33.5% of their games against winning teams, so it is difficult to do consistently. But eight teams have won over 40% of their games against winning teams over the last 12 years. No team had a worst record than Detroit.
Even Goff was 17-20 (.459) against winning teams, including a 17-16 (.515) record under McVay the last four seasons. Home or away, it did not matter. Stafford was 5-35 (.125) at home against winning teams and 3-33 (.083) on the road. By comparison, Goff was 9-8 (.529) at home against winning teams and 8-12 (.400) away from home.
On the plus side, this means Stafford is 66-25-1 (.723) against non-winning opponents, an above-average record. If you need Stafford to pull out a close game against a bad team, he can reliably do that. He is 38-51-1 (.428) at game-winning drive opportunities in his career and has led the NFL in game-winning drives in three different seasons. By comparison, Goff was only 9-18 (.333) at such opportunities.
But it is just incredible how Detroit came up short so consistently in the Stafford era when it played a good team. Of those 38 game-winning drives, only two came against a winning team: 2012 Seahawks (11-5) and 2016 Redskins (8-7-1). Two of Stafford's eight wins against winning teams were against 8-7-1 teams, including the 2013 Packers, who were missing Aaron Rodgers that day.
Would you trust Stafford to win in Green Bay this year if the Packers have a high seed again? Against teams that finished 12-4 or better, Stafford is 2-26 (.071). In the two wins, he failed to throw a touchdown or lead Detroit to 20 points as the Lions beat the 2014 Packers 19-7 and the 2017 Vikings 14-7. At least Goff was 6-11 (.353) against 12-win teams.
Would you trust Stafford if the Los Angeles defense struggles like it has against many good opponents during McVay's time as coach? Stafford is 0-48 when Detroit allowed more than 24 points against a winning opponent. Even Goff was 5-12 (.294) in that split. Tom Brady has spent one season in the NFC and already has a road NFC Championship Game win under his belt in a 31-26 final in Green Bay.
Stafford is 2-62 (.031) when a winning opponent scores more than 17 points against him. Even Goff (12-16 record) has three playoff wins with the Rams when the team allowed at least 20 points. This is insane stuff, but it is the facts.
Detroit's defense was neither great nor terrible at holding leads for Stafford in those close games. He had eight lost comebacks in Detroit, meaning games in which he led the Lions to a late lead but still lost. Of those eight games, four were against winning teams (last one: 2020 Chiefs).
Some irony is that Goff is the only quarterback in NFL history to win a game after the opponent scored 50 points, but that 54-51 win over the 2018 Chiefs was also the beginning of his decline under McVay. The Rams had to get better at the position, but you just wish they were adding a player who has excelled more in big games and had statistical seasons that outdo the best of Goff in 2017-18. Stafford is not that guy.
You could say the only two good wins in Stafford's career against winning teams where he played well were against the 2012 Seahawks and 2018 Patriots. Sure, the Rams would love a quarterback who plays well against Seattle, and they would love a quarterback who can score more than a field goal against the 2018 Patriots as Goff did in the Super Bowl loss. But whether Stafford can actually do it when it matters is not very optimistic.
In this sense, he looks like a lateral move from Goff. Last season, Goff managed a 27-24 win in Tampa Bay despite throwing 51 passes and only getting 37 yards out of his running game. Stafford could probably do that if he is playing the Jaguars or Lions this year, but against Tampa Bay? Stafford is 1-12 in his career when he throws 50 passes in a game. Against teams that won exactly 10 games, Stafford was 1-17, beating the Packers in 2015 after Mason Crosby missed a game-winning field goal. That game is worth highlighting since it is the only time in his career that Stafford beat a winning team despite the Lions not rushing for at least 84 yards. Otherwise, the Lions were 0-46 in such games.
By going to Los Angeles, the idea is that Stafford will finally have a running game after never having one in Detroit. The football gods must have been upset at this development and immediately struck Cam Akers with a ruptured Achilles in a July practice, ending the promising second-year back's season before it began. This is big as it leaves Darrell Henderson as the lead back after the Rams had big plans for Akers. This could lead to seeing more of a 2019 running game where the Rams finished 26th in yards and 27th in yards per carry, or worse than what Stafford had in Detroit that year. Either way, the offensive line will play a big part in how good this running game is, but the Akers news is a bummer.
Still, Stafford should get an increased usage of play-action passing as McVay loved that with Goff, who led the league in play-action attempts in 2020. That should be good for him, but time will tell how much McVay lets Stafford run the show in this Akers-less offense. The Rams could get pass-happy at times, but overall McVay is surprisingly conservative on offense despite his wunderkind reputation. McVay is very much a supporter of short field goals on fourth-and-1 and bubble screens on third and long. Did he do that to protect Goff and will he open things up more with Stafford? We have to wait to see.
There is also pressure on this to work immediately given the lack of high draft picks in the years to come. The Rams are going to have to retool the offensive line very soon, which eats up resources. According to Over The Cap, the 2022 Rams will have Stafford, Donald, and Ramsey all with a cap number of at least $23 million with Leonard Floyd ($20 million), Cooper Kupp ($18.3 million), and Robert Woods ($15.7 million) not far behind.
By staying in the NFC, Stafford is still looking up to Brady and Rodgers as they add to their legacies. By joining the NFC West, Stafford is still not the best quarterback in his division as Russell Wilson exists. Do not compare this move to Hall of Famers like Brett Favre and Peyton Manning joining the Vikings and Broncos. This is more like Jake Plummer going to Denver or Alex Smith to Kansas City. It will be good for the team, lead to some double-digit win seasons and the playoffs, but there are limitations to it.
The Other Notable Changes for 2021
Beyond the quarterback move, the Rams have made some other changes. Part of the allure of McVay's success is that his coaching staffs have been poached by other teams in recent years, and 2021 is no exception. Defensive coordinator Brandon Staley did not move far to become the head coach of the Chargers. He only spent one year in the role, but it was the most success the Rams have had on defense under McVay.
Replacing Staley is Raheem Morris, who was on the same staff in Tampa Bay (2008) and Washington (2012-14) with McVay. He recently served as the defensive coordinator and interim coach of the Atlanta Falcons, so not the greatest pedigree for holding leads here, but he is a Jon Gruden disciple and familiar with McVay.
The Rams could be relying even more heavily on Aaron Donald up front and Jalen Ramsey in the secondary after cutting ties with safety John Johnson, corner Troy Hill, and long-time end Michael Brockers. The only draft pick in the top 100 that the Rams used this year was on Louisville wide receiver Tutu Atwell, who does not project to have much of an impact as a rookie. The Rams could throw third-round linebacker Ernest Jones into the fire, but so far it does not look like the team will put high expectations on its rookie class.
The Rams lost tight end Gerald Everett, but they have never been big on throwing to that position in McVay's tenure. That could lead to getting more wide receivers on the field, and one of those may be DeSean Jackson, the veteran deep threat. Going on 35, he is still fast, but expectations should be super low after Jackson has only played in eight games and made 23 catches since 2019.
Then again, the Rams are hoping that a 40-year-old Andrew Whitworth gets through the season at left tackle after only playing nine games in 2020. How many times has a non-skill player started at least 12 games in his forties? Offensive lineman Ray Brown (2002-04) did it three years in a row, Hall of Fame offensive lineman Bruce Matthews in 2001, and defensive end Jim Marshall did it in 1977-79. That is only three players on record.
Throw in the Cam Akers injury, and you could argue the Rams are rolling out a year-older version of last year's team, but with Stafford instead of Goff at quarterback.
Prediction
If we apply the usual Stafford standard of beating the bad teams and losing to the winning teams, then you can see why oddsmakers set the line at 10.5 wins. Probable losses for the Rams include Tampa Bay, at Green Bay, at Baltimore, and the division alone could provide three losses. Then maybe if the Bears or Vikings turn out improved, those could be tough games, though probably not so much the Bears in Week 1 if Justin Fields is not ready yet.
My gut tells me Stafford will set a personal high with two wins against winning teams this season, so maybe that will be enough to get the Rams to 11-6 and the over. However, it is hard to see this team going on a Super Bowl run. One injury to Donald or Ramsey and that defense is just not much of a challenge. Cooper Kupp has also not been the most reliably healthy receiver, and they already lost Akers in the backfield.
But unlike last season where we questioned if the Rams were any good early in the season because of the schedule, no team has a better chance to make a statement in September than Los Angeles. The Rams host the Bears on Sunday Night Football in Week 1, so there is a chance for Stafford to deliver against an old division rival that is getting some hype because of its rookie quarterback selection. The Colts could be without Carson Wentz and Quenton Nelson in Week 2. Then that huge one in Week 3, hosting the defending champion Buccaneers. Win that game and the sky could be the limit for this team.
The Super Bowl is also going to be played at SoFi Stadium in February. Imagine back-to-back seasons during a pandemic where a team with a new quarterback gets to play the Super Bowl in its home stadium in front of the fans. That may be the dream the Rams have, but the reality of what this team is and what Stafford has been his whole career tells me this is going to come up short of that goal.
2021 Rams Over/Under Pick: Over 10.5 wins (+100) at Bovada (visit our Bovada Review)
*The line and/or odds on picks in this article might have moved since the content was commissioned. For updated line movements, visit BMR's free betting odds product.