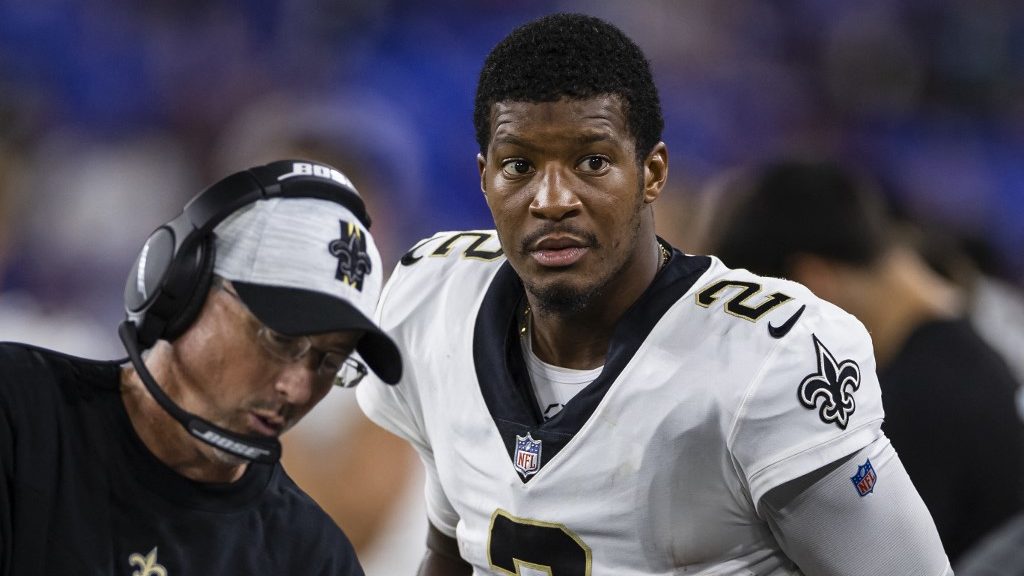 One could say the New Orleans Saints are going to look mighty different this season. After 15 seasons with the team, quarterback Drew Brees has retired from the NFL. He will go down as the greatest player in franchise history and a certain first-ballot Hall of Famer.
The timing is right as health was just no longer a given for the 42-year-old prolific passer. While the Saints have gone 8-1 in the last two seasons without Brees, this is going to be the most challenging season yet for head coach Sean Payton, who has always had Brees by his side since joining the team at the same time in 2006.
While the Saints (49-15) have the best record in the regular season since 2017, it was not long ago that the team finished 7-9 in three consecutive seasons. In fact, Payton has finished 7-9 just as many times as Jeff Fisher (four times) did in his longer coaching career. Now we get to see if Payton can continue getting great offensive production without a Hall of Famer at quarterback.
Many of the top sportsbooks have the Saints with an over/under of 9.0 wins, which would put them in second place in the division behind defending champion Tampa Bay. Is the championship window completely shut without Brees, or does Payton have something up his sleeve to put the league on notice that the Saints are still a contender?
On the Last Season of SAINTS: The Curtain Closes on Drew Brees
The 2020 Saints will go down as the final chapter to the Drew Brees era, and in a sad-but-fitting way, it is a team that left you feeling disappointed. It is a team that despite some glowing statistics – the Saints finished No. 1 in both Pro Football Reference's Simple Rating System and Football Outsiders' DVOA – was never whole from beginning to end. It was a team that on its best night of the season, a 38-3 spanking of the Buccaneers in Tampa Bay, saw the beginning of the end for Brees and his health. Then after the third straight year with a crushing playoff loss at home, the Saints must cope with the fact that it took Tampa Bay and Tom Brady one season to match the number of championships won in 15 years of Payton and Brees.
Those three games against Tampa Bay really define New Orleans' season. First, the Buccaneers were the only team with a winning record that New Orleans was able to beat last year, doing so twice in impressive fashion. But in that Week 1 win to spoil Brady's Tampa debut, the Saints lost leading receiver Michael Thomas to an injury that cost him the next six games. New Orleans scrambled to find healthy receivers and had to grind out close wins and double-digit comebacks against the Lions, Chargers, Panthers, and Bears. Running back Alvin Kamara ended up leading the team in receiving for the season as the Saints moved to the most extreme dink-and-dunk approach they ever have under Brees.
Then in Week 9, the hyped rematch with Tampa Bay became the bloodbath of the season. Thomas was back in the lineup but was not a headline. Aside from a Jared Cook fumble in the red zone, it was hard for New Orleans to have played a more impressive, dominant game on both sides of the ball than it did in front of a national audience. The Saints won 38-3 and humiliated the Bucs at home to take a lead in the division.
But that game was more of a pyrrhic victory than a knockout blow. Brees broke multiple ribs against Tampa Bay's defense. A week later against the 49ers, Brees broke more ribs on the other side of his rib cage and suffered a collapsed lung. He left that game and missed the next four games to take care of the serious health issue. The Saints got by with Taysom Hill at quarterback thanks to the ineptitude of the Falcons and a COVID-ravaged joke of a game in Denver in which the Broncos had to start a practice squad wide receiver at quarterback on late notice. That 31-3 victory padded the season stats a good bit.
But after the Saints lost to the Eagles without Brees, it was clear they would need him for any serious playoff run. By the time Brees returned to face the red-hot Chiefs, Thomas was again out with an injury. Brees looked very rusty against Kansas City and had one of the worst starts to a game in his career. He picked things up eventually, but it was too little too late and the Saints lost 32-29, losing to both No. 1 seeds last year.
Kamara put an exclamation point on his season with six touchdowns against the Vikings on Christmas, and the Saints put away the Panthers in Week 17 to finish 12-4 and claim the No. 2 seed. A traditional bye week would have been nicer but drawing the No. 7 seed Bears and Mitchell Trubisky was not bad either. Thomas returned and the Saints were not flashy, but still picked up a 21-9 win.
That set up a third meeting with Brady and the Bucs in the divisional round. Teams that win the first two games, especially by double digits, usually win the third game too, but it was not to be this time. Tampa really pressed the receivers and Brees was not accurate enough with his throws against the pressure. An interception in the second quarter set up a 3-yard touchdown drive for the Bucs that turned the complexion of the game.
Brees had never really had a bad postseason run in his career, but his last game was undoubtedly the worst playoff game of his career. He completed 19-of-34 passes for 134 yards and three interceptions. Brees did not have a completion longer than 16 yards in the game. In fact, New Orleans' longest play from scrimmage was a 56-yard touchdown on a trick play with Jameis Winston making the throw.
For as bad as Brees played, the turning point of the game (and the whole postseason) was in the third quarter with the Saints leading 20-13. Remember when Jared Cook fumbled against Tampa Bay in Week 9? He did it again at midfield when it looked like the Saints could go up two scores. That led to a 40-yard touchdown drive by the Buccaneers, who had three touchdown drives in the game that covered a grand total of 63 yards thanks to turnovers by the Saints.
The Saints turned the ball over four times in a game for the first time since 2016. It was the second season in a row where the Saints had a season-high game in turnovers in the playoffs. Brees did not get the storybook ending he would have preferred. New Orleans fans have not had the kind of playoff success they thought they would enjoy after winning Super Bowl XLIV.
But for the last decade-plus, the team was relevant, fun, and fans always thought there was a chance for greatness going into a season. That is a huge difference from the days of Saints fans wearing bags over their heads to games, and that is what makes the Brees-Payton era so important to New Orleans. They made the Saints relevant for a change. Now Payton can only hope to continue that legacy, but first he is going to need a new wingman.
Saints Without Brees: The Facts
One of the stats likely to pop up often this September is that the Saints have gone 8-1 without Brees over the last two seasons. That includes a 5-0 record with Teddy Bridgewater in 2019 and Taysom Hill was 3-1 last season. The only loss was in Philadelphia.
Now this might sound like Payton can coach a team to a great record with Hill or Jameis Winston as his full-time starter, but we have to be clear about those nine games without Brees first. With Brees, the Saints often won games built on highly efficient quarterback play. With the other quarterbacks, the Saints were mostly winning with great team play against a collection of weak teams.
From 2011 to 2018, the Saints ranked in the top three in yards per drive every season. In 2019, that ranking fell to eighth and last year it dipped to 16th. Part of that was the aging of Brees and lack of a deep ball, but another big part was the way the backups performed in his absence. They just did not put up the same efficiency or production in the passing game that Payton could count on with Brees.
Brees still finished sixth in QBR last year (74.6) and third in 2019 (73.3). If Hill's 58.8 QBR in 2020 would have qualified among starters, he would have ranked 23rd in the league. If Bridgewater's 50.9 QBR qualified in 2019, he would have ranked 22nd. Brees never finished a season ranked lower than ninth in QBR with the Saints. The Saints are not a scary team if the QB is not ranked in the top 20 in QBR.
The Saints averaged an extra five points per game in 2019-20 with Brees compared to without him. They also had more yards, first downs, and a higher conversion rate on third down with him. But the big reason the Saints started 8-0 in those games without Brees is that the defense only allowed 15.0 points per game, down a full eight points from the games with Brees.
The Saints are not going to play lights-out defense this season. Maybe that would serve them better than trying to still be an offense-first team, but it is unlikely to work over an extended period of games when you play teams that actually have a real quarterback or are going to make the playoffs. The nine teams the Saints faced without Brees finished 57-86-1 (.399), which would be the easiest schedule in the league in almost any year. The only playoff team the Saints beat without Brees was Seattle in 2019, a game where they scored two return touchdowns. Again, that is not a sustainable formula.
Payton still has to make his decision on which quarterback to feature. He has an unhealthy obsession with Hill, who does not have the greatest arm and has been a sack machine so far in limited play. Hill getting the starts over Winston last year and even starting this past weekend's preseason game could be signs that Payton is leaning there, but that is not definitive yet.
Winston obviously has the higher pedigree as a former No. 1 overall pick who has thrown for nearly 20,000 yards in this league. He had that bizarre season in 2019 with Tampa Bay, throwing 33 touchdowns and 30 interceptions. Either way, you can see more sacks and interceptions are coming to this offense without Brees. Winston was 28-42 as a starter in Tampa Bay. He did not get a ton of help, but his penchant for turnovers is a problem.
You know Hill is going to see the field one way or another given the way Payton took the ball out of Brees' hands to run Hill plays the last few years. But I would start Winston in Week 1 and see what happens.
The Other Notable Changes for 2021
Beyond quarterback, there are other changes with the Saints that do not make the team look appealing to sustain the success of recent years. For starters, no studs were added in free agency and the rookie draft class does not look ready to contribute much in 2021. Kamara and his offensive line are largely intact, but the wide receiver corps could be rough to start the season. Michael Thomas had offseason ankle surgery and the timetable for his return is unknown. It just looks likely that the beginning of the season is doubtful.
Without him, the Saints could be relying on Tre'Quan Smith and Marquez Callaway after letting Emmanuel Sanders go to Buffalo. That is not a great lineup compared to what we are used to seeing in the Brees era. Also, Thomas is definitely going through some personal disagreements with the franchise on social media, so do not be surprised if he is the subject of a trade when he is healthy.
The Saints have also been going with veteran tight ends for years, but Jared Cook and Josh Hill are both gone. That means second-year player Adam Trautman has to step up and the Saints also brought in Nick Vannett from the Broncos. Again, not feeling like an upgrade right now, especially when you no longer have the most accurate quarterback in NFL history who helped countless receivers to high catch rates and advanced metrics.
Defensive end Trey Hendrickson picked a good time (contract year) to break out and have 13.5 sacks and 33 pressures to lead the team in 2020. However, the Saints were not willing to break the bank on him, so he is off to the Bengals while the team drafted Payton Turner (Houston) late in the first round. That puts some pressure back on Marcus Davenport, a disappointing 2018 first-round pick, to do something for the Saints. He was demoted to the bench last year.
The Saints still have some very fine defenders in defensive end Cameron Jordan, linebacker Demario Davis, and corner Marshon Lattimore, but as we have seen for years now, this defense never puts it together for a good playoff run. For that matter, you cannot trust the Saints defense against a great team in the regular season. Since 2017, the Saints are 1-7 against teams that finished as a top two seed, including a 1-5 home record. They allowed an average of 34.0 points per game, allowed at least 26 points in every game, including a high of 48 points to the 2019 49ers in a game that decided the No. 1 seed.
While the short fields the offense gave up in January's playoff game against Tampa Bay were demoralizing, the Saints did not have a single takeaway in the two postseason games. They actually dropped multiple Brady interceptions in that last game. New Orleans has not turned the ball over more than 18 times in any of the last four seasons. While the defense is unlikely to regress back to the days of 7-9 seasons, if the new quarterback starts racking up turnovers in bunches, then short fields that lead to points could become a new feature in New Orleans rather than an ill-timed outlier.
Prediction
Maybe I respect Brees too much but picking the Saints to fall back to the pack feels like one of the easiest NFL picks this year. Replacing a Hall of Famer is not easy, and it is even harder when your options are guys who have never led success before. We saw the Patriots go 7-9 without Brady last year, but there are other examples of teams who actually retained talent too:
The Denver Broncos won back-to-back Super Bowls with John Elway and still finished 6-10 in 1999 after he retired.
When the Packers replaced Brett Favre after an NFC Championship Game appearance with a very talented Aaron Rodgers in 2008, that team only finished 6-10 that first year.
The Colts were 4-10 after Johnny Unitas left (1973) and 2-14 in the season (2011) between Peyton Manning and Andrew Luck.
Warren Moon led the Houston Oilers to seven straight postseasons (1987-1993), but they finished 2-14 right after he left town.
The Cardinals were in the playoffs, including a Super Bowl, with Kurt Warner in 2008-09 but finished 5-11 in 2010 after he retired.
The Cowboys were 5-11 in Troy Aikman's final year (2000), then they repeated 5-11 for two more years after he retired for good measure.
The Bills and Chargers both finished 6-10 in the seasons after Jim Kelly (1997) and Dan Fouts (1988) retired.
San Francisco had the most successful quarterback succession plan ever with Joe Montana to Steve Young, but that long run of dominance ended as soon as Young was injured in 1999 (4-12 and then 6-10 in 2000).
This is just how things tend to work in the NFL. The Saints were blessed for 15 years with a quarterback who was rarely ever injured until these last two years when age caught up to him. Now they are back on the hunt for the next franchise quarterback. With the total set at 9.0 wins, that means the Saints will have to finish 10-7 to not get a push.
With this schedule, I just cannot buy that as a reasonable outcome. I like Tampa Bay to sweep New Orleans this year, and games against the Packers, Bills, Seahawks, and Titans could also be very difficult. The Falcons, Eagles, and Cowboys should be tougher games this year as well.
The Saints had a great four-year run that ended with more playoff heartbreak than a fanbase should endure. But I think beyond Brees' retirement, this is the year where everything catches up to them from recent draft misfires to relying too heavily on Thomas and Kamara on offense. If Payton is a legitimate Hall of Fame coach, then he will figure this out quickly enough. If not, then we will know that Brees was the driving force behind the most successful run in Saints history.
2021 Saints Over/Under Pick: Under 9 wins (-110) at Bovada (visit our Bovada Review)
*The line and/or odds on picks in this article might have moved since the content was commissioned. For updated line movements, visit BMR's free betting odds product.