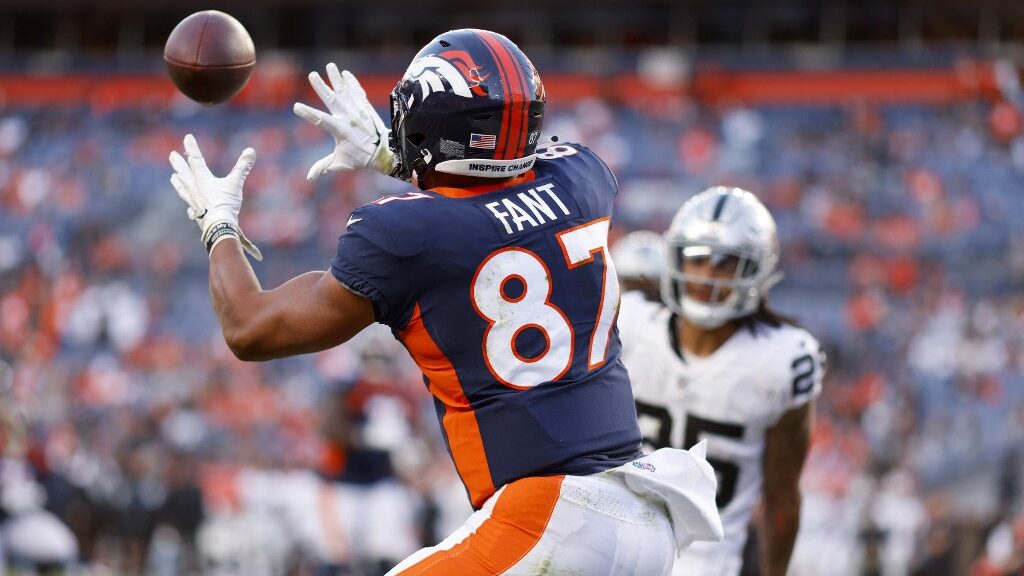 Swinging Johnson ended Doug Upstone's win streak over him. Can Swinger make it two straight over Doug, the day after Christmas, in a division battle that is as intense as their rivalry?
Let's get into some NFL odds and find out!
2021 Point/Counterpoint Records
Doug Upstone 5-2 ATS
Swinging Johnson 2-5 ATS
Denver Broncos vs. Las Vegas Raiders
Sunday, December 26, 2021 – 04:25 PM EST at Allegiant Stadium
Week 15 Recap
Doug Upstone: Well, Swinging Johnson, you got back on the left side of the ledger and I know you are thrilled and more likely relieved. I knew I was done when the game first came on TV before the kickoff and they were showing the Carolina kicker being helped off the field, with that meaning no field goal attempts for me.
However, I did have a sense of delight that Buffalo was up just 10 points halfway through the fourth quarter and I knew you were squirming like a five-year-old on Christmas Day waiting to open presents. Ultimately, Cam Newton played like, well, Cam Newton and you got the win and cover.
Moving ahead, the dynamics have changed remarkably for those of us making NFL picks with the virus picking up steam, causing cancellations, games being moved, and what that means this week for scheduling. We discussed this on Monday when determining two common opponents we could agree on.
As you know I'm going with the team you used two weeks ago in the Las Vegas Raiders. The Raiders are off a fortunate win over depleted Cleveland to move to 7-7 like their hated Denver and each team has to win out to have any chance to make the AFC playoffs.
That makes this an elimination game in all likelihood and I'm looking to eliminate you this week. Go ahead and start making your case for the horses.
Swinging Johnson: Whoa, whoa, whoa…. just a minute, young man. You want me to make my case for the horses and all I'm asking you to do is hold yours. That's right, I'll get around to this week's matchup but won't you just bask in the afterglow of my prodigious powers of prognostication – if not for just a sweet delicious moment together?
I haven't reviewed last week's article since the game ended but if I'm not mistaken, I believe I also predicted a final score of Buffalo 31 – Carolina 14. Yes, I'm quite sure I did. Don't check, we've had our moment to acknowledge the glory and wonder that is me, so let's move on.
Point/Counterpoint Preview
Alright, so the big question is who will be under center for the Broncos this week?
Teddy Bridgewater got concussed and may not play which means former starter Drew Lock will take over. I ask you, is there really much of a difference? Sure, Teddy can be like a bridge over troubled waters, limiting his mistakes, not making costly errors, but doing nothing to kick in the gears of the offense either.
On the flipside, Lock has a bigger arm but is more mistake-prone. Nevertheless, he was the one who had the only touchdown pass last week in their 15-10 loss to the Bengals. I'm not sweating it, either way, to be honest, and maybe a little Drew Lock for an entire game will energize this rather lackluster Denver offense.
And let's talk about the defense, shall we? They limited Joe Burrow to 157 passing yards and his top target, Ja'Marr Chase to one catch for three yards. And if you think Derek Carr will feast on the Broncos' secondary then I say think again, kind sir. The Broncos own the fifth-ranked passing defense, allowing just 212.7 yards per game.
Okay, so that's my opening salvo, I will entertain your counter, then smite thee with my rapier wit, magnetic personality, and disarming charisma. If that fails, I shall resort to expletives and then bring your family lineage into question. The stage is yours.
DU: Well, it is Vegas Swinger, so yes, it's showtime! Here is the deal, both these teams are trying to reach the playoffs, and truth be told, neither should be, but with the expansion of more teams comes more mediocrity.
No question, Denver has the stronger defense and this has generally been the case for years. At the same time, Broncos have not had a Top 10 quarterback since before Peyton Manning's Super Bowl season at a Mile High, because he was done in his final year and the Denver D was special.
Derek Carr has his detractors and much of what is printed (not including social media) is on point, but how many different offensive coordinators has he had? That never helps any quarterback. Along with uneven play, Carr has either had a really good offensive line and no perimeter talent, or pretty good offensive players with a below-average O-Line.
A Good Ol' Western Showdown?
In this one, we are talking about Carr against your boy Lock, who is more known to most for rapping during a game, than for his play in a game.
Denver has a good collection of wide receivers, talented running backs at least by name, yet seldom puts it all together. Last Sunday was the latest example of the Broncos' offensive ineptitude in falling to Cincinnati at home in registering 10 points.
Both these AFC West rivals don't score much, which aligns with their record, with Denver at 20.4 PPG and Las Vegas at 21.4 PPG. That figure is more of an issue for the Broncos, who are 41-73 ATS when they score 15 to 21 points.
In a league where QB play matters, advantage Raiders. And with betting odds at GTbets (visit our GTbets Review) at one point, I'll give you that digit.
Now, what say you SJ in your rebuttal?
SJ: What do I say in rebuttal you ask? Cue the music boyyyyyy…I see my boy Lock throwin' dimes and, on the side, he's spittin' rhymes. They say that miracles never cease but Drew's creating a devastating masterpiece. Torchin' Raiders left and right, Lock's throwin' smoke all through the night. Broncos gonna roll and it ain't gonna be pretty when the day is done in ol' Sin City.
Sometimes, I just channel this greatness and I have you to thank for bringing it out in one magnificent lyric after another. I think it's time I kissed myself.
Point/Counterpoint Analysis
Alright, look, neither offense is going to make your head spin but the Raiders are a woeful 2-5 against the number at home this season and they rank 25th against the run.
Now you might not put Javonte Williams and Melvin Gordon in the rarefied air of elite running backs but they are both very good and getting better, and will be a handful for the pedestrian Raiders run-stop unit.
On the flip side, the Broncos boast a top 10 run defense and are ranked second in points allowed, permitting 17.4 points per game. Doug, you've always been a trendsetter so let me make you feel right at home with these:
Broncos are 11-1 ATS after scoring less than 15 points in their previous game.
Broncos are 13-5 ATS following an ATS loss.
Raiders are 1-4 ATS after an ATS loss.
Raiders are 1-4 ATS following a straight-up win.
The Raiders offense is too one-dimensional and I see the Broncos bustin' a move – and the bookies - in Vegas on Sunday. You've got the final word. Peace out, space cowboy.
DU: Swinger, really good stuff you have to say there! With that sales pitch for Denver, you could work for one of the big drug companies. However, only one thing is missing, the Broncos like the Raiders are .500. Thus, despite the "fancy stats" (rare Don Cherry reference), Denver is, basically by your own words and logic, a truly underachieving club.
Point/Counterpoint Picks
I'm the first to admit, the Silver and Black have left an armada of disappointed fans over the years, just hoping their loyalty would somehow be rewarded. This rivalry, like many, has been give and take and the Raiders have done the taking of late at 5-1 SU and ATS and complete the sweep again this season on Sunday!
Swinger's Free NFL Pick: Broncos +1 (-110) at GTbets

Doug's Free NFL Pick: Raiders -1 (-110) at GTbets

*The line and/or odds on picks in this article might have moved since the content was commissioned. For updated line movements, visit BMR's free betting odds product.