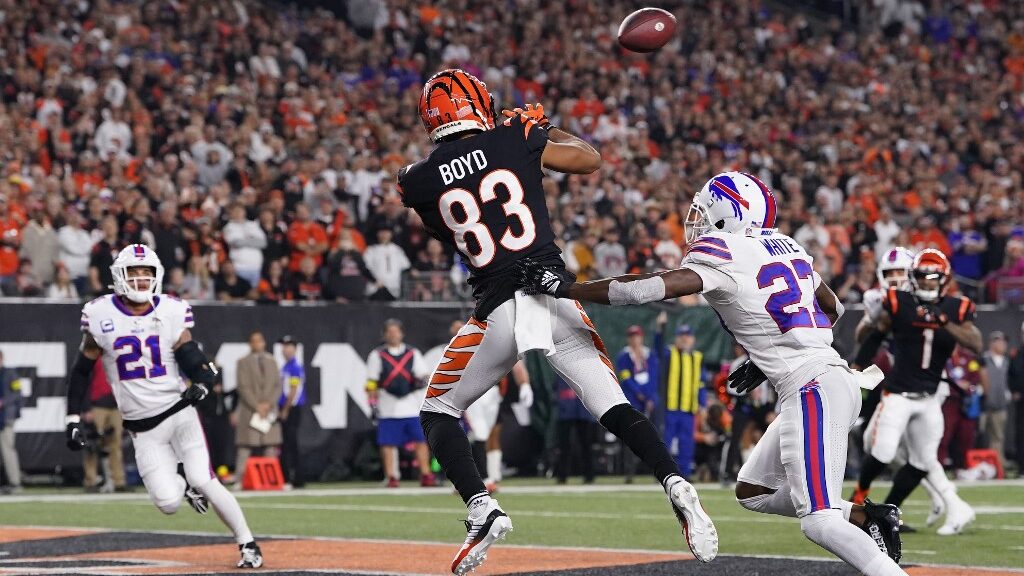 NFL Pick: Bengals +5 (-110) at Bovada (visit our Bovada Review)

The Cincinnati Bengals (13-4) and Buffalo Bills (14-3) will give it another try in the AFC divisional round after their much-anticipated Week 17 showdown was canceled following Buffalo safety Damar Hamlin's cardiac arrest during the first quarter.
It was the first time the NFL canceled a regular-season game not due to labor issues since 1935.
Hamlin has recovered remarkably well, and do not be surprised if he is in attendance this Sunday afternoon, which should lift the spirits of both teams as the Bengals were just as stunned by the incident in Week 17.
Showdown Looming
These teams have not lost since, and they prepare for what is the AFC Game of the Year with even bigger stakes on the line this time according to NFL odds.
The Bills are a 5-point home favorite with a total of 50 points at many of the top-rated sportsbooks. Is this finally Buffalo's year, or will the Bengals pull off another road upset on their path to another Super Bowl?
The weather sounds like there could be some wind and an inch of snow, but it does not appear like it will be a huge factor. Nothing these teams are unprepared for.
Remember, fans from the Buckeye State or the Empire State who are looking to make a wager on this game should be sure to check out our top-rated Ohio and New York betting sites.
---
Cincinnati Bengals vs. Buffalo Bills
Sunday, January 22, 2023 – 03:00 PM EST at Highmark Stadium
Did We Get Any Hints from Week 17?
When these teams met three weeks ago, there was 5:58 left in the first quarter with the Bengals driving again with a 7-3 lead before the Hamlin cardiac arrest occurred.
This was the first time these teams met since early in the 2019 season when they were drastically different with Josh Allen not having his breakout year yet and Joe Burrow having his in college with LSU.
So, this was the first time these teams really met in this successful era for each. We know how they play against Kansas City, but we are only beginning to learn how they might match up with each other in the AFC.
What Might Have Been
From the few drives we got to see, the Bengals did look prepared and ready for a good offensive night with Burrow coming out sharp and throwing a touchdown to Tyler Boyd. The Bills also moved the ball on their drive but had to settle for a field goal.
With the game barely lasting nine minutes before it was suspended, it would be impossible to speculate who would have won. But with the way it started, it does seem justified for the game to have a high total and the expectation to be for some fireworks between these two quarterbacks.
It just comes down to who makes more mistakes and which defenses can capitalize on them.
---
Like Super Bowl 56, This Game Is Sacks vs. Turnovers
For the Bengals, this matchup is very similar to the one they faced a year ago in Super Bowl 56 against the Los Angeles Rams. The proper framing for that game was sacks vs. interceptions as Burrow was 2021's most-sacked quarterback and Matthew Stafford was the year's most-intercepted quarterback.
Could the Bengals mitigate giving up sacks to Aaron Donald and company by intercepting Stafford enough? They made it to the Super Bowl doing that, beating the top-seeded Titans in Tennessee despite Burrow taking nine sacks. But the defense intercepted Ryan Tannehill three times, including a crucial one at midfield in the final minute to set up a game-winning field goal.
The Bengals also came up with critical interceptions in the fourth quarter against Derek Carr (Raiders) and in overtime against Patrick Mahomes (Chiefs) in the AFC Championship Game.
Will History Repeat?
In Super Bowl 56, the Bengals intercepted Stafford twice and led 20-13 in the second half, but the offense faltered, and the Rams racked up seven sacks of Burrow.
On the final drive, needing a field goal to force overtime, Burrow was quickly pressured by Donald on a fourth down and his pass fell incomplete, securing the 23-20 loss.
It was just a few pressures and sacks too many for the Bengals to overcome, and instead of turning over Stafford on the final drive, they watched him throw a game-winning touchdown pass to Cooper Kupp with 1:25 left.
---
Cincinnati's Protection Issues
A new season and it is really the same issues in Cincinnati. Burrow's sack rate dropped to a career-low 6.3% after it was 8.9% last year, but he still had some bad games while going down frequently against teams with great pass rushers like the Steelers (T.J. Watt), Cowboys (Micah Parsons), and Browns (Myles Garrett).
In seven of his last eight losses, Burrow has been sacked at least five times. It is a crucial step to beating this team as the pressure makes it much harder on him to complete big plays to his great wide receivers.
Burrow had not been sacked more than twice in the last eight regular-season games, all wins since he was put down five times against Garrett and the Browns in Cincinnati's last loss in Week 8.
But in the wild-card playoffs against Baltimore, Burrow was sacked four times and the offense had some problems with generating any big plays.
Defense Saves the Day
It looked like the Bengals were going to trail 24-17 in the fourth quarter with the Ravens at the 1-yard line, but that was when the defense stepped up and stopped a quarterback sneak, knocking the ball from Tyler Huntley, and Sam Hubbard returned it 98 yards for a game-winning touchdown. It is the longest fumble return touchdown in playoff history.
That is the latest instance of the Bengals doing a remarkable job with turnovers in tight playoff games. Since 2001, there have been 16 turnovers in a tied playoff game in the fourth quarter or overtime. Three of those last four turnovers have been caused by the Cincinnati defense since last year.
Not included in that stat was the fumble the Bengals forced Travis Kelce into in the fourth quarter against the Chiefs this year to help turn that game. This defense is very good at getting timely turnovers in big games, though that is usually something that is never stable enough to rely on. Yet, teams that go to multiple Super Bowls almost always come through with these plays, which is not a coincidence.
More Question Marks
But teams with offensive lines as weak as the Bengals usually do not fare well in the postseason either. The Bengals have also lost three starters to injury along the line in the last month. The latest is left tackle Jonah Williams, who dislocated his kneecap against the Ravens. He could very well miss this game in Buffalo, if not longer.
The only encouraging news for the Bengals is that Buffalo lost future Hall of Fame pass rusher Von Miller to a torn ACL on Thanksgiving. He was the missing piece player the team specifically brought in this year to win these tough matchups in the playoffs against the best quarterbacks. The Bills have not lost a game since the Miller injury, but the only good quarterback they faced for a full game in that time was Miami's Tua Tagovailoa, who lost 32-29 in Buffalo in Week 15.
For the Bengals to win in Buffalo, they are going to need to turn the Bills over better than the Bills' pressure and sack Burrow into drive-killing mistakes.
---
Buffalo's Very Real Turnover Problem
Fortunately for the Bengals, the Bills do have a serious turnover issue. The Bills turned the ball over 27 times in the regular season, which ranked as the third most despite the one fewer game played. It's not just interceptions from Allen either. Buffalo's 13 lost fumbles were only surpassed by the Colts (14).
Sure enough, the Bills showed us their turnover issues in the wild card round against Miami. Three turnovers helped turn a 17-0 lead into a 34-31 nail-biter for the Bills.
Allen threw two more interceptions and had several fumbles on seven sacks, but it was his strip-sack for a fumble return touchdown in the third quarter that seemed to bother Allen the most. His play got more erratic from there as underdog Miami led.
But the Dolphins made an atrocious mistake by throwing a pick on a third-and-19 deep in their own end with a rookie quarterback instead of playing it safe. That helped Buffalo regain the lead, which it never relinquished, but the Dolphins were in the game until the bitter end thanks to takeaways.
What defense have we established as being great at game-changing turnovers in big games? Cincinnati. It is not the most sustainable thing to hang your hat on, but if the Bills have shown us anything this year, it's that they can be chaotic and loose with the ball as is Allen's nature. The opportunities will be there for turnovers and the Bengals are going to have to make them to advance their season.
---
Is Burrow's Road Disadvantage Real?
Without getting into a big stink over it that dominates the preview, the fact that this game is hosted in Buffalo makes no sense, and the Bengals have a legitimate gripe that it should have been a neutral field setting due to Week 17's cancellation.
The NFL already catered to Buffalo by making the AFC Championship Game at a neutral field should that game be Buffalo vs. Kansas City. This is because the Bills (13-3) were denied the chance to finish 14-3 by beating Cincinnati, which would have given them the No. 1 seed over the Chiefs (14-3) with a head-to-head win as the tie-breaker.
However, the NFL made no such concession to the Bengals (12-4), who were denied the chance to finish 13-4 by beating Buffalo, which would have given them the No. 2 seed and home-field advantage over the No. 3 Bills in this round due to the head-to-head tie-breaker.
Added Incentive for Bengals
The Bengals are already a confident – some may even say cocky – bunch with a "they have to play us" mentality, but do not deny this scheduling misstep by the league fueling them with a little extra motivation to win what is already a huge game for them.
But the game is in Buffalo, and Burrow will have to account for the drop in passing production and efficiency he tends to have going on the road compared to home games:
Burrow at home (20 games): 309.1 passing yards per game, 8.40 yards per pass attempt
Burrow on the road (22 games): 254.2 passing yards per game, 7.04 yards per pass attempt
Not surprisingly, the same split can be found for his production with No. 1 receiver Ja'Marr Chase.
Chase at home (15 games): 105.8 receiving yards per game, 15.7 yards per reception
Chase on the road (14 games): 65.3 receiving yards per game, 13.6 yards per reception
It is not like the Bengals are a dome team, so there isn't much of an explanation for why they would decrease this much on the road. It could prove to just be small sample-size stuff going forward as they progress in their careers, but for now, it is a fact that most of the big passing games for the Bengals come in home games.
This could be a problem in Buffalo if the Bengals are one-dimensional and struggle to run. The Bills have a superior running game, giving them an extra
---
Bengals-Bills: Best Bets and Prediction
When it comes to your NFL picks for this huge game, we think our Week 17 score prediction of Buffalo winning 27-24 is still a good one to use. That would just hit the over, and we'll respect the potential for it hitting easily given the caliber of these offenses and what happens if they get hot. This was the round last year where the Bills played that 42-36 overtime classic in Kansas City.
For a prop pick, we'll go with Stefon Diggs scoring a touchdown. He came close last week but did not score in any of the three games against Miami. Look for him to make his mark at home against the Bengals, especially if they leave corner Eli Apple on him.
A Closer Look at the Numbers
Cincinnati is 35-18-1 ATS (66.0%) since drafting Joe Burrow in 2020. That is the best record in the league in that time frame, and the Bengals (20-8 ATS) are also the only team who covers over 70% of the time on the road (71.4%). The Bills are 2-5 ATS with Allen at quarterback in the playoffs.
All five of the playoff games in the Burrow era have been decided by 3-to-7 points. The Bills recently had a 24-game stretch where they never won a game by fewer than 10 points, but those days are over. Five of Buffalo's last 14 games have been won by 3-or-4 points, including big showdowns with the Chiefs (24-20), Ravens (23-20), and twice with Miami at home (34-31 and 32-29).
The Bengals are a formidable foe with their ability to score and take the ball away in key spots. If the Bills want this to be the Super Bowl season they have been favored to have most of the year, they will have to avoid the big mistakes. We'll cautiously take the Bills to win, but the Bengals with the points to cover are the best bet in this matchup.
Hopefully, it is an instant classic.
Score Prediction: Bills 27 - Bengals 24
NFL Pick: Bengals +5 (-110) at Bovada
NFL Pick: Stefon Diggs Anytime Touchdown Scorer (+100) at Bovada
NFL Pick: Over 50 (-110) at Bovada (visit our Bovada Review)

*The line and/or odds on picks in this article might have moved since the content was commissioned. For updated line movements, visit BMR's free betting odds product.