Wyoming Online Gambling in 2023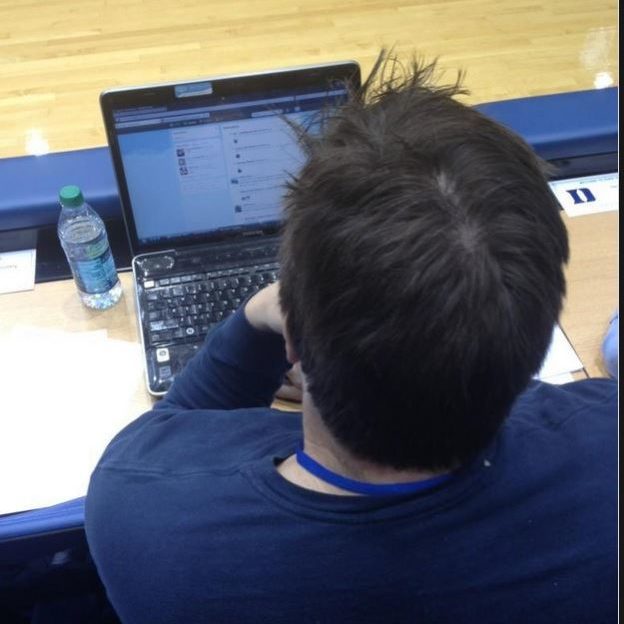 Shawn West has been involved with college basketball, NFL and college football and MLB since he left his job as bank vice president two decades ago. He lives in North Carolina with his wife, children, two dachshunds and a variety of turtles.
After a 100-year break, online gambling sites in Wyoming are being embraced in the 21st century. Gambling was a popular pastime in the 1800s when Wyoming was a part of the Old West when gunslingers, bandits and cowboys were among its inhabitants. Then the state took a hard stance on gambling for most of the 1900s, with pari-mutuel betting on horse races being the only legal gambling that remained intact.
Since the turn of the millennium, however, Wyoming has opened tribal casinos, installed historical horse race betting machines in tracks and off-track betting parlors and even started a state lottery. Most recently, in 2021, the state legislature passed a new gaming law that made sports betting legal. There are currently four sports betting sites licensed by the state.
Wyoming residents now have access to online gambling sites with sports and racebooks, as well as casino table games, slots and live poker rooms, all with the chance to win real money, all at offshore sites. Let's review the best options available when it comes to offshore gambling sites.
Wyoming's Best Online Gambling Sites
2023's Top Online Gambling Sites for Wyoming Gamblers
Our panel of gambling experts looked at hundreds of offshore gambling sites, evaluating them on several factors, and agreed on the following rankings of the best online gambling sites for Wyoming residents.
Is online gambling legal in Wyoming?
The answer to that question has been changing drastically in recent years. For a long time, betting on horse racing at the track or an off-track parlor was the only gambling that was legal in the state. However, the state has gone about legalizing other forms of gambling in recent years. Wyoming has added a state lottery, and there are now four native American casinos on tribal land in the state.
In 2021, the state legislature passed a law that paved the way for the legalization of sports betting, giving fans the chance to win money online by betting on games. In fact, sports betting is only legal at online sites in the state. There are no retail sports betting facilities legalized under the new law.
Comparison of Wyoming's Best Online Gambling Sites
Our expert panel unveiled its top 10 online gambling sites for Wyoming bettors, but every person has different preferences and individual betting needs. Since each site does different things well, we asked our experts to provide more detail on each one. Here are in-depth looks at the sites in our top 10, with pros and cons lists. 
1. BookMaker: Best Overall Online Gambling Site for Wyoming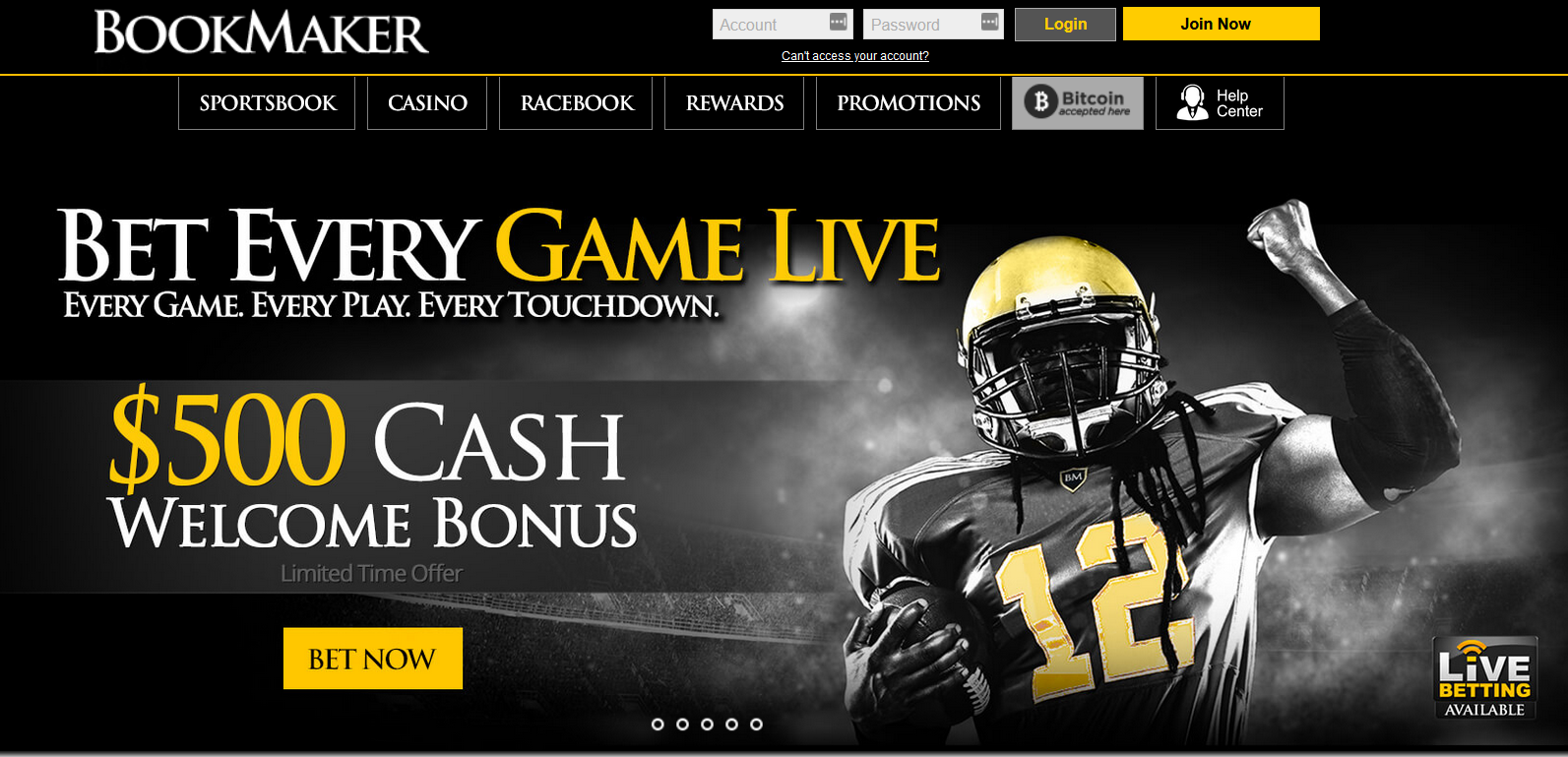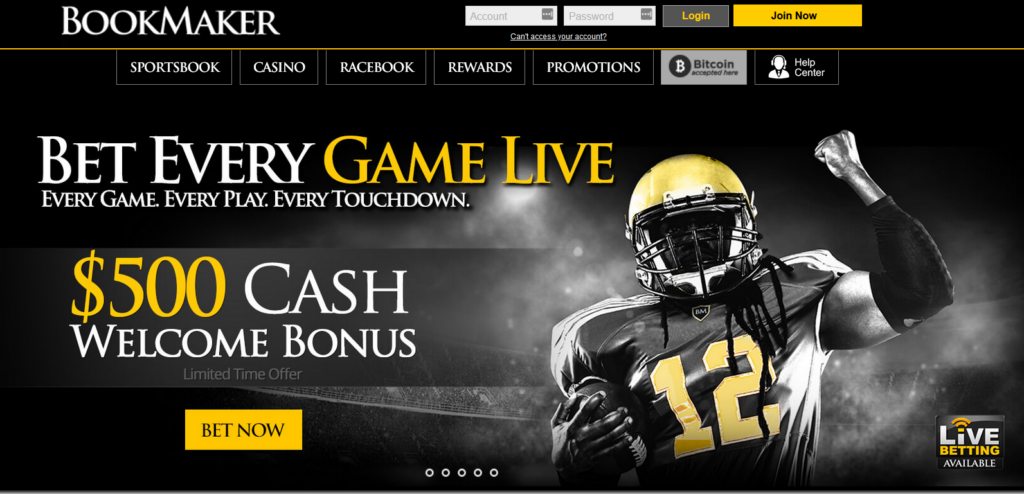 Bookmaker.eu took the top spot in our rankings, getting recognized by our panel of experts as the best all-around online betting site for Wyoming residents. All types of gamblers will feel welcome at BookMaker, regardless of experience level, size of bankroll or appetite for risk. There are high betting limits to cater to big spenders, but there are also low minimum bets, to ensure that everyone will find a level of bet that meets their needs. 
BookMaker releases its lines and odds earlier than other online sports wagering sites, and they are famous for never cutting off a gambler on a hot streak. The gambler-first attitude extends to the user interface, which is easy to use, both on the full site and the mobile device version. New users can find their way around easily. Additionally, BookMaker boasts some excellent bonuses that customers can take advantage of.
Pros
Caters to bettors of every experience level and bankroll size
Betting limits are high, while minimum bets are low
One of the best loyalty programs in the state
Gamblers on a hot streak won't get shut down
Cons
Doesn't offer a live online poker room
Welcome bonuses are lower than competitors
2. Heritage Sports: Wyoming's Top Site for Live Betting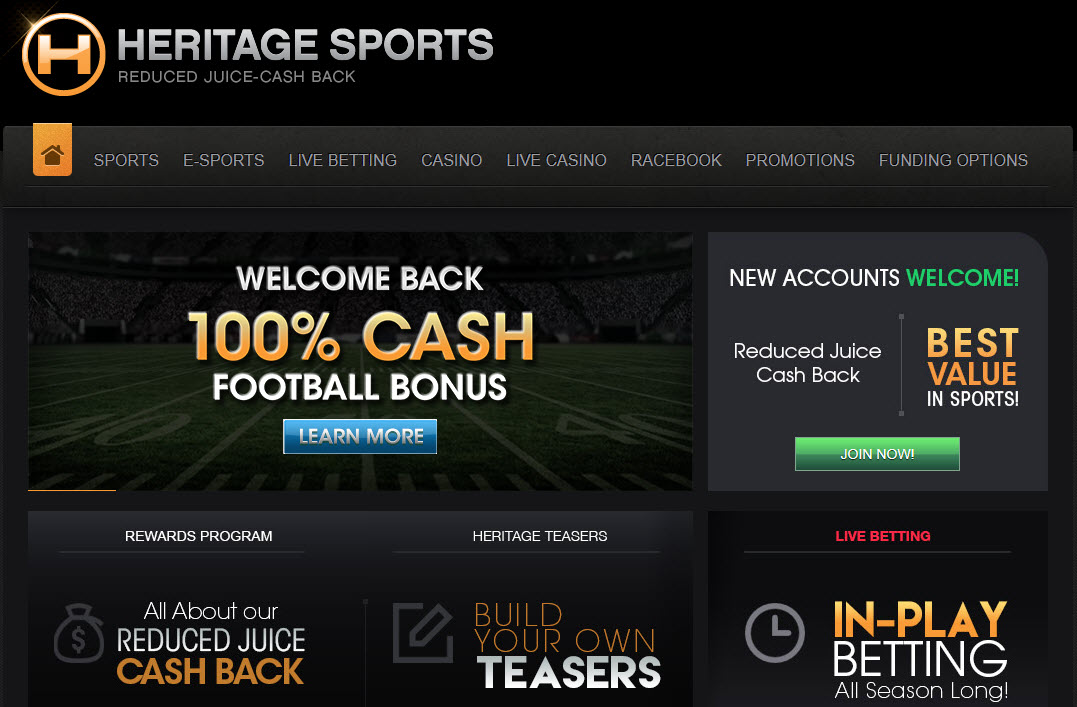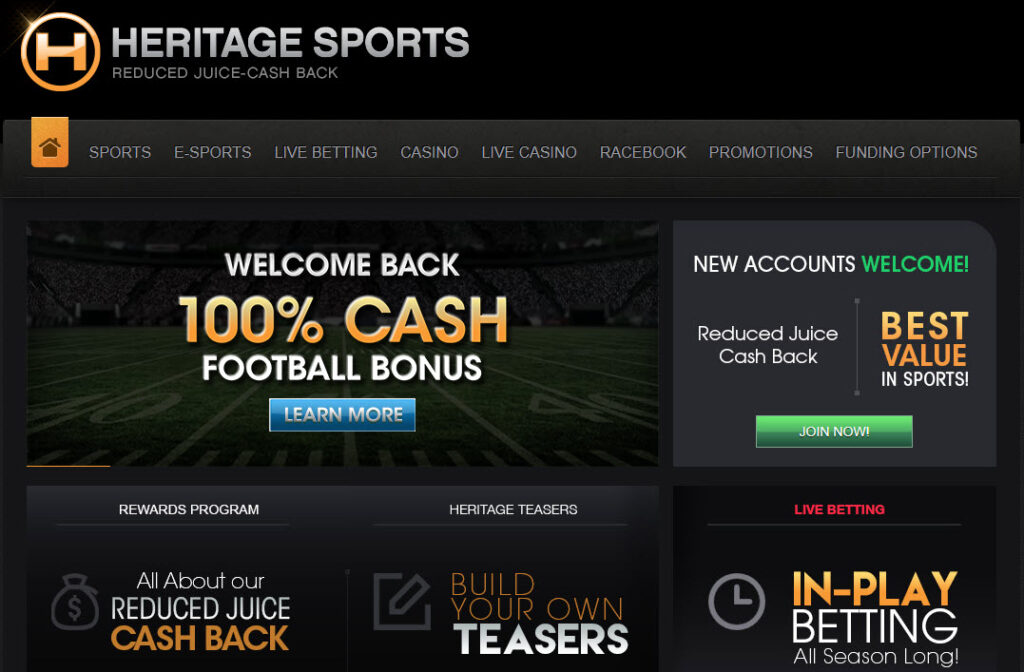 Heritage Sports finished second in our top 10, although they were recognized by our expert panel as best in the state in a couple of important areas.
Heritage Sports was singled out as the best site for VIP treatment of their customers, with a nice array of promotions as well as an outstanding customer service department. It's no surprise that Heritage Sports knows how to roll out the red carpet, since, in its early days, it was an invitation-only site for bigwigs.
The experts also said that Heritage Sports leads Wyoming with the best live betting interface. The software is efficient, fast and responsive, allowing bettors to find their bets and get their money down quickly. The ongoing promotions at Heritage Sports can provide bettors with additional benefits and perks, as well.
Pros
The best VIP service for all customers
Outstanding platform for live betting
Offers a cashback rebate program
Sportsbook has reduced juice lines
Cons
Welcome bonuses aren't as high as at other gambling sites
Doesn't offer a live online poker room
3. Bovada: The Top Mobile Betting Interface in Wyoming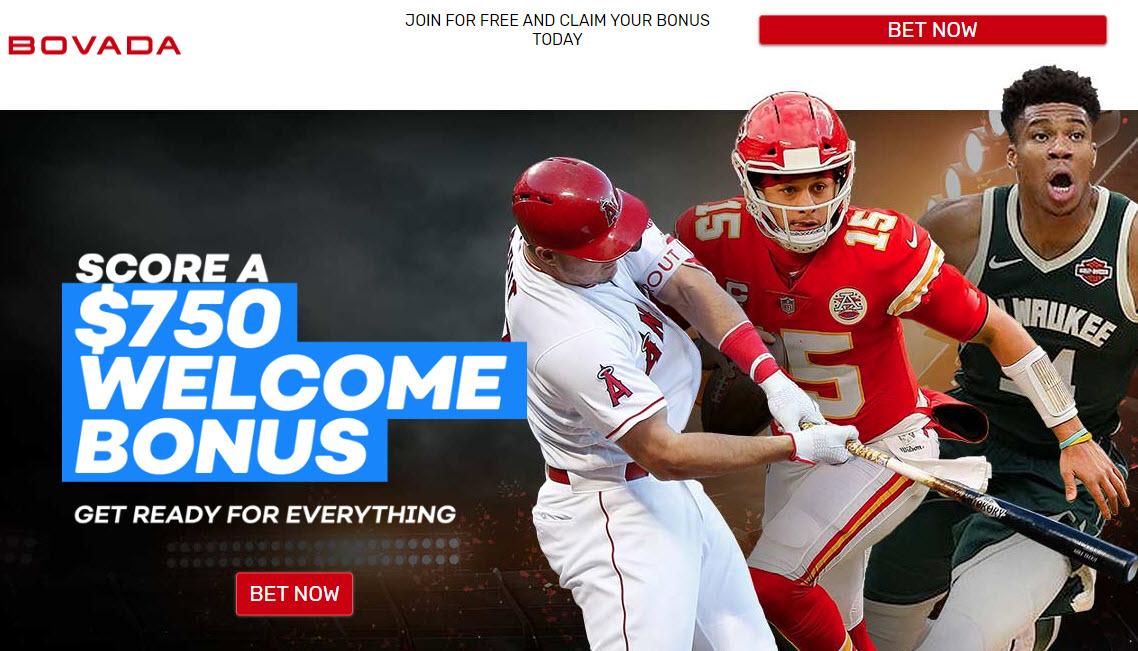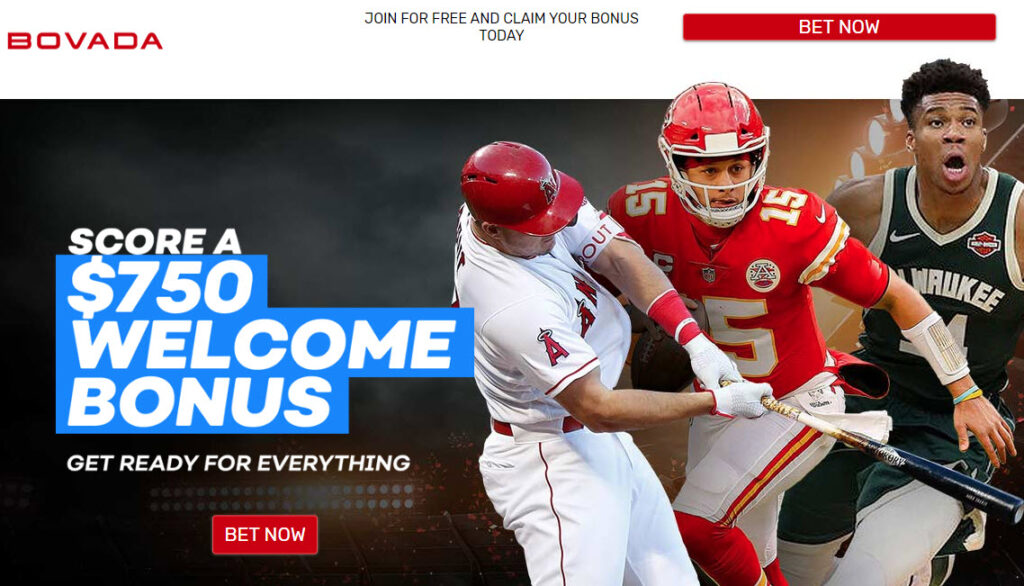 Variety is the spice of life, and no site embraces variety like Bovada. They give Wyoming gamblers the widest range of different ways to bet. In addition to having one of the best sportsbooks around, it has a racebook and an online casino with video slots and table games as well as live dealer games. Plus, Bovada is home to the busiest poker room in the United States. 
Within each of its different sections, Bovada continues to offer variety to customers. The sportsbook has more prop bet options than any other site, and the online casino has a huge library full of fan-favorite casino games.
You can also bet with a variety of devices. Bovada was recognized by our blue ribbon panel of experts for its mobile site, which they called the best in the state. The promo codes at Bovada further enhance the platform's overall value.
Pros
Offers more prop betting options than anyone else
Has the busiest online poker room in America
Recognized for having the top mobile betting interface in the state
Large online casino with wide range of game titles
Cons
Lines and odds don't get released as early as elsewhere
Betting limits are relatively low
4. BetOnline: Offers Opinionated Lines and Fast, Easy Payouts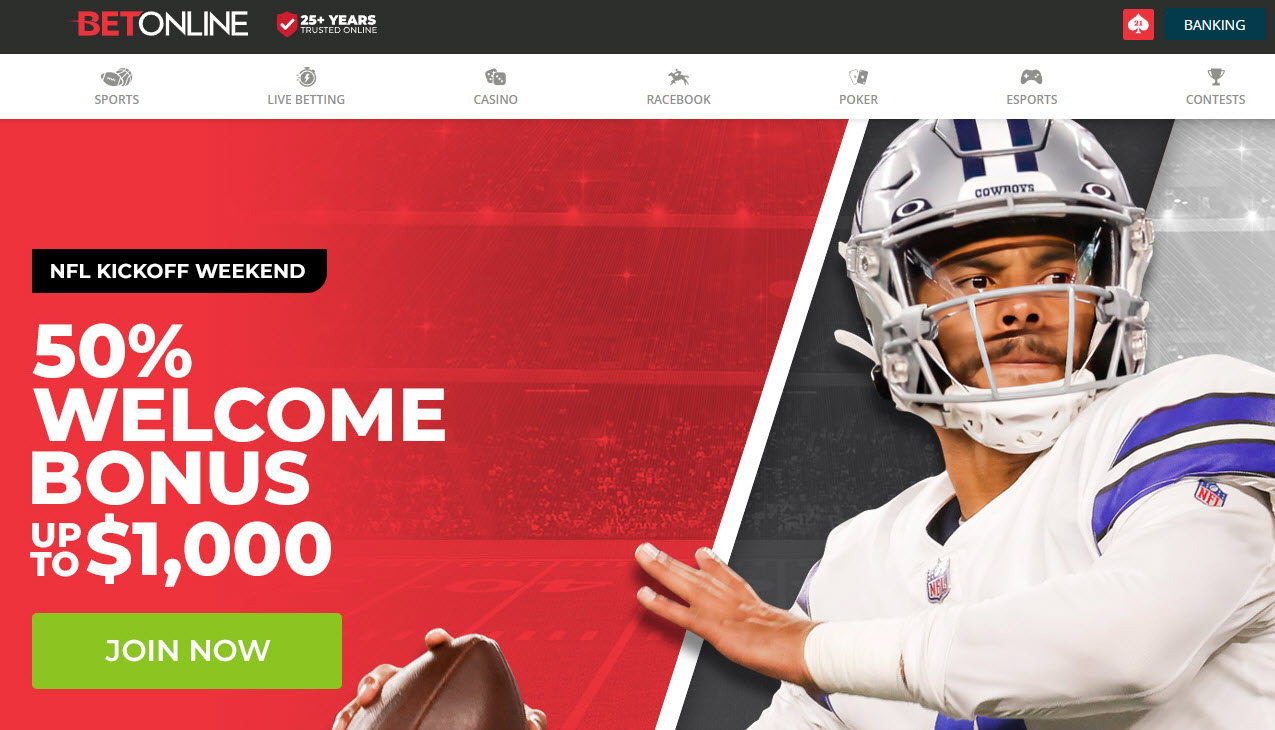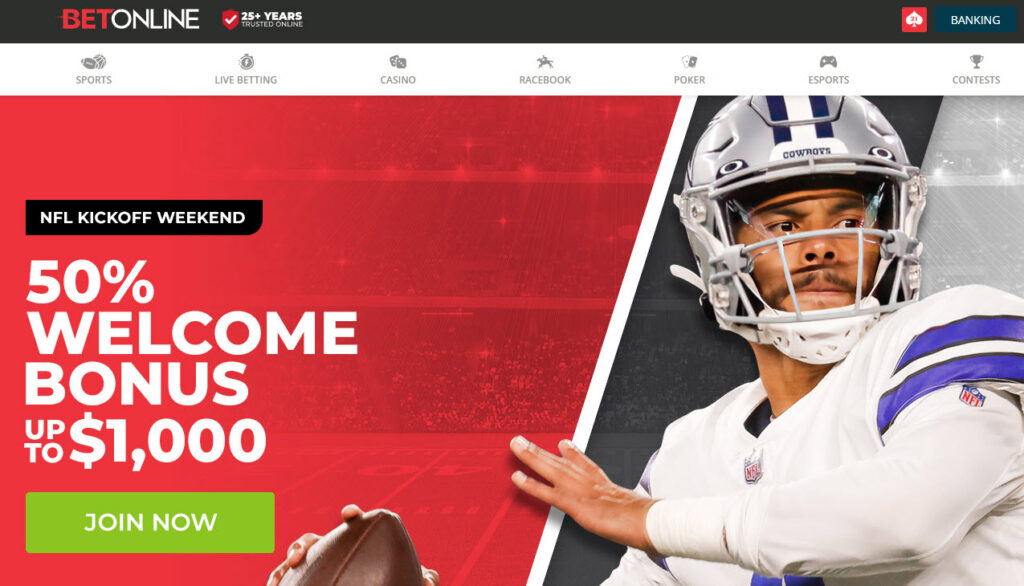 Winning money is hard enough. You shouldn't have to work just as hard in order to spend it. But many offshore gambling sites make it difficult to withdraw your winnings, with red tape, hoops to jump through or surprise fees. Not to mention many sites have delays before the money actually shows up in your bank account.
That's one of the areas where BetOnline impressed our experts. They are one of the quickest sites to pay out, the process is easy, and they pay out in full.
The betting experience is also outstanding at BetOnline, including a sportsbook that is one of the only ones available to Wyoming bettors that offers opinionated lines. They also have a racebook, online casino and a busy poker room. Additionally, BetOnline also has some enticing promotional offers available.
Pros
Sportsbook offers opinionated lines, one of very few that do
Also has a busy poker room and online casino
Payouts are among the quickest, process is easy, with no surprise fees
Matches 50% of initial deposit for welcome bonus
Cons
Sportsbook doesn't offer reduced juice except for hockey bets
Doesn't have as many prop bet options as other sites
5. BetAnySports: Odds and Reduced Juice Provide Value to Customers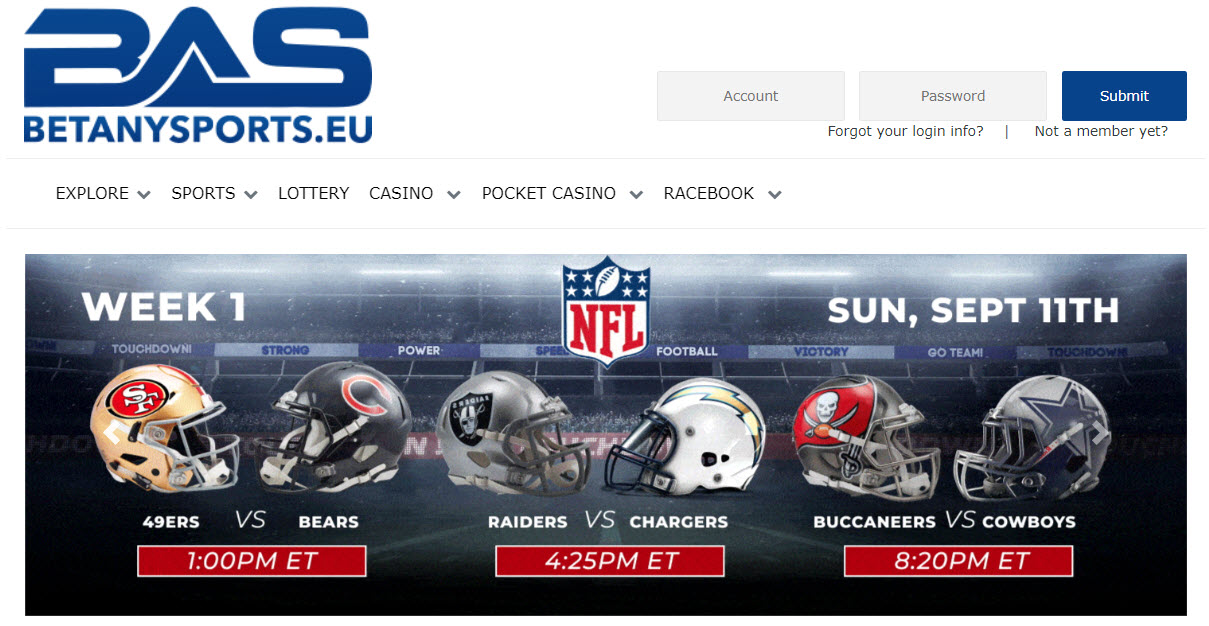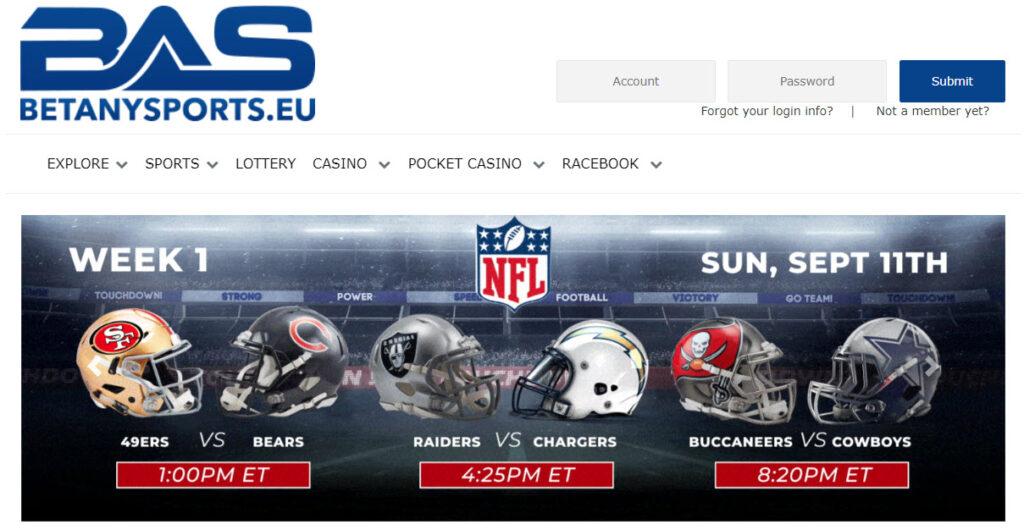 Every industry has its no-frills, low-cost providers where you know you can go for the biggest discounts and best prices. Whether it's a small airline or a discount store, people who want value will be willing to give up some bells and whistles to get it.
That's a big reason why BetAnySports is one of the top online sites in Wyoming. They cut their house edge, meaning they make less money, in order to pass it on to ‌customers.
One of the ways they do this is with the biggest reduced juice in the state. Normally, lines around a point spread or over/under total are set at -110/-110, meaning you have to risk $110 to win $100. Since both outcomes are believed to be equally likely, the odds should be -100 on each side. But the $10 difference is the house edge, ensuring that the sportsbook turns a profit.
BetAnySports cuts that edge in half, setting the lines at -105/-105. That basically gives the gambler a discount and makes it easier for you to turn a profit. This isn't the only value available at BAS, as there are a number of bonuses and promos available.
The site also offers gambler-friendly odds and lines elsewhere.
Pros
Cuts house edge for the best reduced juice in Wyoming
Most lines and odds are gambler-friendly
Great variety of casino games and sports betting markets
Play the lottery from home
Cons
Site is not as user-friendly as others
Bonuses and promotions are relatively low
6. BetUS: Pays Out the Most Generous Bonuses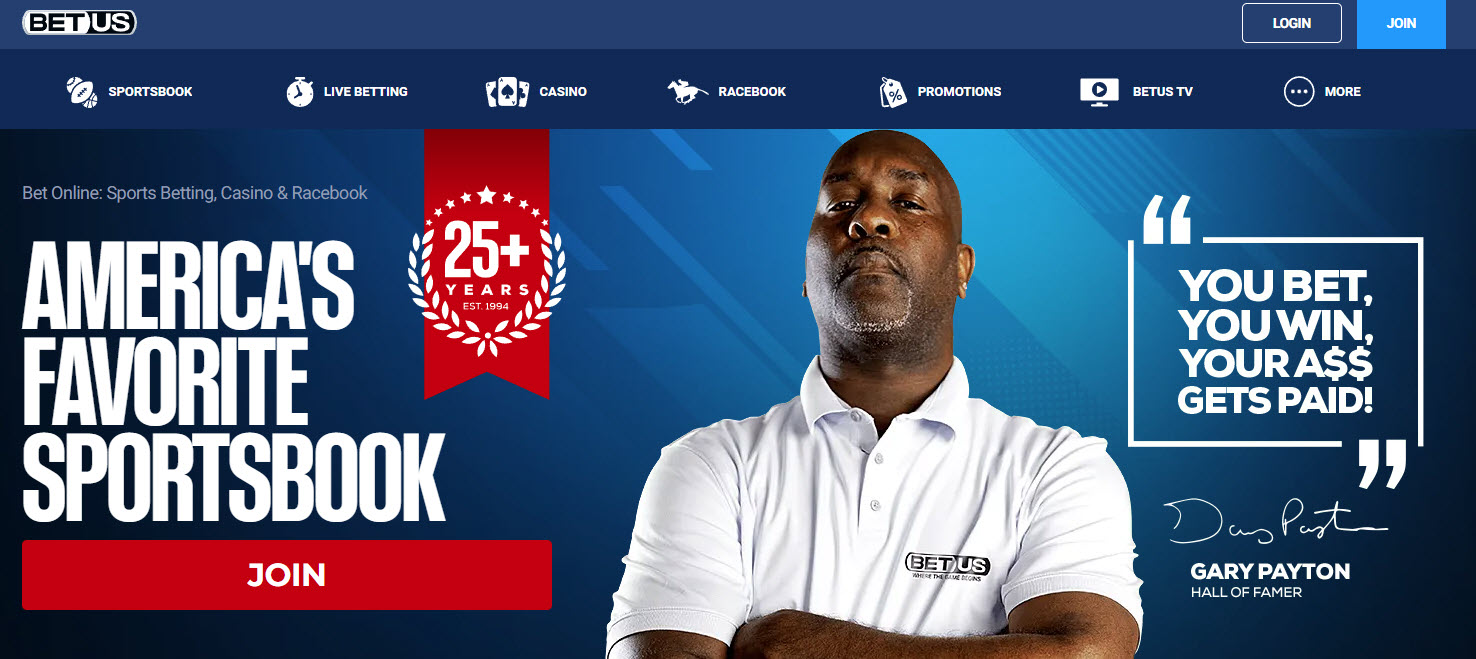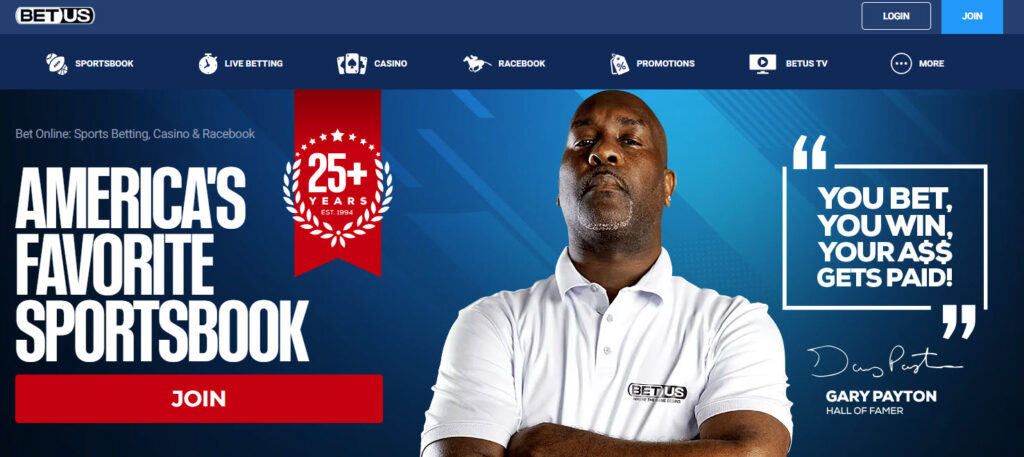 Online gambling is a competitive industry, and sites are willing to pull out all the stops to land new customers and keep loyal customers betting with them. BetUS recognizes this and earned a spot on our list by offering the highest welcome bonuses in Wyoming.
BetUS matches your first deposit at 250%, meaning that before you place your first bet, you've already tripled your money and then some. BetUS also offers plenty of ongoing promotions for existing customers, and they have a fun betting experience with weekly podcasts and regular videos breaking down big betting events coming up.
Pros
Pays the most generous welcome bonuses, matching 250% of initial deposit
Recently upgraded software provides a smooth and attractive betting experience
VIP loyalty program is one of the best
Extra features like podcasts and videos analyzing upcoming games
Cons
High rollover requirements attached to bonus money
Odds and lines aren't published as early as other online sites
7. WagerWeb: Same-Day Payouts for Crypto Users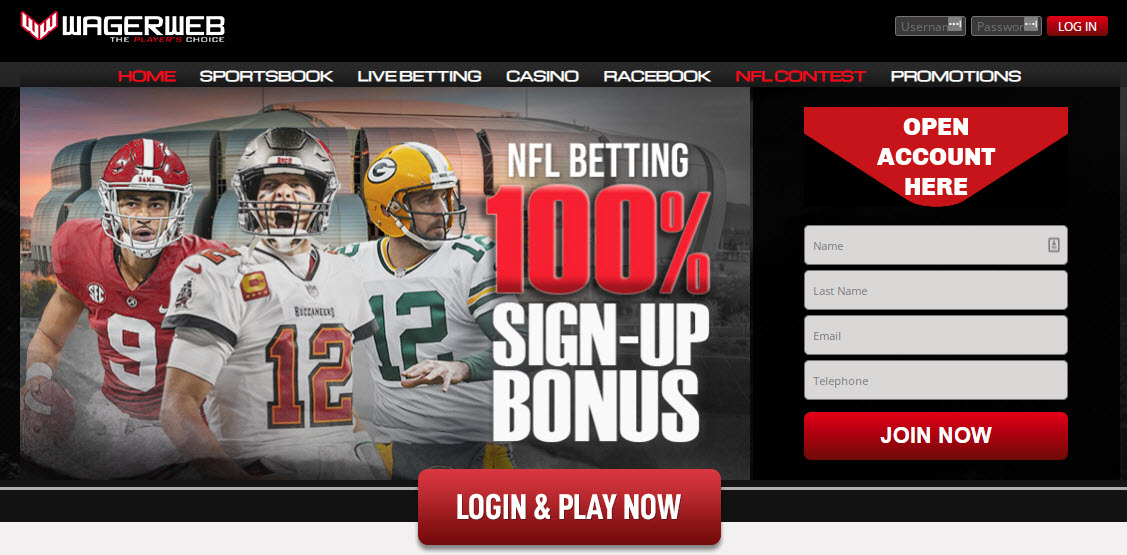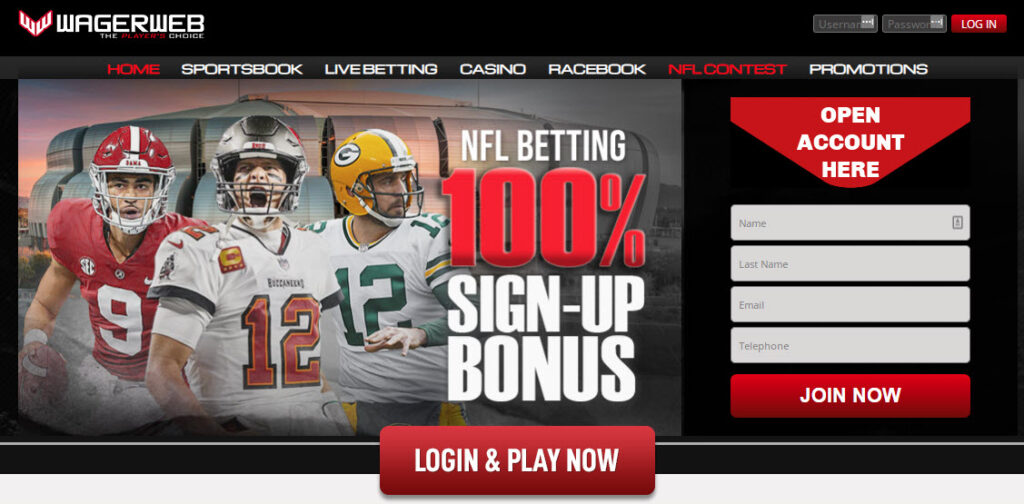 You can't fake trust, and, when you're asking customers to send their money to an offshore online sportsbook, trust is a valuable commodity to have. The only way to get it is slowly, over time.
That's what WagerWeb has done, being one of the longest-running internet gambling sites around, dating back to the 1990s. WagerWeb has a track record much longer than most sites, showing that customers can feel safe leaving their money and personal information in their hands.
WagerWeb isn't outdated, however. They have changed with the times, and nothing demonstrates that more than their additional perks for customers who use cyber currency like Bitcoin, including same-day payouts. Regardless of your preferred banking method, there are several ways to get bonus funds at WagerWeb.
Pros
Nearly 30 years of dependable payments and safe operation
Similar betting experience to sister site Heritage Sports
Same-day payouts for cryptocurrency users
Cashback rebate program for racebook and online casino
Cons
Free withdrawals limited to one a month
No online poker room
8. JustBet: Caters to All Levels of Experience and Bankroll Size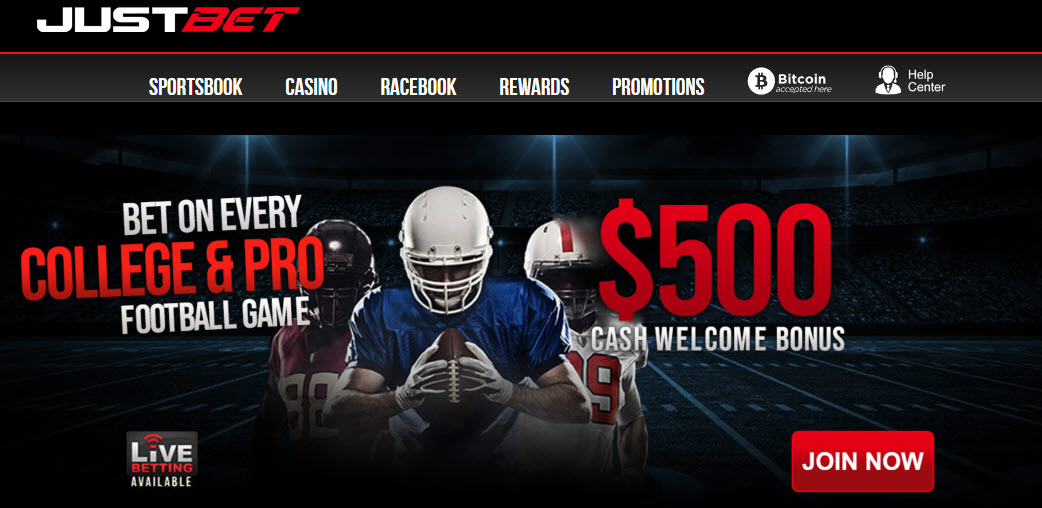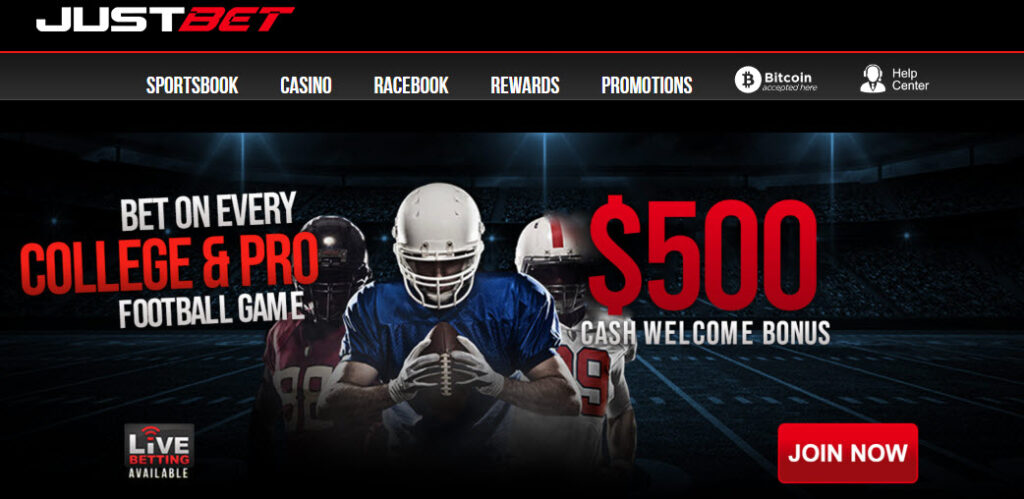 JustBet is a sister site of Bookmaker.eu, which was our experts' choice as the best online gambling site in Wyoming. JustBet offers a similar betting experience as its partner site. That includes making all levels of bettors feel comfortable, from brand-new rookie gamblers to grizzled veterans.
JustBet has high bet limits and low minimums, allowing everyone to find a bet amount that suits their needs. They also have an outstanding loyalty program and excellent bonuses, and their user interface is fast and dependable, making it an ideal tool to use when live betting on sporting events.
Pros
User interface is ideal for live betting
Offers high betting limits and low minimum bets to appeal to all bettors
Publishes lines and odds before most other sites
Great selection of NFL prop bets
Cons
No online poker room
Sportsbook doesn't have reduced juice lines
9. Everygame: The Longest-Running Gambling Site on the Internet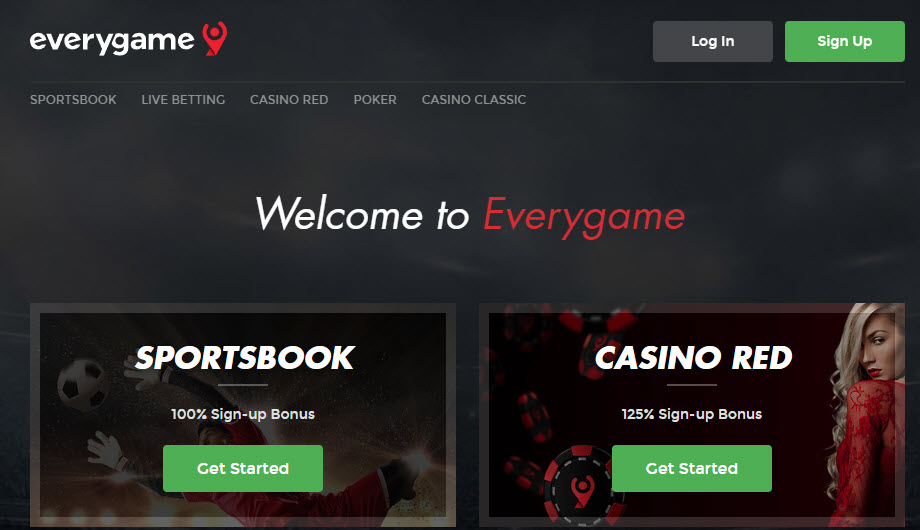 If you're looking for a track record you can trust, you can't go wrong with a site older than most of its customers. Everygame started out in the early 1990s, and it has the honor of being the longest-running gambling site on the internet. Everygame Casino has been treating customers fairly for three decades. To this day, the promo codes at Everygame can provide bettors with a variety of ways to boos their bankrolls.
Don't let that long history fool you into thinking it's an outdated antique. Everygame has been rebranded and upgraded and now features one of the fastest, most attractive user interfaces you'll find.
Pros
A track record of reliability and dependability longer than any other
The best mobile casino site in Vermont
Huge menu of games and leagues from around the globe
State-of-the-art software is fast and attractive
Cons
New user verification has generated complaints from some customers
Welcome bonuses and promotions are relatively low
10. SportsBetting.ag: Some of the Highest Generous Bonuses and Betting Limits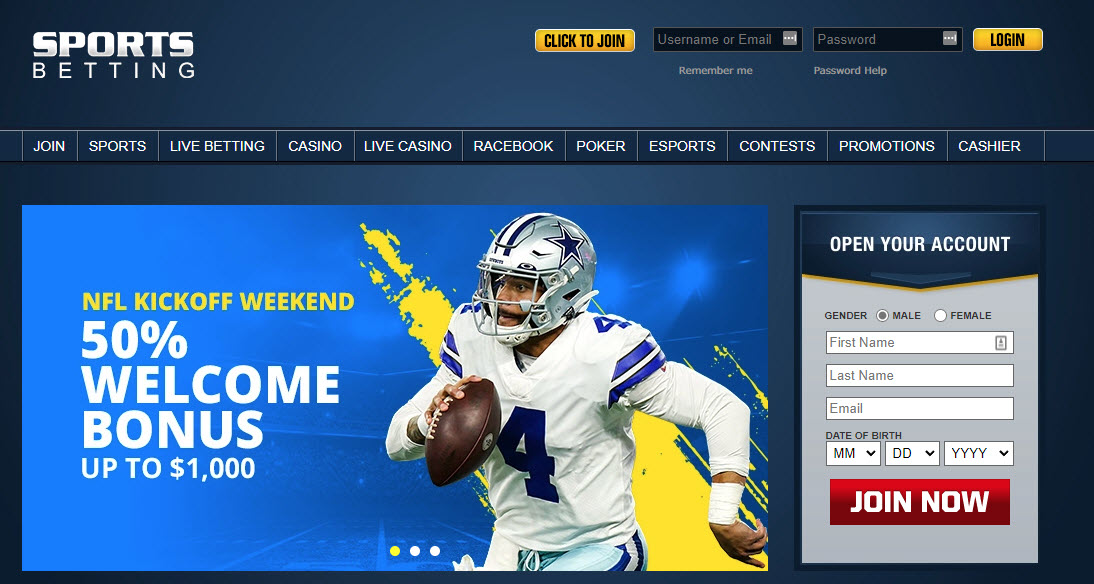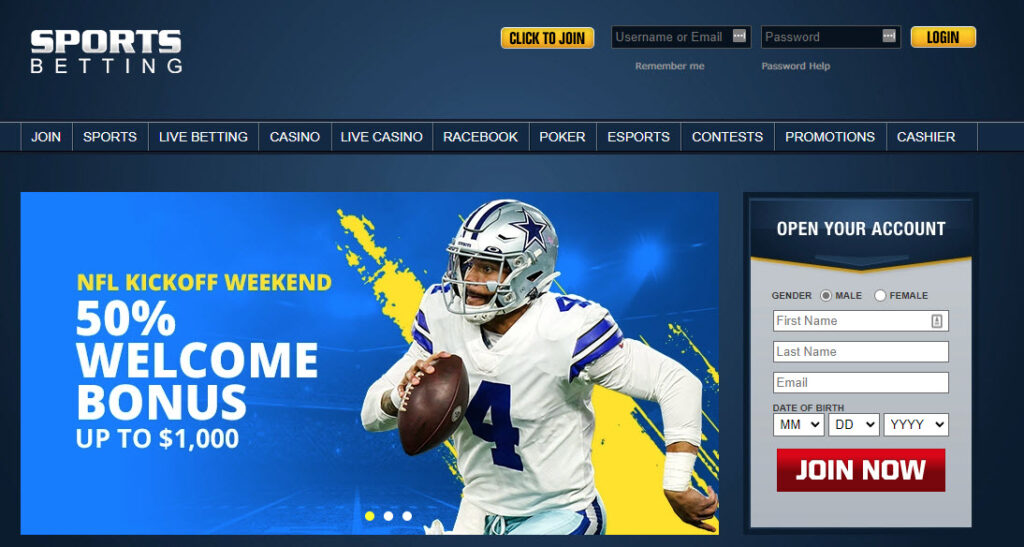 SportsBetting.ag appeals to the bettor who wants to get down to business. Fancy graphics and snazzy user interfaces aren't necessary for those customers. Just let them find their bet and get their money down. And no place lets you do that as quickly as SportsBetting. Our panel of experts got out the stopwatch and found that they could place bets using a mobile phone in less than 10 seconds, making it one of the most efficient processes available to Wyoming bettors.
In addition to placing bets fast, you can also go high with the amount you're betting. Their betting limits on the major American sports leagues will raise eyebrows, going into high five figures for NFL and NBA games. Plus, SportsBetting provides multiple benefits and perks to bettors through their ongoing promotions, including bonus funds.
Pros
The mobile site allows users to place bets in less than 10 seconds
Deposit limits are high
Pays out very generous welcome bonuses
NFL and NBA betting limits go into high five figures
Cons
The site looks plain and outdated to many users 
A limited number of titles at online casino
Details Regarding Our Rating Methodology
Our blue-ribbon panel took several factors into consideration while compiling the top 10 list. The best offshore betting sites should provide generous promotions, both for new users and existing customers. They should have flexible bonuses that allow users to choose a combination of amount and rollover requirement that best fits their needs. Customer service should be professional and easily reachable. There should be plenty of banking methods available and a wide range of betting options. 
The History of Gambling Laws in Wyoming
Gambling has been a part of Wyoming history since the days of the Old West, in the 1800s, when card games were a regular pastime at saloons. Betting on rodeo events and distance horse races was also popular.
Wyoming's gambling history has a nearly 100-year gap in it, however. The state passed a law in 1901 declaring gambling to be evil and banning all forms of it across Wyoming.
That was the case for most of the 20th century, with the exception of horse racing. The state created the Wyoming Pari-Mutuel Commission in 1967, which led to a racebook industry in the state, allowing customers to bet at tracks and OTB parlors.
The state is still home to a thriving race betting industry with tracks like Wyoming Downs near Evanston and Sweetwater Downs, in Rock Springs.
Three decades went by before the next crack appeared in the gambling prohibition. The Northern Arapaho Tribe filed a suit in 2000 looking to open a tribal casino on Native American land. The legal battles lasted five years, but they eventually prevailed and Wyoming is now home to four tribal casinos.
The latest domino to fall was in 2021 when the legislature passed a law creating a legal sports betting industry in the state. Four companies have been awarded sports betting licenses by the Wyoming Gaming Commission and can offer online sports betting to state residents.
Timeline of Gambling in Wyoming State
2021: Wyoming passed a law legalizing sports betting online. Sports betting is regulated by the Wyoming Gaming Commission.
2016: The state reviewed online gambling and considered bringing legalized online gambling to the state, but no sports betting legislation was proposed at the time.
2014: Two horse racing tracks reopen.
2013: The state lottery is approved, with Wyoming being one of the last states to do so.
2010: The last horse racing track in the state closes down.
2005: The Northern Arapaho gets approval to open a casino.
2003: The state passes a bill allowing racetracks to install instant racing terminals.
2000: The Northern Arapaho tribe sues the state for the right to open their own casino.
1967: The Wyoming Pari-Mutuel Commission is formed. Horse racing is allowed, both in person and at off-track parlors.
1901: The McGill Act prohibits all forms of gambling in Wyoming.
Features All Top Gambling Sites Should Have
The top 10 online gambling sites in our rankings are very different, but there is plenty they have in common. Here are some of the most important factors that all top online betting sites should offer their customers.
Competitive Gambling Odds
Gambling odds are basically the price tags for the industry. They should be fair and reasonable, and customers should get their money's worth, meaning the odds should represent the probability of a given bet paying off.
Betting Markets
Sites should offer a number of different forms of gambling, including sportsbooks, racebooks and online casino games. Many sites also have live online poker rooms.
Each of those broad categories should also have a wide variety within them. All major sports should be offered in the sportsbook, as well as more obscure sports and leagues, so fans can bet on their favorite professional teams and college teams, wherever they play. Casinos should also have a wide range of table games and slot games.
Wide Variety of Accepted Banking Methods
You should be able to conduct financial transactions in several different ways. Old school banking methods, such as credit cards, including American Express, debit cards and wire transfers, should be offered, as should newer methods like crypto and e-wallets. Most sites also offer perks and bonuses for cryptocurrency deposits as well.
Generous Promotional Offers
Sites should be willing to spend to attract you as a customer. There should be a choice of deposit bonuses when you sign up for an account, allowing you to choose between flexible deposit amounts and requirements by entering a specific promo code or bonus code. After you're booked as a customer, the site should continue to reward you with bonus bets, points programs and other perks.
Live Betting & Live Dealers
Technology has advanced to allow plenty of new ways to enjoy online betting. One fast-growing area in recent years has been live betting, which allows you to continue to bet on the action in a game while it's going on. Sites should offer this feature in their sportsbooks.
The online casino should also have a live dealer section that gives you human interaction by connecting you to an actual table via video feed.
High-Quality User Interface
The site should be easy to navigate without a lot of clicking around, especially during live betting, where time can be of the essence. Menus on the user interface should be logical and organized, and shortcuts should be available.
More bets are placed on mobile devices than any other method, so the mobile sports betting version of the site should be just as good as the original one. It should have all the same functionality and be just as attractive. Many sites offer sportsbook apps to allow you to place bets from your phone with a simple click of an icon.
Customer Service Contact Options
When you need help, it should be available. Customer service should be 24/7 and available in a variety of languages. There should be a variety of methods to reach them, including phone, email and live chat.
Security Features
You are betting real money, and that means giving an offshore site access to your financial information. Security is critically important. If any site had any history of security problems or hacks, it was removed from consideration by our experts.
Wyoming Sports Betting
Betting on sports is one of the most popular forms of gambling, whether you're visiting retail sportsbooks in person or doing online sports betting. All major sports in the U.S. and overseas are available at most retail sportsbooks and betting sites, with a wide variety of ways to bet, including spreads, moneylines, futures, props and parlays.
Horse Racing Betting in Wyoming
The Wyoming Pari-Mutuel Commission was created in 1967, and state residents have been betting on the ponies ever since, at track betting facilities and OTB parlors. There are several horse tracks around the state, including Wyoming Downs and the Horse Palace. You can engage in pari-mutuel wagering on live races at the venue or on simulcast wagering from action around the world. And you can also bet on horses online.
Casino Gambling in Wyoming
Casino games are fun and also offer the opportunity to win real money. The flashing lights and giant slot wheels are often the first thing you notice in land-based casinos, and online casinos also have a dazzling array of different games and variations available to customers. Online casino gambling includes video slots and table games as well as live dealer games.
Commercial Casinos
Currently, there are no commercial land-based casinos in the state of Wyoming. A lawsuit in the early 2000s cleared the way for tribal casinos, but other than that, no other company or entity can run a casino or offer table games. Racetracks can include some slot games and other similar machines.
Tribal Casinos
Native American tribes filed a suit in 2000 for the right to offer tribal casinos in Wyoming on their own land. The suit took five years to be resolved, but eventually it paved the way, and a handful of such casinos have been built on tribal lands, offering combinations of slot machines and Vegas-style games.
Among the most popular tribal casinos in the state are the Wind River Hotel & Casino in Riverton and the Shoshone Rose Casino in Lander.
Social Gambling
Wyoming law allows social gambling, which means betting where no real money is exchanged. The state has social casinos, which offer blackjack, video poker, slots and other games that can be played for fun, for free.
Charitable Gambling
Charitable gambling is also permitted in Wyoming. Many churches and other non-profit organizations will use raffles, bingo or Vegas night games to raise money.
Wyoming Lottery
Wyoming didn't get a state lottery until 2013, becoming the 46th U.S. state to do so. In addition to multi-state drawing games like Powerball and Mega Millions, there are a number of lottery ticket games throughout the state that involve buying scratch cards.
Creating an Online Gambling Account in Wyoming
If you've decided to give online gambling a try, you are only a couple of minutes from being able to start. The process of creating an account is fast and easy.
Step 1. Sign-Up
Choose one of the top 10 online gambling sites we recommend and click the button directing you to create an account.
Step 2. Verify Your Details
Fill out the registration form with your personal information and verify your identity. Usually, this is done by responding to a code texted to your mobile phone.
Step 3. Deposit Funds
Next, choose a deposit method from the ones listed on the site's cashier page. Enter the amount of your deposit, your bank info and the promo code for the welcome bonus you want to collect.
Step 4. Enjoy the Site's Gambling Options
You're in business. Check out the sportsbook or online casino or sit down at a poker table. Good luck!
FAQs – Wyoming's Online Gambling Options
Is gambling illegal in Wyoming?
Some forms of gambling have been made legal in Wyoming, including betting on horse racing and online betting on sports. Offshore gambling sites are not under the jurisdiction of U.S. gambling laws, so they are also a legal option in Wyoming. 
When did Wyoming legalize gambling?
Wyoming legalized betting on horse races in 1967. Tribal casinos were given the green light in 2005, and sports betting online was passed into law and signed by the governor in 2021. 
What online sportsbooks are legal in Wyoming?
Sports fans have had access to several sportsbook operators since 2021 when legal sports betting came to Wyoming. DraftKings Sportsbook, FanDuel Sportsbook, Caesars Sportsbook and a few others are available. Offshore sportsbooks do not need to be licensed, since they operate outside of state law jurisdiction.
Does Wyoming have casino gambling?
Wyoming has casino gambling at a handful of tribal casinos located on Native American land. Two of the most popular are the Wind River Hotel & Casino in Riverton and the Shoshone Rose Casino in Lander. There are no commercial casinos in the state.
What is the gambling tax in Wyoming?
Wyoming taxes both sides of gambling transactions. For bettors, winnings are considered income and are fully taxed at the same rate as your other pay and must be claimed on your income tax. Gambling companies must also pay a tax amounting to 10% of gross proceeds.
Explore the delay in mobile sports betting in North Carolina following the Super Bowl. Regulatory steps push the launch to post-Feb 11, 2024. The 10-year partnership between Hornets and bet365 adds anticipation, offering a glimpse into the future of digital sports betting in the Tar Heel State.

---