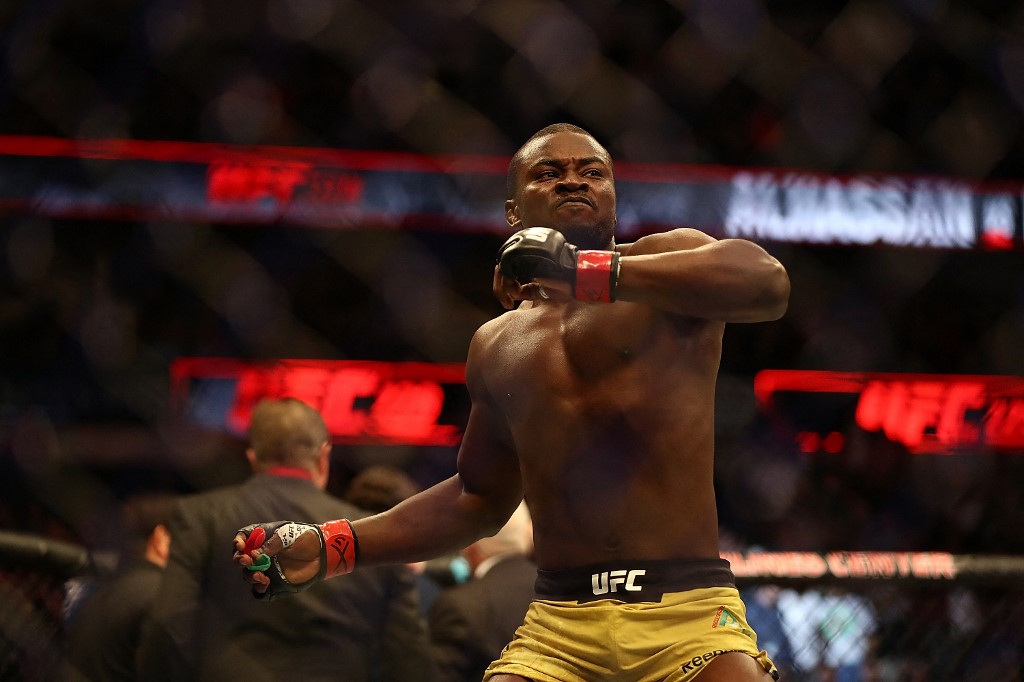 Adbul Razak Alhassan vs. Jacob Malkoun
UFC Welterweight Preliminary Card Bout
Sunday, April 18th, 2021 – 2:30 AM GMT – Live from the Apex Centre in Las Vegas
Abdul Razak Alhassan
Age: 34
Nationality: Ghana
Record: 10-3-0
Height: 5ft 10"
Reach: 73"
Gym: Fortis MMA
Notable Gym Members: Ryan Spann, Diego Ferreira & Geoff Neal
Current Streak: 2 losses
Wins by KO/TKO: 10
Wins by Submission: 0
Decision wins: 0
Abdul Razak Alhassan came under scrutiny for alleged charges outside of the UFC octagon; he suffered a two-year absence and, upon his return, suffered a two-fight losing streak for the first time in his professional career.
Most known for Judo background, I think that particular skill set has now been overshadowed by the knockout presence he's brought into the cage. Through ten professional wins, each bout ended by a knockout or technical knockout – proving he's not the fighter you want to stand and bang with.
Jacob Malkoun
Age: 25
Nationality: Australia
Record: 4-1-0
Height: 5ft 9"
Reach: 70"
Gym: Salty Dog Jiu-Jitsu & Gym-O
Notable Gym Members: Bryan Barberena, Scott Holtzman & John Salter
Current Streak: 4 wins
Wins by KO/TKO: 1
Wins by Submission: 7
Decision wins: 2
Jacob Malkoun suffered, perhaps, the worst UFC debut you could dream of. Not only was he faced with extremely talented Phil Hawes, but he was also knocked out in the first round.
He'll be looking to get back on track this weekend, but that is easier said than accomplished. Significantly when a wrestler completely outmatched his preferred method of striking during his previous fight.
Fight Prediction
Certain MMA professionals can look exceptionally talented on the regional scene and be proven as another journeyman when entering the elite roster of the Ultimate Fighting Championship – and I believe Jacob Malkoun fits this category.
I don't want to completely discredit Malkoun, because of course, he was faced with stiff competition in his UFC debut. But his ring intelligence seemed to lack, leaving his left side exposed by holding onto the cage gave Phil Hawes all he needed to finish the fight. And I anticipate Alhassan being able to pick up on the same mistakes from the inexperienced Malkoun.
UFC on ABC 2 Free Betting Pick: 1.39u on Alhassan to win by KO at 1.72 (-139) with Bet365 (visit our Bet365 Review)
Tracy Cortez vs. Justine Kish
UFC Women's Flyweight Preliminary Card Bout
Sunday, April 18th, 2021 – 3:55 AM GMT – Live from the Apex Centre in Las Vegas
Tracy Cortez
Age: 27
Nationality: United States
Record: 8-1-0
Height: 5ft 5"
Reach: 67"
Gym: Fight Ready MMA
Notable Gym Members: Chan Sung Jung, Johnny Case & Henry Cejudo
Current Streak: 7 wins
Wins by KO/TKO: 1
Wins by Submission: 1
Decision wins: 6
I think it's safe to say Tracy Cortez, aged 27, has a bright mixed martial arts career ahead of her. With two official UFC wins under her belt and one 'Dana White Contender Series' victory, the grappling-based fighter. With the help of Henry & Angel Cejudo (friends of Tracy's tragically deceased brother), she has elevated her MMA game to the top level.
Justine Kish
Age: 33
Nationality: Russia
Record: 7-3-0
Height: 5ft 5"
Reach: 65"
Gym: Black House MMA
Notable Gym Members: Lyoto Machida, Brian Ortega & Sheymon Moraes
Current Streak: 3 wins
Wins by KO/TKO: 0
Wins by Submission: 8
Decision wins: 4
Athletics and injury do not blend very well together. I honestly believe that should Justine Kish have avoided major surgery during her UFC come-up, the talented Muay Thai specialist could have held a brighter career. But four major knee surgeries and years of rehabilitation are evidently a factor in the Russian's lacklustre in-octagon performances.
Faced with a rising star like Tracy Cortez is undoubtedly a contest to get up for, but the former 'Ultimate Fighter' competitor may have bitten off more than she can chew.
Fight Prediction
I love Cortez in this position; another opponent lined up for the Mexican/American who will more than likely fall victim to Cortez's grappling prowess.
Cortez proved she could handle dangerous strikers (Agapova); her cage control is solid alongside her willingness to get the fight to the ground – with eyelashes intact.
UFC in Vegas 24 Free Betting Pick: 1.20u on Tracy Cortez to win at 1.83 [-120] with William Hill or Paddy Power (visit our Paddy Power Review)