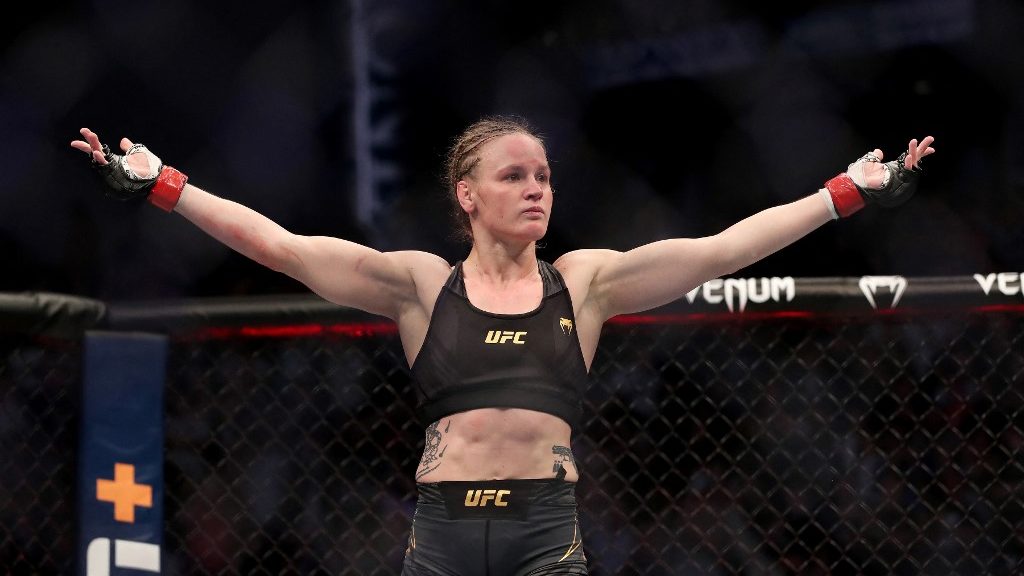 Valentina Shevchenko has become one of the fiercest and talented martial artists on the planet. The reigning, defending UFC flyweight champion has cleared out her division, literally. But is there any competition left inside the top five strawweight rankings that could give the champ a run for her money?
The UFC Women's Flyweight Division Review
#1 JESSICA ANDRADE
The Brazilian powerhouse has dominated the opposition amongst three weight classes since her arrival to the UFC in 2013. Most known for her grappling offense, power slams, and heavy hands, the talented Brazilian Jiu-Jitsu black belt is the owner of most knockouts in the women's UFC strawweight history.
The former UFC strawweight champion has had more title opportunities across all divisions than any other competitor. Still, when she crossed paths with Valentina Shevchenko, she was made to look like a complete amateur.
Andrade gained the chance to become a champion at two weight classes with a significant win over the number #2 ranked flyweight Katlyn Chookagian. But once the opportunity had arisen, it was Valentina Shevchenko standing in her way at UFC 261 in Jacksonville, Florida.
After 'The Bullet' dominated the first round, it took her just three minutes into the 2nd before gaining ground control over Andrade. Valentina put Andrade in a crucifix position that removed her defences and reigned down elbows until the referee intervened.
#2 KATLYN CHOOKAGIAN
Position in 2nd place of the flyweight rankings, Katlyn Chookagian, is another top contender who has already received her chance at the title. Her karate stand, long limbs and precise striking technique assisted the 5-1 record in the top ten rankings before accepting her championship fight.
Jessica Andrade and her team underestimated the dangerous ground positions that Valentina is capable of because, before the crucifix elbows that ended their night in misery, the Peruvian had finished Chookagian in an identical fashion.
During the third round, the same sequence we witnessed at UFC 261 took place at UFC 247 when Valentina proceeded to lock her opponent in the dreaded crucifix hold. The elbows came down with brute force, leaving Chookagian no choice to defend herself.
Chookagian will struggle to make a case for a second opportunity at Valentina due to the dominant outing, even as a top-two ranked fighter.
#3 – LAUREN MURPHY
Perhaps the most surprising entry for critics and fans alike, the underdog to most, Lauren Murphy continues to prove her doubters wrong as she rides a four-fight win streak. She is one of two ladies in the top-five rankings who hasn't received a title shot.
Murphy began her professional martial arts career through an accidental situation. After taking her son to Jiu-Jitsu classes, she began to train with him for moral support. A natural gift for fighting, Murphy pursued a professional career in MMA after a year! Unbelievable, as she's now the number #3 ranked flyweight in the most demanding organization in the world.
The former Invicta bantamweight champion could be next in line for Shevchenko. Still, with a loss to Katlyn Chookagian on her record, I believe President Dana White will need to see a significant top-five/top-ten win for Murphy before she's next in line. With that said, it wouldn't be a surprise If this was Valentina's next fight.
#4 – JENNIFER MAIA
Former Invicta flyweight champion, Brazilian Jiu-Jitsu black belt, and muay thai specialist, Jennifer Maia held a skillset that could have caused Valentina some problems. Especially since the champion was returning from an MCL injury and her first significant layoff. And during the second round, we saw Maia drag Valentina to the ground, maintain complete control and become the second flyweight in UFC history to win a round over Shevchenko.
Unfortunately for Maia, an angry Shevchenko is also a dangerous one. She came out in the third round and completely controlled all aspects of the fight, won by unanimous decision, and remained undefeated at 125 pounds.
Although she managed to win a round, this doesn't put Maia in a position to claim a second championship fight anytime soon.
#5 – CYNTHIA CALVILLO
A wrestler fighting out of American Kickboxing Academy named Cynthia Calvillo was hinted as a genuine contender for the champion. A potent wrestling offence and relentless cardio were promising; all she needed to do was defeat Katlyn Chookagian. Well, that was easier said than done. Walking away with a unanimous decision loss dropped Calvillo's ranking, and now her title opportunity is drifting. Still, there is hope and a chance that one more win inside the top-five could put her next in line.
I would not be opposed to Cynthia Calvillo versus Lauren Murphy; as the sole two ladies who haven't faced Valentina, this matchup would make sense.
The UFC Women's Flyweight Division Conclusion
The only fighter in UFC history to defeat Valentina Shevchenko is the pound for pound greatest women's fighter on the planet – Amanda Nunes.
In all honesty, I can't envision any of the current flyweight competitors defeating the champion. This leaves the UFC with one fight to make, Nunes vs Shevchenko III. Yes, Nunes has already defeated Valentina on two occasions, but the second fight ended in a decision that many critics were skeptical of. It was an extremely close contest where many believed Valentina should have had her hand raised.
We can't predict the future contests that UFC matchmakers have in store for Valentina Shevchenko, but we do know that she's one of, if not the greatest, women's martial artist on the planet.