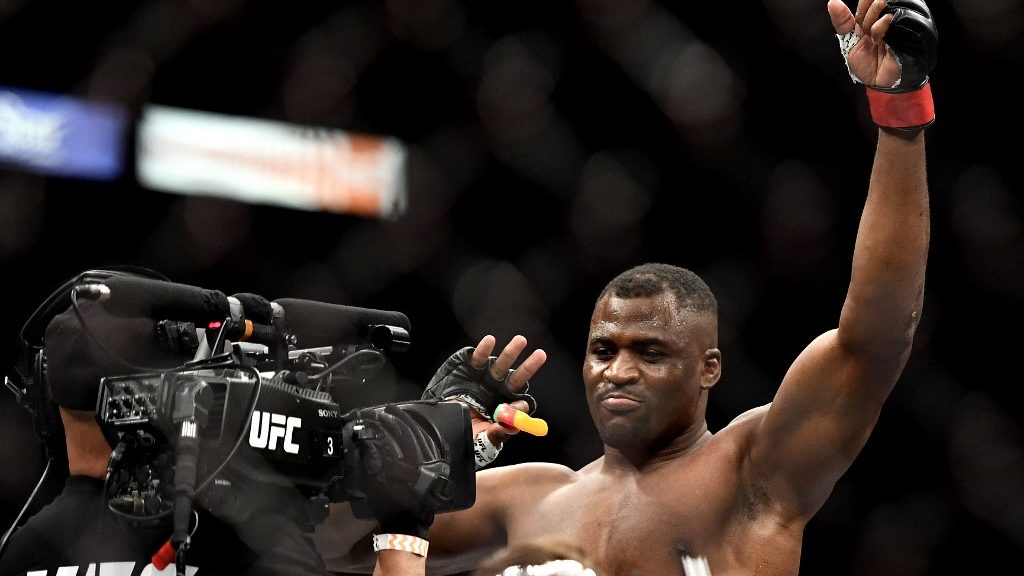 The Nation of Africa has been overlooked in the world of mixed martial arts, but in recent years the takeover has become evident. African born fighters are currently holding onto three UFC championships, and we believe their current dominance in combat sports could be the beginning.
The UFC Heavyweight Champion: Francis Ngannou
Before he collected the UFC heavyweight championship, Francis Ngannou was most known for being the hardest recorded puncher in UFC history. Through the twenty-seven years of explosive, heavy-hitting powerhouses, let that fact sink in. The most intimidating prospect in heavyweight combat sports is now holding gold, and with an excelled skillset under a mere eight-year professional MMA experience, the only way is up.
Born and raised in the village of Batie, Cameroon, Ngannou's journey into fighting is something worthy of Hollywood. Being raised in poverty was never going to prevent the aspirations of Ngannou. After four years of boxing in his native land, Paris, France, was the destination where he believed his striking game could elevate. It was far from easy, living homeless without money; it was fortunate that MMA Factory's Fernand Lopez gave the Cameroonian immigrant his opportunity in the cage. Although Ngannou wanted to box like his hero Mike Tyson, he was convinced to train in martial arts, and the rest was history.
Six fights into his professional career, Ngannou was quickly snatched up by the UFC. Within six years of fighting for the company, he has defeated the heavyweight's most outstanding talent on offer. Avenging his 2018 loss to Stipe Miocic at UFC 260 was a clear indication of how far he'd come; not only was Ngannou able to claim the championship he desired so badly, but he also proved to the critics how far his skillset had evolved.
The UFC Middleweight Champion: Israel Adesanya
The best striker in MMA today? This can be argued, but you cannot deny that Israel Adesanya is the main stayer in that debate. A former kickboxer of 80 fights, 75 wins and 29 knockouts, it's no surprise that an elite striking offence followed his transition to mixed martial arts. As the current UFC middleweight champion, he first obtained the interim championship by defeating Kelvin Gastelum to unify the belt when he knocked out the highly respected Robert Whittaker. He's already defended the strap twice and has indeed looked unstoppable in the octagon.
Born and raised in Lagos, Nigeria, it was an Adesanya family decision to move their life to New Zealand, where he would eventually find his true calling in combat sports. From professional boxing to professional kickboxing, the MMA cage was where he decided to enhance his career. Between 2012 and 2017, he primarily fought on the Australian MMA regional scene, and an eventual stoppage over former UFC fighter Melvin Guillard was his calling to the UFC octagon.
In 2018, the African born world-class striker began to overwhelm the UFC's middleweight division, accepting fights whenever possible; saw him pick up four wins during his debut year. And by April 2019, he had accomplished the title-winning achievement that has taken some fighter's countless years to do.
His first and only defeat in mixed martial arts arrived when Adesanya moved a weight class to become a two-division champion versus Jan Blachowicz. Unfortunately, his downfall came through his eagerness and not correctly adjusting his body to a light heavyweight build. He gained weight to ascend weight class but remained the same weight/stature on fight night. With that said, Adesanya will continue his middleweight title defenses and entertain both nations in Africa & New Zealand, who remain close to his heart.
The UFC Welterweight Champion: Kamaru Usman
We could be saving the most dominant African-born fighter until last because Kamaru Usman is arguably the greatest pound for pound fighter currently signed by the UFC. Once labeled as a "boring wrestler", Usman continues to defy critics through an evolution in skills like no other. His credentials in wrestling are a huge component of his MMA success, but wrestling and wrestling alone wasn't going to help Usman survive in the shark-infested waters of the UFC welterweight division.
Born in Auchi but raised in Benin City, Nigeria, it was not until Usman's father propelled his professional career as a pharmacist that he could chaperon his family to the state of Texas. And a ten-year-old Usman could not have been happier to leave those harsh surroundings behind him. And luckily for MMA fans, the guy who we know now as 'The Nigerian Nightmare' may have still been dreaming if it wasn't for his high school wrestling classes in America. Usman became a national champion in wrestling, a three-time NCAA DII All-American, and an NAIA National qualifier. Once he didn't make the cut at an Olympic level, his sights turned to mixed martial arts.
The UFC's 'Ultimate Fighter' reality show was his calling, dominating the competition; he soon earned a well-deserved UFC contract and the opportunity to demonstrate his talents on the big stage, and that is precisely what he did.
Usman battled to gain his championship opportunity; a nine-fight win streak left UFC President Dana White with no choice but to give the "boring wrestler" his shot at gold. Usman's early skillset generally involved many heavy grappling, cage control and takedowns, which is occasionally unfavourable with the UFC brass and fans alike.
But here we are in 2021, Usman has defended the welterweight strap on five occasions, and his striking offence is just heating up. After rematching Jorge Masvidal at UFC 262, nobody expected the wrestler to knockout the well-seasoned striker, but 'The Nigerian Nightmare' continues to expand his martial arts proficiency to a whole new level. Finishes over Colby Covington, Gilbert Burns and Jorge Masvidal have transformed Usman, the wrestler, into Usman, the complete mixed martial artist.