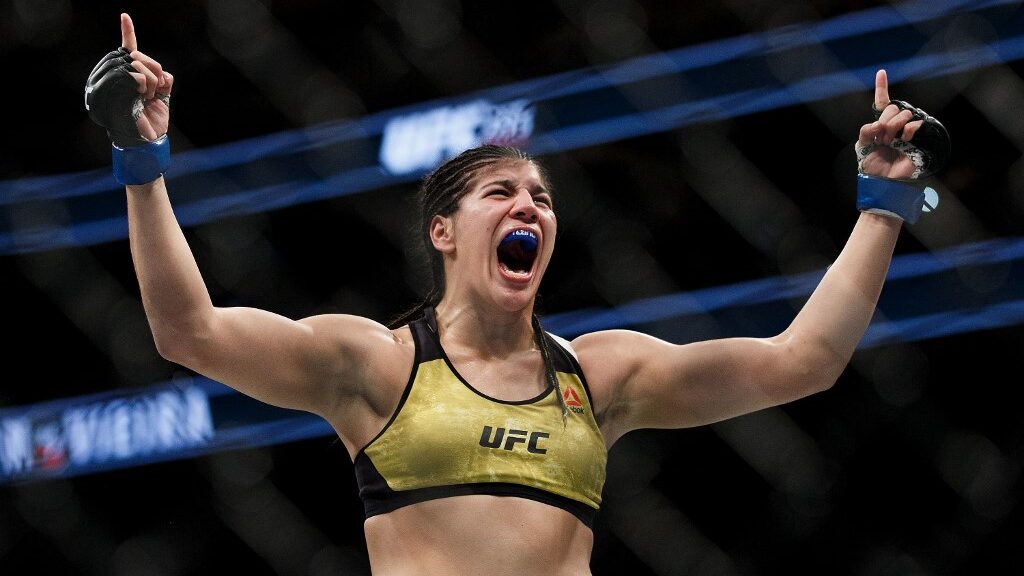 UFC Vegas 43: Vieira vs. Tate was an event filled with Decision finishes; throughout the entire main card, there was one finish – Taila Santos by Submission in the first round against Joanne Calderwood. In honor of this bout being the only finish on this card, read below for my recap of Joanne Wood vs. Taila Santos.
UFC Women's Flyweight: Joanne Wood vs. Taila Santos – Main Card
The UFC Odds for this bout at your Top Sportsbooks were: Joanne Wood (+270) and Taila Santos (-360).
Those odds spoke for themselves; Taila Santos definitely proved her worth in her first round submission victory.
The two had a nice, patience scrap back and forth – Santos looked sharp right off the bat. After landing a few strikes on the feet, Calderwood defended alongside the cage until the fight was brought to the ground.
Santos transitioned from top control to Calderwood's back and just smothered her until her arm slipped in under Joanne's neck to get the RNC finish.
Santos is now 4-1 inside the UFC Octagon, 19-1 overall, and has continued to show her many skills and that she's here to become a champion.
As for Joanne Wood, she got married during her training camp and I feel it may have distracted her from the big prize on Saturday night. Wood was coming off of a split decision loss against Lauren Murphy from June 2021, and this was her chance to get back inside the win column. Unfortunately, she fell very short. Next time, I would like to see a focused Joanne Wood and see her bounce back.
Closing Remarks and What's Next?
In the main event, Miesha Tate fell short at the scorecards to the powerful Brazilian, Ketlen Vieira. Fenomeno is now back in the win column and will make her way up; there isn't anything very clear yet as to who she will fight, but a bout against Germaine de Randamie would be a field day.
As for Cupcake, no one knows exactly what she has planned next, but do not be surprised if she does decide to take some time off. In hopes of seeing Tate back inside the UFC Octagon again soon, maybe a rematch against Holly Holm could lure her back.
As for the dog winners, we only had one: Sha Yilan (+225).
Up next in the UFC, we will have a week off to relax (and focus on other sports) and will return on December 4th for UFC Vegas 44: Rob Font vs. Jose Aldo at the UFC Apex. For all the best UFC Picks and Odds, visit Bookmakers Review.