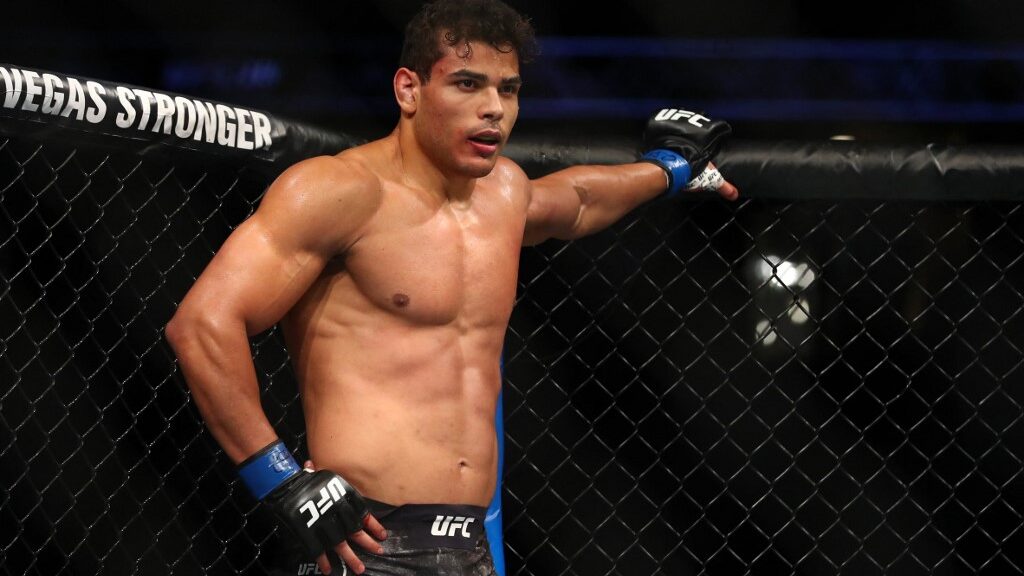 UFC Vegas 41: Costa vs. Vettori was the perfect event right before UFC 267 with 14 stacked fights overall. Read below for my recap in the main event, Paulo Costa vs. Marvin Vettori.
UFC Light Heavyweight: Paulo Costa vs. Marvin Vettori – Main Event
The UFC Odds entering this bout were: Paulo Costa +160 and Marvin Vettori -200.
In my UFC Prediction, I took Marvin Vettori to win by Points +190 via BetOnline (Visit our BetOnline Review) mainly because of his technicality and incredible cardio. Paulo definitely posed a threat to Vettori, but the Italian Dream once again proved his chin and won it at the scorecards.
In the first round, we had an eager Costa vs. an intense Vettori. Costa first starts off with a heavy striking, as expected. Costa was landing some great body kicks, until Vettori clinched up, then separated. Vettori then lands a clean right to waken up Costa. Costa then fires back with more body kicks, a right hand, overall back and forth countering heavy strikes. Near the end of this round, you could see Costa breathing heavily out of his mouth while Vettori stood strong, walking Costa down with his jab. Vettori landed in some nice combinations, and finished off the round with a hard jab.
In the second round, again, you could see Costa was already winded while Vettori looked fresh. Costa seemed hungrier to finish the find in this round, however. He landed a right cross, a nice head kick; Vettori had great head movement to make things more difficult for Costa, and returned with a knee and a few other combinations. Vettori landed a swift takedown and had Costa by the back, but as they made their way back to the feet, Costa hit Vettori with a nasty eye poke to pause the action. The doctor checked on Vettori while Ref Herzog warned Costa.
Moving to the third round; this time, Vettori was applying forward pressure. He landed an easy jab and Costa missed a spinning head kick in return. Vettori clinched against the fence; he landed a knee and brought Costa to the ground. Oh but the tables turn, and now Costa was going for a ground and pound and then looked for a D'Arce choke. Vettori slid out to get on top, and smothered Costa with punches until the end of the round.
As we got into the fourth round, Vettori started the round with a nice hard strike and Costa countered with a body kick. Vettori then pressured Costa against the clinch, and the two start exchanging heavy hits. Costa landed a left hook, Vettori with a jab then combo. Costa then missed a high kick, to get countered heavily by Vettori, unleashing his power against the fence. Vettori was picking up the momentum and power in this one. Towards the end of the round, Vettori shot for another takedown, but Costa defended this one. The two exchange strikes and the round ends.
Finally, the fifth round to determine who will be the winner. At this point, Vettori seemed to be fresh and dominating. Costa started off with a big right hand, meanwhile Vettori is still applying that forward pressure. Costa threw everything into his striking until Vettori clinched up again and aimed for a takedown. But it appears Costa has been able to stuff the takedowns. Vettori shot for a single; defended. Costa landed a nice body kick, and Vettori answered with a counter, but it appeared he was slowing his output down towards the end of this one. Until there was a minute left, there was a battle; Costa landed a heavy left hand, Vettori returned with one of his one; Costa landed a leg kick then Vettori clinched up where the fight ended. Marvin Vettori won via decision.
Closing Remarks and What's Next?
Keep in mind, Marvin Vettori defeated Paulo Costa in the Light Heavyweight division – that means the weight was upped by 20lbs since Costa could not make weight. Unfortunately after this win, he won't see Israel Adesanya inside the octagon again – not yet. He will need to gain more impressive wins to gain his trilogy rematch against the Champ, especially since he is 0-2 so far. An interesting matchup would be Vettori vs. Sean Strickland.
As for Paulo Costa, his weight class placement is still up in the air. Dana White said Costa should move up to 205lbs, but Costa's manager would like for him to stay at Middleweight. To what weight class he ends up in, we shall see.
There were only two dog winners on this entire card: Jamie Pickett (+170) and Alex Caceres (+230).
Up next in the UFC, we have UFC 267: Jan Blachowicz vs. Glover Teixeira on Saturday, October 30th at the Etihad Arena in Abu Dhabi. The entire card is stacked from top to bottom, with matchups like: Magomed Ankalaev vs. Volkan Oezdemir, Li Jingliang, Khamzat Chimaev, Petr Yan vs. Cory Sandhagen, and many more!