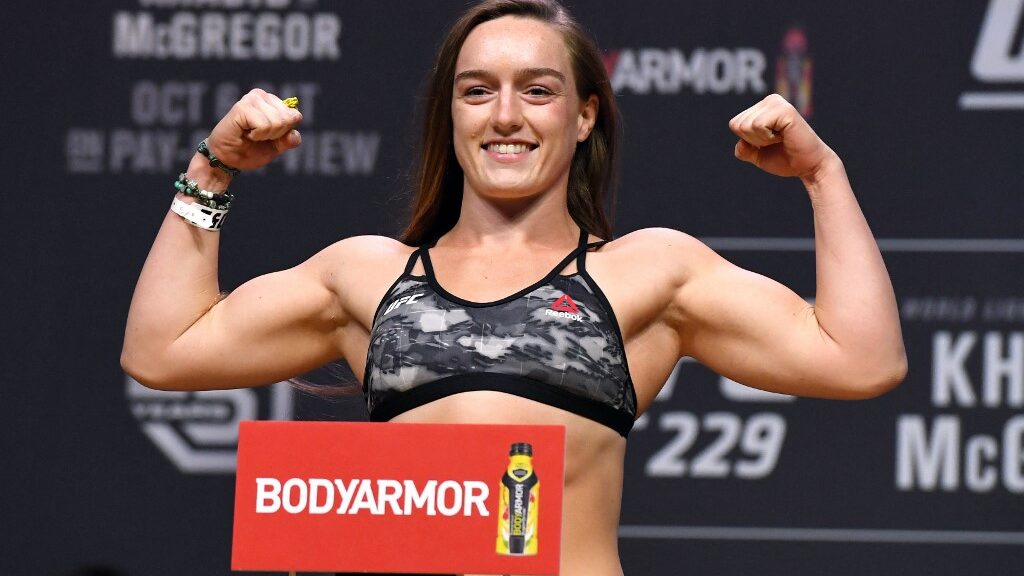 Like always, we had yet again another fun and successful UFC event in UFC Vegas 40: Ladd vs. Dumont. Read below for my recap of the main event, Aspen Ladd vs. Norma Dumont.
UFC Women's Featherweight: Aspen Ladd vs. Norma Dumont
The UFC Odds entering this bout were: Aspen Ladd -130 vs. Norma Dumont +110.
Coming into this fight, I was 50/50 on who to side with. At first in my UFC Prediction, I figured Aspen Ladd would have the knockout power and technical striking skills to overcome Dumont. But, I then took into account her dropping weight for UFC Vegas 38 against Macy Chiasson, and she nearly collapsed at the scales – that was two weeks prior to this past Saturday.
After thinking about Ladd's recovery time and time to prepare for Dumont, I decided it was the smarter decision to side with Dumont since she was healthy and preparing for a bigger competition in Holly Holm.
Well, siding with Dumont was in fact the right decision since she picked apart Aspen in all departments, and it really paid off in the end.
Starting in the first round, you could tell both were extremely focused. Dumont threw the first jab and Ladd countered with a left. There wasn't a lot of action coming from the two in the beginning; this was expected since Ladd hasn't been inside the octagon for two years, and Dumont being cautious of Ladd's KO power. Everytime Dumont would throw a jab, Ladd would counter whether it was a right or left. In the final moments of the round, Dumont was really using her jab to pick apart Ladd. Ladd got in an "official" strike and Dumont landed another jab before the horn.
In the second round, Ladd came out with a little more volume. Dumont's jab was starting to make a mark on Ladd's face. Dumont was continuing with that heavy jab and Ladd appeared to not be able to escape it. This second round was exactly like the first; Dumont landed a jab with Ladd countering. But right before the horn, Dumont switched it up and landed an oblique kick followed by a nice combo.
The third round started and it was clear Ladd was down two rounds at this point. Ladd started implementing leg kicks to open up her range, but she ate yet another jab from Dumont as she marched forward. Ladd attempted for a takedown but was immediately stuffed by Dumont. Dumont landed another hard jab, and Ladd brought the fight into a clinch to aim for another takedown. But Dumont was able to defend with ease and used her jab to open up range again. Ladd finished this round with combos until the round ended, but for me, this round continued to favor Dumont.
Entering the fourth round, Ladd really picked up the pace in this round since her coach was really laying it down on her in between rounds. Ladd aimed for another takedown, but Dumont was able to defend, turn around, and separate. Dumont then missed a body kick but followed through with a stiff jab. Ladd was eating combos from Dumont. Ladd was starting to open up even more; she threw a high kick that missed, but also a left hand, and then a takedown. But in this attempt, Dumont was able to bring Ladd down herself. So Ladd stayed in an active guard to keep herself safe. In the final minutes of the round, Ladd was going to work, laying down big hammerfists, elbows, obviously trying to finish the fight. But Dumont was tough enough and was able to put in enough work to still win this round.
Finally, the fifth and final round. After that fourth round, I'm sure some viewers and bettors were hoping for a Ladd finish. Dumont came out and threw a left hand; Ladd immediately brought the fight into the clinch – not letting Dumont go. This was a battle against the fence. LAdd was landing heavy elbows, but was not able to bring Dumont down. Her takedown defense was on point this night. As Ladd continued to fight for the takedown, Dumont landed a nice knee to the body. Both actually exchanged knees and punches to the body. Ladd won this round, in my eyes, but was it enough to win the whole fight?
Unfortunately, no. Dumont won via unanimous decision. She surpassed 100 total strikes in this bout with 1 out of 1 successful takedowns. Ladd got in 86 total strikes and landed 0 out of her 5 takedown attempts.
Norma Dumont continues to impress MMA fans and bettors. Dumont fought as if she was not the dog in this matchup. However, I wonder how Ladd would have fought if she was 100% healthy and did not nearly collapse at the scales two weeks prior. All in all, this was a wonderful fight for both women, and I'm excited for Dumont's future within the UFC.
Closing Remarks and What's Next?
Overall, this was an exciting card. On the preliminary card, a juiced favorite in Ramazan Emeev (-375) lost via decision against the dog Danny Roberts (+285).
On the main card, two UFC Vets came out victorious. Jim Miller defeated Erick Gonzalez via T/KO in the second round and Andrei Arlovski defeated Carlos Felipe via decision.
Now, all of our dog-winners on this card include: Danny Roberts (+285), Nate Landwehr (+300), and Norma Dumont (+110).
Up next in the UFC, we have UFC Vegas 41: Paulo Costa vs. Marvin Vettori on Saturday, October 23rd at the UFC Apex in Las Vegas. This will definitely be a fun card to lead into UFC 267 the following week.
We will see inside the octagon: Khama Worthy vs. Jai Herbert, Park Jun-yong vs. Gregory Rodrigues, Alex Caceres vs. Choi Seung-Woo, Grant Dawson vs. Rick Glenn, and many more! To find all the best odds, visit BookMakersReview.