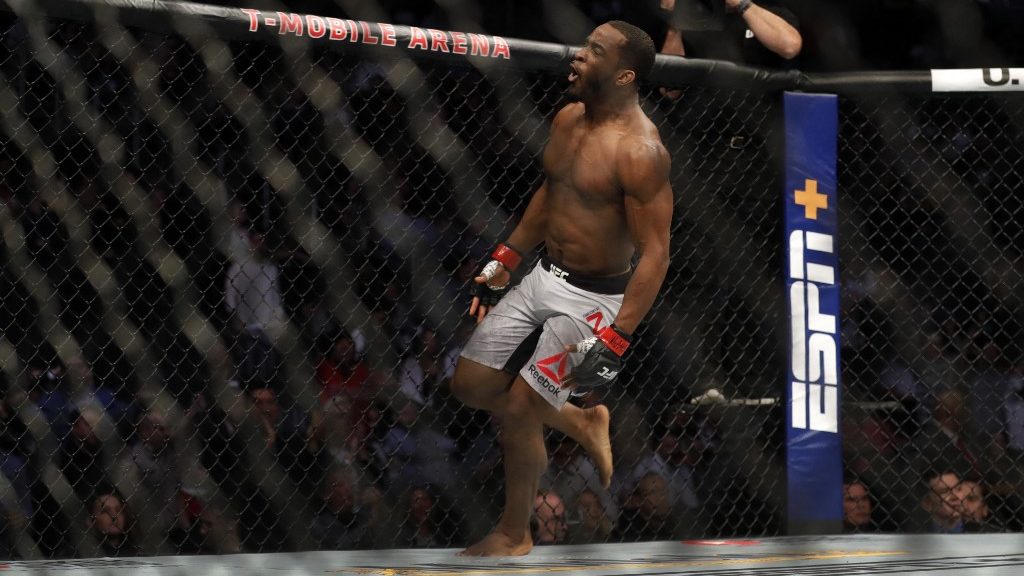 The UFC in Vegas 26: Donald Cerrone vs. Alex Morono main card UFC Odds are available. Read on for our complete betting guide and preview on this weekend's favorite matchups, including updated odds and our free expert betting predictions.
UFC in Vegas 26 Co-Main Event Prediction
Neil Magny vs. Geoff Neal
UFC Welterweight Bout
Saturday, May 8, 2021 at Apex Centre
This week's UFC fight card was up in the air, but with a late main event addition (Cerrone vs. Morono), Dana White and the UFC matchmakers have saved the event from a lacklustre ending. But with no available odds, we're taking a look at the exciting co-main event clash, to begin with.
Neil Magny could be the most underrated welterweight on the roster. He holds the most wins in the UFC welterweight division alongside the legendary George Saint Pierre. A Brooklyn born, Chicago raised American native, Magny was an army veteran before switching his skills into mixed martial arts during 2010. He's been signed with the UFC since 2012, fighting at the top of the game ever since.
Geoff Neal has taken the UFC by storm, with a 13-3-0 professional MMA record; the heavy-handed Texan has one lone loss during his time in the UFC across six fights. Speaking on that loss, Stephen "Wonderboy" Thompson is far from a shameful defeat and a huge learning experience for Neal.
I respect Neal Magny, but he wilts under pressure. And what does Geoff Neal thrive on? Pressure! I appreciate the bookmaker's odds, I respect the traditional striking offence of Neal, and I anticipate a clear unanimous decision or even a stoppage in Neals favour.
UFC Best Bet: Geoff Neal @ -190 with BetOnline [1.90u returns 1u profit]
UFC in Vegas 26 Co-Main Event Prediction
Neil Magny vs. Geoff Neal
UFC Women's Strawweight Bout
Saturday, May 8, 2021 at Apex Centre
Amanda Ribas is a highly-skilled Brazilian Jiu-Jitsu practitioner, and this weekend she's going to need those skills to avoid the muay thai striking of Angela Hill.
Ribas was born on the mats, with her father Marcelo Ribas being well-known jiu-jitsu, judo and muay thai coach. So to highlight her jiu-jitsu skillset would be ignorant; she's very well rounded and can be dangerous anywhere in the fight.
Angela Hill is one of the most experienced UFC vets, and with a brief drop-down to Invicta, she has returned to the elite leagues of the UFC in style. Hill has taken some rough losses during her career, but it's clear to see she's fighting in the prime of her MMA tenure with a 4-1 record from her previous five contests.
The stand-up war should favour Hill, as we expect a cliché striker versus grappler matchup. I just worry that Hills one-dimensional skillset can easily be compromised by the well-rounded martial artists – especially on the ground.
UFC Best Bet: Amanda Ribas @ -170 with Bovada [1.70u returns 1u profit]
UFC in Vegas 26 Co-Main Event Prediction
Neil Magny vs. Geoff Neal
UFC Middleweight Bout
Saturday, May 8, 2021 at Apex Centre
As the UFC middleweight division heats up during 2021, two prospects in Kyle Daukaus and Phil Hawes will be looking to extend their current ranking.
Kyle Daukaus has a monstrous 6'3 frame for the middleweight division, and although a loss halted his success against Brendan Allen, this was nothing to be ashamed of. A late notice debut versus a bright prospect was not a complete whitewash for Kyle; he gave Allen one of the most strenuous bouts during his UFC stint thus far.
Phil Hawes is a brute force – a powerful wrestler with heavy hands. He stems from Sanford MMA amongst Kamaru Usman, coach Henry Hooft and Greg Jones, so it is no surprise of his accomplished accolades in professional MMA. With a 10-1 record with no losses in the UFC, he's on track for greatness should the performances continue to evolve with his experience.
This is a tough one to call, and if you know my betting ethics, during difficult predictions and close odds – the underdog is where the value lays.
UFC Best Bet: Phil Hawes @ +125 with BetOnline [1u returns 1.25u profit]