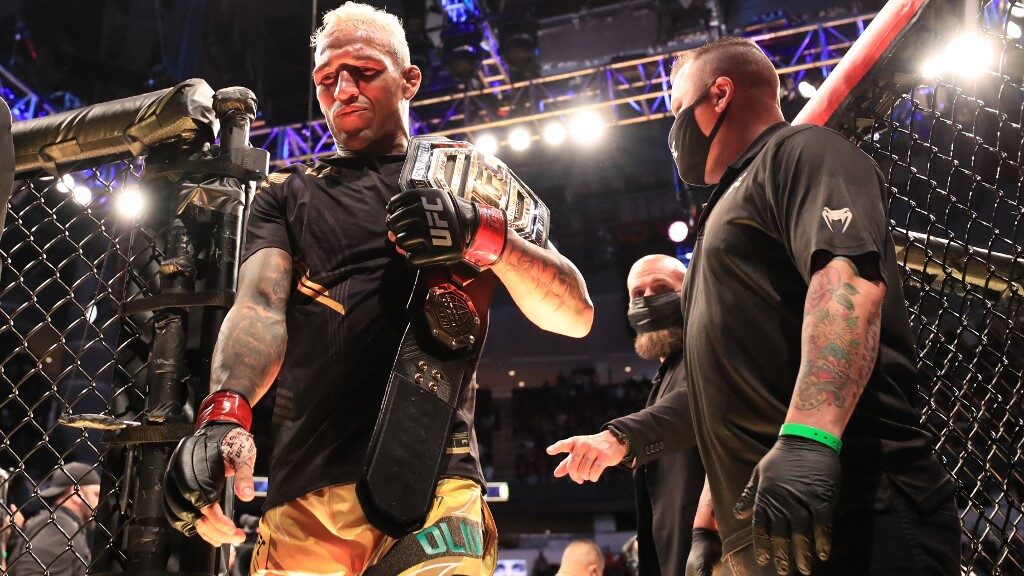 UFC 269: Oliveira vs. Poirier was by far the best UFC PPV card to finish up the year with two belts on the line. We had an overall stacked card, but the two title bouts left me speechless. Read below for my recap of Amanda Nunes vs. Julianna Pena and Charles Oliviera vs. Dustin Poirier.
Women's Bantamweight: Amanda Nunes vs. Julianna Pena
Co-Main
The UFC Odds at your top sportsbooks were: Amanda Nunes (-950) and Julianna Pena (+575).
Let's just say this co-main bout consisted of one of the biggest upsets in UFC history, and this is what happened.
In the first round, Nunes seemed calm and confident; she chopped down at Pena's calf and Pena responded with some combo's of her own. As Pena stepped in, Nunes connected with a jab that dropped Pena – it could have been a potential slip too.
Nunes got on top of Pena against the fence. Pena adjusted so Nunes was on her back; Nunes aiming for a choke that is covering Pena's nose. Pena circled on the ground created enough space to rotate and adjust into half-guard.
Pena is flaying offense at this point, but Nunes was strong and held herself together until the round ended. I would say Nunes won the first round, but Pena looked really good.
The second round came around and you could see Pena's confidence grow even though she did not do a lot of damage in the first round. Pena was fainting more until she pushed forward, landing shot after shot! Pena stunned Nunes and Nunes got her right back!
This was a great brawl – Nunes was hitting her with her jabs but Pena was laying down overhangs and it was too much for Nunes!! Nunes was in pain, backing up, and Pena got a takedown! Pena got the back of Nunes and secured the neck and shocked the entire world!!! Juliana Pena defeated Amanda Nunes via submission (rear-naked choke) becoming the NEW Women's UFC Bantamweight Champion!!
Lightweight: Charles Oliveira vs. Dustin Poirier
Main Event
The UFC Odds at your top sportsbooks were: Charles Oliveira (+115) and Dustin Poirier (-140).
The main event was tough for me because I wanted to see both of these fighters win; so the fact that Charles Oliveira came out and successfully defended his title was very enjoyable to see.
In the first round Oliveira was confident and led with a flying knee to back up Poirier. But Porier responded with a big hit of his own. There was a nice exchange on the feet; Oliveira forced the clinch to get Poirier on his own beat. He landed some nice knees inside the clinch and was able to get Poirier against the fence.
The pace Oliveira was setting was very high, and Poirier seemed to be keeping up, landing jabs and counters of his own. Poirier dropped Oliviera! But Oliviera is back up, landing knees – a constant back and forth battle. By the end of the round, Poirier looked exhausted.
The second round started and Poirier worked the body of the champion. If the pace continued like the first round, I didn't think Poirier would last. But Oliveira continued to push Poirier back to the fence. The Champ was trying to bring Poirier down to the ground but couldn't. Until finally he successfully got Poirier down and had a triangle.
Oliviera was landing some clean elbows, and Poirier could not get up – was he tired or simply couldn't get up? Oliviera continued to chip away on top all the way until the round ended.
Finally, the third round came around and Poirier was definitely tired and Oliveira determined.
Oliveira with immediate action as the round started and immediately got to the back of Poirier while he's standing! Poirier is still on his feet and Oliveira is sinking his hand under his neck! Poirier taps out while standing!!!!! Charles Oliveira defeated Dustin Poirier by submission (rear-naked choke) retaining his UFC lightweight title!
Closing Remarks and What's Next?
This was an amazing PPV card to finish off the year, for sure.
There was a nice handful of dog-winners on this card: Tony Kelley (+150), Erin Blanchfield (+115), Dominick Cruz (+100), Kai Kara-France (+110), Julianna Pena (+575), and Charles Oliveira (+115).
Up next in the UFC, we have our final card of the year with UFC Vegas 45: Derrick Lewis vs. Chris Daukaus on Saturday, December 18th at the UFC Apex in Las Vegas.
I think this is a great card to finish off the year; we will have on the main card: Cub Sawnson vs. Darren Elkins, Carlos Diego Ferreira vs. Mateusz Gamrot, Raphael Assuncao vs. Ricky Simon, Amanda Lemos vs. Angela Hill, Stephen Thompson vs. Belal Muhammad, and Derrick Lewis vs. Chris Daukaus.