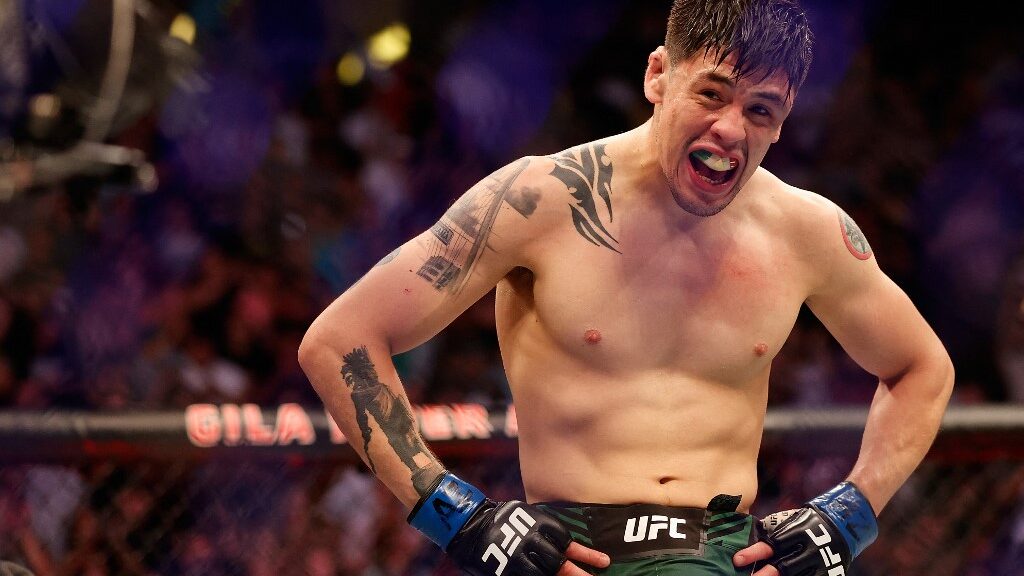 Our first pay-per-view card of the 2022 year is finally here with UFC 270: Ngannou vs. Gane. The entire card is indeed stacked, but there is a trilogy show-down for the Flyweight title that really caught my eye: Deiveson Figueiredo vs. Brandon Moreno. Read below for my UFC Prediction.
Deiveson Figueiredo vs. Brandon Moreno
UFC Flyweight Co-Main Bout
Saturday, January 22, 2022 – 10:00 PM EDT at the Honda Arena
Figueiredo vs. Moreno 1
The first time these two competed against each other was at UFC 256, and let's just say this was the 'greatest fight in flyweight history'. This main event was a pure slugfest from beginning to end.
Referee Jason Herzog did deduct a point for Figueiredo due to a low blow; Moreno took a few minutes before saying OK, but Herzog deducted the point from Figgy instead of issuing a warning.
Throughout the rest of the bout, Figueiredo was sharp with his striking and was landing heavy elbows and punches to both the head and body. Moreno would counter with the same power, and would even throw in takedowns to switch things up.
Overall, Figueiredo's advantage was in his speed and accuracy. Since he was deducted a point for that low blow, Figueiredo and Moreno were given a majority draw. This was a fight that everyone declared, "rematch!"
Figueiredo vs. Moreno 2
One of the most anticipated bouts at UFC 263: Adesanya vs. Vettori was the rematch between Figueiredo and Moreno in the co-main.
We all knew, including Figueiredo, that he needed to get an early finish; you could see the potential threat in Moreno's power and skill. And guess what, Moreno knew exactly what he had to do. Moreno was able to bring the fight to the ground, got Figueiredo in an RNC, and was declared the new and first Mexican-born UFC Flyweight Champion.
To be exact, Moreno won via submission RNC at 2 minutes and 26 seconds into the third round.
Prediction
For me, I think Brandon Moreno is in his prime and will be able to defend his title against Figueiredo.
But I don't want to ignore the strong points of the former champ; Figueiredo is very explosive and accurate with his striking. He also has the power to put you on the ground with just one punch. But at this time in life, Figueiredo is 34 years old and his only advantage at the moment is his power.
After being submitted by Moreno, Figueiredo must be expecting the same game plan this time around. I expect him to either stuff takedowns, or encourage a scramble on the ground. I still believe, overall, Moreno is still growing with his skill sets and he has the ability to out grapple the former champ.
VIDEO PICKS: Watch BMR's Free Expert Sports Betting Picks of the Day
The thing is, in their first slugfest, Moreno showed how durable his chin is and how much energy he has. He is extremely skilled standing and also on the ground. And just like how he showed us in their rematch, Moreno is going to pressure Figueiredo, bring the fight to the ground, and submit him.
These two are now fighting each other for the third consecutive time, and I still believe this fight is going to be a banger. Moreno has too many green flags to ignore, so I will side with the current champ, Brandon Moreno. Although I think he has the chance to finish inside-the-distance, his straight up UFC Odds are still decent.
UFC Pick: Brandon Moreno -170 at BetOnline (Visit our BetOnline Review)