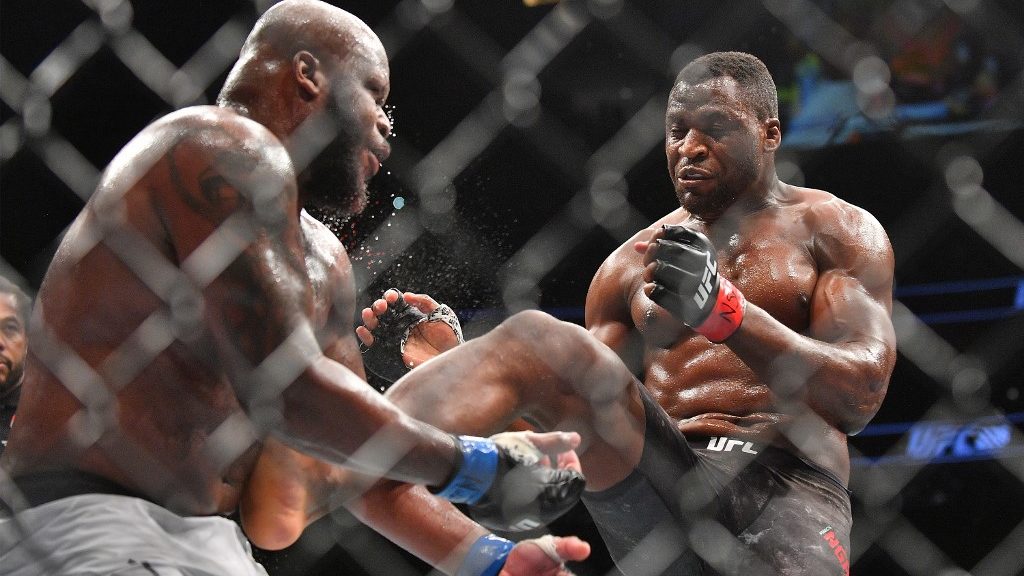 Jonny 'Bones' Jones Wanted $30 Million?
The MMA media and fans, in general, have a love/hate relationship with former UFC light heavyweight champion Jon Jones. I believe the public consensus is always going to favor a heavyweight title fight between Jones and Francis Ngannou. However, with recent rumors suggesting that Jon Jones demanded a $30 million pay-out for the potential matchup, number #3 ranked heavyweight Derrick Lewis is tipped as the next in line for the heavyweight belt.
After Francis Ngannou knocked out Stipe Miocic in the second round to become the world heavyweight champion, hope and expectations steered towards the UFC booking Jones vs. Ngannou in what would be one of the biggest title fights in history.
However, it now appears that UFC President Dana White has moved on from Jon Jones and his money related demands, leaving Derrick Lewis the next in line. "It's probably going to be 'The Black Beast," White told Kevin Iole from Yahoo Sports. "At the end of the day, Derrick Lewis and Ngannou is the fight. That's the fight to make right now.
"Derrick Lewis is a heavyweight; he's been fighting at heavyweight. He's earned this shot (against Ngannou)," he continued. "He's got a win over him. It's the fight to make."
Francis Ngannou vs. Derrick Lewis II
We cannot blame Ngannou for wanting his big-money fight against Jon Jones, but we also can't blame him for not wanting to fight Derrick Lewis in what would be his first title defence as UFC heavyweight champion.
These two MMA athletes first met at the co-main event of UFC 226 in July of 2018, in what has become one of the most lacklustre fights in UFC history. Both fighters seemed to remain hesitant as only thirty-one strikes were landed in the three-round, fifteen-minute contest. Lewis edged the judge's scorecards with nine extra significant strikes, but neither men were happy following their performance.
The first encounter wasn't ideal for promoting a potential second fight between the two, but we must note, both men have grown. With the championship up for grabs the second time around, I would be doubtful of a repeat performance.
Derrick Lewis has evolved his strength and conditioning program; the extra mass he would once carry around is no more. He is leaner, meaner, and more athletic than he has ever looked. The one-punch knockout power of Lewis has been the backbone of his skillset, and if anybody has the capabilities of testing Ngannou's granite chin, 'The Black Beast' is the ideal candidate.
Francis Ngannou has evolved his all-around MMA skillset from the one-dimensional stand and bang approach; Ngannou also made his name through the sheer strength and power of his punching ability but proved his evolution against Stipe Miocic. Sprawled takedowns, composure, and a sense of patience puts the current champion as a scary prospect for his challengers.
Ngannou vs. Lewis II Early Betting Odds Have Been Released
BetOnline, amongst a few other sportsbooks, have already released their betting lines on the potential matchup:
Francis Ngannou -360
Derrick Lewis +285
I'm not sure how to feel about the available odds, and I wouldn't be surprised if Ngannou's price becomes even more expensive. The hysteria surrounding his striking power is cult-like and for an exceptionally good reason.
The difference between Lewis and Ngannou is durability and the losses on their record. Nobody has come close to finishing Ngannou, his chin has been tested, and we have barely witnessed the man stumble. In contrast, Lewis got socked by the boxing skills of Junior Dos Santos in recent memory. Not to forget Mark Hunt, Shawn Jordan and Matt Mitrione, who've all managed to stop Lewis inside the distance.
With that said, watching Lewis across the previous few years should give underdog bettors some hope in cashing a comfortable +285 on Lewis. He does have the mental advantage, having already defeated Ngannou and a newfound athleticism he did not own during those past losses. I don't expect the betting public to side with Lewis, but I also wouldn't be surprised to see "sharp-money" taking their chances with 'The Black Beast'.