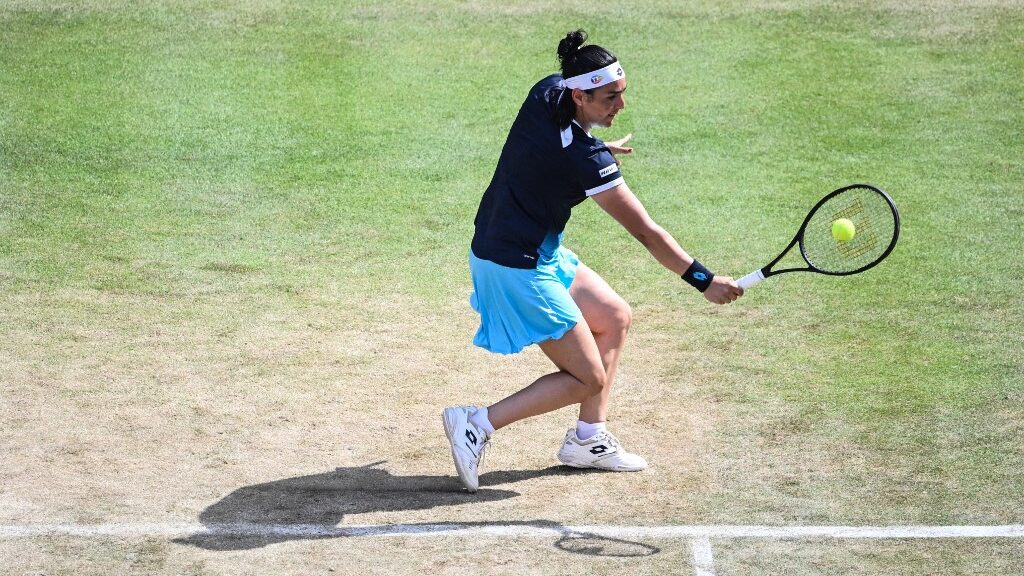 Four women remain in the quest for the Wimbledon trophy. We've had a great run picking winners, so far let's keep it going with more winning tennis picks.
Ons Jabeur vs. Tatjana Maria
Thursday, July 07, 2022 – 08:30 AM EDT at Center Court
World's no. 2 takes on the world's no. 103 in this Wimbledon semifinal. Many expected Ons Jabeur to be here, but no one expected Tatjana Maria.
When these unlikely contestants face off, how will they match up?
---
Jabeur vs. Maria: Matchup Analysis
Who Faces Slice Better?
Ons Jabeur plays with a lot of variety. This lens itself well to the grass where she can easily mix in plenty of slice. Slice is one of the most effective weapons on grass because the grass is already the lowest bouncing surface. The slice keeps the ball really low. This makes it more effective on grass than on any other surface.
Tatjana Maria is also excellent at employing slice and it has been one of her biggest tools to make it this far in the tournament. Tatjana Maria has used her slice to confound top players such as Maria Sakkari and Jelena Ostapenko. In her last match, the young German Jule Niemeier had problems figuring out how to counter the slice as well.
How will the slice fare against Ons Jabeur? Just because Jabeur is adept at hitting with slice doesn't mean that she will be immune to its effectiveness on grass. How Jabeur handles Tatjana Maria's slice will be the key to the match.
If Ons Jabeur is able to consistently play her game, even against the slice, she has a big advantage and power and tactics. Her strategy and ability to mix up play is a level above that of Tatjana Maria.
If Maria is able to keep her opponent on the defensive with the slice the way she has so far in this tournament, she has a great chance to push Ons Jabeur to the limit.
Who Has the Better Serve?
Ons Jabeur has a much better serve. This will play well here on the grass.
Who Has the Better Return of Serve?
Ons Jabeur has a slightly better return of serve. However, Maria is able to absorb a lot of powerful serves with a chip shot return, which allows her to rally back to a neutral position within two to three shots, nullifying the effectiveness and advantage the server naturally has in a point.
Who Has More Experience?
Ons Jabeur has much more experience, but will also have the pressure of expectations.
Who Has the Crowd Support?
Ons Jabeur has become popular and will probably have a slight edge in the amount of crowd support.
---
Jabeur vs. Maria: Betting Pick and Prediction
Although Ons Jabeur is rightfully favored to win, the WTA odds on this match are far too high. Tatjana Maria has been playing great and I do believe it will take Ons Jabeur a little while to figure out how to match her tactics. Jabeur also has had a bad habit of starting slow in certain matches this tournament and I would not be surprised to see her take a while to figure out her veteran opponent today.
There is value on Tatjana Maria's moneyline. There is also value on Tatjana Maria +6 games. However, the best bet for this match by far is the Over 18.5 games. This will protect us from a dominant third set by Ons Jabeur which could crush the game spread after a hard-fought first two sets.
Ons Jabeur has been excellent at figuring her opponents out, and it is definitely quite possible that she does so again today and wins handily after two close sets. Therefore the Over is by far the best way to approach this match. Our first bet for the Wimbledon semifinal is Over 18.5 games.
WTA Pick: Over 18.5 Games (-118) at Everygame (visit our Everygame Review)

---
Simona Halep vs. Elena Rybakina
Thursday, July 07, 2022 - 09:45 AM EDT at Center Court
Simona Halep has been playing the best tennis we've seen from her in years, but she faces a tough task today against the powerful Elena Rybakina. Rybakina has also been playing well and this should be another great match.
Let's take a look at how these two players match up.
---
Halep vs. Rybakina: Matchup Analysis
Who Is in Better Form?
Simona Halep comes into the match in better form. This is the best form we have seen from her since she was the champion at Wimbledon in 2019.
Who Has the Better Serve?
Elena Rybakina has the better serve. Yet, Rybakina will still struggle to hold against one of the best returners of serve in the game. Simona Halep is breaking at an incredible 48% rate this season.
Who Has the Defensive Advantage?
Simona Halep has the defensive advantage. Halep's court coverage this tournament has been excellent. Her athletic quickness combined with her perfect fundamentals gives her the ability to turn into a backboard when she needs to grind out a point.
Who Has the Offensive Advantage?
Rybakina has the offensive advantage. Rybakina can hit much more powerful shots, that even Halep's great defense will not be able to return. This gives Rybakina a unique advantage in this matchup compared to some of Halep's other opponents.
If Rybakina plays her highest level of tennis she has a great chance to win the match.
Who Has More Experience?
Halep has the experience advantage. Halep has been on this stage many times while Rybakina is new to this level of play.
Who Has the Crowd Support?
Halep should enjoy the crowd support at Center Court in Wimbledon.
---
Halep vs. Rybakina: Betting Pick and Prediction
Simona Halep is the likely favorite to win the tournament at this point. Right now it seems like we're going to get a Halep-Jabeur final. However, I don't think either of these semifinal matches will be the blowouts the best sportsbooks suggest. Once again, I do believe the oddsmakers are undervaluing Rybakina because of Halep's easy dispatch of Amanda Anisimova in the last round.
However, Rybakina has a stronger mental game than Anisimova and will come into the match less likely to get discouraged with early bad results. Rybakina is a fighter and displays steely determination.
This match is similar to the last match. And once again, the best bet is the Over. This protects us from a third set where the veteran Simona Halep figures out Rybakina and crushes her, and the third set ruining the game spread. Because I am worried about the veteran player in each match exposing certain tactics, I'm approaching this match the same way. Our second bet for the Wimbledon semifinal is Over 21.5 games.
WTA Pick: Over 21.5 Games (-118) at Everygame

*The line and/or odds on picks in this article might have moved since the content was commissioned. For updated line movements, visit BMR's free betting odds product.