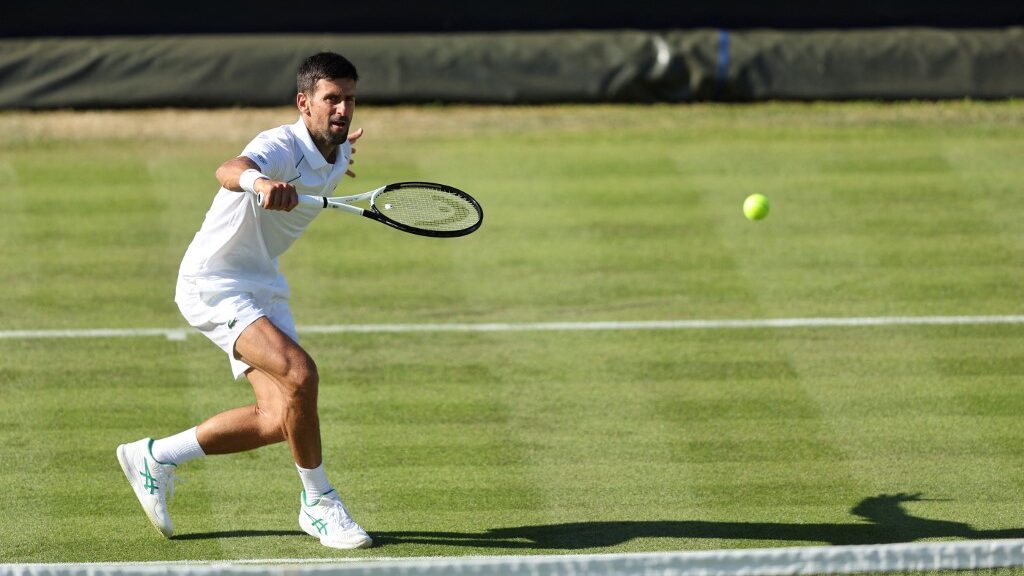 The men's final has arrived at the Wimbledon Championships. Who will be the 2022 champion as Novak Djokovic and Nick Kyrgios take the court? Djokovic will be gunning for his 21st Grand Slam title, Kyrgios his first.
Let's take a look at the exciting culmination of a great tournament to find another winning tennis pick!
Novak Djokovic vs. Nick Kyrgios
Sunday, July 10, 2022 – 09:00 AM EDT at Center Court
Novak Djokovic vs. Nick Kyrgios: Their Story So Far
Novak Djokovic and Nick Kyrgios have an interesting relationship. They have sparred verbally in the past. Kyrgios has made critical comments about Novak's wanting to be popular and beloved by tennis fans. Novak has criticized Kyrgios for his lack of commitment to the sport.
Kyrgios also made some interesting comments about Djokovic's status as the greatest of all-time. He said, "No matter how many Grand Slams he (Novak Djokovic) wins, he will never be the greatest for me. Simply because, I've played him twice and like, I'm sorry, but if you can't beat me, you're not the greatest of all time. Because if you look at my day-to-day routine and how much I train and how much I put in, it's zero compared to him."
They seem to have found a friendship, however, when Nick Kyrgios was outspoken in his support for Novak Djokovic and critical about the way Djokovic was treated by Kyrgios' home country of Australia in the lead up to the 2022 Australian Open.
While most of the world was against Djokovic, Kyrgios pointed out what he believed to be hypocrisy and supported Djokovic. Kyrgios criticized the government for its handling of the situation. This support has turned a bitter rivalry into a relationship of mutual respect.
An all-time great takes on a polarizing talent when Novak Djokovic and Nick Kyrgios face off. Let's take a look at these two players and how they match up and see if the best sportsbooks got it right.
Djokovic vs. Kyrgios Matchup Analysis
Serve
Nick Kyrgios has the better serve. Novak Djokovic has an excellent serve, but Nick Kyrgios is arguably the best server in the men's game. Djokovic is the much better returner of serve. Kyrgios can often tank away return games when he falls down 15-love or 30-love. Djokovic is a grinder and will not cede games so easily. Djokovic is better from the baseline.
Forehand and Backhand
Kyrgios has an excellent forehand, which he uses to produce many winners. Djokovic's forehand is more consistent and provides more variety. Kyrgios likes to roll his forehand with power and topspin. Djokovic can switch between topspin and flat groundstrokes much easier.
Djokovic has the bigger advantage on the backhand side. Kyrgios has a solid backhand, but Djokovic has one of the best backhands in the game. Kyrgios has incredible reflexes and is better at the net.
Strategies and Tactics
Djokovic has the experience and mental edge. Kyrgios can sometimes get unraveled during a match. Novak is a fighter in the truest sense of the word.
Crowd Support
Surprisingly, Kyrgios will probably enjoy the crowd support at Center Court, but anything can happen over the course of the match. The crowd could turn on Kyrgios if he engages in his antics.
Djokovic vs. Kyrgios Betting Pick
The way this match is lined provides us with plenty of interesting options to make a wager. Novak Djokovic is -400 on the moneyline and the comeback for Nick Kyrgios is +300. Kyrgios is 2-0 against Djokovic in his career and one can argue that there is value there in the +300.
If you like Djokovic to win, -4.5 seems like a low game spread for a -400 favorite. I would surmise the idea is that Kyrgios will hold serve and that there will be some tiebreaks.
However, given Kyrgios' predilection for punting on return games, it seems quite plausible that if Novak wins, he also covers the -4.5, since it is more likely that Kyrgios will win his sets in tiebreaks rather than through full service breaks.
To me, it seems very unlikely that Djokovic wins without covering the spread, so while normally I'm on the same side of both the side and moneyline. I believe the value is on opposite sides here when we look at the side and the moneyline. The best bet for this match is the Over.
The variance on picking the winner seems a lot higher than simply expecting that this match will go at least four sets, which it will need to be for this total to hit.
Djokovic has a tendency to start slow and figure out his opponents.
Plus with Kyrgios being expected to hold serve as the correlated game spread to moneyline implies, it is more than likely that we will get multiple tie breaks in this match, making a four-set Over almost virtual certainty.
I think it will take a while for Novak to wear down Nick, making the Over the best bet. I do think that there is a slight value on the -4.5 but the Over is a much better bet. Our final bet to end this excellent Wimbledon run is Nick Kyrgios/Novak Djokovic Over 40.5 games.
ATP Pick: Over 40.5 games (-110) BookMaker (visit our BookMaker Review)

*The line and/or odds on picks in this article might have moved since the content was commissioned. For updated line movements, visit BMR's free betting odds product.