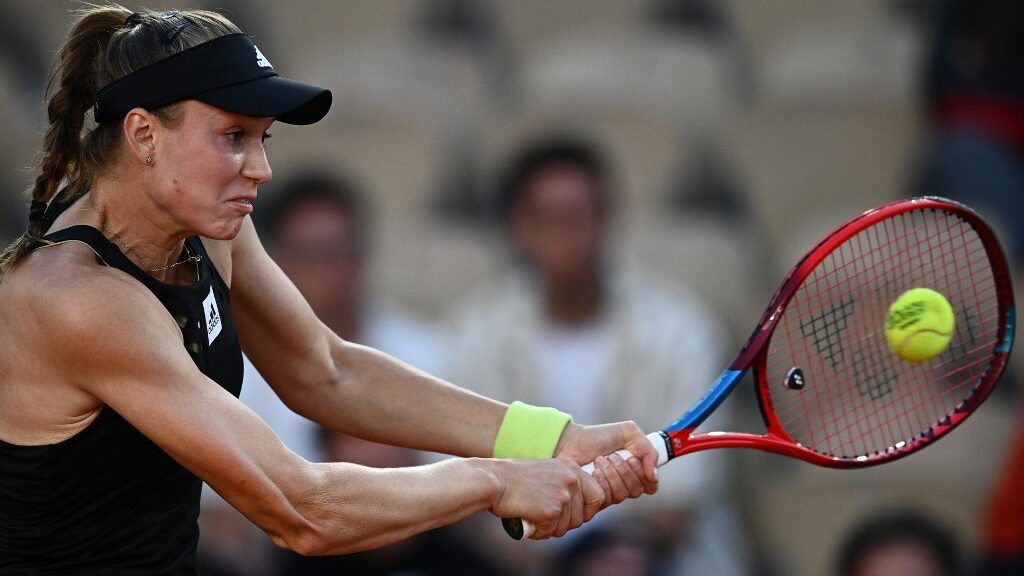 Elena Rybakina and Ons Jabeur take Center Court with the prestige of a Grand Slam championship hanging in the balance. The winner will lift the trophy and become the 2022 Wimbledon champion.
When these two exciting players match up, who will hoist their first Grand Slam trophy? What is the winning tennis pick?
Elena Rybakina vs. Ons Jabeur
Saturday, July 09, 2022 – 09:00 AM EDT at Center Court
Ons Jabeur and Elena Rybakina both had impressive semifinal wins to set up their date with destiny and face off in the Wimbledon final. Let's take a look at these two players and how they match up and see if the best sportsbooks got it right.
Players Profile
Ons Jabeur
Ons Jabeur is a 27-year-old Tunisian player ranked number two in the world.
Jabeur is undefeated on grass this season. She is an impressive 11-0.
Jabeur has been to 8 WTA finals and has won two titles in her career.
Jabeur is one of the most complete players on tour. She uses more variety than the average player. Her ability to hit slice and vary pace makes her a unique challenge for opponents to figure out.
Jabeur is 36-10 on the year. She has a hold percentage of 71.9% and a break percentage of 41.8% in 2022.
Elena Rybakina
Elena Rybakina is a 23-year-old player from Kazakhstan ranked number 23 in the world.
Rybakina is 7-2 on grass this season.
Rybakina has been to 8 WTA finals and has won two titles in her career.
Rybakina is a powerful player. Her strategy is to use her pace and precision to hit multiple winners and prevent opponents an opportunity to create rallies. Rybakina has one of the best serves on the WTA tour.
Rybakina is 27-15 on the year. She has a hold percentage of 76.5% and a break percentage of 31.7% in 2022.
---
Rybakina vs. Ons Jabeur: Matchup Analysis
Serve
Elena Rybakina has the more powerful serve. Ons Jabeur has a great serve in her own right, but it does not compare to the unhittable force that Rybakina's serve becomes when she is playing well.
Forehand and Backhand
Rybakina is the more powerful player. Jabeur has recently added an offensive aspect to her arsenal of tactics, but Rybakina can still dial up more pace. Rybakina is tall and athletic. She uses her powerful frame to generate amazing levels of pace.
Rallies
Jabeur is better defensively. Jabeur does not have excellent court coverage, but she is incredibly consistent and can respond to attacks in a variety of manners.
Strategies and Tactics
Jabeur has more tactics and strategies. Rybakina has one way to beat you, to blow you off the court. Rybakina will either hit it past you or hit the ball out. Jabeur has a subtle blend of power and defense. She uses a variety of spins, angles, and varies the pace in order to set herself up to win points. Jabeur will seamlessly slip in between offense and defense numerous times during a set of tennis.
Performances in Finals
Both women have struggled in finals. Both women are 2-6 in WTA finals. Jabeur is 2-1 in her last three finals, however, so maybe she is turning the tide and using her experience to improve her play.
Crowd Support
Jabeur is a very popular WTA player and will most likely have the crowd support on Center Court.
Rybakina vs. Jabeur Betting Pick
If Elena Rybakina plays her best tennis, she can beat almost anyone. She proved that against Simona Halep. Yes, Halep had problems with her serve, but Rybakina was able to take advantage of every weak offering she was given. Only at one point during the second set did she falter or show any signs of lowering her level.
Elena Rybakina will be the one to decide this match. We know what to expect from Ons Jabeur. Jabeur has become one of the most consistent players in the WTA over the last 12 months. We can expect that she will put forth a good, solid effort.
If Rybakina plays her best, Jabeur's good, solid effort will not be enough.
If Rybakina falters or her level of play does not match with what she has shown thus far in this tournament, Jabeur's solid level of play will propel her to victory.
My main concern here is Rybakina's problems with finals in the past. However, going off what I've seen this last fortnight, Rybakina is the proper play. She seems to be playing with very little pressure and her level of expectations is much below that of Jabeur's. Coming in as the underdog will probably help a player like Rybakina, who has to be nervous even though her stoic demeanor barely betrays her emotions.
Both players are awesome for the sport and a victory by either will be good for the WTA, but I believe that Elena Rybakina will be the one to lift the title. Her power will be too much, even for the crafty Jabeur. Our bet for today's Wimbledon Ladies final is Elena Rybakina moneyline.
WTA Pick: Elena Rybakina (+129) at BookMaker (visit our BookMaker Review)

*The line and/or odds on picks in this article might have moved since the content was commissioned. For updated line movements, visit BMR's free betting odds product.