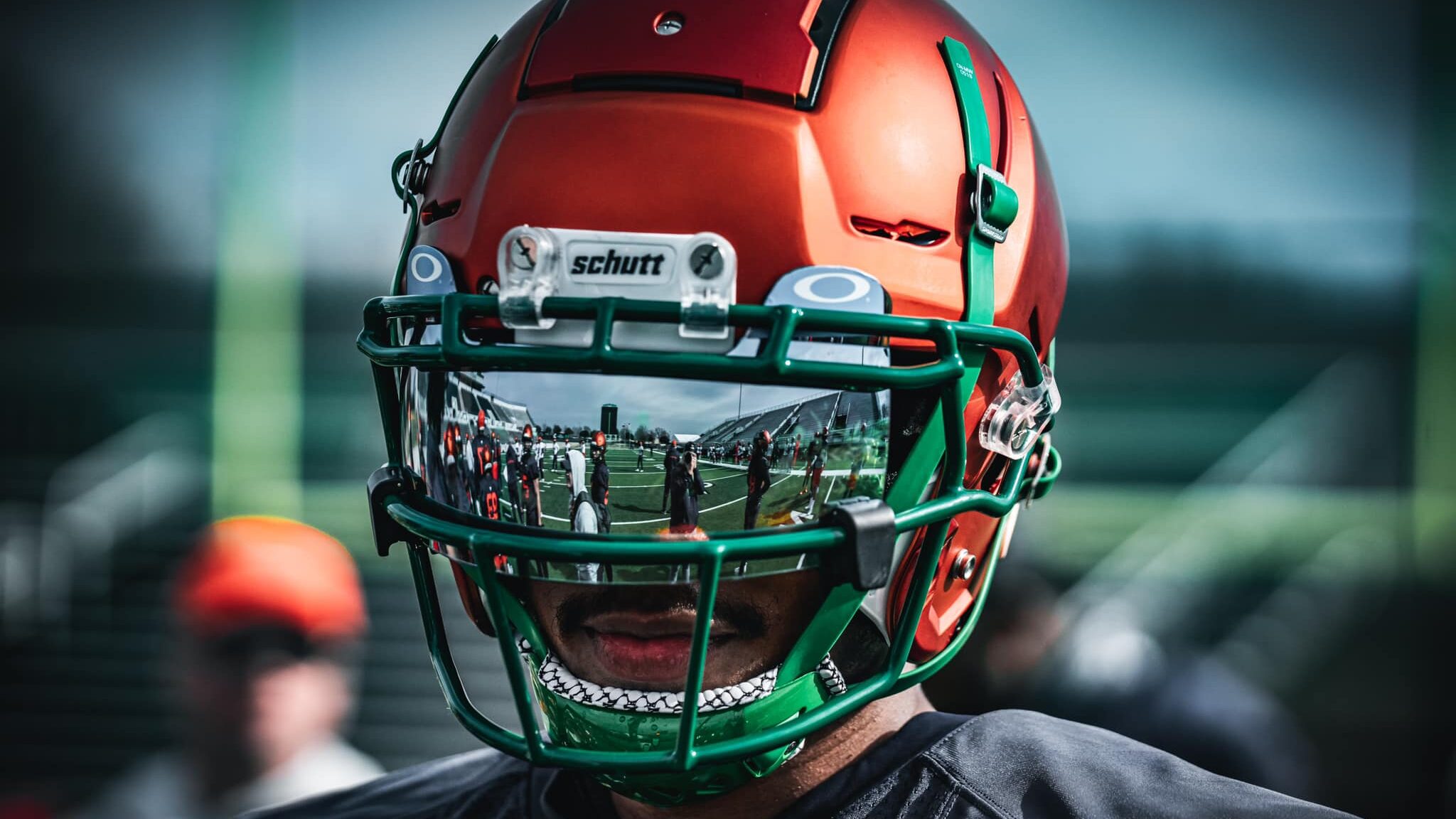 ---
XFL Pick: Sea Dragons +1.5 (-110) at Bovada (visit our Bovada Review)

---
The XFL kicks off its 2023 season this weekend with two games on Saturday and two games on Sunday. This is the third attempt for the XFL after COVID caused its 2020 season to end prematurely after five weeks and 20 games played.
From those 20 games, was scoring dramatically different from that in the NFL? Not quite. The average XFL game had 41.0 combined points compared to about 44 for most NFL seasons.
The average margin of victory in the XFL was 12.9 points, which would actually be higher than most modern NFL seasons. The 2022 NFL season had a record-low average margin of victory at 9.8 points. But again, this is based on 20 games from the XFL.
If Super Bowl LVII taught us anything, a head coach and quarterback are still crucial to success in football. With that in mind, we make our best betting picks for each XFL game as there is much uncertainty before Week 1. The games have small spreads (1.5 or 2.5 points) and low totals (36 of 37 points) at U.S. betting sites for good reason.
---
St. Louis Battlehawks vs. San Antonio Brahmas
Sunday, February 19, 2023 – 03:00 PM EST at Alamodome
Does home-field advantage mean what it used to in football? Will the crowds even be that loud or full as it is only Week 1? We'll find out soon, but it is worth pointing out that the St. Louis Battlehawks are the only road favorite in Week 1 at 2.5 points.
Teams Analysis
St. Louis Battlehawks
Most online sportsbooks have the Battlehawks as the favorites to win it all in the XFL this year. A good road Week 1 win would be a nice start to back that up.
The head coaching matchup may not be a big advantage either way with Anthony Becht and Hines Ward both playing in the NFL but not being head coaches before. You also get plenty of assistant coaches who were NFL players, including linebacker Joey Porter on Ward's side.
But the player everyone wants to watch in this game is AJ McCarron, who was the blueprint for Mac Jones at Alabama, but with way more tattoos and a hot girlfriend (now wife) that Brent Musburger was salivating over on live TV one night. That was a long time ago, as was McCarron's near-playoff win over the Steelers in the 2015 AFC wild card.
But he does give the Battlehawks the player at the most important position who had the best numbers in his NFL career. He also has a wide receiver corps loaded with players who just couldn't quite catch on in the pros, including Hakeem Butler, Gary Jennings Jr., Marcell Ateman, and Ricky Proehl's son Austin. In fact, Ricky is the wide receivers' coach.
The Pick
We are going to trust the sportsbooks on the odds-on favorite from St. Louis coming through with an impressive win and cover in the opener. One thing to remember about the 2020 XFL is that most games were decided by 6-plus points. By most, we mean 18-of-20, and 30% of the games were won by 20 points.
Could this be our first blowout of the season?
XFL Pick: Battlehawks -2.5 (-110) at Bovada

---
Seattle Sea Dragons vs. DC Defenders
Sunday, February 19, 2023 – 08:00 PM EST at Audi Field
To close this Week 1 slate in the XFL, the DC Defenders are a 1.5-point favorite against the Seattle Sea Dragons with a total of 36 points.
Teams Analysis
Seattle Sea Dragons
First, why did the Seattle Dragons change their name and incredible logo (look it up) to the Seattle Sea Dragons? They were so much better in 2020 with the original setup. But in the game with the smallest spread this weekend, we are backing the underdog from Seattle to cover for your XFL picks. It comes back to the coaching matchup.
Jim Haslett is the head coach, and he joins Wade Phillips as the only two coaches in the XFL to have NFL head coaching experience and success. Haslett won a playoff game with Aaron Brooks for the first playoff win in Saints history.
If you are familiar with Brooks, whose highlight reel includes him throwing a backwards pass deep in the backfield, and with how bad the Saints were before Sean Payton and Drew Brees, then you know that is an incredible achievement.
But the offensive coordinator for Seattle is June Jones, who is famous for the run-and-shoot offense and getting into sideline arguments with Jeff George back in the 1990s. Jones has been around the game for decades and this is a role he can excel at while Haslett focuses on his natural defensive side of things.
Solid Receiver-Quarterback Combo
The Dragons also have Josh Gordon at wide receiver, and everyone wants to see him perform on a football field after his breath-taking 2013 season in Cleveland. It has been a long road back for Gordon, and this could be the shot he needs to shine.
His quarterback is Ben DiNucci, who had a start in the NFL with Dallas when Dak Prescott was injured in 2020. It went horribly bad, but Jones has a system that can make average talent look good. DiNucci is also the only XFL quarterback besides McCarron and Hundley with regular-season NFL experience.
The Pick
We'll take the coaching advantage and the Josh Gordon story to root for the underdog to cover.
XFL Pick: Sea Dragons +1.5 (-110) at Bovada
---
Vegas Vipers vs. Arlington Renegades
Saturday, February 18, 2023 – 03:00 PM EST at Choctaw Stadium
In Saturday's opening game of the 2023 XFL season, the Arlington Renegades are a 2-point home favorite over the Vegas Vipers with a total of 37 points according to the XFL odds.
Teams Analysis
Arlington Renegades
Arlington coach Bob Stoops can say he is the only head coach from the 2020 XFL season to be retained this year. A defensive coach at heart, Stoops' teams at Oklahoma were also known for scoring. His quarterback is Kyle Sloter, who Minnesota Vikings fans may remember from some productive preseason outings in 2017-19.
Sloter also played in the USFL in 2022 and was second in pass attempts, but his overall numbers were not impressive. However, if you look at the USFL passing stats from the whole league, all 12 quarterbacks who threw at least 80 balls averaged under 7 yards per attempt, so that says more about the overall talent of the league and quality of the game than anything.
The quarterback who came closest to being efficient was Luis Perez, who is on the Vipers. He had a 71.7% completion rate in the USFL and a 105.6 passer rating.
Vegas Vipers
While the Vegas Vipers drafted Perez in the USFL draft, they recently made Brett Hundley the highest-paid player in the XFL, so expect him to start.
Hundley was Aaron Rodgers' backup for a few years in Green Bay, most notably in 2017 when Hundley made nine starts when Rodgers broke his collarbone. Hundley was not great but he made some things happen and had a few dramatic wins.
If Hundley has a chance to get an edge in this matchup, it would be that he has Martavis Bryant and Geronimo Allison to throw to. Bryant was a freakishly-great athlete with the Steelers, but he had that Josh Gordon issue of off-field problems that ruined his NFL career. Allison played with Hundley in Green Bay, so maybe there is a chemistry boost there.
The Pick
Stoops should have the coaching edge over Rod Woodson, a Hall of Fame defensive back who has spent some years as an assistant coach in the NFL, but this is his first crack at the top job beyond the high school level.
But we'll fade the spread on this one and go with the Over as this is about the only game this weekend where you have two quarterbacks who have had games throwing for over 200 yards in an NFL helmet.
XFL Pick: Over 37 (-110) at Bovada

---
Orlando Guardians vs. Houston Roughnecks
Saturday, February 18, 2023 – 08:30 PM EST at TDECU Stadium
The Houston Roughnecks are a 2.5-point home favorite with a total of 36 points.
Teams Analysis
Orlando Guardians
Orlando is a very conflicting team amongst the online sportsbooks. Some have the Guardians with by far the worst odds (+900) to win the XFL Championship this year, while others have the Guardians in the middle of the pack, and sometimes even ahead of favored Houston in this game.
When looking at the Orlando roster, there is not really an exciting former NFL prospect. Safety Matt Elam was a first-round pick by the Ravens but that was a decade ago. Eli Rogers was a marginal slot receiver for the Steelers for a few years. Cody Latimer is someone the Broncos hoped would learn from Peyton Manning at the end of his career in Denver, but he never really caught on.
Speaking of Denver in the post-Manning years, first-round bust Paxton Lynch is the Guardians' quarterback. He only started four games in the NFL, but he was abysmal with a QBR under 26.0 in both seasons he played.
Houston Roughnecks
It would seem like an aggressive defense would be bad news for Lynch, who also tossed four interceptions on just 83 passes in the USFL last year. He will go up against a defense coached by Wade Phillips, who is by far the most successful NFL head coach in the field of eight XFL head coaches this year.
Phillips was usually a scapegoat in his NFL career, but he was there to help John Elway's offensive turnaround in Denver, he got some good years from the Bills before they went irrelevant for two decades, and the Cowboys were a No. 1 seed under him.
He also coordinated Denver's 2015 defense to a Super Bowl win, and that might be the last great, dominant defense in the NFL.
The Pick
That matchup of Phillips vs. Lynch is the one to like in this game in Houston's favor. Let's predict them to live up to the name of Roughnecks and rough up the Orlando offense in this game.
XFL Pick: Roughnecks -2.5 (-110) at Bovada

*The line and/or odds on picks in this article might have moved since the content was commissioned. For updated line movements, visit BMR's free betting odds product.