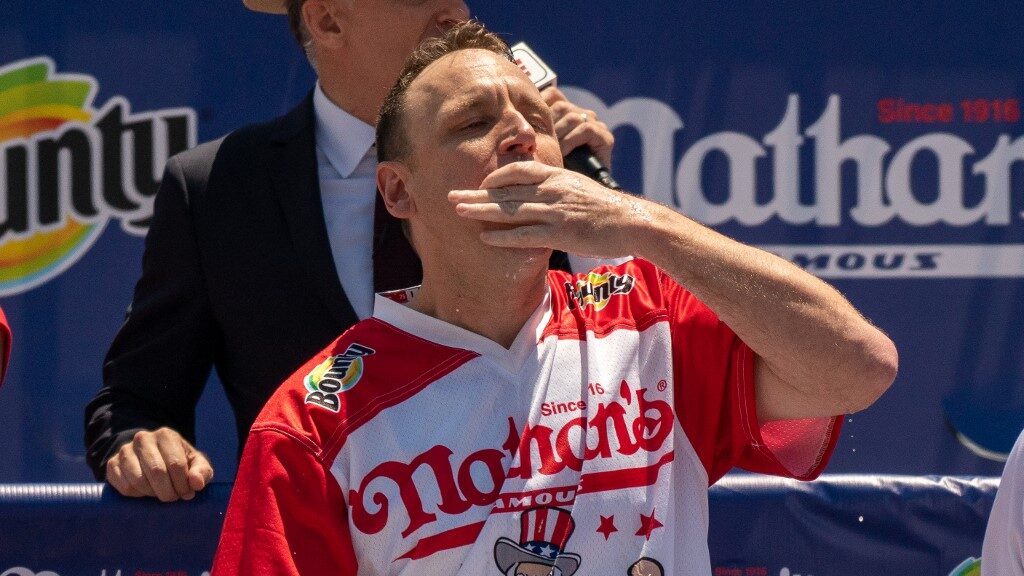 Nathan's Hot Dog Eating Contest is now woven into the fabric of American traditions and is annually featured on July 4th on Coney Island in front of over 1.5 million television viewers last year. Will the legendary Joey Chestnut reign supreme yet again? Here are the betting odds for your consideration.
Nathan's Hot Dog Eating Contest
Monday, July 4, 2022 – 10:45 AM EDT at Nathan's Famous, Coney Island
What Are the Odds?
The incomparable Joey Chestnut is a prohibitive favorite at -3000 but there are props being offered by all of the best online sportsbooks, like BetOnline (visit our BetOnline Review), at far more "palatable" odds.
Men's Division Winner
Joey Chestnut (-3000)
Geoffrey Esper (+900)
Nick Wehry (+1000)
Gideon Oji (+2000)
Women's Division Winner
Miki Sudo (-5000)
Other (+700)
Michelle Lesco (+1000)
---
Who is Joey Chestnut?
Nathan's Hot Dog Eating Contest is the Super Bowl of competitive eating and like the Kentucky Derby, everyone pretends to know much more than they actually do when the big event comes around. However, unlike the Derby, there is one name that is synonymous with the event and is the betting favorite every year – Joey Chestnut.
The 14-time champion began his reign of eating terror back in 2007 when, after two consecutive unsuccessful attempts at dethroning the king of chomp, Takeru "Tsunami" Kobayashi, from his Nathan's Hot Dog eating throne, he finally won the holy grail of hot dog eating.
Since that time, Chestnut has been virtually invincible and broke his own record last by consuming 76 hot dogs in 10 minutes. And for those who are curious, Chestnut inhaled in the neighborhood of 30,400 calories.
How Does Joey Chestnut Prepare Himself?
No one on the planet can eat as many hot dogs as Joey Jaws but we can all relate to having too much around the dinner table. Whether it's at Thanksgiving or an all-you-can buffet, we're all guilty of overindulging.
But if eating four hot dogs at a leisurely pace would cause most of us to head straight for the couch afterward, how does Chestnut feel after devouring nearly 20 times that amount?
To prepare for the competition, Chestnut's regimen consists of a two-day cleanse of only water and lemon juice. "My body knows that it's going to be digesting a massive amount of food really quickly, so I make sure it's easy to digest," he said. "Most people, when you eat food, it takes nine to 10 hours to really digest it. After I do a cleanse, things are moving quick."
What Happens After?
If you've ever watched Jaws in action, it's not a pretty sight but his eating mechanics are something to behold. "People have told me they can smell the hot dogs," Chestnut said. "I really can't, but the sweat afterward, it feels sticky and greasy. My girlfriend says it smells different."
"Afterward, I'm crazy exhausted," he said. "And usually, my first thing is either I'm thirsty or I want to go to sleep. I usually take a nap as soon as I can."
Retirement Not Even Close
If you think retirement is in the cards for the 38-year-old super-eater, well, think again.
"As long as my body's cooperating, I can see myself doing it for years," he said. "And one of these days someone is going to come — some absolute boss, man or woman — and challenge me, and I'm looking forward to it."
"I love the competition, and it's still exciting," he added. "Even if I end up getting beat, it would be really hard to walk away."
Joey Chestnut's Total
Under 74.5 hot dogs eaten (+110)
Over 74.5 hot dogs eaten (-140)
---
Who is Miki Sudo?
Miki Sudo, winner of seven consecutive Nathan's competitions from 2014-2020, did not win last year's competition. That distinction belongs to Michelle Lesco, who put away 30.75 hot dogs and buns becoming the 2021 Nathan's Hotdog Eating champion in the women's division.
Why Did Miki Sudo Didn't Win Last Year's Competition?
But there's a pretty good reason why Sudo didn't win and it's because she didn't enter.
She and fellow competitive eater, Nick Wehry, were having a baby and devouring a bushel full of hot dogs probably wouldn't have been the wisest decision.
Miki Sudo Is Back
However, Sudo is back and is the prohibitive favorite for betting picks with Lesco a distant third in the women's division trailing Sudo at -5000 and "other" at +700. The 36-year-old set a record in the women's division with 48.5 hot dogs eaten in 2020 and her total this year is 47.5 (U-140/O+110).
Ironically, Sudo is a healthy eater when she's not scarfing hot dogs, tamales, or whatever else is on the competitive food-eating menu. "I eat lots of salads with kale. I love kale. I like sauce in it, sesame oil, mint, quinoa — a little bit of everything. I prepare a lot of grilled chicken. And lots of raw fruit."