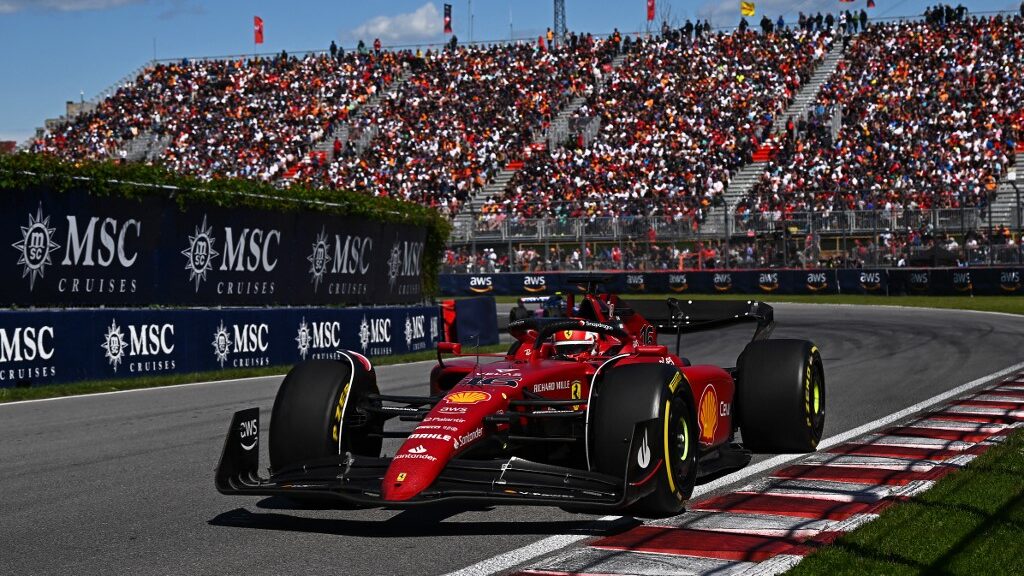 With six victories across the first nine races, it's no surprise to see Max Verstappen atop the betting ahead of the British GP. The championship leader is as low as -110 to win Sunday's race.
Mercedes have long been the dominant team at Silverstone, winning 8 of the previous 9 races, with Red Bull's last win at this circuit coming in 2012 when Mark Webber took the victory. Ferrari's last win was in 2011 when Fernando Alonso crossed the finish line in 1st place.
Which way to lean at the top-rated sportsbooks?
British Grand Prix
Sunday, July 3, 2022 – 10:00 AM EDT at Silverstone Circuit
---
Canadian Grand Prix Recap
Last time out, Verstappen just about held on ahead of Ferrari's Carlos Sainz, winning the race by 0.900 of a second, with both Mercedes finishing 3rd and 4th (their best finish of the season to date). Lewis Hamilton picked up his first podium in 7 rounds.
Charles Leclerc was required to start the race in the 19th for exceeding his power unit quota but still managed to finish a respectable 5th behind George Russell.
Both Alfa Romeo's finished inside the top 10 for just the second time this season and the first time since the 1st round in Bahrain. Finally, Sergio Perez took his first retirement of the season on lap 7 with a gearbox issue, he will look to bounce back in Silverstone, a track that has not been kind to Perez throughout his career having had 5 of 11 top 10 finishes and only 2 of those 5 being inside the top 8. Perez has not finished better than 6th.
---
Silverstone Circuit Preview
The Silverstone circuit was used for the first-ever official Formula 1 race back in 1950 and remains one of the fan favorites to this day, as well as a team and driver favorite with the track being built for speed.
Silverstone has long straights, long sweeping corners, and one hairpin corner.
Drivers' Chances to Win at Silverstone Circuit
Lewis Hamilton
Lewis Hamilton has won 7 of his previous 8 home races but it's unlikely he will win this weekend. His car is not up to speed but who knows. Mercedes have been very strong in the past and maybe they might spring a surprise or two.
Max Verstappen
It's Max Verstappen's championship to lose despite there being 13 rounds to go and a long way from the finish line.
The Dutch driver does hold a 46-point advantage over his teammate and 49 points ahead of Charles Leclerc. With zero points for a none top 10 finish and 25 points for a race win, both his rivals have a lot of ground to make up.
Verstappen is unlikely to finish outside of the top three for most rounds and thus far all the top three drivers have failed to score points on three occasions, yet Verstappen still has such an impressive lead over his championship rivals.
---
British Grand Prix Betting Odds
Max Verstappen (-110)
Charles Leclerc (+225)
Sergio Perez (+900)
Lewis Hamilton (+1200)
Carlos Sainz (+1300)
George Russell (+1300)
Lando Norris (+15000)
Fernando Alonso (+17600)
Valtteri Bottas (+25000)
Rest of field (+40000)
*All betting odds are available with BetOnline (visit our BetOnline Review)
---
British Grand Prix: Podium Finish Pick
George Russell has been very impressive to date. He has finished ahead of his teammate Lewis Hamilton on 7 of 9 occasions this season, which is very impressive given who he is beating. It begs the question: would Russell be top of the championship standings if Mercedes had the fastest car on the grid or would Hamilton have found his mojo by now?
Either way, we are backing Russell to pick up his 4th podium of the season at his home race for some nice chunky odds at +200. Russel has finished 5th on three occasions, 4th on three occasions, and 3rd on three occasions this season.
Russell even managed to place his Williams in 12th place during last year's Silverstone GP, a result that way outperformed his car. It's entirely possible Lewis Hamilton makes the podium but given that Russell has outperformed him and Hamilton is only +170 for a podium finish, we are happy to side with the better value for our betting picks.
Formula 1 Pick: George Russell to Finish on the Podium (+200) at BetOnline

George Russell to Finish on the Podium

(+200)
---
British Grand Prix: Race Winner Pick
This could be controversial but that's why we sports bet and watch sports. We are happy to oppose Max Verstappen here despite his odds being generous to win the race at -110, which is better than last time out. Maybe we will be calling ourselves fools for not betting him at these odds, but we feel Charles Leclerc has a chance and much better odds.
This weekend is Ferrari's chance to make a resurgence and they have fixed some issues such as the F1-75 floor and diffuser as well as the purposing issues. They can take a lot of confidence from the Canadian GP with their results and this circuit should suit their cars.
It's a gamble for sure but we are going to side with Leclerc to take the top step this weekend. Carlos Sainz also represents value to finish on the podium at -110, but for this to be appealing we would have to hope Verstappen does not finish on the podium.
Formula 1 Pick: Charles Leclerc Win (+225) at BetOnline

Charles Leclerc Win

(+225)
---
Top-3 Predictions for the British Grand Prix
Charles Leclerc
Max Verstappen
George Russell