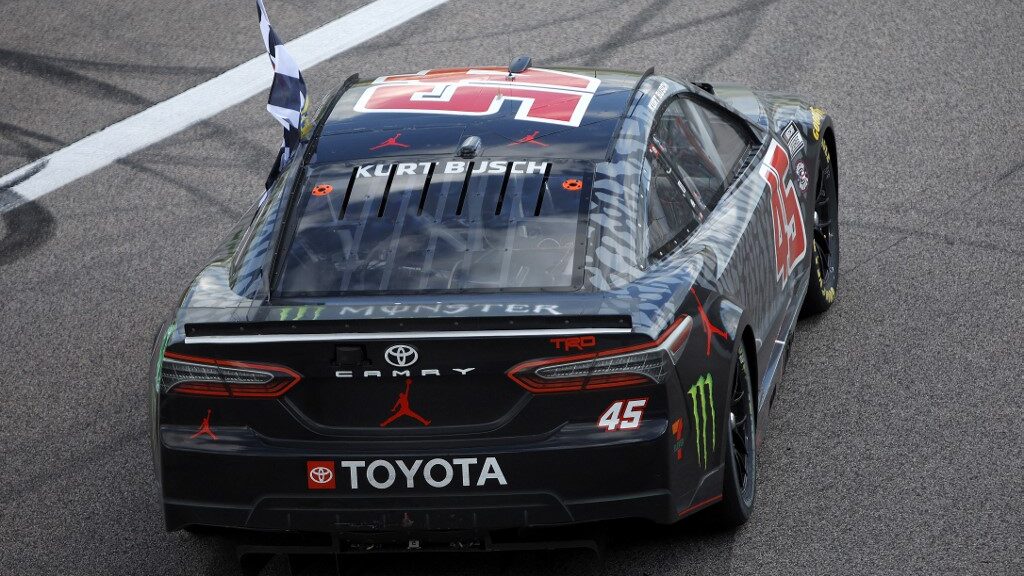 Sportsbooks have released their odds for the upcoming NASCAR Cup Series All-Star Race. There are a lot of reasons why this event is worth betting on. It is fun and it is annually a special thing. However, there might be one obstacle to betting on this race: its format is unique and seemingly complicated.
We want to understand how this racing event will be conducted because betting on a sporting event surely requires understanding it. So, read ahead for all of the information pertaining to this race that you should want or need to know in order to bet on it.
In addition to clearing up any confusion surrounding this racing event by explaining how it will be run, I will produce a betting pick grounded in analysis.
NASCAR Cup Series: NASCAR All-Star Race
Sunday, May 22, 2022 – 08:00 PM EDT at Texas Motor Speedway

What Happened at the AdventHealth 400?
Last week, the NASCAR Cup Series staged its AdventHealth 400 at Kansas Speedway. This race was fraught with mechanical problems and errors during pit stops. It was a mistake-laden race that created the opportunity for lesser names to perform well simply by avoiding mistakes.
That is exactly what Kurt Busch did. Kurt Busch performed cleanly enough to get the win. In the process, Kurt Busch edged out Kyle Larson, passing him late in the race while inducing Larson to scrape the wall as part of a race-sealing gesture.
Last week's result is relevant to this one because it is extremely hard in NASCAR to win back-to-back races. Kurt Busch was already such an unlikely candidate to win last week's race. He is not the guy one could count on to win consecutive races. There also simply isn't such a guy.
Given the result of the AdventHealth 400, we should exclude Kurt Busch from our list of possible candidates to win this upcoming race.
What Race Is Next?
Next up on the NASCAR Cup Series circuit is the All-Star race at the Texas Motor Speedway near Dallas. This is an unusually formatted race with a lot of unusual parts. One thankfully typical fact is that an entry list has already been published for this race.
So, barring any unforeseen circumstances, we already know which drivers will be able to participate in the All-Star Race.
However, instead of the usual 36 or so drivers, there are 20 drivers posted on the entry list. To be clear, there are 20 drivers locked into the All-Star Race field. This point of clarity is important to emphasize because one can easily become confused by mixing up the All-Star Open and the All-Star Race.
The All-Star Open will feature 16 drivers. Four participants in this race will make it into the All-Star Race.
What is the All-Star Open?
The All-Star Open is the race that will immediately come before the All-Star Race. It is therefore the All-Star Race that is the big race that we are worried about and not the All-Star Open. The All-Star Open is really only important because its results, plus a fan vote, will finalize which drivers will participate in the All-Star Race.
This preceding race, the All-Star Open, will consist of the usual three stages. Stage 1 requires 20 laps. Stage 2 consists in 20 more laps. Stage 3 ends upon completion of the 50th lap. The winner of each stage plus the winner of the fan vote will move onto the All-Star Race, joining the 20 drivers also established as participants in the big event.
How Does Qualifying Work?
One other point of possible confusion is qualifying. It might seem like the All-Star Open is a qualifying event because it basically is one. However, the All-Star Open will take place right before the All-Star Race does on Sunday. There will still be qualifying that will take place on Saturday.
So what's the difference between these Saturday qualifying rounds and the All-Star Open? On Saturday, the 16 All-Star Open competitors will compete in a qualifying round that will be single-car and single-lap. This is, essentially, a qualifying for the qualifying because it will set the lineup for Sunday's All-Star Open.
As for the 20 established All-Star Race competitors, they get two qualifying rounds, which will also take place on Saturday. The All-Star Race competitors will participate first in the standard single-car qualifying.
Then, the top eight finishers in that initial qualifying round will move onto a sort of bonus round of qualifying in which they will compete with each other in an elimination bracket.
The All-Star Race
Know for your sports betting that the All-Star Race consists of four stages, not the usual three. There will be a total of 125 laps. The first three stages each require 25 laps while the last stage consists of 50 laps.
My Guy
I find Kyle Busch most worth investing in because he has accrued more wins at this track than any active NASCAR driver. He is a consistently strong performer at this track. His overall recent form has also been solid as he has three top-three finishes in his last five tries.
For the above reasons, I recommend betting on Kyle Busch to win the All-Star Race. Don't forget to place your wagers at a top-rated sportsbook.
NASCAR Pick: Kyle Busch to Win (+600) at Bovada (visit our Bovada Review)

*The line and/or odds on picks in this article might have moved since the content was commissioned. For updated line movements, visit BMR's free betting odds product.