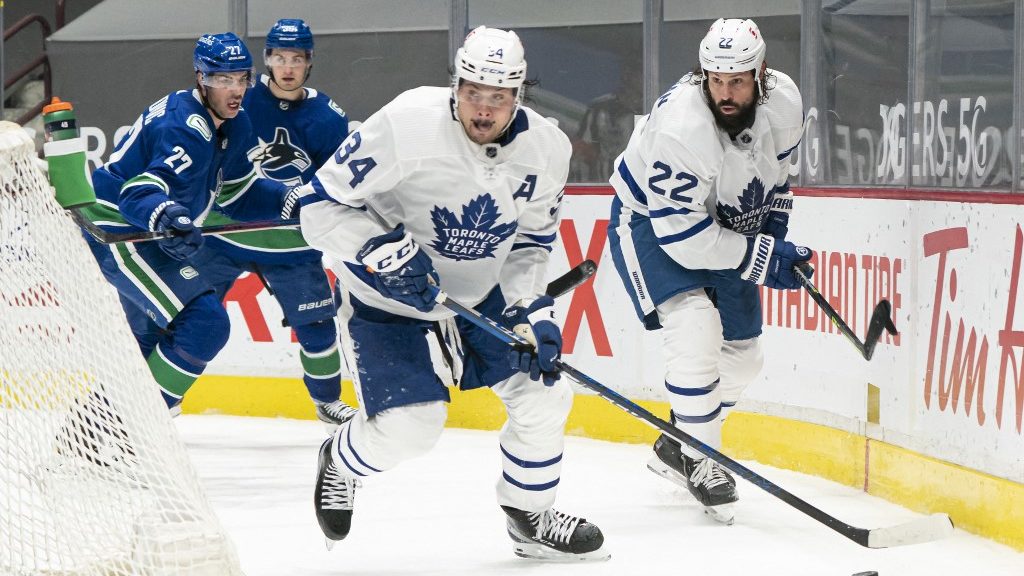 The Hart Trophy has been awarded to the league's regular-season MVP since 1924 and this year sees Connor McDavid as the runaway to cop the award but there are other worthy contenders. Let's hash it all out, find out the NHL odds on each, and make some money!
What Are the Odds?
Connor McDavid (Oilers) -1500
Auston Matthews (Leafs) +950
Sidney Crosby (Penguins) +1100
Patrick Kane (Blackhawks) +1500
Mikko Rantanen (Avalanche) +2600
Victor Hedman (Lightning) +2600
Aleksander Barkov (Panthers) +4800
Connor Hellebuyck (Jets) +4800
Leon Draisaitl (Oilers) +4800
Jonathan Huberdeau (Panthers) +4800
Mark Scheifele (Jets) +4800
Mike Zibanejad (Rangers) +4800
Mitch Marner (Leafs) +4800
Nathan MacKinnon (Avalanche) +4800
Quickly, who won last year's Hart Memorial Trophy? C'mon, he's on this list. Time's up, it is the Oilers' Leon Draisaitl whose odds are currently +4800 as the regular-season winds to a close. As good as Draisaitl has been this season, he has no shot at repeating because he happens to be on the same team as the prohibitive favorite, Connor McDavid, and there is no way of getting around the fact that his teammate has better numbers than him – or anyone else in the league for that matter!
And while the Edmonton Oilers are +2000 to win the Stanley Cup at all of the best betting sites, we should note there are some candidates on this list that could very well be on a Cup-winning team following their regular-season success. Let's look at the most logical choices to include in our NHL picks aside from the ridiculous price being asked to lay on McDavid.
Auston Matthews (Leafs) +950
The Maple Leafs should win the all-Canadian North division going away and their resident superstar, Auston Mathews, leads the league in goals and is a lock to take home the Maurice Richard Trophy for the NHL player with the most goals. He currently boasts more than nine goals than Connor McDavid and his team will most likely win the division in which McDavid's Oilers reside. Moreover, Matthews is the only real scoring threat on his team, unlike McDavid who also has the uber-talented, and aforementioned, Leon Draisaitl lighting the lamp. Wouldn't that give a little impetus to Matthews as the MVP winner?
Sidney Crosby (Penguins) +1100
It's impossible to have this MVP discussion without mentioning Sid the Kid. The Penguins' captain already has two Hart trophies on his mantle and the window is closing on his opportunity to capture a third. But let's face it, Crosby is a sentimental choice here but he is currently ranked eighth in points scored and the Penguins could usurp the Capitals as the East Division's No. 1 seed when the curtain closes on the 2020-2021 season.
Let's also not forget that Crosby recently passed such luminaries as Marcel Dionne, Ron Francis, Mario Lemieux, Mark Messier, and Joe Sakic to land third on the NHL's all-time list of consecutive point-per-game seasons. Now with 16 straight seasons averaging a point per game or more, Crosby trails only Gordie Howe (17) and Wayne Gretzky (19).
"It's nice," Crosby said of the mark. "Anytime you're mentioned with Gordie Howe and Wayne Gretzky, that's pretty neat. It's also a reminder of how long I've played, too. I think it's a compliment being in that company."
Mikko Rantanen (Avalanche) +2600
The 24-year-old first-round pick by Colorado back in 2015 is paying off in spades this season, leading a talented cadre of players plying their trade in the Mile High City. Rantanen currently sits with 26 goals matched with 26 assists for 52 points and his Colorado Avalanche are the odds-on favorites to win the Stanley Cup. Who, pray tell, is more responsible for their success this season? Don't ruin it and say Phillip Grubauer because you could have a point.
Nevertheless, Rantanen is getting a good return on investment and he had a stellar month of March, scoring 13 goals and adding 12 assists for 25 points in 17 games for the Avalanche. He also credited his teammates with his success.
"Obviously it's nice to score some goals you know, that's not the main thing why I go to the games, but I know I have to help the team on the offensive side," said Rantanen. "It's nice to capitalize on some chances. Landy (Gabriel Landeskog) and Nate (Nathan MacKinnon) are doing a good job helping me get chances, so obviously can't complain."