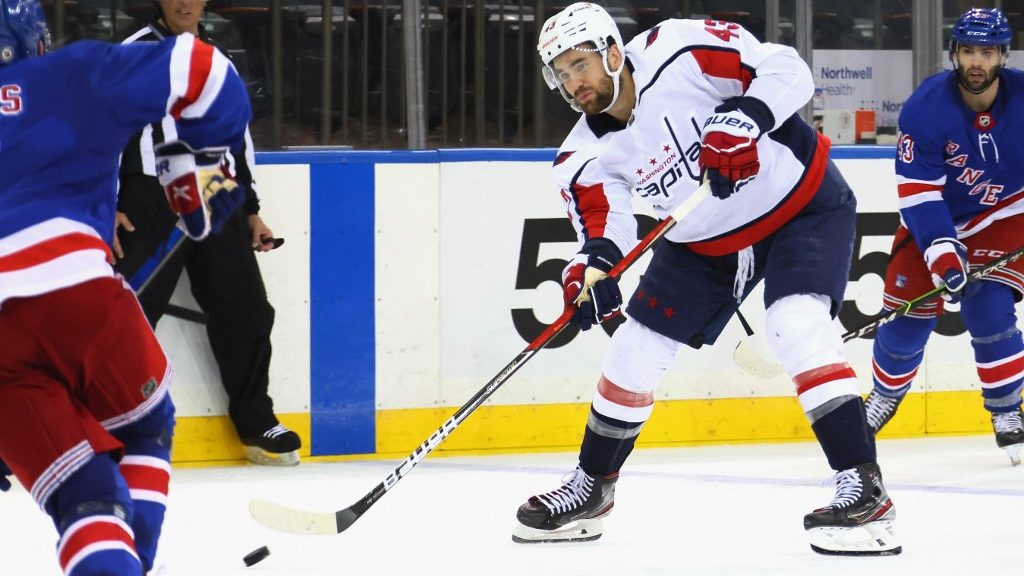 The Washington Capitals visit the New York Rangers on Wednesday night in the final meeting of the season between the clubs, and trust me when I say there will be at least one fight. We will explain. Which way to lean at SBR's top-rated sportsbooks?
Washington Capitals vs. New York Rangers
Wednesday, May 5, 2021 – 07:00 PM EDT at Madison Square Garden
It took until nearly the end of the regular season, but it's my first NHL preview of the season! Hey, just in time for the upcoming Stanley Cup playoffs.
This is the last meeting of the season between the East Division rival Capitals and Rangers – all of the league's divisions were renamed for this year only in the shortened season due to COVID.
Even though Washington is clearly the better team, New York leads the season series 4-3. Artemi Panarin leads the Blueshirts with nine points in the series, two of them goals. Ryan Strome has three goals and eight points. Defenseman Adam Fox is a team-best plus-6. Igor Shesterkin is 3-0-0 with a 1.67 GAA and .945 save percentage. It will either be him or Alexander Georgiev in net here, and Georgiev allowed two goals in a loss in his only start vs. Washington in 2021.
For the Caps, Garrett Hathaway, Nicklas Backstrom and Tom Wilson – much more on him below – all have five points in the season series. Alex Ovechkin has four goals. Vitek Vanecek is 2-3-0 with a 2.84 GAA and Ilya Samsonov 1-1-0 with a 3.05 GAA.
The home team has won seven of the past 10 in the series on the NHL picks.
Caps Still Have Reason To Care
Washington (71 points) is battling Pittsburgh and Boston for the East Division title and thus home-ice advantage in at least the first two rounds of the playoffs as the first two rounds of the postseason will all be against division foes. On the Bovada NHL futures odds, the Capitals are -135 favorites to win the East and +1100 to win the Cup. There aren't any conference championship odds because there are no conferences this year.
The Caps are in a good spot to win the East because after Wednesday their final three are at home: Two vs. the Flyers, who are eliminated from the playoffs, and one vs. Boston. Will future Hall of Famer Alex Ovechkin get into the top five all-time in NHL goal-scoring? He leads Washington with 24 this year and has 730 overall, one behind Marcel Dionne for fifth.
However, Ovechkin probably won't play here as he's listed doubtful. In Monday's 6-3 win at the Rangers, Ovi returned from a four-game injury absence but was only able to play 39 seconds. There's just no reason to risk him before the playoffs. Washington also has availability concerns for TJ Oshie, who sat Monday for personal reasons, and defenseman Jordan Schultz (lower body). Center Evgeni Kuznetsov landed the COVID-19 protocol list Tuesday.
The Caps are 16-5 on the NHL picks in their past 21 road games.
Wilson's Antics Barely Punished
New York has been eliminated from playoff contention, but the Rangers will be fired up for this game because of what happened in Monday's loss. Long story short: Washington forward Tom Wilson, who has been suspended several times by the league in the past, punched New York's Pavel Buchnevich in the back of the head while he was facedown and then basically threw Artemi Panarin to the ice like ragdoll in the ensuing scrum. Wilson was given a double-minor penalty for roughing and a 10-minute misconduct.
Somehow, Wilson was not suspended Monday and only fined $5,000, which is the maximum fine allowable under the collective bargaining agreement. That's absolutely ridiculous, and I promise you the Rangers players are infuriated and want to take it out on Wilson here. If I'm the Capitals, I don't play him. The Rangers actually tweeted out a strong statement on Tuesday evening condemning the league's decision.
"We all saw it. There are lines that can't be crossed in this game. There's just zero respect for the game in general. You got one of the star players in this league now that could have gotten seriously, seriously hurt in that incident," said Rangers coach David Quinn. "You all saw what happened, and it happens time and time again with him. Totally unnecessary."
As recently as March, Wilson was suspended for seven games for a hit that injured Bruins defenseman Brandon Carlo. Incidentally, Rangers coach David Quinn has announced that Panarin was being shut down for the last three games of the season with a lower-body injury. Panarin leads the team with 58 points despite playing in just 42 games. Rangers winger Chris Kreider and blueliners Jacob Trouba and Ryan Lindgren are expected done for the year due to injuries.
Alexandar Georgiev is expected to start Wednesday in net. He stopped 22 of 25 shots in a 3-0 loss to the Islanders on Saturday and has an 8-6-2 record, 2.69 GAA, and .905 save percentage in 18 games this season.
New York is 2-6 on the NHL odds in its past six as a home dog, but I think this game matters huge to the Rangers now.
NHL pick: Rangers at +113 with BetOnline